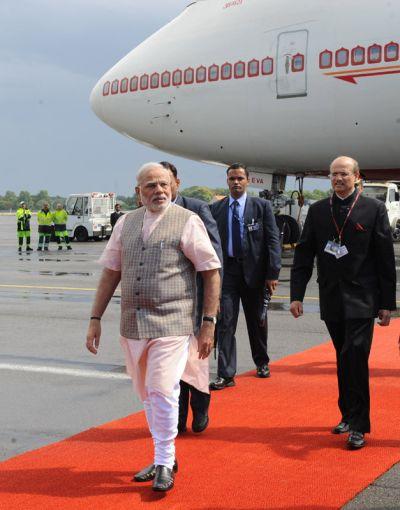 The frenzy to be present at the Madison Square Garden on September 28 when Prime Minister Narendra Modi addresses the Indian-American community likely rivals a rock concert held at the famous New York venue. Sheela Bhatt/Rediff.com reports.
Prime Minister Narendra Modi's address to Indian Americans, organised by his old friend Dr Bharat Barai, president of the newly set-up Indian American Community Foundation, at New York's Madison Square Garden on September 28 is a sold-out event.
If you have $25,000 (approximately Rs 15 lakh/Rs 1.5 million) to spare, you may be allowed to sit closer to the stage at the MSG that Sunday morning.
If you have more money to spare, you could attend a dinner with Modi being planned at The Pierre, a Taj Hotel in New York, that will see some 300 guests in attendance -- 150 from the embassy in Washington, DC, India's permament mission to the United Nations and the consulates in New York and other US cities; and another 150 from the sponsors.
The dinner is yet to be finalised, but there is a rush, among Modi fans to get access to him, be photographed with him, share a dinner table -- even for a handshake. Many Indian Americans are ready to pay Rs 15 lakh to Rs 30 lakh (Rs 3 million) for the honour.
A manager at Citibank in New York is ready to pay around $20,000 to get access to the Modi event, but his office, he complained, would not approve the expense. Even Indian-American traders struggling with sundry jobs have donated $70,000 via the Web site created for the September 28 event, www.pmvisit.org
For the VIP enclosure, the minimum price for a ticket is $1,000 (about Rs 60,000). There are many kinds of passes reserved for rich Indian Americans that include Gold and Platinum Class and more. Some 500 seats are kept aside for rich Indian Americans who can afford to pay anything from $10,000 (about Rs 600,000) to $25,000.
Out of the 20,000 seats at the MSG some 13,000 have been allotted to Indian-American associations. When they were asked to register for the event, more than 700 associations lined up. Some were 'created' overnight only to get free tickets for the Modi event.
After scrutiny, 400 associations were found to be genuine and they will be sent 13,000 tickets via Fedex.
The organisers want the event to start at around 9.30 am local time. Special buses will operate from New Jersey since the audience will mostly come from New Jersey, New York and Connecticut, the tri-state area with a large concentration of Gujaratis.
An entertainment programme is scheduled between 10 am and 11 am for which A R Rahman was contacted, but the composer has another engagement scheduled that day.
Modi's speech will likely begin around noon, and the event is expected to wind up by 1.30 pm local time. The event will see unprecedented security. Barring cell phone and cash, the attendees will not be allowed to carry anything with them. No bags, and certainly no food.
The demand for tickets is so high that for individual tickets (that is, for people who are not attached to any community organisation), there are 10 registrations for one ticket. Some two per cent of the seats have been reserved for the handicapped as per MSG rules.
When the organisers invited volunteers to register online around 4,000 people applied, of whom 800 were selected to work for the event.
Media passes are another headache for the organisers, with some 400 members of the media applying for credentials. Three passes per media organisation will now be allotted.
More than 30 US Representatives and Senators have been invited to the event, including members of the Congressional and Senate US-India Caucuses. The event will be telecast live in India and in the US through community television channels.
Dr Barai, the chief organiser who knows Modi well, recalled an incident in 1993 when Modi, then a Bharatiya Janata Party general secretary, had accompanied then BJP president Dr Murli Manohar Joshi to Chicago to participate in the 100-year celebrations of Swami Vivekananda's speech at the World Parliament of Religions in Chicago on September 11, 1893. Modi had stayed at Dr Barai's home.
Dr Barai recalled Modi telling his wife Dr Panna Barai that in America people do their laundry on weekends, but since he had only two or three sets of clothes he would need to do his laundry daily. Dr Barai recalled that Modi had traveled with just one small bag.
At the dining table, Modi spoke about the 1991 economic crisis in India and the P V Narasimha Rao government's subsequent economic reforms. While sharing his thoughts about India's financial woes, Modi had tears in his eyes, remembered Dr Barai, who added that Modi always wanted to work for the country.