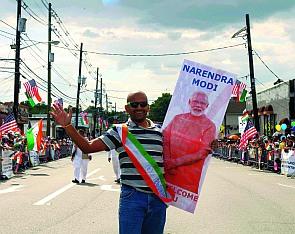 Indian Ambassador to the United States Dr Subrahmanyan Jaishankar, Bharatiya Janata Party leader Ram Madhav, and a joint secretary from the Prime Minister's Office attended the meetings of committees formed to organize the reception for Prime Minister Narendra Modi in New York, September 28.

At the meeting held at the New York consulate on August 10, lead organizer Dr Bharat Barai explained the steps taken so far.

Leaders from the Overseas Friends of the BJP, which is not very happy that its leaders were sidelined from organizing the reception, attended the meetings.

In addition to core committees, a 38-member advisory committee comprising people from different states in India and belonging to different religions too met at the consulate.

Ambassador Jaishankar explained that the reception would not be an event organized by the embassy or the consulate, but an event of the people for the prime minister.

It is above political, religious or regional considerations, he noted, and the advisory committee reflects the diversity.

The prime minister wants it as an event representative of an emerging India, Madhav said.

Even though only 18,000 people can attend the event at the Madison Square Garden, it will be visible to Indians everywhere and it should be an event that shows the unified spirit of the Diaspora, he said.

Dr Barai said a website has been set up and a new organization named the Indian American Community Foundation has been formed for the sole purpose of the visit.

The event will not be ticketed but the $1.5 million needed for the event will be raised from sponsors, the meeting was informed.

"Preparations are going on in full swing," Dr Barai told rediff.com. "We are taking care of even the minutest things."

He said the initial misunderstandings in the community have subsided, though every one cannot be satisfied.

"The only purpose of the IACF is to organize the reception," Dr Barai said. "Once the accounts for the reception are settled, the organization
too will cease to exist."
New Delhi, he said, did not want any of the existing organizations leading the event, even though the OFBJP is playing a major role. The 11-member IACF is a non-political, non-religious organization.
The Madison Square Garden has been booked by Bharat Jotwani's Poojanka Entertainment.
"The MSG will check the history of the organization and process a credit check before signing any agreement," Dr Barai explained. "Since the IACF is a new organization, it has no history or credit. We needed someone who has been doing business with MSG and we found Jotwani, who came forward without demanding anything in return."
After the agreement was signed between MSG and Poojanka, another agreement was signed between Poojanka and the IACF allowing the IACF to take charge of everything about the reception.
Dr Barai personally paid the advance of $165,000 to book the stadium and took responsibility to pay off the remaining $400,000.
He said he did not have the freedom to take all the decisions regarding raising money, but had plans. The plans will be discussed in the committees and will be submitted for approval before announcement.
"Jotwani is a perfect gentleman and he will be just a volunteer for the event," Dr Barai said.
Meanwhile, the OFBJP said in a statement that it is leading in organizing the event and working towards the mobilization of all Indian national and ethnic organizations to organize the event.
Vijay Jolly, the BJP's global convener of overseas affairs, is visiting the US to mobilize community leaders and Indian Diaspora for the event. He along with Chandrakant Patel, OFBJP-USA president, will tour several American cities.
Jolly will meet with business leaders, US lawmakers, and think-tank groups in preparation for the community event.
Patel, along with the OFBJP team, is facilitating this 12-day tour to motivate OFBJP members and supporters for the event day. Patel will present a report to the prime minister, describing issues faced by the Indian Diaspora in the US.
Caption: The enthusiasm is evident at the India Day parade in Edison, New Jersey, August 10.
Credit: Paresh Gandhi