It was a catastrophic gamble for British Prime Minister Theresa May and the ruling Conservative Party. Snapshots from UK's post-Brexit snap general elections.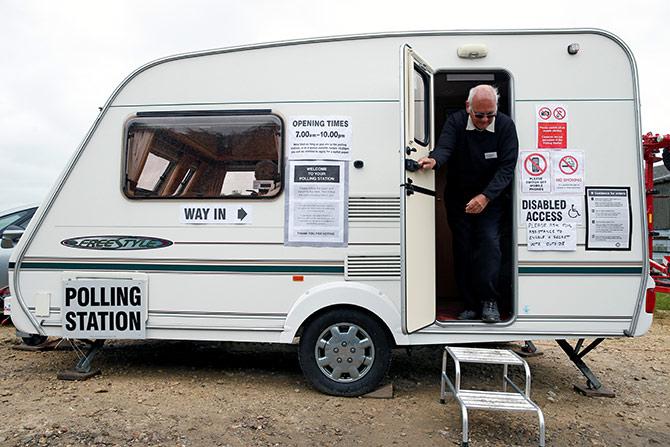 Photograph: Paul Childs/Reuters
A voter leaves a polling station in Garthorpe, Britain after voting in the general election on June 8, 2017.
The election was not due until May 2020. But when Theresa May of the Conservative Party took over as Prime Minister in 2016 -- after UK voted for Brexit, and David Cameron resigned -- she called for a snap election that received the necessary two-thirds majority in the House of Commons.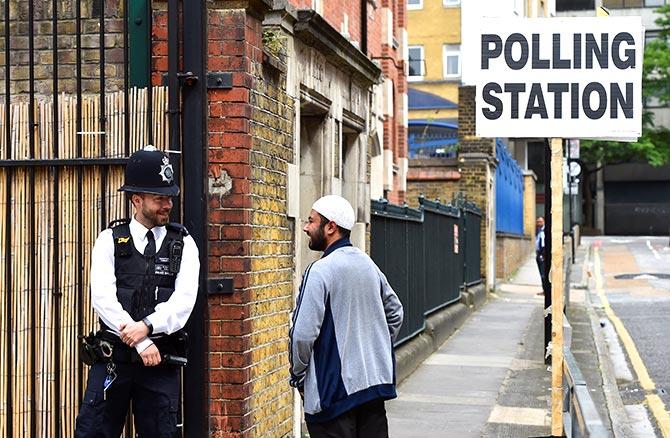 Photograph: Hannah McKay/Reuters
Outside a polling station in London. The Conservatives, who have governed since 2015, were defending a majority of 12 against the Labour Party, the official opposition.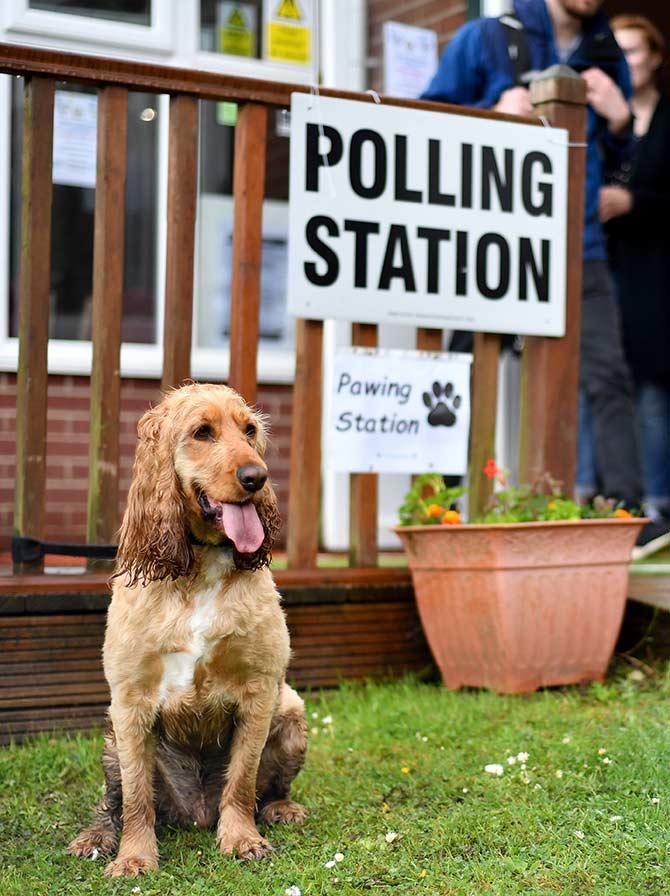 Photograph: Anthony Devlin/Getty Images
The pooches do their bit. Dougie, the Cocker Spaniel, patiently waits at a 'Pawing Station' outside a polling station in Greater Manchester.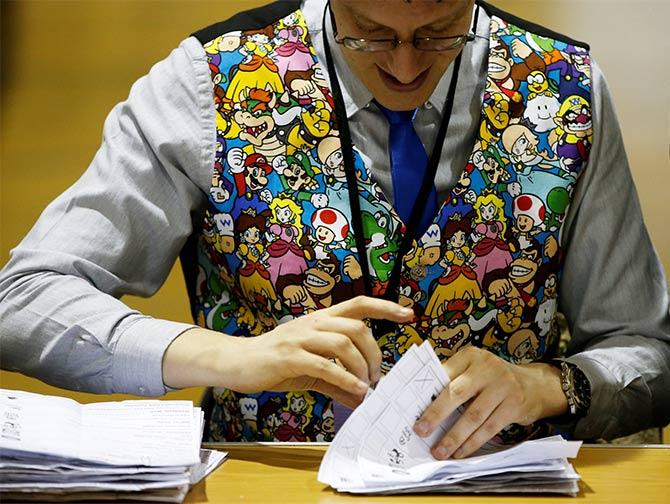 Photograph: Paul Child/Reuters
Election staff start counting the ballots, thus beginning the final stages of a closely fought election. Though the elections began with the odds in favour of May, the numbers quickly turned.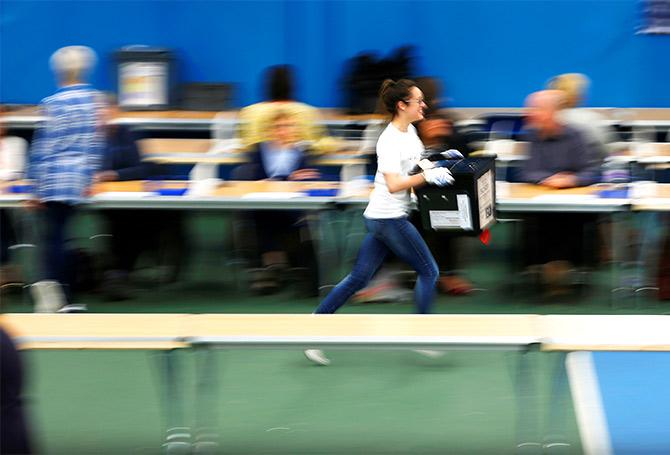 Photograph: Ed Sykes/Reuters
A ballot box is rushed into a counting centre as the lead between the Tories and Labour reduces.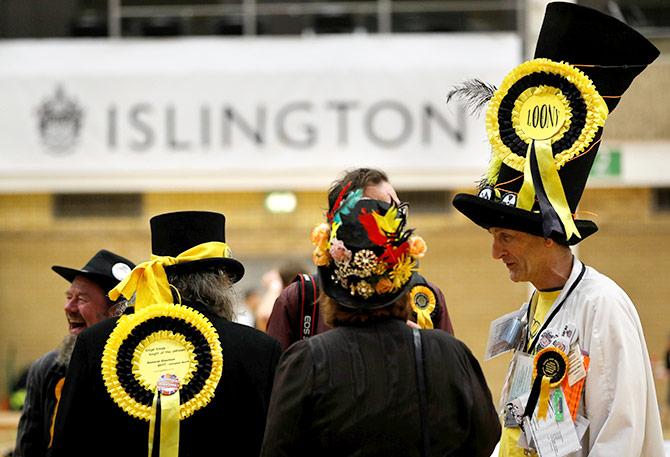 Photograph: Darren Staples/Reuters
Members of The Official Monster Raving Loony Party -- no kidding! -- wait as votes are counted into the early hours of June 9.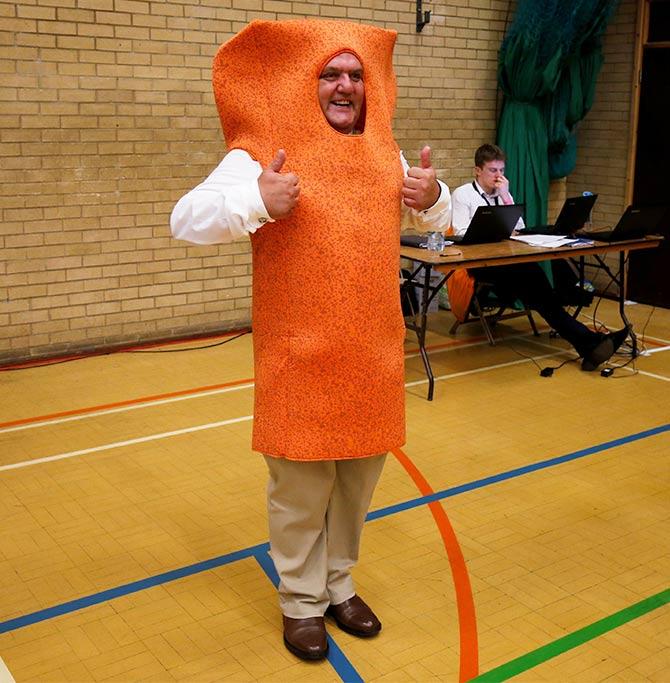 Photograph: Andrew Yates/Reuters
And if the Loony Party wasn't loony enough, there was Mr Fish Finger, who stood against Liberal Democrat leader Tim Farron.
According to Metro, 'Mr Fish Finger decided to stand after an informal Twitter poll determined that users would rather be led by a fish finger than Mr Farron.' He ran a crowdfunded campaign and made it to the ballot.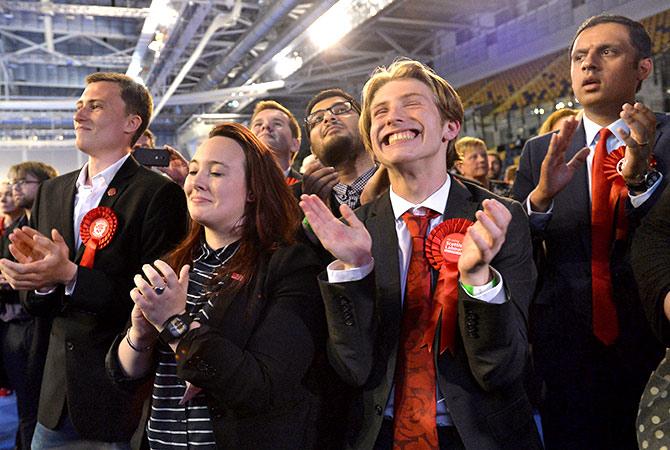 Photograph: Mark Runnacles/Getty Images
Scottish Labour supporters celebrate as they win back a seat in Glasgow, Scotland. The Scottish Nationalist Party is the third largest party in this election after the Tories and Labour, but it is unlikely to come out unscathed.
Majority of Scotland had voted against Brexit. And in March, the Scottish parliament voted in favour of holding a second referendum on independence.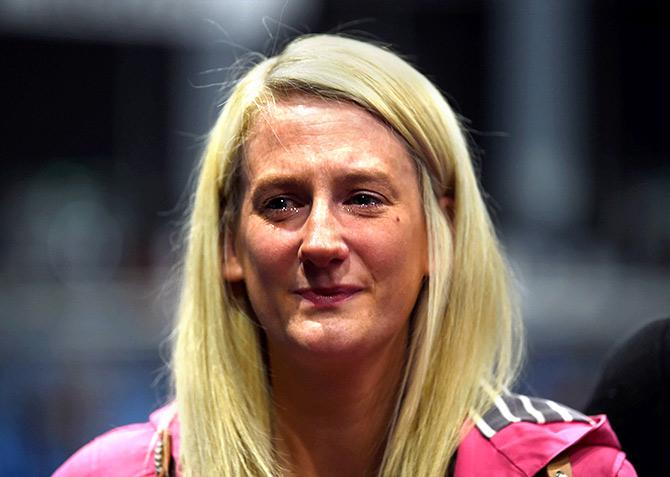 Photograph: Charles McQuillan/Getty Images
The wife of the Democratic Unionist Part candidate Gavin Robinson is overcome with emotion after he regained his seat in Belfast, Northern Ireland. DUP is the fifth largest party in the UK House of Commons.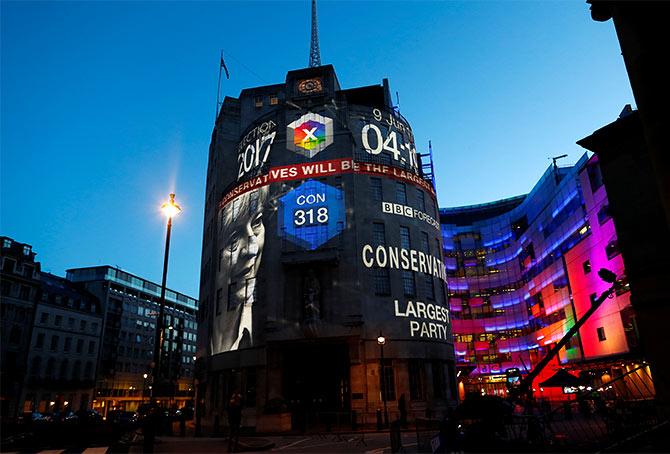 Photograph: Eddie Keogh/Reuters
The BBC Television centre is illuminated with the results of a general election that took place under the shadow of three deadly terror attacks that have rocked Britain since March.
In March, five people were killed and 40 others injured when a terrorist mowed down pedestrians on Westminster bridge and stabbed a police officer outside the parliament complex before being shot dead by Scotland Yard officers.
Last month, a suicide bomber -- one the Islamic State claimed as its own -- set off a bomb at a concert of pop star Ariana Grande in Manchester city, killing at least 22 people and injuring 59 others, in the deadliest terror attack in Britain since the 2005 London bombings.
And this month, just days before the elections, three knife-wielding attackers in fake suicide vests plowed a van into pedestrians on the iconic London Bridge before stabbing revellers in a nearby market, killing seven people.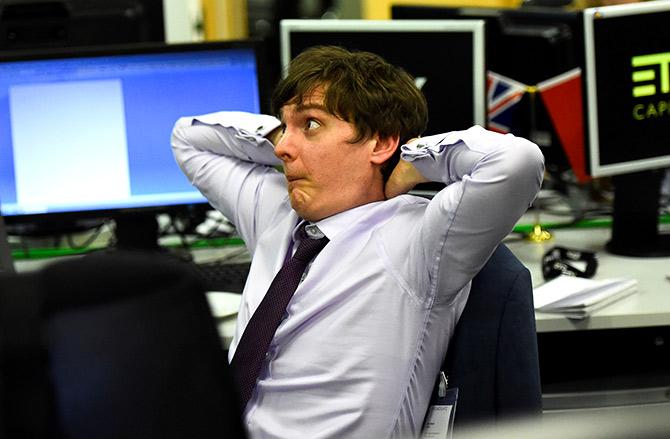 Photograph: Clodagh Kilcoyne/Reuters
A capital trader reacts to the election results.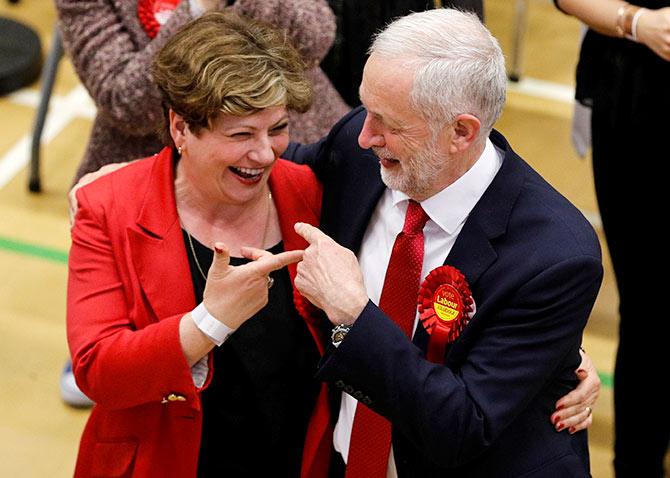 Photograph: Darren Staples/Reuters
Labour Party leader Jeremy Corbyn, right, and Labour candidate Emily Thornberry at a counting centre on June 9. With the Conservatives failing to reach the 326 seats they need to form a majority government, it is possible that Corbyn might become the next prime minister of UK.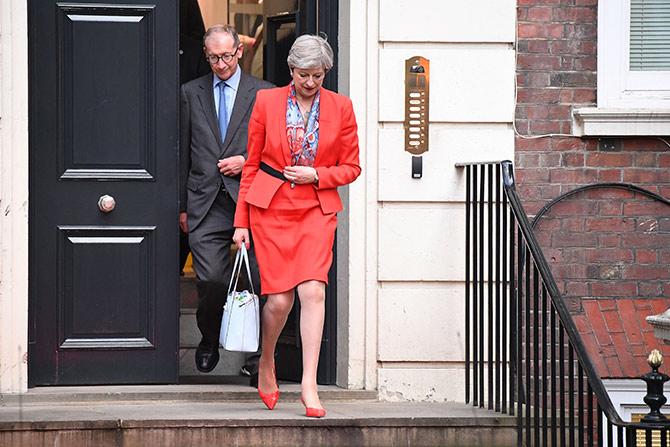 Photograph: Chris J Ratcliffe/Getty Images
Theresa May, Britain's second woman PM, leaves the Conservative Party headquarters with her husband Philip after it was clear that her election gamble had failed and the Conservatives would not win absolute majority. With the results putting British politics and the future of Brexit into disarray, there were immediate calls for May to quit.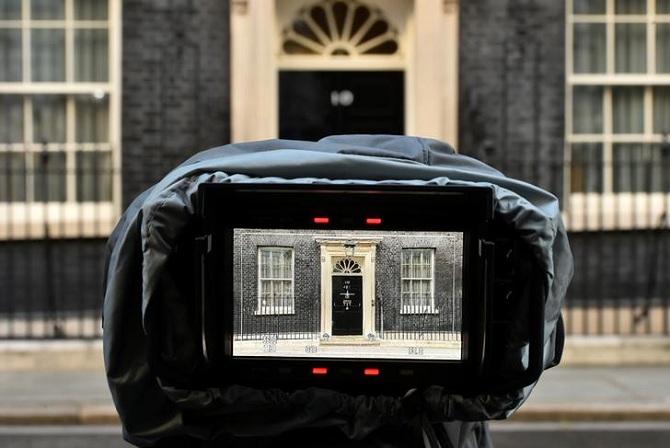 Photograph: Hannah McKay/Reuters
The Door of 10 Downing Street on June 9, the morning after Britain's election, as the world waited to hear if May would quit.