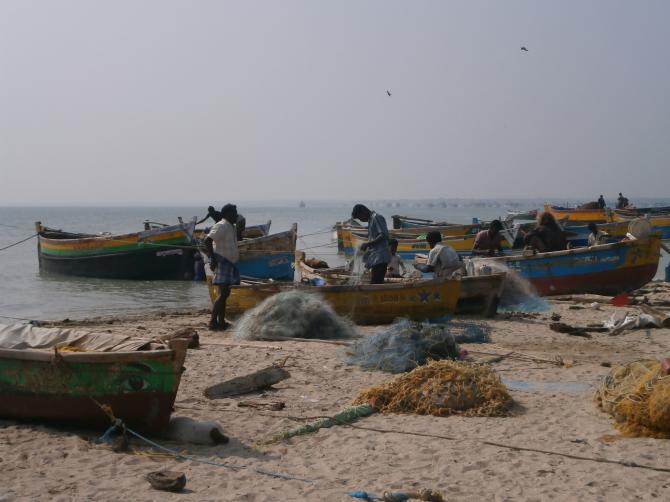 When over a hundred fishermen from Tamil Nadu were arrested by the Sri Lankan navy and their boats seized last month, fishermen in coastal Tamil Nadu went on strike.
Rediff.com's A Ganesh Nadar visits the coastal towns of Nagapattinam and Rameswaram to discover that the fishermen do not have many choices.
On December 11, 2013, 101 Indian fishermen were arrested and 15 boats were seized by the Sri Lankan navy for fishing in the island nation's waters.
Antony, a fisherman from Nagapattinam in Tamil Nadu who was at the scene, told Rediff.com, "We crossed the international maritime border as we did not find any fish on the Indian side. We were fishing there when the Lankan navy arrived. We did not try to flee as their boats are faster than ours."
"They boarded 15 of our boats and started taking them ashore. We were in 20 boats in the vicinity. We did not want to desert our mates on the captured boats, so we followed for a while, hoping that the Lankans would let them off with a warning," Antony recalls.
"This did not happen. We were not sure if they (the Sri Lankan navy) had radioed ahead for support. We slipped away one at a time to avoid alerting them. We knew that if we had got any closer we too would have been arrested."
Since that day, not a single boat has left Nagapattinam port. The fishermen are on strike, demanding that the Indian government gets their colleagues released.
Mary, whose husband is a fisherman and has joined the strike, told Rediff.com, "When we go on strike, the boat owners help us for a while with cash advances. But if the strike prolongs, they says they don't have money. Then we have to go to loan sharks who charge 10 percent interest per month."
From December 21 to 24, some of the fishermen went on a hunger strike. The district collector intervened and arranged for a delegation to meet Tamil Nadu Chief Minister J Jayalalithaa the next day.
Jayalalithaa told the fishermen's representatives that she had written to Prime Minister Manmohan Singh on the issue. There was nothing more she could do, but she promised to keep up the pressure on the central government.
On December 24, Dravida Munnetra Kazhagam Member of Parliament T R Baalu also met the strikers and asked them to give up their fast. He assured them that he would get them an audience with the prime minister and External Affairs Minister Salman Khurshid.
On December 26, a delegation of fishermen from the coastal districts of Tamil Nadu left for New Delhi. There, they met Dr Singh and Khurshid.
Vijayendra, a boat owner from Nagaipattinam, told Rediff.com, "Our people met both of them. They assured us that a meeting of fishermen of both countries would take place on January 20, either in Chennai or in Delhi. Our fishermen and boats will be released before that."
On December 29, another 22 fishermen and six boats from Kottaipattinam and Jagathipattinam near Nagapattinam were seized by the Sri Lankan navy for straying into its waters.
G Vijayendran, a leader of the fishermen in Akkaraipettai, Nagaipattinam and owner of two big mechanised boats, admits that fishermen frequently cross the maritime border into Lankan waters.
A few fishermen try to avoid this by going in for deep sea fishing. "Everyone cannot do this as the initial investment on the boat is Rs 70 lakh (Rs 7 million)," says Vijayendran. "The nets are also expensive and each fishing expedition takes a fortnight to a month and calls for huge investment."
In the last six months, only 50 boats from Nagapattinam have ventured into the open sea.
"When we first sent our boats, we expected the deep sea fish to sell for Rs 100 a kilo, but we got Rs 60. We have even sold fish for Rs 40 a kilo which leads to losses," adds Vijayendra.
"The best fishing months are January to March," he says. "From April 15 to May 31 fishing is banned as it is the breeding season. In July/August, a particular type of red crab appears in the ocean which bites and damages the nets affecting the catch. From October to December, the sea is rough as it is the rainy season and fishermen cannot venture into the sea."
During the breeding season, fishermen are given Rs 2,000 by the Tamil Nadu government. In the monsoon they get Rs 4,000.
Nagaipattinam's fishermen say they are willing to pay the Sri Lankan government to fish in Lankan waters.
"The Lankan government can give us permits to fish there. We are willing to pay for them. We will ask for permission to fish in their waters for three months in a year," the fishermen say.
"If we get permission for three months, we will make sure that for nine months we don't go there. Our government can confiscate our boats if we break this promise," the fishermen add.
"All mechanised boats are registered with us," says an official at the fisheries department in Nagapattinam.
"Every fisherman has an identity card," he adds. "When any boat ventures into the sea they have to take a token from us. The token identifies the boat number and also the number of fishermen on the boat. There is no time limit, they can come back whenever they like, but they have to inform us when they return."
"When the fishermen are arrested, the Lankan navy sends a list to the central government. This is forwarded to us. We cross-check to make sure the boats they claim to have seized are actually at sea," he says.
"Even when there is a storm at sea and the boats come back, we are the first to know which ones are missing," explains the official. "We inform the Coast Guard and the central and state government."
Further south in Rameswaram, several country boats operate in the ocean. One came ashore as this correspondent arived on the beach. The fish weighed 100 plus kilos.
The fisherman, a wizened old man named Sahayam, collected Rs 2,000 initially for his catch from a middleman. The accounts would be settled later.
"I did not go anywhere near Katchathievu (an island gifted by then prime minister Indira Gandhi to Sri Lanka in 1974)," Sahayam said.
"Everyday our fishermen get beaten up there. I went 24 nautical miles north along the Indian shore. I got a little fish, but it is enough for a day's work."
Royappan, president of the country boat fishermen union of Pamban near Rameswaram, says, "You know why we go into Lankan waters? Because there is not enough fish on the Indian side. We have a huge number of boats from Dhanushkodi to Vedaranyam and a huge population to feed. That is why we finish up the fish on this side quickly."
"In contrast," adds Royappan, "the Lankan side has very few fishermen and a smaller population. They have plenty of fish there and no one to catch or eat it."
"It is our fate to be beaten up, arrested, shot at. What you cannot see is that we don't have any choice. If we fished only in Indian waters, we would starve to death," says Royappan.
"The Nagaipattinam fishermen have an open sea to go to, we don't have that choice. We are boxed in by Lanka."
"We are educating our children so that they don't have to fish," says Royappan. "Children of other fisherfolk are studying other courses. My son is an engineer."
Image: Small fishing boats in Rameswaram. Photograph: A Ganesh Nadar/Rediff.com