'So what if the enemies take us as prisoners of war?'
'So what if they kill us?'
'I would feel proud that I could sacrifice my life for the country,' say these proud lady officers of the Indian Navy.
Manu A B/Rediff.com speaks to some retired women commanders who fought tooth and nail for the right to return to their beloved navy.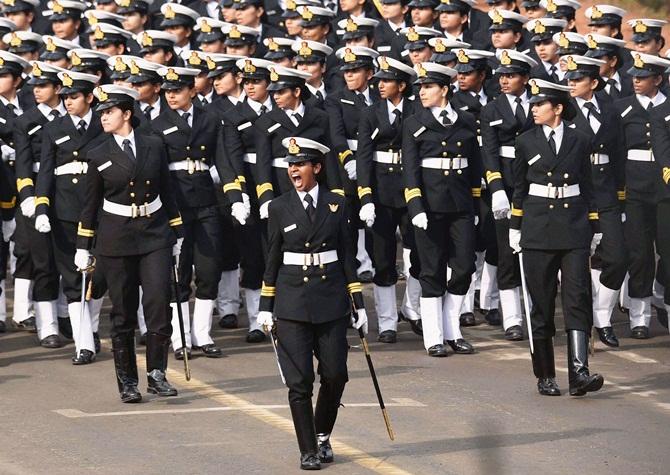 IMAGE: The Indian Navy's women's contingent during the 2015 Republic Day parade in New Delhi. Photograph: PTI
"How can a lady teach us maths?"
A shocked cadet at the National Defence Academy had just stood up and raised this question.
Even more stunned at this unexpected interruption was his teacher, Sumita Balooni.
"He came from a remote village and could not imagine that a lady could teach Maths," she says.
Balooni, who joined the Indian Navy in 1993, worked in the education wing, training male officers and cadets at the NDA and the Naval Academy.
Naval training does not differentiate between male and female cadets. Yet, like in almost every other workplace, female cadets had to push themselves harder to prove their worth.
While leading a battalion of sailors and cadets in firing exercises, Balooni would ensure she excelled at firing more rounds. She would use all the weapons to prove she was fit and skilled to be their leader.
There were officers who could not accept women being at par with them, says Balooni. The majority of her colleagues were supportive and understanding.
A few months later, she recalls, she asked that student if he had changed his mind. "He told me I was one of his best teachers," she laughs.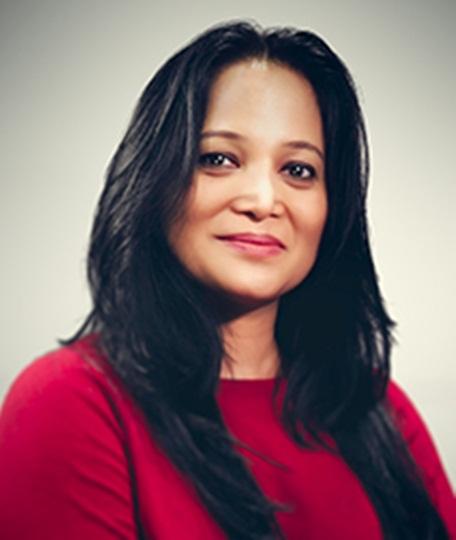 IMAGE: Commander Sumita Balooni made sure she fired more rounds and used all the weapons to prove that she was skilled enough to be a leader. Photograph: Kind courtesy Sumitha Balooni
Not every barrier in this battle against gender was as easily surmounted.
Five hundred and thirty-two women currently serve in the Indian Navy. Both men and women candidates undergo the same stringent tests and training procedures to be recruited as officers.
Yet, male officers have the option of choosing between a short service commission and a permanent commission. Women officers have to resign after 14 years of dedicated service as the rules did not allow an extension of service to women.
This discrimination was challenged by retired commanders Prasanna Edayilliam, Saroj Kumari, Balooni, Puja Chhabra and 13 other lady officers.
After several hearings that went on for over five years, the Delhi high court ruled that the Indian Navy should offer permanent commissions for women as well.
Justices Kailash Gambhir and Najmi Waziri said 'Women are here to stay' and they 'work shoulder to shoulder' with their male counterparts.
'Sexist and service bias', the judges said, would not be allowed to block the progress of women.
With the Delhi high court's landmark judgment, these 17 lady officers are set to return to the Indian Navy -- a service they joined because of their passion to service their country.
These officers -- who were from the education, logistics and air traffic control branches of the Indian Navy -- were inspired to fight for their rights by the fact that the Indian Air Force and the Indian Army amended their rules in 2008 to allow permanent commission for women.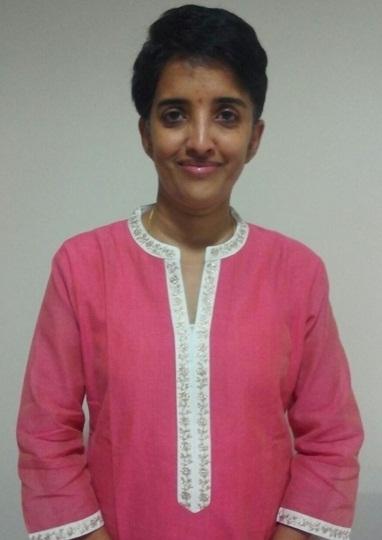 IMAGE: Commander Prasanna Edayilliam took up challenging missions during her 14-year stint with the Indian Navy. Photograph: Kind courtesy Prasanna Edayilliam
After working for 14 years, women who have excelled are forced to quit as the Indian Navy does not offer them a permanent commission, says Edayilliam, who worked across different states and took up challenging missions during her 14-year stint.
"The worst part is that the private sector is not keen to hire women who have worked for the navy. Many people have asked me if the navy even recruits women! After working as high ranked officers, we become worthless outside the navy and have to start our careers from scratch, which is unfair," she says.
The high court verdict was the first step in correcting this retrograde attitude. It was time for the next one.
Edayilliam, who joined the Navy as part of its third batch of lady recruits in 1994, met Union Defence Minister Manohar Parikkar with Saroj Kumari, Balooni, Chhabra and CPI-M Politburo member Brinda Karat.
Parikkar assured them of a policy change to accommodate women in the navy on a permanent basis. The Raksha Mantri added the government would ensure there was no appeal against the high court judgment by the navy.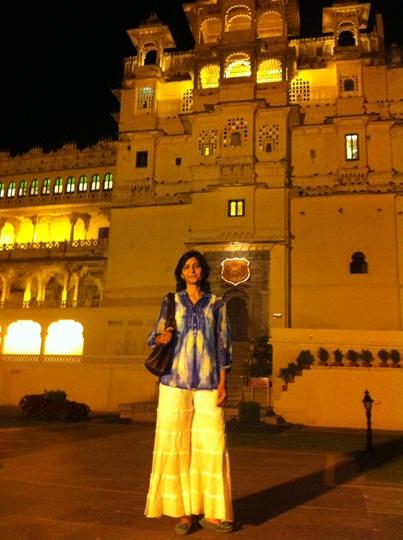 IMAGE: Commander Saroj Kumari worked as a logistics officer in the Indian Navy. Photograph: Kind courtesy Saroj Kumari
From patrolling the streets the whole night during a civilian unrest to taking cadets on navigation journeys at night, to being posted in remote locations, totally cut off from the world, without even a phone connection, these gritty women have proved that they can endure any adversity.
"Everyone says women have done an excellent job (in the navy) so it is illogical to say that we cannot continue after 14 years. The only time a lady takes a short break is during pregnancy so that hurdle is also crossed in the first 14 years. There is no reason to not let us continue working," says Commander Saroj Kumari, who worked as a logistics officer.
Commader Supriya Sethu, part of the fifth batch to join the Navy, adds, "Women are as efficient as men in their work, so why shouldn't they be given the option of selecting a short service commission or a permanent commission like men do?"
'After working in the navy for 14 years, we are so experienced and well trained that we can take up any challenging job. Unfortunately, the private sector is apprehensive about offering (us) jobs and is sceptical about considering our seniority," says the Kerala-based Sethu.
As a result, some women officers quit after five to seven years of service as their future is uncertain. If a permanent commission is offered, these former officers believe more women will come forward to join the navy.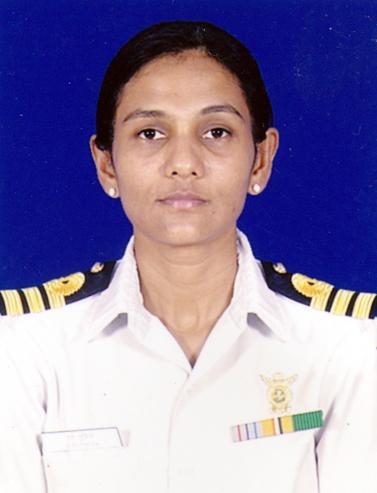 IMAGE: Supriya Sethu was part of the fifth batch of lady officers to join the Indian Navy. Photgraph: Kind courtesy Supriya Sethu
The lady officers also feel a job in the armed forces enhances mental and physical strength and offers an impressive quality of life. It exemplifies women empowerment and prepares women to face any adversity with courage.
Commander Edayilliam recalls the time she was witness to a gruesome air accident. A Defence Research and Development Organisation test flight had crashed, killing all on board.
"I was among the first people to rush to the site in Arkonam (in Vellore, Tamil Nadu). It was terrifying to see bodies lying scattered; they were beyond recognition."
But, she says, there was no time for any emotion. "We had to pick up the mortal remains, ready the coffins, inform the relatives, take them to the site. Once we are on duty, we tend to forget that we are women. It's only the duty that matters," says Edayilliam.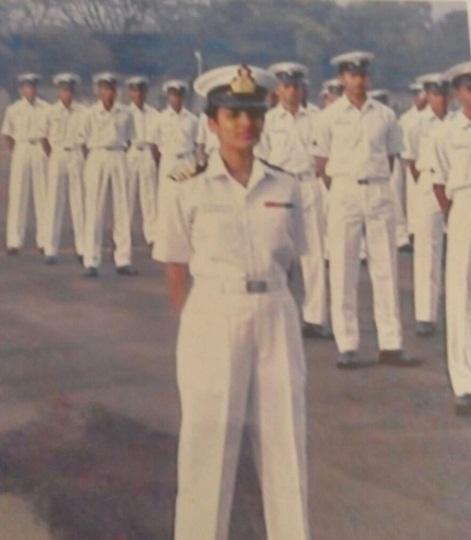 IMAGE: Commander Prasanna Edayilliam during her stint with the Indian Navy. Photograph: Kind courtesy Prasanna Edayilliam
Edayilliam, who hails from a small town in Kanhangad in Kerala's Kasargod district, faced a lot of jibes when she decided to join the navy.
A naval officer told her she would never make it as the navy was meant for tough and steely men.
Unlike the army and the air force, the navy has a common test for selection and the same four-month long gruelling training for men and women.
Life was not easy for Edayilliam and the other women at the camp where they trained with the male cadets. It was a tough world with rigorous training and punishments for the slightest error.
At the end of the four months, the women proved they could face and survive any kind of situation.
Since women have a high-pitched voice, they are better at communicating on radio during air traffic operations.
Edayilliam was posted at Arkonam, one of the hottest towns in India; the temperature here crosses 43 degrees Celsius in the summer.
It was clearly a place that most people would avoid, but Edayilliam volunteered for the posting. "I wanted to test myself in impossible situations and emerge successful."
Edayilliam is grateful to her boss, who looked at her as an officer and refused to make any concessions for her gender.
"I was given charge of a hundred men of different ranks and some found it difficult to accept orders from a lady boss." Overall, she had a great experience. "Our job is not just restricted to air traffic control. We have to work in logistics, vendor management and be ready to do anything," says Edayilliam.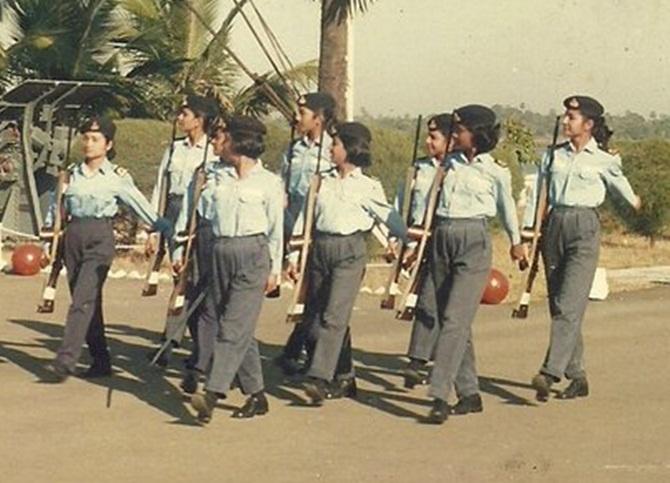 IMAGE: Sumita Balooni, first row, extreme left, and Saroj Kumari, last row, extreme right, were part of the second batch of lady cadets recruited by the Indian Navy in 1993. Photograph: Kind courtesy Saroj Kumari
The Indian Navy recruited only a few women so these officers were the only women in the naval stations where they worked.
"Even if there were women who joined later, they were never together during duty time. I have only worked with men and not once did I face any issue despite having worked round-the-clock," says Sethu.
"I have patrolled all night when I was given charge of the whole station. As part of the surveillance exercise then, I had to inspect vital places in a jeep with a driver."
Sethu believes that service in the Indian Navy -- with its challenges, duties and responsibilities -- is an adventure one must experience.
Sumita Balooni, who is now a serial entrepreneur, recalls the time they lost their way in a jungle during heavy rains and found their way out after walking the whole night. "The mindset must change to accommodate women," she says. "With adequate training, women can take up combat roles as well."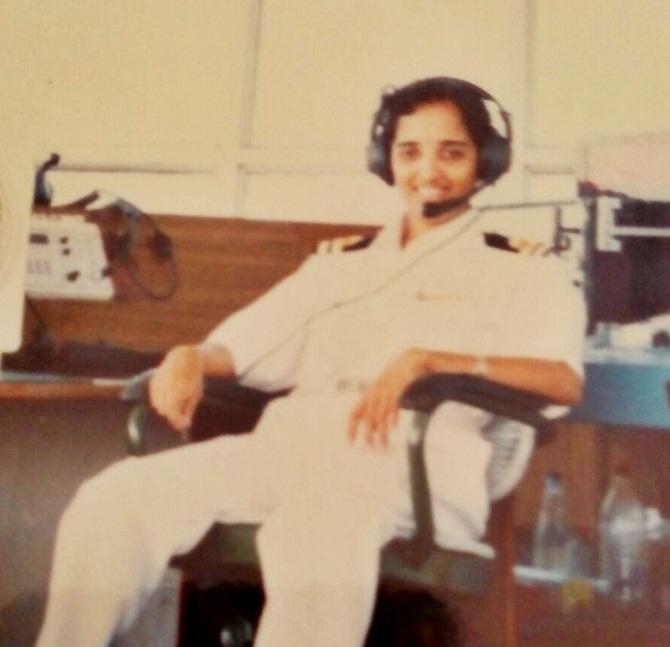 IMAGE: Commader Prasanna Edayilliam at work in the ATC wing. Photograph: Kind courtesy Prasanna Edayilliam
When the world's superpowers have equal status for women in the armed forces, why should India lag behind, these women ask.
While they applaud the fact that certain progressive changes have taken place in the navy -- lady officers are treated with more respect and given good job profiles and ranks -- there is still a long way to go.
At the moment, in the Indian Navy, women are not posted aboard warships; the reason cited is that the conditions on board may not be good as there are no separate washrooms or facilities for women.
The former female naval officers feel these factors should not be a hindrance.
Saroj Kumari says she knows women officers who have worked on ships without any issues.
"The navy is dominated by men, but it is one of the safest places for women to work. Though we have fixed working hours, we are supposed to be ready for any emergency call. I have worked at odd hours with hundreds of men around, but I have never faced any issues," says Sethu.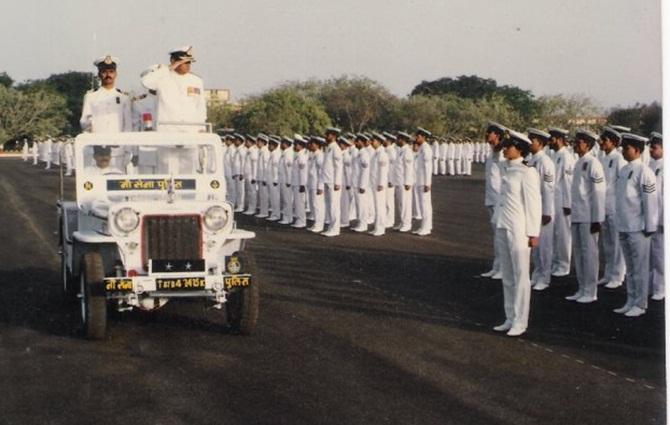 IMAGE" Women officers in the Indian Navy desire roles for women in combat situations. Photograph: Kind courtesy Prasanna Edayilliam
Batting for roles for women in combat as well, these women officers welcome the move by the Indian Air Force to induct women fighter pilots. The navy has announced that it will induct women pilots for its maritime reconnaissance aircraft, which also have anti-submarine and anti-ship warfare capabilities.
What happens -- and this is an issue of concern to the government -- if women soldiers are taken prisoners in a war? "We can be taken as prisoners even in a non-combat role," says Saroj Kumari. "It is baseless to say that a permanent commission will make us victims."
Edayilliam says death is a reality everyone faces every day. "I would prefer to die serving the country than be sidelined. So what if the enemies take us as prisoners of war? So what of they kill us? I would feel proud that I could sacrifice my life for the country."
Underlining the need to have more women in the armed forces, these officers say that parents should bring up our daughters to face any situation in life. They should instill confidence in them and encourage them to be independent from an early age.
"Due to a lack of exposure and experience, parents in villages feel a career in the armed forces is not meant for women. One has to be bold, confident and be ready to face any kind of crisis. It is one of the few jobs that can change your life forever," says Edayilliam.
She believes that, given equal opportunities, women will excel in the armed forces. "Today we have women like Sunita Williams and (the late) Kalpana Chawla, who have gone to space. Women have climbed Everest. When we complete such daring missions successfully, the facilities hardly matter. If these women can do what they do as well as, or even better, that men, why should we lag behind?" asks Edayilliam.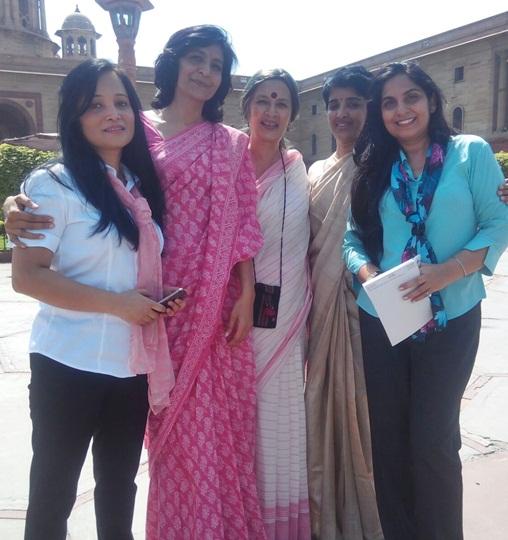 IMAGE: The daredevils who took on the Indian Navy. From left to right: Retired commanders Sumita Balooni, Saroj Kumari, Prasanna Edayilliam and Puja Chhabra with CPI-M MP Brinda Karat, centre. Photograph: Kind courtesy Prasanna Edayilliam
After a stint in the army, navy or the air force, women can face any challenge in life, say these women. It offers immense satisfaction, excellent facilities, options for adventure, sports and a wide range of extracurricular activities.
"After I cleared the tough Services Selection Board exam in 1996, I had the option of joining the navy as an air traffic controller. It was unheard of at the time," says Sethu.
She was advised against it. Many felt the navy was a male bastion and not meant for women. Her family too did not want her to join the navy.
"I decided to take the risk and it was a wonderful experience," says Sethu. "I am proud to serve the Indian Navy."