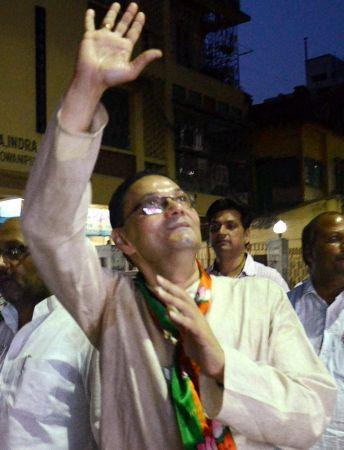 'We must delink religion from politics'
'Leaders with vested interests have brought religion into politics.'
Netaji's grandnephew Chandra Kumar Bose, the BJP candidate against Mamata Banerjee, on the campaign trail.
Ishita Ayan Dutt reports.
'Hamidi Hotel -- No Beef,' reads the signboard on the blue-green wall of a corner building in the modest locality of Alipore in the southern part of Kolkata.
A few feet away, Bharatiya Janata Party workers are starting to assemble for their star candidate Chandra Kumar Bose's election campaign. Many of them have come with placards that carry black and white photographs of Subhas Chandra Bose.
The message is loud and clear: The candidate is part of a legacy that is impossible to ignore. Bose is the grandnephew of West Bengal's most celebrated son, freedom fighter Subhas Chandra Bose. His grandfather Sarat Chandra Bose was Netaji's elder brother.
The irony of the location from where he has chosen to start his day's campaign is, however, hard to miss. Much before the sedition charges against student leader Kanhaiya Kumar occupied mind space, beef had made an entry into political discourse, with right-wing activists resorting to extremities even on remote suspicion of cattle trade or cattle slaughter.
The sign on the Hamidi Hotel is an indication of the 'safety' measures such incidents have forced upon establishments such as this one.
But Bose, among the newest entrants into BJP, does not subscribe to such views. His idea of the BJP is far removed from the dogmas associated with it. "Religion is a personal issue and should not be mixed with politics," he says. "No leader or party should advice on what we eat in our house."
With no political experience, not even in student politics, which is vibrant in the state, Bose has a tough challenge ahead. At 55, not only is he making his first foray into politics as the BJP candidate from the Bhawanipur assembly constituency, he is also contesting against two political heavyweights: West Bengal Chief Minister and Trinamool Congress chief Mamata Banerjee and Congress leader Deepa Dasmunsi.
But the BJP is hoping that his family name -- and the unmistakable resemblance he bears to his legendary granduncle -- will see him through.
As his election procession, which includes 50 to 60 of his supporters, moves through Alipore, shouting slogans against corruption and drawing attention to the Narada sting operation in which ministers and lawmakers of West Bengal's ruling Trinamool Congress are seen allegedly accepting cash, people step up to meet him. He greets them politely, with his hands folded and a smile on his face.
In the impromptu addas that spring up around him on the streets, the chatter centres around the need for a strong Opposition, something that has been missing in West Bengal for the last five years.
However, while there is a lot of interest around him, few people appear confident of Bose's chances in the forthcoming assembly elections in the state. Bablu, who has been serving tea from his famous stall in Gopalnagar for the last three decades, says: "This used to be a Congress bastion. Now it is Trinamool Congress." This time, he says, all three candidates are heavyweights, but he refuses to pick the one he is most confident about.
"The fight," says Mohammed Salim of the Communist Party of India-Marxist, "will be between Banerjee and Dasmunsi. Bose has no political experience. A Netaji connection alone cannot win him an election."
Dasmunsi, he adds, also has the backing of the Left given that the Congress and the Left are fighting this election together.
Dressed in a white kurta with the BJP's election symbol, the lotus, printed on it and an orange sash (with the lotus and BJP stamped on it) draped around his neck, Bose hardly looks like an entrepreneur who has been running a human resource and skill development consultancy firm -- Bose Information Technology -- for the last 16 years.
Bose studied economics at Hendon College, London, and then joined the Tata Management Training Centre in Jamshedpur. He later returned to Kolkata as a marketing executive with Tata Steel and was the sales manager for it for 18 years before he set up his company. He says his wife will run the company once he gets busy with politics.
Though he is a first-time politician, politics, he says, was never far from his mind. "I was thinking of forming my own political party, the Azad Hind Party, but it is not easy," he says. "There are 1,600 parties already out there. Mine would have been the 1,601th."
Besides, he adds, when someone forms a political party, the first people who come to join it are the goons. "How would I do the screening (to keep them out)? I do corporate recruitment, not political recruitment."
But why the BJP? It had to be a national party, he says, because Netaji is a national icon. "The Congress had expelled him, so it was a no-no. Although the Forward Bloc was his party, it drifted from Netaji's ideologies," he reasons.
Much before he was pictured with Prime Minister Narendra Modi at a meeting for the declassification of the files related to Subhas Chandra Bose, he had already been trying to convince the BJP about joining the party.
"It took some time. There were hiccups," he says, adding, "Modi is a very tall leader, very inclusive in his attitude."
Drawing a parallel between his granduncle and Modi, he says, "Many people say Netaji was a fascist, but he was a pragmatist. Modi is the pragmatist of the 21st century. I think he is willing to sacrifice his political ideology for development."
Bose has his job cut out. "It is my job to see that the BJP evolves into an absolute secular party. We must delink religion from politics," he says, "Leaders with vested interests have brought religion into politics."
The communal image of the BJP, he says, is the creation of the Opposition.
It is the Congress, he adds, that brought religion into politics.
He also accuses Banerjee of playing religion into politics. "The appeasement of both the majority and the minority are communal actions," he says.
Bengal has a 27 per cent Muslim population and Banerjee realises that this sizeable number cannot be ignored. In the past five years, allocation for minorities has increased manifold.
Banerjee, however, remains a formidable force in the state. Does Bose think he can beat her? "Yes, I can win," he says. His argument is that Banerjee's job was done with the removal of the Left; she has nothing more to offer.
"After winning an election, the responsibility of the government is to govern," he says. The Left Front was here for 34 years. "But does that mean it was great at governance? No, say the people, and yet it won elections."
Banerjee too has mastered the art of winning elections, he says. "But her contribution ends with winning elections. Besides painting the city blue and white and lighting it up as though every day is Diwali, what more has she done?"
Bose could also derive comfort from the BJP's performance in the Kolkata municipal elections last year, when the party managed to defeat the sitting councillor from Trinamool in Ward No 70, which is part of the Bhawanipur assembly constituency.
Whatever be Bose's contention, pollsters predict in Banerjee's favour. A recent ABP Ananda-The Nielsen Company poll survey stated that Banerjee would win.
Would Bose then contest the Lok Sabha elections if he lost? "I was more interested in the Lok Sabha elections, because that would have given me time," he says. "But the party thought I should contest this time and I agreed."
"It wasn't my idea to contest against Banerjee," he says, quickly adding, "Even if I win, I could contest in the 2019 general elections."
He might be a late entrant into politics, but Bose makes it clear that he is here to stay.
IMAGE: Chandra Bose during a campaign rally in Kolkata. Photograph: PTI