'The Naxals started firing indiscriminately.'
'The whole jungle echoed with the sound of bullets.'
'The only thing I heard from that side was 'Chhodna kisi ko nahi (don't let anyone escape)'.'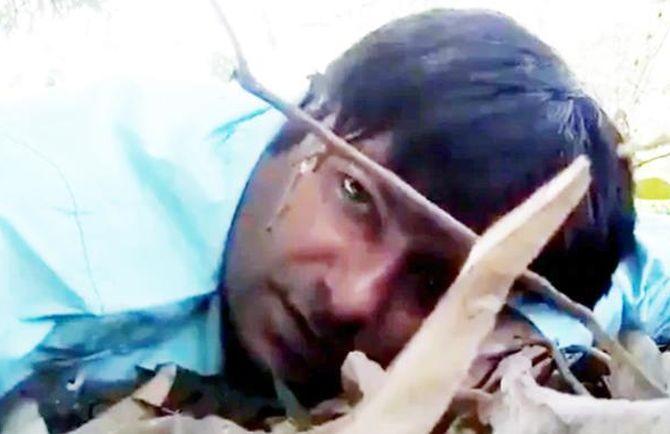 'We have come under a terrorist attack. We came to Dantewada to cover the election and the army was with us, when suddenly Naxalites surrounded us.'
'Mummy, if I survive this incident, I just want you to know that I love you very much. Chances are that I will be killed in this attack. The situation is not right.'
Mormukut Sharma, an assistant cameraman at Doordarshan, recorded the above heartbreaking message and posted it on Twitter after he and two of his colleagues were attacked by Maoists while they were trying to reach a village in Dantewada, Chhattisgarh, for election coverage.
In the subsequent firing, his colleague Achyutanand Sahu were killed along with two Central Reserve Police Force troopers.
For Sharma, his survival is nothing short of a miracle. He tells Syed Firdaus Ashraf/Rediff.com about the horror that he experienced.
"My team and I reached Raipur on October 26 and left for Dantewada the next day. I have been to Chhattisgarh on several occasions. I have also worked in places like Gadchiroli and Lalgarh (both Naxalite-affected areas in Maharashtra and West Bengal respectively).
We were informed that elections were going to be conducted for the first time ever in a small village situated 50 km away from Dantewada. Sensing a good story there, we went to cover it and were accompanied by 150 policemen.
The place was infested with Naxals, but when we saw so many policemen accompanying us there was little to fear for us.
When reached there we discovered the village was 3 km away from the main road. Hence, we abandoned our vehicles and got onto bikes that the police provided us.
Again, we weren't too afraid as each of us was accompanied by a CRPF jawan.
Making our way to the village, we noticed that the Naxals had put up posters and banners on trees demanding that the election be boycotted by all in the village.
We were just 200 metres away from the village when suddenly a volley of bullets zipped past us. None of us could understand what was happening.
It was at that very moment that my friend and DD's video journalist Achyutanand Sahu died along with one jawan (later identified as Constable Mangalu).
I jumped onto the other side of the road. Before doing so, I saw the Naxalites hiding in the bushes and firing indiscriminately.
Sub-inspector Rudra Pratap retaliated, but he soon fell to the bullets and was martyred.
After that, the Naxals started firing indiscriminately. The whole jungle echoed with the sound of bullets.
I lay on the ground like a dead body. If I had raised even one finger they would have shot me.
WATCH: Sharma's touching message to his mom
Video: Kind courtesy @DDNewsLive/Twitter
I thought I was going to die in two minutes. I recited shlokas from the Gita.
We had only three jawans who were fighting, of which two had been killed.
I then shot a video for my mother as I thought that would be my last video.
If the situation wasn't dire enough, red ants started to climb up my body and to worsen the situation I was feeling very thirsty.
My throat was dry and I was asking for water as I was feeling I would die of dehydration.
At that moment, I realised that if I got up to ask for water I would be a dead man.
I told myself that if I wanted to live I would have to lie down like a dead man and let the ants bite me and I would have to bear it.
For 40 minutes the ants kept biting me. I was dying of thirst, but I did not move.
I just told myself not to give up. After 40 minutes, the firing stopped and only then did I dream of getting off the ground.
When I finally got the courage to stand up, all I could see were the trees around me completely destroyed by bullets.
I don't know how many Naxalites were there, but they were present in big numbers.
The only thing I heard from that side was 'Chhodna kisi ko nahi (don't let anyone escape).'
I then went to see Sahu's body; it was very frightening.
It is a very sad state of affairs that Doordarshan does not provide us with insurance. It is sadder that they are saying Sahu is not their employee.
This is a truly sad state of journalism."