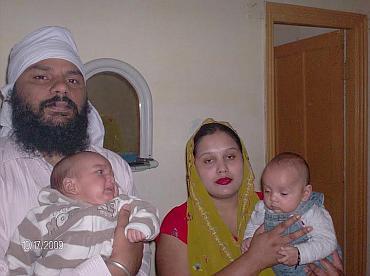 Robin Singh, who was abducted by the Taliban in Peshawar February 12, 2010 escaped from their custody on April 11. He has now taken refuge at the Panje Sahib gurdwara, about 160 km from Peshawar, along with his family and elder brother Rajan. 
In a telephonic interview Robin told rediff.com that as he was returning from work on February 12, when he was picked up by three people and thrown into a car. "I was blindfolded, so I can't say where they took me. I believe they drove away from Peshawar for over two hours. Then they took me out of the car and just threw me in a dark basement with barely any ventilation."

Robin was in captivity for two months. "I was beaten several times," he said. "They used to give me one meal a day. I normally eat three times a day.  At Panje Sahib, I am getting some intravenous proteins and regaining the weight I had lost." He said the Taliban also wanted him to convert to Islam and cut his hair. 
Robin's escape came when there was a police shootout in the area where he was held captive. The kidnappers ran for their lives and forgot about Robin. "I didn't know where I was; I just ran and ran," he said. Robin's father Bishan Das said he found a cab after some time and reached home. 
Robin's parents live in Brampton and are Canadian citizens. Bishan Das added, "They (the Taliban) demanded Rs 1 crore (about $226,000). But that's a lot of money… where could we find Rs 1 crore?"
Soon after Robin was abducted, Bishan Das said he had contacted Canadian Conservative MP Tim Uppal, people in the department of foreign affairs and his friend Shahbaz Bhatti, Pakistan's minister for minority affairs.
"They were very helpful," Bishan Das said. "The Canadian government took it up with the Pakistani government and they, in turn, asked the security forces to investigate. Farhat Ullah Baber, advisory to the Pakistani president, and Rahman Malik, Pakistan's interior minister, were also very helpful."
Uppal said, "We are pleased that he has been released and I understand he's safe. He's weak, but I am sure he will recover. I had gone to Panje Sahib last May," he added. "I visited the refugee camps there and people who have been displaced because of the Taliban. I believe people in Panje Sahib are safe where they have about 350 rooms. About 400 families have taken refuge there."
Uppal didn't reveal the extent of the Canadian government's involvement in the matter. "We do not, as a government, discuss the role we may or may not have played in his release. But I was in contact with Bhatti. He said he would do the best he could."

"Due to the constant threat, Robin and his children have moved to Panje Sahib. They celebrated Baisakhi with hundreds of people there," Bishan Das said. "What I want now is for the Canadian government to issue visas to my two sons and their families. I also have a daughter in Karachi. I want my family to be united and safe in Canada."
Roger Nair of the Human Rights Group, who pursued the case too, believes Robin, Rajan and their families come under the UN clause of refugees. Now that immigration minister has stated they would like to increase the number of refugee intake this year, the people in Panje Sahib should qualify, he said.
Uppal disagreed. "They are internally displaced persons," he said. "They also don't qualify under the family reunification clause, as they are not dependent on their parents. I will bring this case up with the immigration department and, if there's a way, they will help. But it is not going to be easy."
"The sad part is that the Pakistani government is not doing much to protect the minorities who are under constant threat of the Taliban," Nair said. "Some people have given them money for protection. But there are several factions within the Taliban. You can't be giving money to all of them."
Image: Robin Singh with his family in Peshawar.