'Arthur was a charming, quirky, funny, smart journalist who loved all things about films. And he would change my life forever.'
Aseem Chhabra salutes a distinguished colleague who passed into the ages last weekend.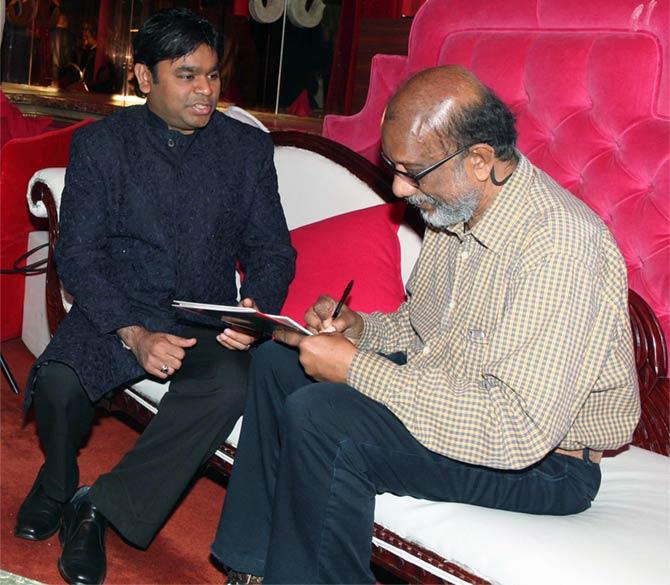 I met Arthur Pais in the fall of 1982. I had just joined the Columbia Journalism School and as a recipient of India Abroad's part-fellowship, I was asked by the newspaper's editor to come and work there. My initial job was that of proof reader -- a skill set I had learned from my mother.
There in a somewhat dark office on Park Avenue, I first spoke to Arthur Pais, a charming, quirky, funny, smart journalist who loved all things about films. And he would change my life forever. He pushed me to write more than anyone else I have known and encouraged me to become a journalist again in the late 1990s when I had given up the profession.
He was a solid editor, who asked the right questions, but he was also a peer, a competitor when it came to writing entertainment stories. I know he admired my work, as much as I appreciated his writings.
Arthur's death last Friday shook me up, even though I had a sense that we were going to lose him rather soon. He had been unwell for a while, but unfortunately I had not seen him for many months.
We were very close once. He meant a lot to me and had a lot of influence on how my life shaped as a journalist. But in recent years our lives had taken us in different directions.
Two years ago, on the opening night of the New York Indian Film Festival -- an annual film event I programme in the summer -- he congratulated me on that year's selections. And he told me it was the best programming he had seen in many years. I lost my father in 2012. But in Arthur's words I sensed the presence of my father.
At India Abroad in the 1980s we had somewhat different beats. Arthur mostly covered arts and entertainment, while I was assigned more political stories.
In the mid-1980s I also began to cover the support among US Sikhs for the Khalistan movement. And that became my main focus when I was transferred to represent India Abroad in California.
But Arthur and I bonded over our love for Hindi films and all other cinemas. Before I left New York in 1984, Arthur would often come over to my small studio apartment near Columbia University and we would spend the evenings listening to old Hindi film songs. He would know the names of all the films, the years they were released, the singers, lyricists and composers.
He had an encyclopedic knowledge about Hindi films. And I was in awe of him.
When things would get stressful at India Abroad -- and they often did because of the temperaments of our senior editors and bosses -- Arthur and I would play a quiz game. We would make lists -- ten films of Dustin Hoffman or ten films directed by Hrishikesh Mukherjee. Whoever would complete the list first would be declared the winner.
It was a time when we worked on typewriters. We had not heard of computers (although I remember India Abroad giving me my first word processor computer -- a Radio Shack machine in the mid-1980s). There was no Internet and no way to look up data related to our small competitions. We had to use our memories to come up with the answers, and Arthur would usually get them right and almost always first.
I learned a lot from Arthur. One day in 1983 he told me he was going to interview Mira Nair -- then a young documentary filmmaker living in Manhattan's Upper West Side. The interview was about Mira's documentary So Far From India, the story of a Gujarati newsstand man in New York City who makes a trip to Ahmedabad to visit his wife and child. I had seen the film at the Museum of Modern Art and had liked it a lot.
I begged Arthur to take me along. I pretended to be his photographer. Mira was friendly and Arthur even tried to play his film quiz with her. The three of us ended up having such fun conversations. And I loved the idea of talking to a filmmaker soon after I saw her film.
That experience led me to also write about films. Arthur opened up that world for me.
During one of the first conversations I had with Arthur he told me he had been a member of the National Awards jury in India in 1981. As he began to narrate his experience, I remembered an anonymous article -- an expose of the working of the jury headed by V Shantaram, which I had read in Sunday magazine in India. Arthur told me he had written that article.
In the report he wrote that Shantaram pushed the jury to agree to give the best actress award to Smita Patil for the film Chakra. Smita probably deserved the award, but for Shantaram the only reason for backing her was because she was a Maharashtrian. I had loved the piece and had kept a clipping of it with me. And now here I was working with the writer of that piece.
My favorite story that has stayed with me after all these years is the one Raj Kapoor shared with Arthur. In the earlier 1950s, Jawaharlal Nehru made an official trip to the Soviet Union where he was a guest of Josef Stalin.
Upon his return Nehru hosted a party at his residence. Among the guests was Prithviraj Kapoor who was a nominated member of the Rajya Sabha from 1952 to 1960. When Nehru saw Kapoor he said the following to him: 'I was in Moscow recently and Stalin mentioned to me that your son has made a film which the Russians are falling in love with. What is this film?'
The film in question was Awara and the irony was that Nehru heard about it from Stalin!
Arthur had such a vast reservoir of knowledge of such stories and anecdotes -- rich, historic, unique. As a young journalist I had never met anyone like Arthur. And I have never met anyone like him since then.
But to Arthur's credit, he never made me feel that he was my senior and that he had many more years of work experience. We were equals working at India Abroad, colleagues and friends as well. He got to know my then girlfriend, and we would often go out for lunches in diners in Manhattan's Gramercy Park, Flatiron and Chelsea districts.
He was my first real friend in the US, someone who understood me, my interests, my views of life, my political beliefs. He had a special nickname for me. He would endearingly call me Manku.
To this day I do not know what that word means. But I liked being called Manku by him. He once met my mother, and even invited my brother over to his Upper West Side home for dinner.
Arthur was a passionate cook and there was a time he and his wife Betty would host small dinner gatherings at their home. In the early days of the formation of the South Asian Journalists Association, Arthur would often have me over at his place for meals and that is where I met many other Indian journalists -- Tunku Vardarajan, Naresh Fernandes and writer Marina Budhos.
In the 1990s after getting an MBA degree from Boston University I quit journalism for almost 10 years. It was a difficult phase in my life, giving up my passion for a financially comfortable life.
But Arthur pushed me back into writing -- for Rediff.com's US edition and later briefly for the now defunct site ThinkIndia.com
"You are a writer," he would say to me. "Don't give up your dreams."
And thanks to Arthur I am still a journalist and a writer.
IMAGE: Arthur J Pais interviews A R Rahman. Photograph: Paresh Gandhi/Rediff.com
Rediff.com has owned India Abroad since April 2001. It acquired ThinkIndia.com in October 2000.