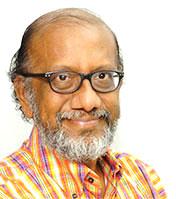 Rediff.com regrets to inform you that our dear colleague Arthur J Pais passed away in New Jersey on Friday.
Arthur, an Editor at Rediff.com and India Abroad -- the Indian-American newsweekly owned by Rediff.com -- was 66.
After a distinguished career in Indian journalism, Arthur and his wife Betty moved to the United States in the early 1980s.
He was a prolific writer and no subject -- films, literature, social trends, news -- escaped his attention. His insatiable curiosity and diligence enlivened every feature he wrote and his loss is an irreplaceable loss to all of us at Rediff.com
When informed about Arthur's passing, Salman Rushdie replied: 'This is sad news indeed. My condolences to his family and to all of you, his colleagues. Thanks for letting me know.'
Actress and cook book writer Madhur Jaffrey wrote: 'Very sad to hear the news.'
Tributes to Arthur from colleagues and friends in the US and India were posted on Facebook:
Aseem Chhabra, Rediff.com columnist and contributor:
Today I lost a man who was my first real friend in America. Arthur Pais was a real support to me during my early days as a journalist in New York. He loved films and we bonded on classics, filmy gossip and old Bollywood songs.
Later, at a time when I had given up journalism, Arthur again opened up my world to writing and reporting, and gave me the opportunity to become a better journalist.
I went for my first film interview with Arthur Pais. Well, he was going to interview Pagli Ji (aka Mira Nair) and I begged him to let me tag along with him. I told him I would pretend I was his photographer.
It was 1983 and I had just finished Columbia J School. The interview was about Mira's documentary So Far From India. I had seen the film at MoMA and had loved it.
We went to Mira's apartment on the UWS -- I think it was on 118th and Amsterdam. Three of us ended up having such fun conversations. And I loved the idea of talking to a filmmaker soon after I had seen her film.
And that's how I started writing about films. Arthur opened up this world for me.
I will miss him!
Pagli Ji (director Mira Nair):
Arthur Pais was wonderful warm and memorable...
Arun Venugopal, Correspondent PBS:
Arthur J Pais, a dear friend and my first journalism mentor died today.
I received the news from a former coworker at India Abroad/Rediff, where I worked with Arthur, years ago. A lot of you would've seen his byline, and maybe were even interviewed by him for the first time in your life, when your book had just been published or your film was about to be released -- he was an insanely prolific and passionate writer who took great pleasure in exposing new voices to the world.
He was also kind of a nut -- a character like no one I've ever met, who knew the most obscure and salacious details about Bollywood screen legends, about writers and editors, and New York itself, the city as it once was, unvarnished and vulgar and ripe with possibility.
We could be dirty around each other, and took great delight in each other's inappropriate thoughts, and when I left for public radio it made me sad to think I was leaving that behind, and him.
He believed in our craft and, most importantly, in those of us who were entering into it.
Sree Sreenivasan, Chief Digital Officer, Metropolitan Museum of Art:
RIP, ARTHUR PAIS, journalist, friend and mentor to so many in the NYC and SAJA worlds.
He had been ill for a long time and is in a better place now.
My prayers for his soul and his soulmate, Betty.
He was so quiet, so kind, so generous. Anytime I needed help or SAJA needed help, he would jump at the opportunity. But he was often keen that he not be acknowledged in any way.
A fun, wonderful man who loved writing, cooking, eating and listening to music, both Western and Indian. And he knew more about all of those than almost anyone I know.
During the dot-com boom, I was approached by a VC to help create a smart web publication for Indian Americans. The VC wanted a veteran editor to run things and I recommended Arthur and he launched the publication. Unfortunately, it died soon after because of the dot-com bust. Arthur never complained about it to or expressed anger about the situation he took it all in stride, just like everything else.
In 1999, he, along with our friends, Aseem Chhabra, Megha Bhouraskar and others, helped me launch the Old Filmi Music Club (an occasional gathering of lovers of old Bollywood -- filmi, in Hinglish -- music where we sing songs and eat a potluck dinner). Hundreds of folks have attended these in NYC over the years and I reckon we need to gather again in Arthur's honor soon!
We all get busy and lose touch with people we should not -- am sorry to say that I wasn't in touch these last couple of years, only seeing him and Betty at the India Abroad annual gala. If there's someone in your life you haven't called or connected with in a while, please use this as a reminder to do so.
Two words for you, Arthur: THANK YOU.
Lavina Melwani, Journalist:
Today the New York community lost one of its strongest voices -- journalist Arthur J Pais of India Abroad. Very sad to hear this unexpected news.
Arthur was the story-teller of our community. He had looked increasingly frail in recent years, but his writing was always strong, top-notch, be it on any subject.
My thoughts and prayers are with Betty and the family. I wish them peace and strength at this time.
Deepa Iyer, Social Activist:
I have such fond memories of Arthur. He used to call us at SAALT often for the "other side" of the story as he would often say. He traveled to many of our events to cover them.
I remember having a conversation with him outside the gurdwara in Oak Creek a week after the massacre there. He was always on the ground, quite literally -- he didn't want to just report via phone or remotely. He cared deeply about our communities.
Sandip Roy, Author:
Ohhh how sad to hear this. I met him many times and he was always so fun. He also did some of the first stories on LGBT South Asians when noone else touched that issue.
He helped define Indian-American journalism for many of us. He mentored many. And he gave coverage with compassion to issues many in the Indian community shied away from like LGBT issues.
Years ago Trikone honoured him with an award for that which he received with such humility and warmth. I am glad we got to thank him.
Anurag Harsh, Musician:
Rest in Peace Arthur. I can never forget that cold January evening in New York, 9 years ago when you took the trouble to talk to me and conduct that beautiful interview a couple months before my first ever Carnegie Hall concert, and the subsequent lovely two column spread that you had written -- one of the finest articles every penned about me in media. Thank you Arthur and May Your Soul Rest in Peace.
Toby Chaudhuri, Vice-President, PBS:
A gap in the world and great loss.
Vijay Iyer, Jazz musician:
Sad news. Rest in peace.
Suparn Verma, director:
The first time I read @StephenKing I was 13, it was a world without the Internet. Took me a year and one day an article appeared in the Sunday Observer. I saw the byline. It read Arthur Pais. I visualised an exotic white man writing for an Indian paper.
Many years later I was working @Rediff.com and I met the man in person. This lovely, kindhearted and helpful soul. It was my fanboy moment. I still have the paper cutting.
We interacted over the years on work and despite being sick last year he helped me during my trip to Los Angeles. Today he is no more.
Dear Arthur, I will always be your fanboy. Love, Suparn
Chidu Rajghatta, The Times of India's Editor in Washington, DC:
Legend -- of our times, in our community. Thoughts with his family at this time for strength and a celebration of his memories.