During the 50th anniversary commemoration of the 1965 War, the leadership of two men -- Lal Bahadur Shastri, then India's prime minister, and Y B Chavan, then the defence minister -- have been largely overlooked.
Without their wisdom directing the country's battle machine, providing solid support to the nation's military leaders, the war may not have quite gone India's way.
The 1965 War reinforced Shastriji's reputation. The little man assured all of India that he was a giant after all.
Lesser known is Chavan's role in rebuilding the Indian military after the humiliation of 1962. The successful events of 1965 will forever remain his legacy. Chavan ensured that the Indian military would never be taken lightly again.
Glimpses of the final days of the 1965 War, as seen from the diary Yashwantrao Chavan maintained during the conflict:
IMAGE: Y B Chavan, then India's defence minister, addresses troops during the war. Photograph: Kind courtesy 1965 War, The Inside Story
September 17, 1965
I was woken up from sleep at 6 am to be told about the Chinese severe note amounting to an ultimatum to dismantle within three days the construction on Chinese territory near Sikkim's border. It was confirmed by 6.30 am by AIR news.
ECC (Emergency Committee of the Cabinet) at 9 am at prime minister's house to consider Chinese note. Meeting lasted nearly 2 hours. It was decided to agree to the joint inspection and send an early reply. But the general feeling was that (the) Chinese would not accept this proposal. It was just an excuse to start trouble for India in support of Pakistan.
The main political purpose seems to be to see that Pakistan does not get weak so as to accept a ceasefire proposal under the pressure of the USA and Russia. Militarily to see that pressure on Pakistan is relieved and also to give military support to Kashmir LOC (Line of Control).
Prime minister made a statement in Parliament at 3.30 pm. It was soberly received.
First news of the movement of Chinese army started coming in.
Tuting in Siang Division of NEFA (then North East Frontier Agency, now Arunachal Pradesh) and Chhamb Valley (Sikkim/Bhutan) were mentioned.
Had a long talk with COAS (Chief of Army Staff, General J N Chaudhuri) about Chinese threat and our Position in different places.
Prime minister called in the evening. He was in a mood to talk. We discussed in great length about the Chinese threat.
September 18, 1965
At 11.30 (am), had a two-hour discussion in the prime minister's room in South Block when both Chiefs of Staff (Chief of Army Staff General Chaudhuri and Air Marshal Arjan Singh), the Cabinet Secretary, Home Secretary, Defence Secretary and L K Jha, were present. General review of our objective was taken. Supply position was considered. Some early decision was necessary in Chhamb Sector. This was necessary (for) both political and military reasons. I stressed this point. COAS will look into this.
This meeting was necessary to clear the minds. USA, USSR and UK were to be approached.
September 19, 1965
1. Morning and evening meetings as usual to take review with the Chiefs of Staff.
2. I broadcast my speech. It was well-received. Nandaji (Gulzarilal Nanda, the home minister), and Manubhai (Shah, the commerce minister) telephoned to say (that) they liked it much.
Baba (More, Y B Chavan's brother-in-law) phoned from Bombay to say the same. It is a comfortable feeling to know that your family members like what you do or say.
3. Sad news of the death of CM (Chief Minister) Gujarat Balwantrai Mehta came at 10.30 pm. It was shocking news. He died in an air accident.
September 20, 1965
Early morning by 5 am, I was woken by the shrill ring of the phone by my bedside, PVR (P V R Rao, the defence secretary) was speaking. He was ringing to tell me that further information had come about Balwantbhai's air accident. It was not an accident, but was shot down by Pakistani fighter planes near Bhuj. It was surprising that the plane went off the track nearly by 50 miles between Ahmedabad-Mithapur.
I hate these Pakistanis. It was the most dastardly attack on non-military and a tiny plane. Balwantbhai has died a martyr's death.
In my meeting with the Chiefs of Staff, I mentioned to them about the possibility of ceasefire as Security Council resolution was expected any time. What was their view?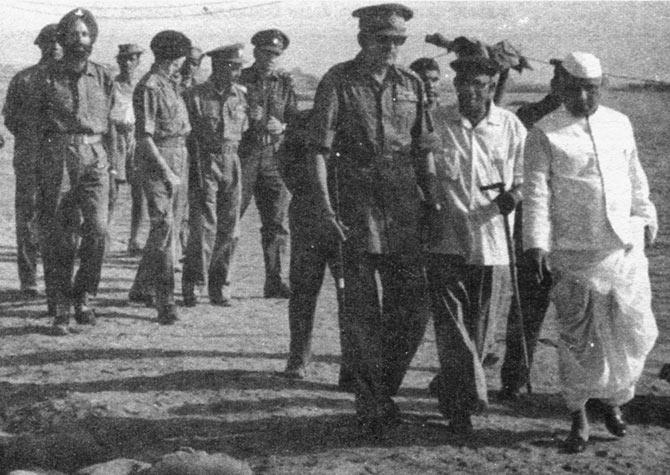 IMAGE: Y B Chavan, then India's defence minister, with General J N Chaudhuri, the then chief of the army staff, at the front during the war. Photograph: Kind courtesy 1965 War, The Inside Story
COAS told me that he had prepared an assessment from (the) military point of view and he would show it to me later.
He came back alone with the assessment. His thesis was that the twin purpose of (1) doing damage to the war potential and military machine of Pakistan and (2) defeating the purpose and plan of Pakistan to decide the Kashmir issue by military strength were achieved. We are on top of the situation (and) if we agree to the ceasefire now, the army would support it. The respite we will get will be good to put things right as far as supplies were concerned.
Politically, we were completely isolated. To reject a ceasefire would be in the long run militarily also unwise. China's game is to continue (the) struggle so that they can fish in the troubled waters.
I think it is good that the military and political thinking was moving in the same direction. The Chinese extended their ultimatum by three days. Very clever people.
ECC (met) in the evening. Security Council Resolution had come by this time ordering a ceasefire by the morning of 22nd. ECC generally discussed and adjourned to meet the next day.
When I was in the Chiefs of Staff meeting at 6 pm, message came that I should meet prime minister with defence secretary and chief of army staff. L K Jha was present. We met at 7 pm in the prime minister's office.
After some preliminary discussion about the military point of view, it was agreed that the prime minister should send to U Thant, through G Parthasarthy (India's Permanent Representative to the UN) (a message) confirming our willingness to order a simple ceasefire if Pakistan is agreeable.
September 21, 1965
This was a fast-moving day. Morning brought the news of China's firing in Nathula (Sikkim) and other places. Three days' extension was just a bluff. Our troops were ordered to reply to the fire, if fired upon and to take defensive positions if a major attack came.
1. ECC met. Prime minister told them about the message already sent to U Thant. ECC agreed without much discussion.
2. Party executive met and endorsed prime minister's action with enthusiasm.
3. All party leaders met. They thought that prime minister's action of sending the message to U Thant a diplomatic and wise move.
Confirmation came that Balwantbhai (Mehta's) plane was shot down by (a) Pakistani plane.
News came in the evening that (Pakistan's foreign minister Zulfikar Ali) Bhutto left Pakistan on way to New York to address the Security Council.
I think he will bark and bark there and ultimately agree to the ceasefire.
September 22, 1965
I was in bed at 5 am when P V R Rao phoned to tell me that Parthasarthy has phoned to say that (the) secretary general wants us to declare a unilateral ceasefire. It was an absurd suggestion. I told him it is better that the ECC meet to consider. I am dead opposed to such (a) suicidal thing.
8.30 (am) ECC met. I put forward my point of view. ECC agreed. A message was sent to Parthasarthy.
After (the) morning meeting I got a message by 11 am that Bhutto is addressing the Security Council and a rumour reached that he was asking for more time. I called COAS to consider the implication of such a move.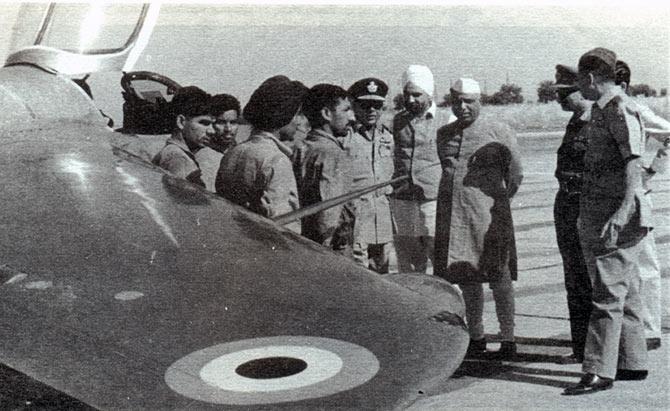 IMAGE: Y B Chavan, then India's defence minister, with air force officers and the Gnat that shot down a Pakistani F-104 aircraft.. Photograph: Kind courtesy 1965 War, The Inside Story
He came to me at 12 o'clock. Was with me for one hour. We were going into the pros and cons. CAS (Chief of Air Staff) came and told me about air battle in the Kasur area: 5 (planes) were shot down. We were in Khem Karan, etc.
By 12.45 pm message came through news agency that Bhutto has agreed to the ceasefire. In the meanwhile, COAS came with draft instructions. Prime minister's word came that we all go to him and discuss. We showed the draft instructions to the prime minister and he authorised its issue. It was 1.30 pm.
Prime minister made a statement (in Parliament) at 3.30 pm. It was well received.
4.30 pm. ECC met. Prime minister made a short speech and congratulated COAS and CAS. We all felt proud.
Cabinet colleagues warmly congratulated me.
Army and air force have become now for us the symbols of our national pride and glory. A great day for me. A great day for Chaudhuri and Arjan Singh.
It was just then (that I) remembered a talk with (former defence minister V K) Krishna Menon only a week ago. He told me that I depended too much on Chaudhuri and he is a general who will never fight. I told him that I disagreed with him. He was going by his personal dislikes. I have told him that from what I have seen of him (Chaudhuri) in the last 3 years, I am sure if it comes to vindicate the honour of (the) Indian army, Chaudhuri will fight.
And today, I was vindicated in my judgment of the man. He fought and fought well.
Air Marshal Arjan Singh is a jewel of a person; quietly efficient and firm; unexcitable, but a very able leader.
So the first round is over -- where is the second round and when?
I have a feeling that this is the real beginning of trouble in this part of the world. How we utilise the respite that we are getting is going to decide the future of the country.
The dangerous process of encirclement of India by hostile countries is complete. The leading powers of the UN, including the USSR (then the Union of Soviet Socialist Republics, now Russia), are not with us on (the) Kashmir issue. We are tragically alone.
This is the achievement of our foreign policy. The issue (Kashmir) is basically political. Its solution will have to be political.
We have, with good luck, come out of it (the conflict) well. But if we try to make it again purely military, it will be a disastrous mistake. Unless we make quick and radically new moves to break the political isolation that we find ourselves in.
The ball is now in the political court again -- where it should be -- and not the military one.
I hope we have the vision and courage to accept this challenge to (our) political leadership.
Excerpted from 1965 War, The Inside Story, by R D Pradhan with the kind permission of the publishers, Atlantic Publishers and Distributors Pvt Ltd.
OUR SPECIAL SERIES: THE 1965 WAR, 50 YEARS LATER