'The TMC has become a private limited company.'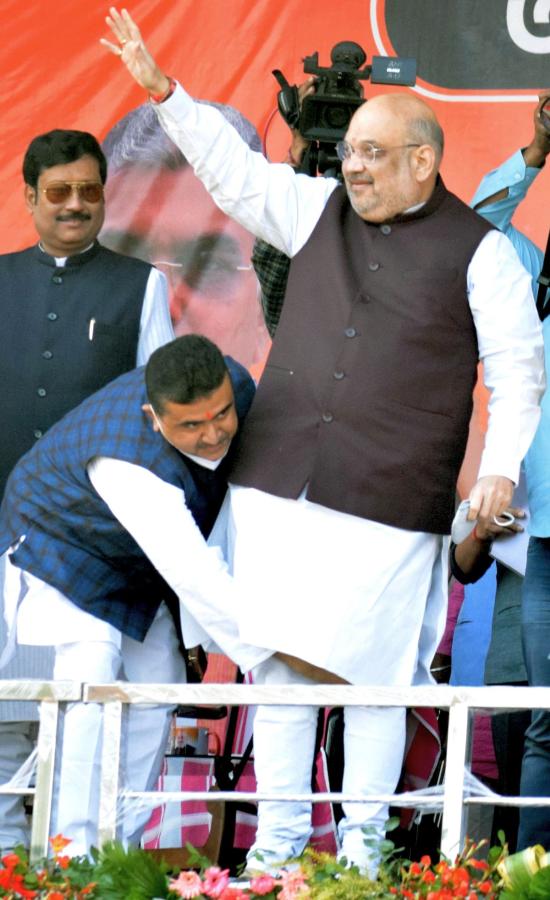 On January 12, senior Trinamool Congress leader and three-time Lok Sabha Member of Parliament, Sisir Adhikari, pictured below), was on the operating table at a Kolkata hospital, when the TMC high command sent a missive.
He had been sacked as chairman, Digha Sankarpur Development Authority.
When Swarupa Dutt/Rediff.com spoke to Adhikari on February 24, he had just had his second cataract operation. "I'm home and feeling fit and fine. The operation was successful. I may be 82, but I'm confident I will live long enough to see the changes taking place in my state come to fruition," he says.
Adhikari is the Trinamool MP from Purba (East) Medinipur's Kanthi Lok Sabha constituency and one of the party's founding members.
Three of his four sons are in politics and till December, also with the TMC. That month, his son Suvendu joined the Bharatiya Janata Party. In January, another son, Soumendu, followed suit.
Another, Dibyendu, is still an MP with the TMC from the Tamluk constituency, and so far hasn't indicated he will quit the party. When Rediff.com spoke to Dibyendu Adhikari, he said he was touring Kerala and Karnataka for a week.
Sisir Adhikari remains with the TMC, but the day Suvendu jumped ship, life as he knew it changed irretrievably.
"The party and my constituency have always treated me with respect. Kintu akhon TMC-er changra chhelera porjonto amake galigalaj kore. But now, these loafers from the TMC abuse me. I cannot repeat what they tell me. We come from a family of freedom-fighters and I can honestly say I have never ever been on the receiving end of such abuse."
He talks of how his father, Kenaram Adhikari, was a compatriot of Subhas Chandra Bose and an associate of Aurobindo Ghosh.
"My father's relationship with Sri Aurobindo strengthened his ties with Netaji. It's one thing to invoke Netaji's name at every rally, and quite another to have known him personally."
My father used to stay in Contai but would travel to Kolkata to meet Netaji at his Bhowanipore residence. In fact, before he left India, Netaji had visited Contai for a meeting. For years, we had kept the madoor (mat) which Netaji had used," Adhikari says.
It is this fragment of family history that gives Adhikari strength.
He says he has full faith in the decisions his sons take because they follow the path trodden by their forefathers who in turn drew inspiration from Netaji and Aurobindo. "It's my firm belief that generally in life, my sons will not stray from the righteous path," he adds.
Contai is a town in the Purba Medinipur district of Bengal and is approximately 150 km from Kolkata. The town is where the Adhikaris stay. Sisir has been the chairman of the Contai municipal corporation for 25 years. His son Soumendu succeeded him, but in December, shortly after Suvendu joined the BJP, the TMC sacked him as well.
Suvendu, on the other hand, always retained the upper hand with the TMC, as a look at his chronology of extrication from party posts will indicate.
Suvendu resigned as chairman of the Hooghly River Bridge Commission on November 26, 2020. The next day, he resigned as West Bengal transport minister. On December 16, he resigned as an MLA, and the following day he gave up primary membership of the Trinamool party.
The next step was obvious -- joining the BJP in Amit Shah's presence.
"I didn't say anything when he informed me (of joining the BJP), but I gave him my blessings. He is my son, my blessings will always be with him," Adhikari says. "But I certainly did not tell him what to do or not to do. He is an adult and can take his decisions on his own."
A phone call interrupts this interview.
The call was from a popular Bengali news channel, part of a media group which owns a multi-edition English newspaper that makes no bones of taking on the government, both at the Centre and the state.
"The media keeps asking me the same question. Yes, yes, I'm still with the Trinamool. Today there was a zilla parishad meeting. I wasn't called." (laughs)
"You know, in Bengali there is a phrase, Abahon o neyi, bishorjon o neyi. (loosely translated it means, a sense of detachment; to be unaffected by changes in fortune, almost never pecuniary). That is my state of being. I dont get affected by the way I am being treated by them any more."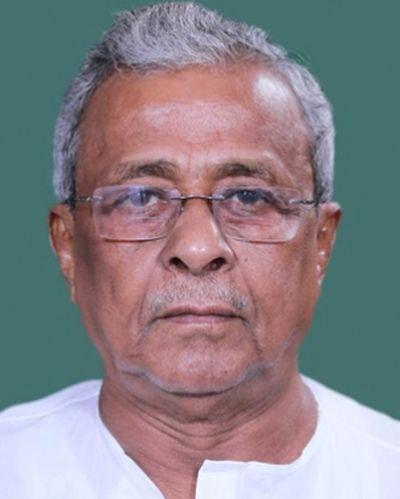 The TMC removed Sisir Adhikari as East Midnapore district president and appointed senior TMC Minister Soumen Mahapatra, a known detractor of the Adhikari family in his place. Adhikari was made chairman of the core committee of the party's district unit, a less important post.
TMC MLA Akhil Giri, also a detractor of the Adhikari family, replaced Adhikari as the chief of the Digha Sankarpur Development Authority.
Adhikari refers to his party in the third person -- "ora, oder, they, theirs." Not even once during the interview, does he say "our" or "us" for the TMC.
He says last month TMC youth leaders put up mikes around his house. "Amar 14 purush kano, 52 purush-o erokom galagal shoneni kokhono. Fourteen generations of my family and their forefathers have never heard this kind of language blaring out from mikes. It pains me deeply to see what the party I loved has come to."
He says 80 per cent of the people in his constituency have moved to the BJP. "Shobai chole gache everyone has left. And as for the rest of the 20 per cent, they are looking at me for direction. All I can say is that I am here for now, the rest is for you to figure out. I will not allow you to put words in my mouth," he laughs.
So far, West Bengal Chief Minister Mamata Banerjee has not reached out to him, neither has anybody from the party. He says the party probably expects he will join the BJP.
In fact, state BJP president Dilip Ghosh sent him an open invite saying the doors of the party are open to him. "That's because he respects me as a senior leader of the party. Not just him and his party, almost all parties with a few exceptions respect me," he quips.
It has been a long day for him; almost dinner time.
Do his sons live with him?
"No, no, I live with my sons. I have nothing to call my own, except my sons. But I have told them there is one rule they must follow -- no shop talk at the dining table. Leave politics outside the door and then enter the house. There is enough to talk about, why waste time in politics?"
Each time ora (they, the TMC) comes up in the interview, Adhikari pulls out the Bengali detachment phrase, but after a while, admits to being upset at the treatment meted out to him after Suvendu's departure.
" I am deeply hurt, but I cannot do anything. Let them do what they want to. Even yesterday, there were mikes around my house with abuse being hurled at me in full volume. Illiterate, uneducated riffraff, who don't know that you can be civil, polite, to a perceived opponent, are now leaders of the party," he says in his gravelly voice.
"When we formed the TMC in 1998, the document that was registered with the Election Commission was unique, unusual for any party in India. All AITC members were the owners of the party, the maaliks.
"Now, what Suvendu says is right. The TMC has become a private limited company. Even till 2014, we had equal say in the party, but thereafter, slowly but steadily, this has become a party owned by two or three people. "
He says the party does not believe in documentation. "Akhon amra criminal-er moton boshobash korchi. Now, we are living like criminals," he says.
The BJP has alleged that the Amphan Cyclone relief funds given by the Centre was looted by the party and did not reach beneficiaries in the state.
Sisir Adhikari is cryptic. "I have no way of telling you what I know of the party. When there is a way, I will speak. I have lots to say."
"There is lots that is happening in the innards of the party; certain people are responsible for what is happening. I have no alternative but to tell you that I will not open my mouth.
"The PM at his meetings says Amphan money was looted. If you think you are going to make me agree, you are mistaken. Make whatever inference you want to make," he laughs.
Suvendu recently said that the lotus would not only bloom in his own house, but on Kolkata's Harish Mukherjee and Harish Chatterjee Streets, too. Abhishek Banerjee lives on Harish Mukherjee Road, a stone's throw from Harish Chatterjee Street where the chief minister lives.
"I cannot tell you what I will do because I don't know. The truth is I will do whatever my sons tell me. The point is, they haven't told me anything yet.
"Shall I send you a picture of my cataract operation?" he suddenly asks quite seriously.
"I am in perfect health, Ato shoheje ami jabona. I am not ready to go so easily. I don't even need glasses anymore. I can see everything clearly. And I will soon tell you what I can see."