At a height of 17,200 feet, his handwriting mangled by the cold, Captain Vikram Batra wrote this letter to his twin brother.
An excerpt from Letters From Kargil by Diksha Dwivedi (Juggernaut).
Illustration: Dominic Xavier/Rediff.com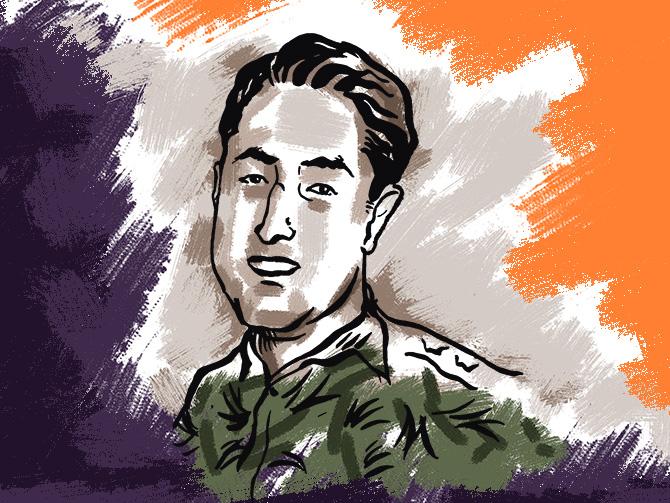 Captain Vikram Batra of 13 Jak Rif (Jammu and Kashmir Rifles) was confident that he would come back home with flying tri-colours.
He had said to a friend before he left for the war, 'I'll either come back after raising the Indian flag in victory or return wrapped in it.'
He was a passionate lover, a caring twin brother (to Vishal Batra, who he called Kush) and son, but before all that, he was a determined soldier.
At war, his energy and passion were contagious, and it made him the face of the infantry in Kargil.
He never got tired. It seemed like he had serious business to settle with the enemy personally and wouldn't stop till he got to the finish point.
23 June 1999
Dearest Kush,
Hi! Trust this letter finds you in the best of health and high spirits.
Hope you've received my previous letter, which I wrote at Moni's add.
I am writing you this letter from point 5140 (at Tololing) which you might be hearing about every day in the news. Yeah, you will be proud to know that we have captured it.
Lt Jamwal (you met at Shimla) and I had gone to attack it and we captured it on 20th, killing 6 Pakis and captured hell lots of arms and ammunition.
Whole battalion is very happy on our performance. We both have been recommended for MVC (Mahavir Chakra) for this task. And I have also picked up the rank of Captain.
Yesterday I had called up Mummy and Daddy from this place as we had got satellite phone for some time, so everyone got a chance to speak from wherever they were.
I've also received letters from Nippy, Nippy's parents, Omkar.
Rest everything is fine this end. Don't know about leave plan.
Do give a call to Dimple and tell her about me that I am fine and tell her about my achievement also.
We have got congratulatory calls from Army Chief, AG, DGMO and other army cdrs from all over.
Nothing more to write so I pen down. Do reply soon. I'm writing at a height of 17200 ft. Sorry for hand, as it's very cold here.
Love always.
Yours, Luv!
Captain Batra was fearless, the kind of 'fearless' that could scare the enemy away; that's why he was called 'Sher Shah' by the Pakistani army.
They had every reason to be wary of him.
On June 20, Captain Batra pounced on the enemy and killed four intruders in a hand-to-hand fight after secretly negotiating an almost vertical cliff to catch them by surprise.
This he did knowing very well that he risked being spotted by the enemy.
He was badly injured when he went on to recapture the peak of Point 5140 with his brave men from 13 Jak Rif, but until his last breath left him, he would not stop fighting.
He would ask for a bigger challenge every time. 'Yeh dil maange more,' he'd say to the journalists after every attack.
Excerpted from Letters From Kargil: The War Through Our Soldiers's Eyes by Diksha Dwivedi, with the permission of the publishers, Juggernaut.