An incredible multi-nation search operation rescued Indian Navy Officer Abhilash Tomy three days after a storm broke his boat, and seriously injured his back in a remote part of the Indian Ocean.
Archana Masih discovers how the sailor lost at sea was brought home.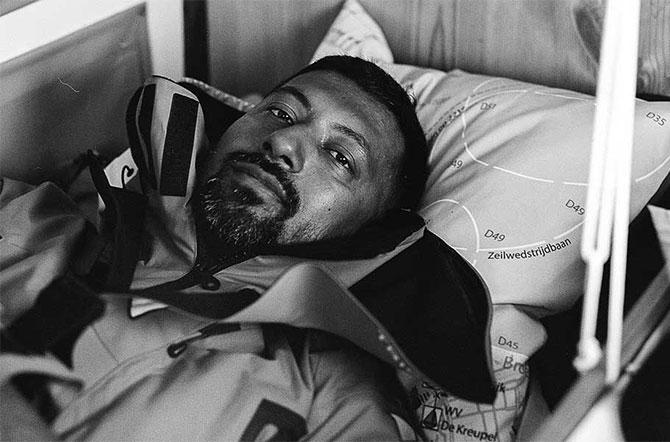 Kirti Chakra awardee Commander Abhilash Tomy of the Indian Navy was rescued from his destroyed yacht Thuriya in a remote part of the Indian Ocean at 12.30 pm on Monday, September 24, 2018.
"Tomy was able to assist himself while transferring off the vessel," said Alan Lloyd, manager at the Australian Maritime Safety Authority Rescue Centre that managed the joint Rescue Coordination Centre which coordinated the search and rescue efforts. Photograph: Kind courtesy, Golden Globe Race 2018 Web site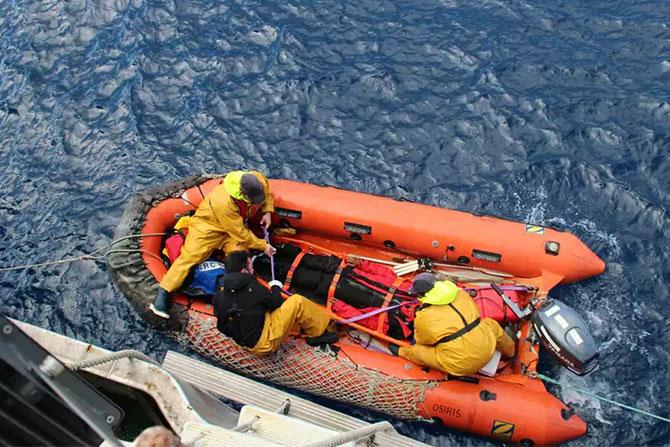 A rescue boat from the French shipping vessel Osiris evacuates Commander Tomy in a stretcher from his yacht.
"Although he was bed ridden most of the time he was in the vessel and unable to move on the upper deck, his condition is stable," Lloyd told reporters in Canberra see video below. Photograph: Kind courtesy AMSA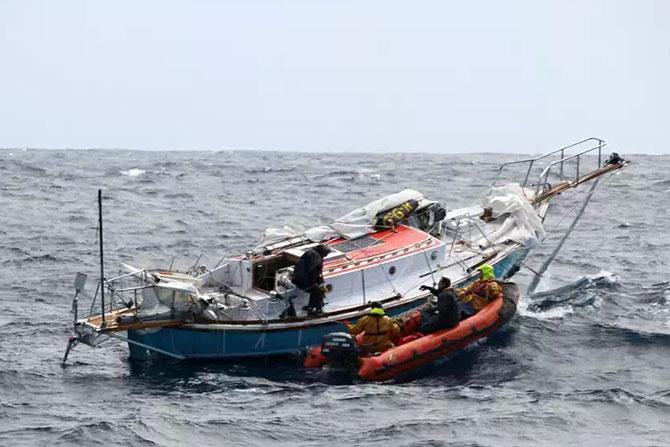 When the Gemini boat from the Osiris reached Commander Tomy, who had severely injured his back, three days after he sent an SOS, the officer was able to communicate effectively.
Commander Tomy was transported to Amsterdam Island in the southern Indian Ocean for further medical treatment and assessment. Photograph: Kind courtesy AMSA
Commander Tomy had been at sea for 85 days. He was participating in the Golden Globe yacht race when he was caught in a storm 3,500 km south west of Perth, Australia. His yacht rolled through 360 degrees and dismasted.
"Any transfer at sea is difficult. The seas at this time had abated. The imagery that AMSA has indicated it was reasonably a good condition for transfer," said Lloyd. Photograph: Kind courtesy AMSA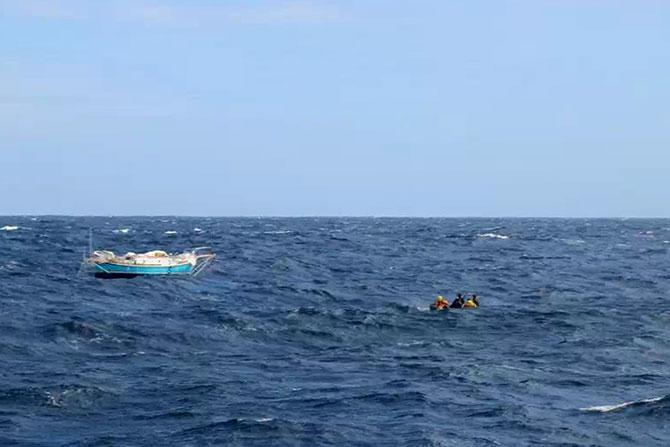 Commander Tomy is expected to be picked up from Amsterdam island by the Indian naval stealth frigate INS Satpura by the end of the week.
The INS Satpura was dispatched to rescue Commander Tomy as soon as the emergency alert was received. Sadly, its Captain Commander Alok Anand set aside the tragic news of his father's death in the line of duty to save the heroic sailor lost at sea.
The Australian frigate HMAS Ballarat is also likely to reach Amsterdam island on Friday, September 28. Photograph: Kind courtesy AMSA
Commander Tomy's yacht Thuriya has been abandoned in the Indian Ocean.
Another participant in the race, Irishman Gregor McGuckin, who lost both his sails in the storm, had reached within a couple of nautical miles to assist Commander Tomy.
"It was excellent spirit of seamanship. He was able to get to Tomy but Osiris arrived at the same time. They were rescued a few hours apart," Lloyd said. Photograph: Kind courtesy AMSA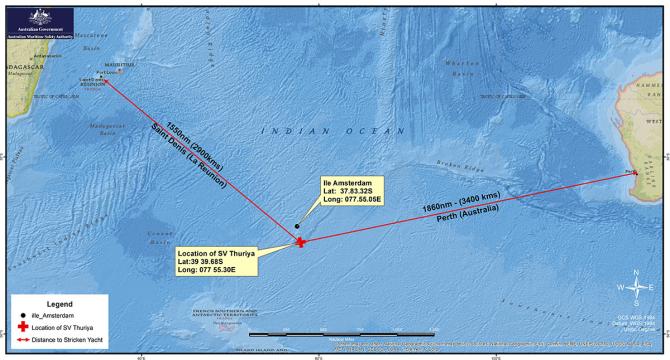 The Indian armed forces's Posiedon P-8 martitime patrol aircraft operating from Mauritius undertook a number of sorties to establish the actual location and condition of Commander Tomy's vessel.
Photographs taken by the crew showed the yacht dismasted with her rig still attached to the hull acting as a sea anchor according to the Code Red alert of the Golden Globe Race.
A Royal Australian Air Force P-8A Poseidon aircraft and a civilian Global Express aircraft from Australia were tasked for the rescue.
At the completion of the rescue, Defence Minister Nirmala Sithraman tweeted: 'A sense of relief to know that naval officer @abhilashtomy is rescued by the French fishing vessel. He's conscious and doing okay. The vessel will shift him to a nearby island (I'lle Amsterdam) by evening. INS Satpura will take him to Mauritius for medical attention.'