What began as a challenge ended up a way of life for 'Paalam' Kalyanasundaram, whom the UN adjudged one of the most outstanding people of the 20th century.
This is the story of his inspiring journey, as told to Shobha Warrier/Rediff.com
IMAGE: The extraordinary Paalam Kalyanasundaram. Photograph: Sreeram Selvaraj
Thin, frail, clad in a dull white dhoti and sleeveless vest, 'Paalam' Kalyanasundaram looks older than his 75 years. Though born into a wealthy agricultural family where he was surrounded by abundance, his possessions today are a couple of dhotis and shirts and a small black bag that he carries everywhere.
He doesn't have a house of his own, but the doors of many homes in Chennai, including that of superstar Rajinikanth, are open to him.
He never married because he did not meet a person like Sarada Devi, Ramakrishna Paramhansa's wife. yet, hundreds of children are willing to take care of him.
I meet this extraordinary human being in a tiny one room house in a slum. He is like a grandfather to the young girl who lost her father to cancer a few years ago. She eats with him, runs errands for him, travels with him and takes care of him more than he takes care of her. He has many such grandchildren.
As we speak, a young man walks in. A driver from the interiors of Tamil Nadu, he had come hearing of Paalam's large heart and wanted to help by driving him around. A man like Paalam, he says, should not travel in autos and buses.
This is the kind of unconditional love people have for him.
Paalam worked as a librarian in a college for 35 years and donated every paisa he earned as salary to charity. To meet his needs, he worked as a waiter in a small hotel after college hours. He also gave away his entire pension to the poor.
He had won many awards including the best librarian award from the Government of India. The International Biographical Centre, Cambridge, honoured him as one of the 'noblest of the world.' The United Nations adjudged him one of the most outstanding people of the 20th century.
The Man of the Millennium award from an American organisation gave him Rs 30 crore (Rs 300 million) along with the award. He donated the entire amount to the poor.
Today he runs the organisation Paalam (bridge), which works as a bridge between donors and the needy. "I do not earn any money now, so I can only act as a bridge," he says.
It may be hard to believe that a man like Paalam Kalyanasundaram lives on this planet, but he does, and here is his story.
Childhood in a village
You will realise how backward my village, Melakarivelamkulam in Tirunelveli district, was when I say that there were only 35 houses. We had no road, no electricity, no primary school or even a tiny shop to buy a match box!
Till I reached high school, we only used kerosene lamps at home.
It was only when I came to Madras for my post-school education that I saw, for the first time in my life, a train, a cinema theatre, big shops and even electricity.
I lost my father, a rich landlord, when I was 10 months old. I was brought up by my mother and maternal grandmother. My biggest life lesson came from my illiterate mother.
Before she got married, my grandmother ran a small idli shop in her village and my mother and her sister worked as servers. My father, a rich agriculturist, used to visit the village to sell his farm products. As this was the only idli shop there, he was a regular visitor.
A 45-year-old widower, he would leave his two small children at the idli shop while he completed his work. When he found that my mother lovingly looked after them, he wanted to marry her. My mother had two conditions -- that her mother would stay with them and he had to bear the expenses of her younger sister's wedding.
He agreed and they were married.
My elder brother was born when my father was 50, I was born 11 years later. Within a year, my father passed away.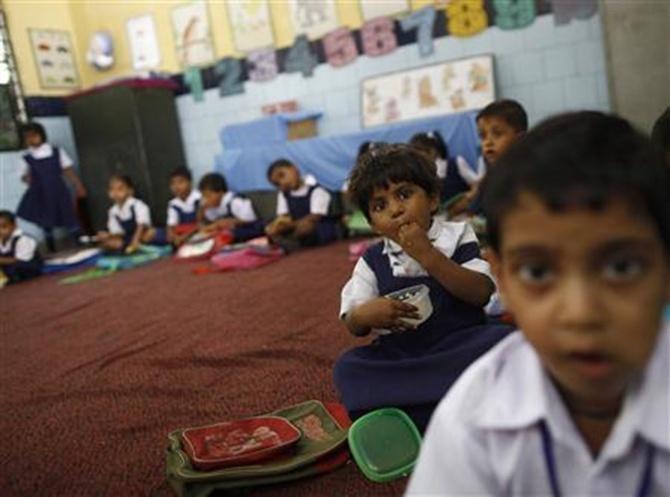 IMAGE: Kalyanasundaram's mother urged him to share his meals with others (Image used for representational purposes only). Photograph: Mansi Thapliyal/Reuters
A magic mantra, learnt early in life
When my brother and I were young, she would tell us, 'Even if you have all the money in the world, you will not be happy. To attain happiness, you should not be greedy. You should donate one tenth of whatever you have to the needy. You should help a living being -- human or animal -- every day. If you follow these three things, you will be happy.'
My life was not shaped by what I learnt in school or college, it was shaped by my illiterate mother's thoughts.
Every morning, when my brother and I got ready to go to school, my mother would pack either 10 biscuits or 10 murukku (a savoury snack) or 10 chocolates and tell us, 'Before you start eating, you should give one to somebody else. Without doing that, you should not eat anything. It can be a beggar or a dog or even your friend.'
One day, the snack she gave me was a delicious sweet. I couldn't control my desire, I ate all 10 myself. In the evening, I asked her for some more after confessing I hadn't shared any earlier since it was so tempting. She was so angry and disappointed; she slapped me hard and said she would have made more if I had shared it with someone.
A challenge, and a saviour
When we became teenagers, the voice of all my friends cracked, but mine didn't. My classmates would constantly tease me about my shrieky, feminine, voice.
It disturbed me to such an extent that I wanted to commit suicide.
Depressed beyond words, I went to meet a Tamil writer who was my hero and told him I was fed up living a boy's life with a girl's voice. I was 16. He was shocked. He took me to a hotel and ordered some food.
Later, he spoke to me for two hours. 'How Kalyanasundaram speaks is not what makes your life,' he said. 'What society speaks about Kalyanasundaram is what matters. You should live such a life that people speak highly about you and your life.'
I have not forgotten his words.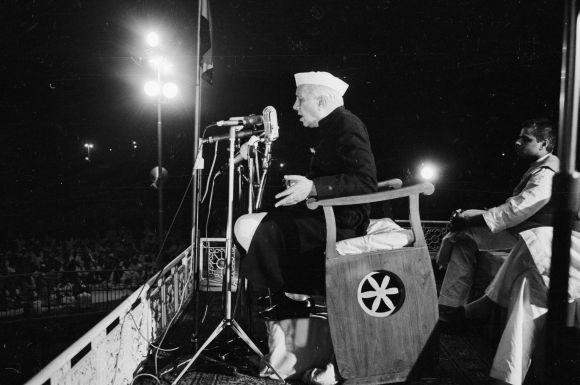 IMAGE: Prime Minister Jawaharlal Nehru addresses a meeting in New Delhi during the 1962 war with China. Photograph: Terry Fincher/Express/Getty Images
A war and a challenge
In 1962, when the India-China war started, Prime Minister Jawaharlal Nehru urged all citizens to donate to the war fund. I was a student of library science at Madras University.
I didn't have any money, so I immediately took the gold chain I was wearing and donated it to the Prime Minister's Fund.
When Kamaraj (the then chief minister of Tamil Nadu) came to know of this, he arranged a meeting at Marina Beach (in Chennai) on May 1, 1963. When he complimented my donation as a great social service, I said I had done it for my own satisfaction and happiness.
A newspaper editor asked, 'Till now, you have been donating what your mother and grandmother gave you, not what you earned. When you start working, can you donate your entire salary for at least five years?' Taking it as a challenge, I agreed.
When I was in school, I wanted to see all the other children there as well. But most of my friends from the village could not afford the fees. So, after I turned 14, I gave free tuition to the village children. I felt it was unfair that I could study because I belonged to a rich family and my friends could not because their parents were poor.
Keeping a promise, and more
I am a gold medallist in library science and have master's degrees in Tamil literature and history. After my studies, I decided to work as a librarian at the Kumarkurupara Arts College at Srivaikuntam near Thanjavur.
At that time, our family income from agriculture was around Rs 2 or 3 lakhs (Rs 200,000 t9o Rs 300,000). I remembered what I told the newspaper editor. I knew I could donate my salary of Rs 140 and live on the family income.
But what is so great about giving away Rs 140 for charity when your family income is in lakhs? It becomes great only when that Rs 140 is all you have.
When serving became a tribute
After donating my entire salary, I chose not to take any money from my family. To take care of my basic needs, I worked in a restaurant in a small town away from my college.
After college, from 5 pm to 7 pm, I worked as an honorary professor teaching students Gandhian studies. From 8 pm to 11 pm, I worked as a waiter.
Though the owner asked me to work as a manager or a cashier, I wanted to work as a waiter as my mother was one when she was young. I didn't consider it demeaning even though I was the chief librarian of a college.
The hotel paid me Rs 600 as salary. I was also given free food.
Slowly, people came to know that I worked in a college and the restaurant came to be known as the one where a college teacher worked as a server! Many people would come there just to see me.
Even today, people point out the restaurant and say this was where a college professor worked as a server.
IMAGE: In rural India, many poor children do not have access to education (Image used for representational purposes only). Photograph: Parivartan Sharma/Reuters
The joy of giving
After giving away my salary for five years, I thought why not donate my entire salary for another 10 years and prove the editor wrong?
After 10 years, I realised I felt good using my money to educate poor children. I continued to donate my entire salary till my retirement, that is, for 35 years.
Nobody knew what I was doing till 1990. It remained a secret as I didn't want to publicise what I was doing.
When our pay scale changed to what the UGC (University Grants Commission) prescribed, everyone got huge arrears. I also got Rs 120,000.
I met the district collector and asked him to keep the money in a trust to be used as scholarships for the education of orphaned children. He asked if I had any conditions. I said I wanted members from all communities who were involved in charity work to be on the trust so that the scholarships would be used properly even after my death.
When he wanted to arrange a public meeting to appreciate my gesture, I told him I didn't want anyone else to know about it. He agreed, but, without my knowledge, sent this information to newspapers, agencies and radio stations. It was flashed all over India. His reasoning was that he wanted more people to follow what I did.
That's how, after April 16, 1990, people came to know of a person called Kalyanasundaram.
A sacrifice, happily made
I knew that if I got married, I would not be able to donate my entire salary. So I decided to remain a bachelor.
If I had met a person like Sarada Devi, who was the perfect wife to Ramakrishna Paramahamsa, I would have got married.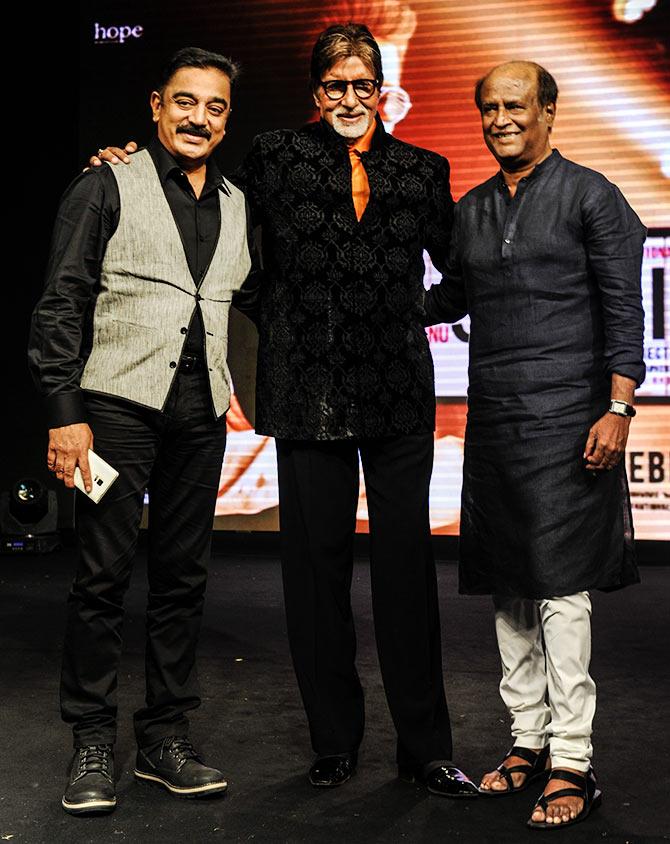 IMAGE: Rajinikanth with Amitabh Bachchan and Kamal Haasan at an event last year. Photograph: Pradeep Bandekar
A superstar for a son
After I gave my entire pension, gratuity and provident fund to the poor, the United Nations named me one of the Outstanding People of the 20th Century.
An American organisation honoured me with the 'Man of the Millennium' award, which included Rs 30 crore. I distributed the entire amount to the needy.
When Rajinikanth came to know of this, he organised a meeting at the Kamarajar Arangam and gave me money and 101 sovereigns. There itself, I gave away the money and 101 sovereigns to 101 needy children.
On seeing this, he adopted me as his father and wanted me to stay with him. But I couldn't stay with him for more than a month as I found that life quite stifling.
I like to lead an anonymous, simple and independent life which I didn't get while staying at his place. He respected my wishes and let me go, saying the doors of his house would always be open for me.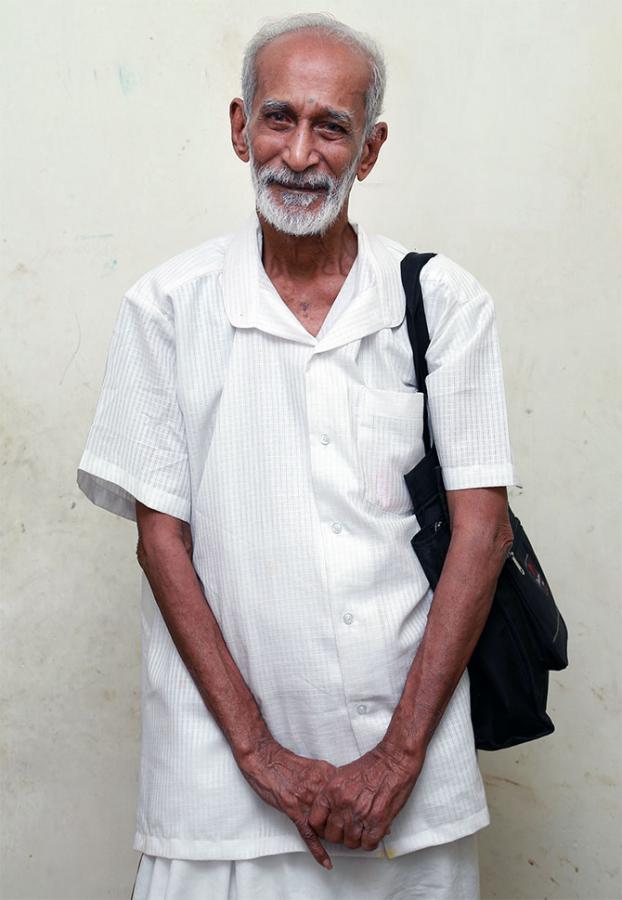 IMAGE: The man who became a bridge -- Paalam Kalyanasundaram. Photograph: Sreeram Selvaraj
A much needed bridge
After my retirement in 1998, I decided to return to my village, but Nalli Kuppuswami Chettiar (the well-known textile industrialist and philanthropist) asked me stay back in Chennai and work for the poor.
I didn't have a single penny -- no salary, no savings. He promised to take care of my needs and the expenses of an office. Even today, he takes care of everything.
Now that I don't earn any money, I decided to be a paalam (bridge) between the needy and the donors. That is how people started calling me Paalam Kalyanasundaram.