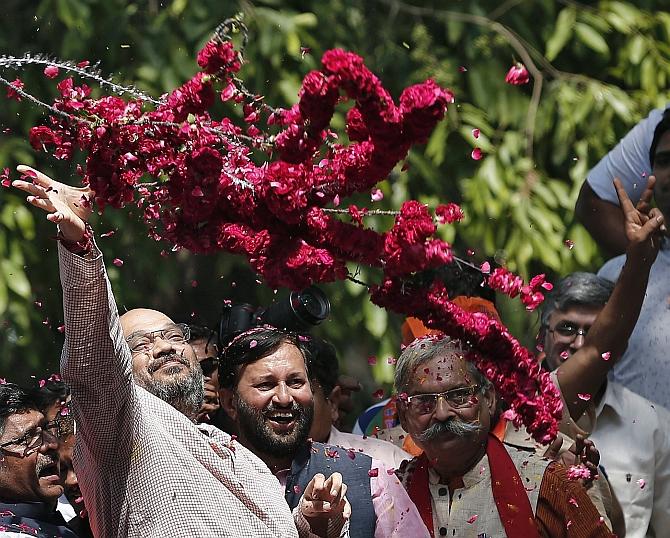 'Mainly, his strategy to win UP veered around spreading the message of Hindu identity, projecting Modi's leadership, encashing anti-incumbency against the Samajwadi Party and UPA governments in Lucknow and Delhi respectively.'
Sheela Bhatt/Rediff.com provides exclusive insights into Amit Shah's strategy that gave Narendra Modi an awesome victory in Uttar Pradesh.
Political revolution in a true sense has occurred in Uttar Pradesh.
The state has stunned India. Amit Shah, who was in charge of the Bharatiya Janata Party's strategy in UP, has done something unthinkable. Out of UP's 80 seats the BJP won 73 seats. It is a huge increase of 63 seats from its 2009 tally.
Exclusive insights into Shah's strategy that gave Narendra Modi an awesome victory:
When Amit Shah was put in charge of UP around one year ago, he found the BJP in disarray. First, there was no leader in Lucknow whose face could represent the party, like Shivraj Singh Chouhan in Madhya Pradesh or Narendra Modi in Gujarat.
Then he discovered that the BJP had not fought any election at the panchayat or district level for more than a decade. As a result, the party's presence in UP's villages was thin.
He noticed that the biggest odds the BJP faced was in caste-acceptability. The Jatavs were loyal to the Bahujan Samaj Party. The Yadavs were with the Samajwadi Party. Muslims would never come to the BJP. So, to start with, the BJP confronted a loss of 40 percent of voters.
Beyond these disadvantages, all seats in UP had four-cornered contests. That made the election very difficult to navigate and predict.
The BJP has not been in power in UP for 17 years so the cadres' interest in the party was waning. Shah also saw that the Samajwadi Party used state government machinery to attract Muslims to its side, thus ensuring protection of its vote bank.
Amit Shah is from Gujarat, but in many ways UP is another country. Around 30 percent of the constituencies fall in a 'dark zone'. It is so underdeveloped that there is no television penetration, no newspapers and no modern gadgets. How to reach out to these areas and send Modi's message?
Amit Shah wanted every UP voter to know Modi. 'He must touch Modi somewhere' was his idea. In some sense, Shah knew his critics were right when they said he did not know UP. He was new to the land of the Ganga. To familiarise himself with the state, Shah travelled 93,000 km by road and rail in the last one year.
In all he spent 142 nights in villages and towns of different UP districts. Everywhere he ensured he had dinner of saunf-khichdi-chaas (fennel-rice and lentils-buttermilk) in workers' homes. In 52 districts, he addressed big meetings. He called another 40 or so meetings to touch all 80 constituencies. He met all candidates before their selection and after.
He created an excellent plan to counter each and every disadvantage. The problems were turned into challenges. First, as reported in Rediff.com earlier, Shah called a meeting of BJP candidates who had lost the assembly and Lok Sabha elections in Lucknow. He ensured that he thoroughly understood the reasons behind the voters' rejection of the BJP.
The next step was to officially disband all booth committees and form new ones with scientific planning. Efficiency and reliability were ensured.
The BJP believes the Samajwadi Party-Congress and BSP-Congress had a tacit understanding to defeat the BJP in the last four phases. The weaker candidates were asked to lie low so that a vote against the BJP did not get divided. Shah saw through the game and worked on the issue.
Mainly, his strategy to win UP veered around spreading the message of Hindu identity, projecting Modi's leadership, encashing anti-incumbency against the Samajwadi Party and United Progressive Alliance governments in Lucknow and Delhi respectively.
To keep the Hindu identity issue in the picture, the Rashtriya Swayamsevak Sangh and the BJP arranged meetings of hundreds of holy men in UP villages and towns.
To send 'Modi' to UP's villages and towns, 450 BJP raths were organised. More than 30,000 schools, colleges and educational institutions were contacted to attract the youth. All booth committees were given Bolero jeeps to ensure that they remain in the field.
In all the booths, caste-based clusters were created which had one Yadav, one Kurmi, one Jatav etc. The caste combination was as per the caste profile of that particular constituency.
From Lucknow, the message was sent that now 'Panchayat to Parliament' all elections would be fought by the BJP. This stirred the people with a political interest in the nooks and corners of UP. More than 80 Other Backward Classes sammelans were called by the BJP to ensure that they start a new political relationship with Modi, an OBC himself.
Out of UP's 80 Lok Sabha seats, only eight BJP 'outsiders' like Modi and Smriti Irani were in the fray.
Keeping alive the Hindu identity and projecting Modi aggressively along with the promise of development, Amit Shah moved ahead. He realised that the BJP had a certain number of votes, but to win seats he needed extra votes. To get that extra push he totally depended on the caste vote-bank.
This exercise was tricky, but Amit Shah proved lucky. Very lucky indeed!
A rare photograph of the usually dour Amit Shah in ecstasy. Photograph: Adnan Abidi/Reuters.