Rediff.com's Utkarsh Mishra reports on the real reason why Narendra Modi carpet-bombed Varanasi for 3 days.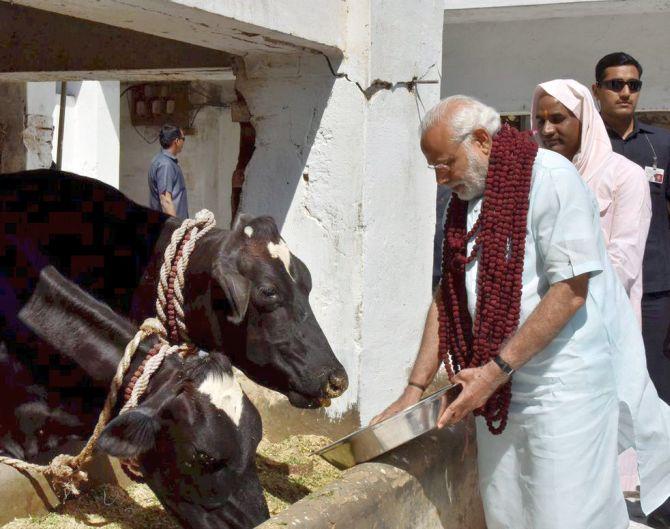 IMAGE: Prime Minister Narendra Modi feeds cows during a visit to the Garwaghat Ashram in Varanasi, March 6, 2017. Photograph: PTI Photo
The five assembly segments falling under the Varanasi Lok Sabha constituency -- which Prime Minister Narendra Modi represents -- voted in the seventh and last phase of the Uttar Pradesh elections, but the Bharatiya Janata Party is contesting only four of the five: Varanasi Cantonment, Varanasi South, Varanasi North and Rohaniya.
The fifth, Sevapuri, has been given to the BJP's ally, the Apna Dal.
That this is a battle for prestige for the BJP in general and Modi in particular is no secret.
A dozen ministers, BJP President Amit Shah and other star campaigners camped in the holy city for over a week, with the prime minister himself campaigning for three days.
Even before Modi's arrival, every visible advertising space in the city was occupied by massive BJP hoardings showing Modi and the message 'Na Gundaraj, Na Bhrashtachar, Abki Baar, Bhaajapa Sarkar (no goonda rule, no corruption, it's now time for a BJP government).
Though Samajwadi Party hoardings with Chief Minister Akhilesh Yadav's slogan 'Kaam Bolta Hai' (work/action speaks), and hoardings of the SP-Congress alliance with the faces of Akhilesh and Congress Vice-President Rahul Gandhi with the tagline 'UP ko yeh saath pasand hai' (UP likes them together) competed with those of the BJP, after Modi's visit only the BJP billboards were visible in Varanasi.
BJP campaigners were enthusiastic and hopeful -- nay, even confident -- of a majority. Even the most modest guesses at the city's chai and paan shops give the BJP 190 to 200 seats in the 403-seat UP assembly.
At least two of the four seats contested by the BJP in Varanasi are crucial for the party and the situation there explains why Modi campaigned for three consecutive days in his parliamentary constituency.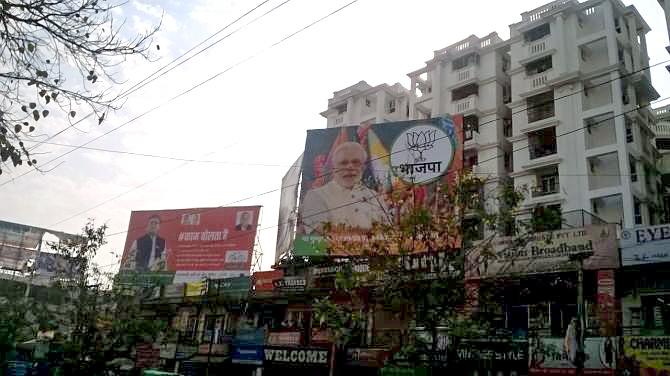 IMAGE: Varanasi's skyscape is plastered with BJP hoardings, with the Samajwadi-Congress ones coming a distant second. Photograph: Utkarsh Mishra/Rediff.com
Ironically, the two seats -- Varanasi South and Varanasi Cantt -- are traditional BJP seats and have been held by the party for more than 25 years.
But this time round, things are not so easy.
In Varanasi South, current and seven time MLA Shyamdev Roy Chaudhari was denied a ticket by the BJP, leading to protests by his supporters within the party.
The reason for the denial of a ticket to the veteran is said to be a dispute over an idol immersion in the Ganga that took place in 2015. The Congress sided with the protesters and the BJP MLA was pushed on the back foot. The party has fielded a fresh face here, Neelkanth Tiwari.
The SP-Congress candidate is former Varanasi MP Rajesh Mishra, a formidable opponent for Tiwari.
On the other hand, the BJP's candidate for the Varanasi Cantt seat is Saurabh Srivastava, son of former party legislator Jyotsana Srivastava and former UP finance minister Harishchandra Srivastava. Though he comes from an influential family, the BJP candidate is said to be not very popular among the masses.
Achyutanand Chaturvedi, a traditional BJP voter, said the people of Varanasi Cantt "expected a better candidate."
"I'm not very inclined to vote for the BJP this time only because of the candidate. He might win riding on the Modi wave, but he is very unpopular. People want a BJP government this time in the state. This might help him (Saurabh Srivastata) get the votes he otherwise couldn't have," Chaturvedi said.
There are other reasons which may worry the BJP Demonetisation not only hit small businesses and crushed Varanasi's weavers, it resulted in heavy losses to occupations in the temple town which run only on cash payments, like the boatmen or nishads at the ghats.
The period from early November to late January is peak season for these boatmen. The weather allows tourists to take a boat ride all day long, but the note ban, whose effects are visible even now, hit the nishad community hard.
Initially hesitant to speak, Babulal, a 55-year-old boatman, revealed how the note ban affected his earnings, after some prodding.
Babulal rents a boat and the owner takes Rs 200 from him for every ride. If he doesn't earn at least Rs 500 a day, it is very difficult for him to sustain himself and his family.
"Earlier, during the November-January period, I used to earn Rs 600 to Rs 800 per day. But after the note ban it came down to Rs 300 to Rs 400 per day. Customers used to say, 'arre, itne paise tumhe de denge to hume phir se ATM ki line me lagna padega (If we give you so much money, we'll have to stand in the ATM queue again)," Babulal said.
Asked who he would vote for, Babulal asked, "Aap hi batao kise de? (you tell me whom to vote for?)"
When I told him he should vote for whoever he thinks is the best, he said, without missing a heartbeat, "Hume to lagta hai Akhilesh ko ek mauka aur de (I think Akhilesh should get another chance)"
Babulal might be in a minority in this city.
A shopkeeper on Assi ghat is annoyed by journalists constantly asking him whom will he vote for or who will win the state this time.
"Aap patrakaar log bas yahi poochte hain ki hawa kiski hai? Arey, hawa kiski hai sabko pata hai (you journalists only ask whose wave is there. Everybody knows the answer)," he said.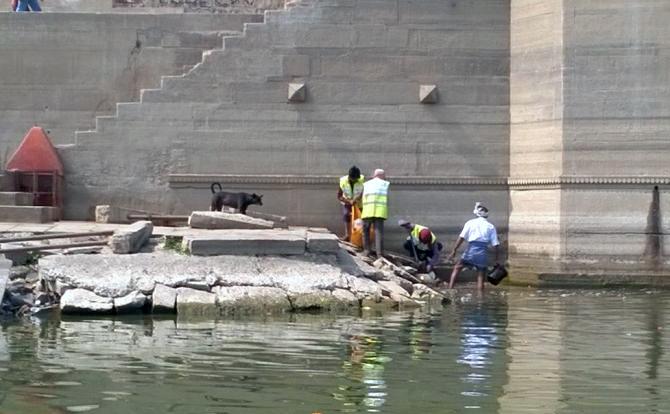 IMAGE: Everyone agrees that Varanasi's Ganga ghats have been cleaned up like never before. Photograph: Utkarsh Mishra/Rediff.com
Near the Assi ghat is the Banaras Hindu University, whose student politics is dominated by the Rashtriya Swayamsevak Sangh-backed Akhil Bharatiya Vidyarthi Parishad.
Bhupendra Singh -- the ABVP's pradesh mantrifor Varanasi -- is a scholar in the physics department at BHU, but has little time for studies these days.
After making it clear that the ABVP generally keeps off party politics, Singh said, "This time we are meeting people in every constituency and telling them to vote for the BJP as all the anti-national forces have consolidated themselves against one man -- Narendra Modi."
When other students point to the tough fight in the Varanasi South and Varanasi Cantt seats, Singh felt Modi's road shows will ensure that people vote for the BJP.
Singh refused to accept the SP-Congress alliance as a competitor. "Only the BSP (Bahujan Samaj Party) will pose a little challenge," he said, adding, "the SP-Congress is not competition at all."
The BJP, he estimated, will win at least 230 seats.
The BHU students felt the SP-Congress alliance would benefit the latter party, but hurt Akhilesh.
"The Congress wouldn't have won a single seat otherwise," Singh said. Other students said traditional SP voters were dismayed that Akhilesh had allied with a party which coined the '27 saal, UP behaal' (UP laid waste in 27 years) slogan.
As Singh left for a public meeting, the chaiwallah at whose shop we were assembled said the BJP would not win a majority but will emerge as the single largest party.
"Akhileshji sahi hain lekin unke MLAs acche nahi hain. Agar woh haare to unhi ki wajah se haarenge (Akhilesh is good, but not his MLAs. If he loses, it will be because of them)," he said.
Apart from ardent BJP supporters, whoever I met hesitated in predicting a sweep by the party, but everyone accepted that it stands a bigger chance of winning than its rivals.
Perhaps the shopkeeper at Assi ghat was right, the people of Varanasi do know "hawa kiski hai."