'I came here to witness the historic message this oath-taking ceremony has sent to the nation and Maharashtra.'
Prasanna D Zore/Rediff.com reports from Shivaji Park.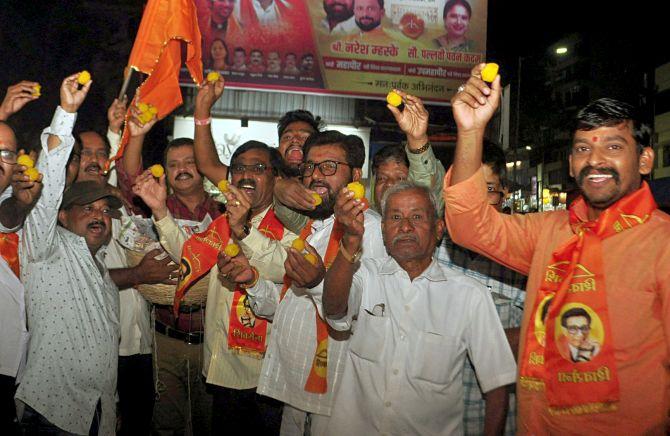 The crowds gathered at Mumbai's Shivaji Park to witness the oath-taking ceremony of Uddhav Balasaheb Thackeray had a simple message for the new chief minister and leaders of the three parties that have set aside ideological differences to form a government in the state.
Waive off farmers's loans; provide decent educational institutes; make healthcare affordable and provide good roads.
The huge crowd wished their best to the Uddhav Thackeray government and expressed confidence that, despite their differences, the three parties would provide a stable government for the next five years.
A staunch Shiv Sainik also wished for the coming together of the Shiv Sena and the Maharashtra Navnirman Sena so that the scenes he witnessed on Thursday evening could be repeated again after five years.
Mohammed Asif from Mahim in north central Mumbai hoped the three coalition partners would cordially complete five years and spread a message of communal harmony and brotherhood.
"They will succeed if they work on these lines," he said.
***
Madhuri Manjrekar, a Shiv Sena office bearer, likened Uddhav Thackeray's swearing-in ceremony to all Shiv Sainiks celebrating Diwali and Dussehra.
"Shiv Sainik mhanun khoop bhari vat-tay (Feeling great being a Shiv Sainik today). You can say that there is saffron in our blood and every Shiv Sainik is feeling like a chief minister today," she said.
"Uddhavji is very cordial as a person, but also possesses the street-fighter aggression of a Sainik. We want him to waive off farmers's loans and solve their problems as quickly as possible," Manjrekar added.
***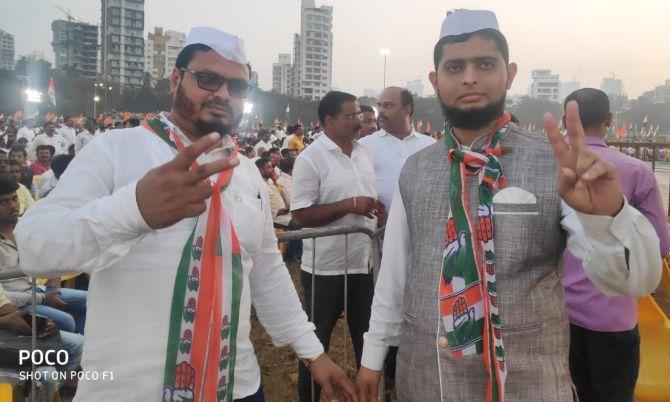 Salim Shaikh and his brother Adil, both farmers, had come from Sangamner in Ahmednagar district to see their elected representative Balasaheb Thorat of the Congress take oath.
"Thorat saheb has worked very diligently to make the Maha Vikas Aghadi a reality," said Salim Shaikh, adding that he expected this government to "work for the betterment of farmers, students and educational institutions in Maharashtra."
***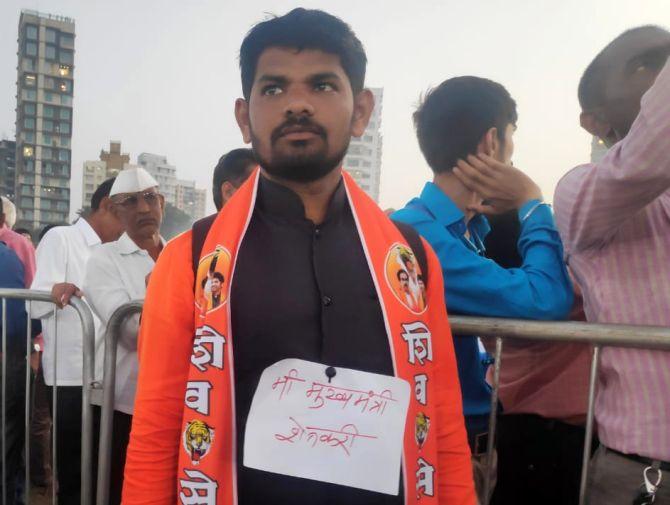 Bajirao Shewale, a young farmer from Kolhapur, looked every inch an ardent follower of the Shiv Sena.
A saffron Shiv Sena shawl draped around his neck, left no doubt about his identity. He had come to Mumbai with a petition that Uddhav Thackeray's government should delete the names of needy farmers from the 7/12 extracts so that they would then become eligible for farm loan waivers.
***
Raju Bind, Malad, an artist and artisan, is a Shiv Sena worker. "We want Raj Thackeray and Uddhav Thacekray to come together. The political climate in Maharashtra will change completely. Not just Shiv Sainiks, but MNS sainiks too must be feeling that the scenes we are witnessing today should be witnessed every five years. That can become possible if the Shiv Sena and MNS come together."
"I have been coming here (Shivaji Park) with my father since childhood and today I came here to witness the historic message this oath-taking ceremony has sent to the nation and Maharashtra."