Sunshine Schools are looking to attract interest from members of the urban 'aspirational' class -- vegetable vendors, security guards, drivers, etc -- who cannot afford the fees charged by budget private schools.
Anjuli Bhargava reports.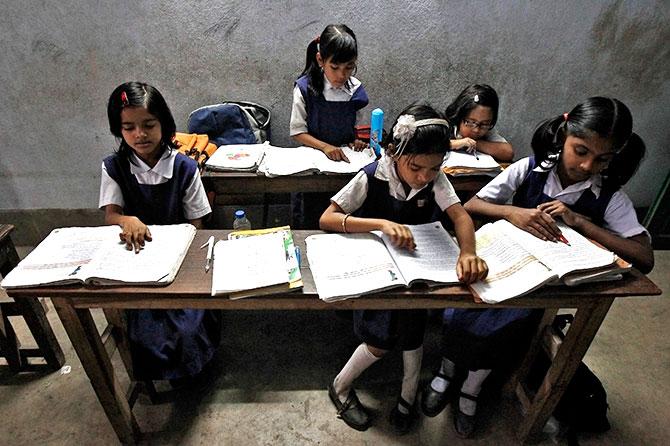 IMAGE: It wasn't only the middle-class and the rich who were moving from the government school system to the private sector; the poor, too, had woken up to the value of a quality education. Photograph: Rupak De Chowdhuri/Reuters
At 30, with a degree in liberal arts, a satisfactory job in the United States, a green card and the great American dream staring him in the face, Vikas Jhunjhunwala found himself in the midst of a mid-life crisis -- a decade earlier than he would have perhaps liked.
While in the US, Jhunjhunwala had been studying, absorbing and finding himself more and more drawn towards what economists and visionaries such as C K Prahalad and Muhammad Yunus were advocating: focusing on the base of the pyramid.
The double bottom line concept -- doing well and doing good both at the same time -- was a powerful magnet for Jhunjhunwala. A Marwari baniya by birth, he felt some "defective gene" was playing up.
So, in 2005, Jhunjhunwala headed back to India and joined the micro finance sector. He worked with Unitus and learnt the ins and outs of a sector that was in its infancy at the time.
"The micro finance sector in India -- the way it unfolded -- was like the poster boy of the double bottom line theory," he says, adding that there was much to learn from being a part of this wave.
After eight years in the sector, Jhunjhunwala quit in 2013 and worked with the Aam Aadmi Party for a year.
Those were heady days for the party and, like many others, he believed that being a part of it was like being involved in a "second freedom movement".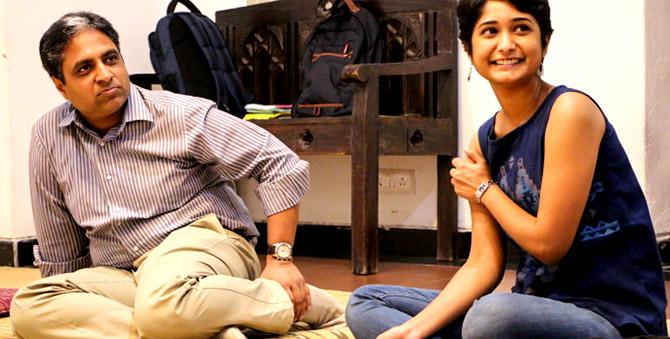 IMAGE: Sunshine School Co-founders Vikas Jhunjhunwala and Joanna Sundharam. Photograph: Kind courtesy Unlimited Delhi
Once the nascent frenzy around AAP dissipated, Jhunjhunwala left the political outfit and started eyeing the affordable education sector.
On conducting further research on the subject, he soon realised that two fundamental shifts had taken place.
One, it wasn't only the middle-class and the rich who were moving from the government school system to the private sector; the poor, too, had woken up to the value of a quality education and were as likely to move their children out of free government schools if they found a better option -- even if it wasn't free.
Two, unlike the 1960s and the 1970s when even senior bureaucrats and other successful persons graduated from government schools and the quality of education that they offered was deemed decent enough, this was by and large no longer true.
"The system was and is broken," says Jhunjhunwala, now 43.
To make things worse, private budget schools, when compared to their private counterparts, weren't doing too well, either -- simply because the bar was so low.
<p"You don't have to offer anything significantly better as it is all relative. So most of the budget private schools get away with offering something that is just marginally better than the free option," explains Jhunjhunwala.
Several average budget private schools in urban areas are like kirana shops, peddling wares that are slightly better than what the ration shops are selling.
This mismatch resulted in an increase in demand for private budget schools. The supply, however, was stagnant.
With government policy creating high entry barriers in the sector, the quality was deteriorating as costs continued to rise.
Jhunjhunwala says that the profit margins for some private schools in urban areas continue to be as high as 80 per cent.
IMAGE: Mohit Satyanand, co-founder, InLingua. Photograph: Kind courtesy The 5th Annual Carnival Of e-Creativity
Mohit Satyanand, co-founder of InLingua, the language school chain whose branches are spread across Delhi, says that despite the fact that people are moving their kids from free public schools to private schools, the education delivered by budget schools is not demonstrably better.
"There is a huge entrepreneurial gap for high-quality budget schools. If the right model is found, the market opportunity and social benefits are massive," he feels.
This void was somewhat filled by Jhunjhunwala who, with two Teach for India alumni, took the plunge in 2015 with his first Sunshine School in New Delhi's low-income Mehrauli-Kishangarh area, which has a population of 300,000 to 400,000 people.
Ever since, by bringing his education and experience from the corporate world to the table, Jhunjhunwala has been attempting to professionalise and run schools as they ought to be -- not like kirana shops.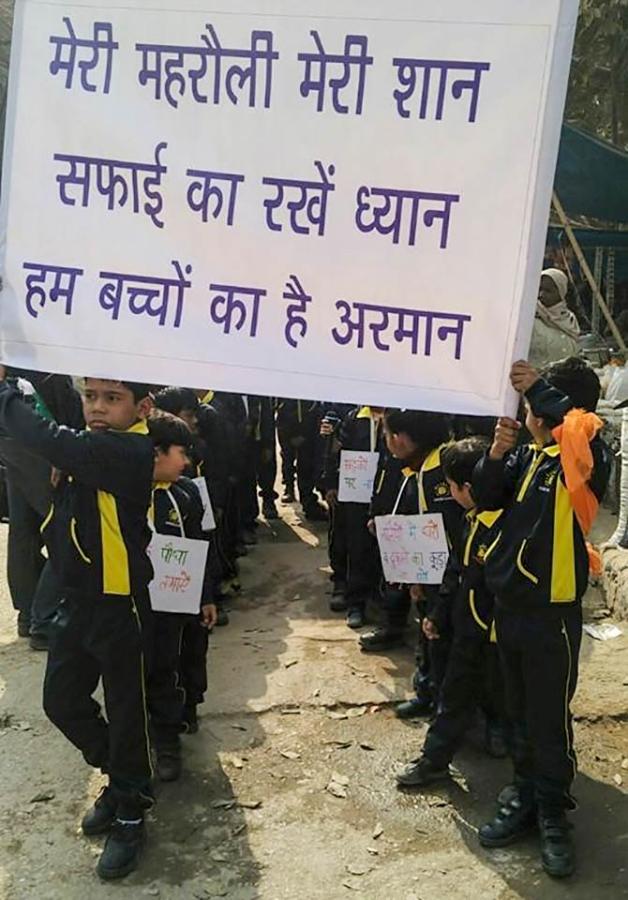 IMAGE: Sunshine School get its young students involved in local social causes. Photograph: Kind courtesy Sunshine Schools
In February 2015, Sunshine promoters set up their first 'prototype' school.
In the first academic year (2015-2016), it had 54 students enrolled across four grades paying monthly fees between Rs 500 and Rs 800.
In each subsequent year, it doubled enrollments with 120 students in 2016-2017 and 260 students (with 17 teachers) in 2017-2018.
By 2025, Jhunjhunwala wants to be able to reach 10,000 students.
The school has already broken even operationally and established itself as one of the best schools in the Mehrauli-Kishangarh neighbourhood.
A second school will open in Noida next year.
Although the promoters are putting in their own money in the first couple of schools, the surplus generated from the existing schools will be used to fund the new ones and they will leverage this to get debt financing.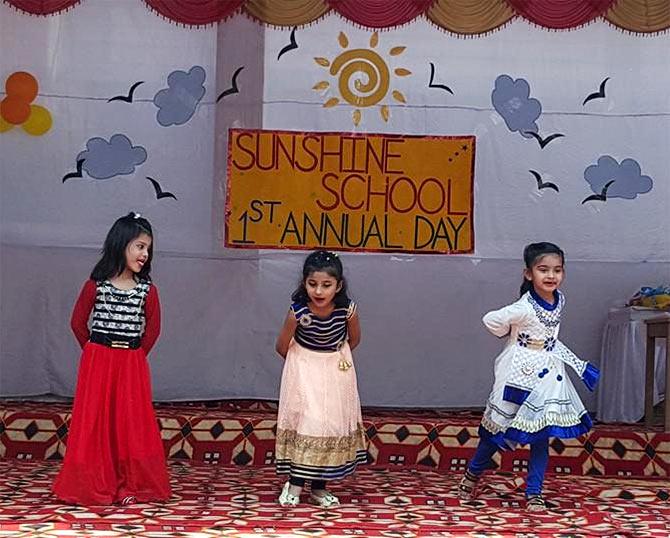 IMAGE: Students enjoy their turn on the stage at the annual day performance. Photograph: Kind courtesy Sunshine Schools
The schools are looking to attract interest from members of the urban 'aspirational' class who cannot afford the fees charged by budget private schools.
This is the section of society that runs micro-businesses (vegetable vendors, corner shops) or work in blue-collar jobs (security guards and drivers).
Most are economic migrants from rural areas with little or no primary education.
The idea is to run neighbourhood schools (under the Sunshine Schools brand) in dense urban slums and reach out to these families that live less than 1 km from the school.
To make a qualitative difference, the schools will use the Teach for India pedagogy, one that Jhunjhunwala studied and worked with for a while before adopting. The curriculum, though, will be the standard NCERT.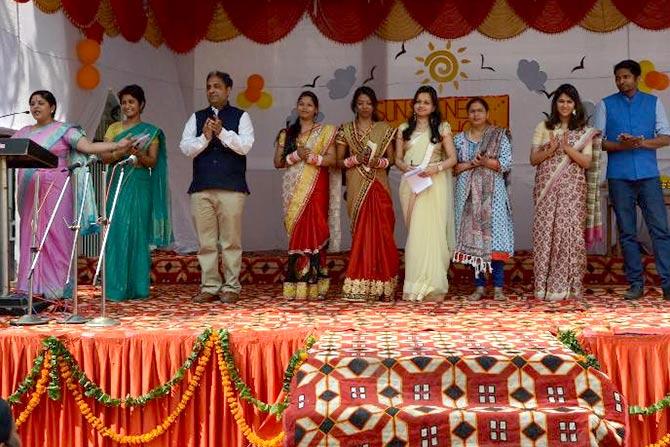 IMAGE: The teachers, and the co-founders, take a bow. Photograph: Kind courtesy Sunshine Schools
Satyanand says that in his experience, teacher training and management 'ownership' are crucial. Both are missing in the case of government schools and teacher training is absent in most 'budget' schools.
Sunshine, he believes, has both aspects firmly dealt with. At Sunshine, every Saturday is off for students and is devoted to training teachers.
If teachers are being trained well, they are also earning better than what Sunshine's competitors pay.
Satyanand has a 6 per cent acceptance rate in terms of job applications -- there is an abundance of women wanting to teach.
More than the income, a teacher's job is more acceptable within the family and wider community. It allows women to leave the house during the day, they usually won't work with men, enhances their earnings through tuitions and the students at the school also become part of the pool of students who come to them for after-school tuitions.
"We are not doing anything dramatic. We are just trying to do what a good, well-run organisation would do," says Jhunjhunwala, adding that the primary difference is in the intent.
If you mean well, what you offer will stand out.