As Melania Trump arrives in Ahmedabad, Sheela Bhatt offers the First Lady Of The United States a primer on one of India's oldest, and historic, cities.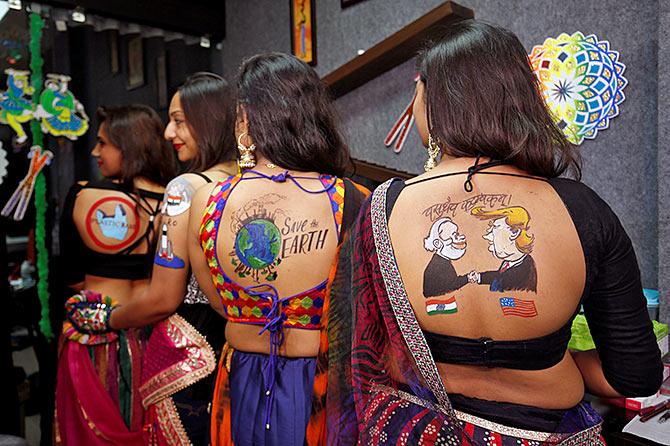 Dear Melania Trump,
Welcome to the heritage city of Ahmedabad!
One is aware of your resolve as a woman and as a wife in the White House. Frankly, that inspired me to share with you some insights into the medieval city of Ahmedabad, also known as Amdavad in local parlance, which you will visit with your husband on February 24.
Established on the banks of the Sabarmati river in 1411 by Sultan Ahmed Shah, some 81 years before Christopher Columbus discovered America in 1492.
Ahmedabad derives its name from its founder, and is part the pre-Mughal era of our history.
There are many myths and legends as to why the sultan established a city on the banks of the Sabarmati. The most famous legend, of course, is that when he went hunting he saw a hare chasing a dog. He felt that such land where the weak challenges the strong must be unique and decided to establish a city here.
It is a city steeped in history. In fact, two days after your visit, Ahmedabad will celebrate its 609th birthday.
The city is much older than India's mega metros like Mumbai, Kolkata and Chennai. Yes, Delhi is older than Ahmedabad, but the latter has a less treacherous history.
The city has witnessed many religions blending and surviving in the shape of enduring monuments, affecting trade practices and influencing languages.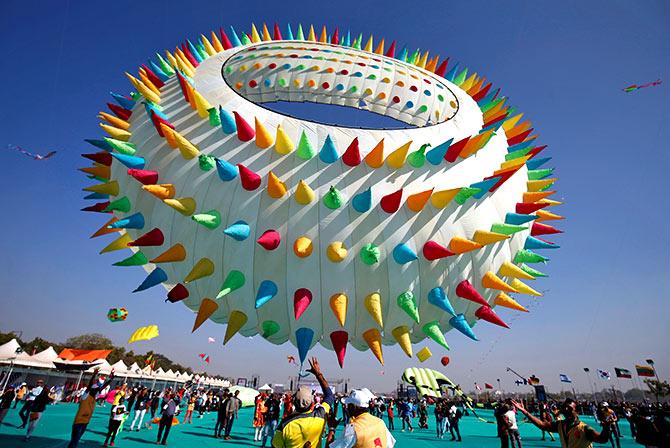 Ahmedabad is a stark example of the history of mankind and the processes of civilisations over centuries where strife between various groups and their inescapable symbiotic relations evolve and co-exist simultaneously.
Whether it's the passion for kite-flying or the centuries-old marvellous wood carvings, in rows of homes in narrow lanes, and in the designs of jaalis (lattice), jarokhas (hanging balcony with roof), jhoolas (swings in homes) and the breath-taking sandstone architecture of stepwells, all speak volumes for Hindu-Muslim partnership in the making of the unique civilisational process of Ahmedabad and India.
The city's main spoken language, Gujarati, is highly influenced by Persian. In fact it is difficult to write a paragraph in Gujarati without using farsi (Persian).
It is a wonderful city also because it is shaped, over many centuries, largely by its people's enterprising nature and understanding of and equation with money in their lives.
Sharmila Sagara, artist and co-editor of Ahmedabad 600: Portraits of a City, says, "Ahmedabad is the only city in India where history is still living since its establishment which is 600 years. It is the spirit of the city that invited different rulers due to its progressive nature. This brought people from many faiths who brought their arts, crafts, culture, traditions and city nurtured it to flourish through social, political and economical means."
"The city stands on the values of traditional and modernity to progress towards the future and this can be seen in its present architecture, its great education institutes, its people, its food and its fashion even today," Sharmila adds.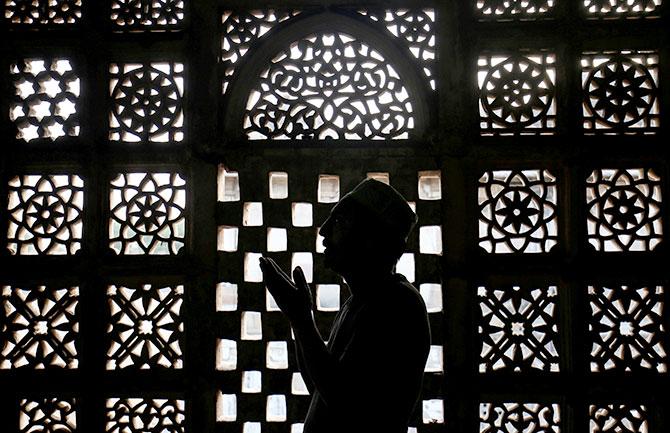 Ahmedabad is known for its prosperity, entrepreneurship, textile industry, robust commercial sense, thriving mercantile culture, Bhakti movement, old city structures, breath-taking medieval and modern architecture, various mass movements against its rulers including the British.
Significantly, Ahmedabad is Mahatma Gandhi's karmabhoomi (land of duty) and was the takeoff point for his movement for independence. It remained his base camp for the first 15 years, and he lived here for around five-and-a-half years.
It is no exaggeration to say that people's routine lives, in a city where liquor is prohibited, is set around different times of the day to cherish different cuisines. Food is the primary language of communication here. The mantra of 'earn and eat' keeps them running.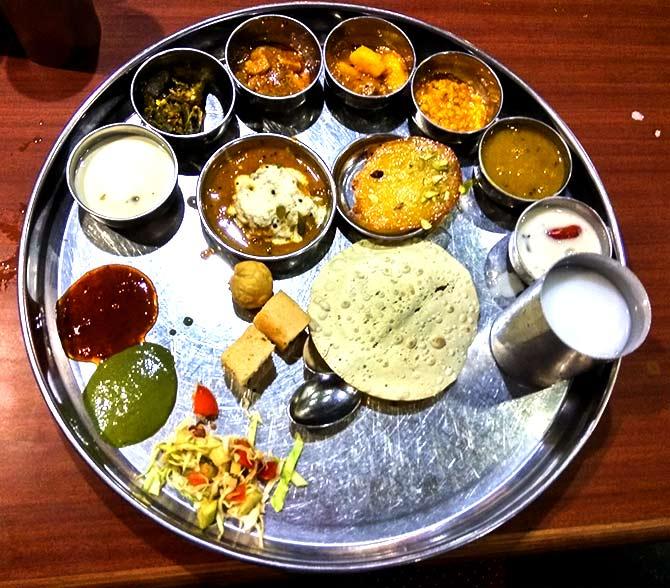 Ahmedabad's traditional food is deeply influenced by Jain families. The followers of Jainism are vegetarian and they observe strict food restrictions. Their religion prohibits the eating of all underground vegetables including potatoes, onions, garlic, ginger, carrots, radish and even mushrooms.
They have been in international trade since hundreds of years and dominate social habits in a big way. Jain cuisine is delicately prepared. In modern India no city can beat the street food of Ahmedabad in experimentation.
This can go to unimaginable and even ridiculous limits. For instance, there is a dish called Pineapple Sandwich that uses lavish proportions of butter, cheese, and pineapple rings on bread and is the most popular item in Manek Chowk, the most sought after lane for food.
Someone has planned your gracious self and your husband's visit after giving it great thought. You will visit three cities -- Ahmedabad, Agra and Delhi -- all of which have a fascinating history.
Under Mughal rule (1526 to the mid-18th century) Agra was the highest tax-paying city and Ahmedabad was a close second, suggesting how trade flourished in both cities.
Since then Mahajan (merchants, also called Baniyas -- they can be Hindu, Muslim and Jain -- in colloquial Gujarati) culture, traditions and beliefs have dominated the public perception of Gujarat within and outside India.
Since centuries merchants of this city have enjoyed power and prestige.
Ahmedabad is quite an uncommon city in India where the rich and famous aren't apologetic for being so. The city has seen continuous inward and outward migration for the last few decades and, sadly, now sees more people living in slums than before -- largely immigrants.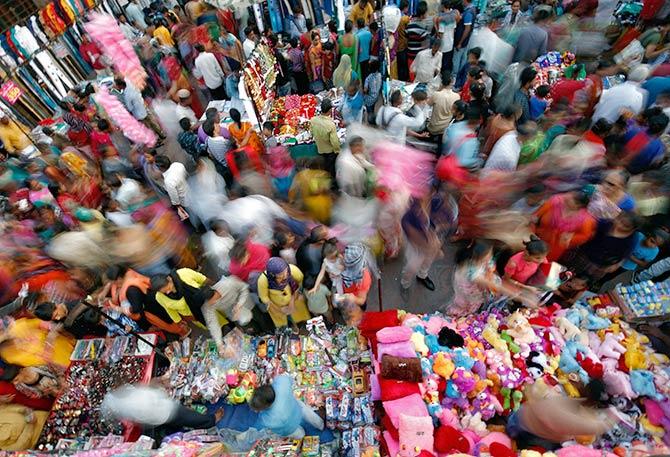 There was a controversy before you arrived in the city. The local government was accused of building a wall to cover up the Sarania colony to shield the poor on your and your husband's route from the airport.
But, can you believe this! Keshiben Balabhai Sarania, a lady who lives behind the wall, had no complaints at all about the government's awkward attempt. Instead, she told a local reporter, "I wanted to see Trump's wife but now I may not be able to see her."
That's the typical, normal Ahmedabadi for you.
Unfortunately, since the late 20th century, the city has witnessed communal flare-ups, too, with a far-reaching impact on national politics.
But, let me hasten to add, that is not its basic characteristic. With its Indo-Islamic influence of the past and Indo-European influences in the building of modern Ahmedabad, and with the sharp commercial instincts of its people and given its decades-long history of fusion of cultures that is so deeply entrenched in the DNA its pluralistic identity and its habit of a realist approach to issues of life, Ahmedabad will never self-destruct.
Here reside pragmatic entrepreneurs with a global worldview. In the last four decades Ahmedabad's prime engineering and medical colleges boast of training more than 6,000 doctors and engineers who have a thriving practice in your country.
America is so present in the daily discourse because of the deep linkage of the Indian Diaspora that psychologically, America is part of the mental landscape of many families.
You are a daughter of immigrant parents so you know how it feels to adopt to and absorb a new land. Like typical Americans, people here thrive on the ever-growing hope of making it big one day.
There is a lot to shop here, but your less than four hours visit won't allow you that luxury, probably.
If it did, you could have taken a prototype of a Jharokha or maybe Ashavali saris or stoles. It is believed that Ashavali town existed even before Ahmedabad was established. Ashavali textiles are an intricate weaving of golden brocade with motifs of plants and animals with Persian designs and stories of Lord Krishna as well.
However, without a visit to the Old city, also known as the Walled City, you won't be able to touch the essence of Ahmedabad.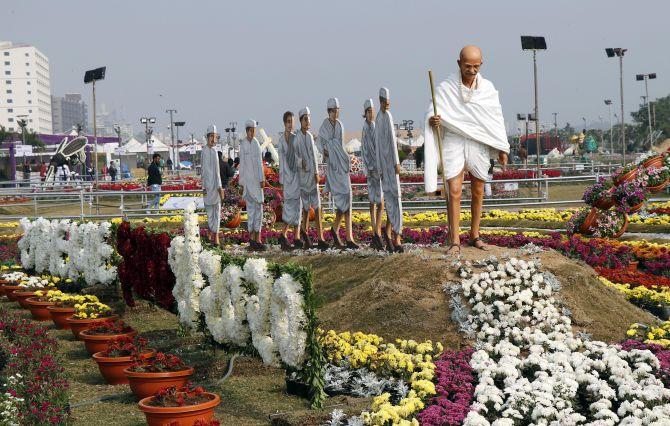 As Achyut Yagnik, co-author of Ahmedabad -- From Royal City To Megacity -- from which I have sourced some information -- says, "The old city of Ahmedabad, also known as the Walled City, epitomises its history and its core character."
When, and if, you see the Sidi Saiyyed ni Jali built in 1573 in the Old City, you will get goose bumps on seeing the intricate carvings in stone of the lively play of banyan and palm trees with branches and foliage.
Of course, since the 1950s the most moving part of Ahmedabad is the serene and historic Gandhi Ashram.
To stay in the ashram, Gandhiji wanted its resident to take six vows: Truth, non-violence, celibacy, non-stealing, non-possession and control of one's palate.
Gandhi started the radical social reform of its time, removing untouchability, from here.
He shaped Ahmedabad just as Ahmedabad too shaped him.
This is a city that respects and understands migrants, immigrants and globetrotters and now opens its arms and hearts for you.