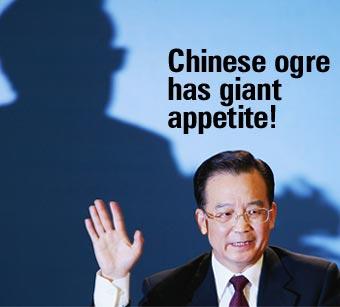 Chinese Prime Minister Wen Jiabao begins what he says is his 'most important trip this year' to India this weekend.
To mark the occasion of what is clearly a historic visit, rediff.com presents a series on the India-China relationship, which will help readers understand China, its complexities and the directions forward in India's relation with the Middle Kindgom.
Addressing Indian CEOs at the beginning of the year, Prime Minister Manmohan Singh urged the Chinese economic model to be emulated.
'Despite improved growth rates that we have achieved in the last 15 years, our share of world trade, our share of world gross domestic product, our share of world exports is much too small compared with our nation's potential and when we look at what a country like China has achieved in the last 20 years. I think that's the role model that we have to look at,' he said.
Over the past couple of years, it has become trendy to compare 'the two Asian Giants' and to bet whether and how India could overtake China.
China is third largest trading power
But very few look at the 'collaterals' of China's wild development (some analysts call it 'hypercapitalism'). The situation is so serious that if a remedy cannot be found soon, what today are only ripples may become an internal tsunami sweeping away the Middle Kingdom.
Basically, China is an ogre and nobody knows how to control its bulimia.
For the last 15 years, I have tried to read between the lines of the official Chinese communiqués or the enthusiastic comments by 'China economic experts' about the Chinese 'miracle'. An article which opened my eyes more than any others on the 'collaterals' of the Chinese boom, was a piece by Peter S Goodman in The Washington Post.
Is the India-China gap narrowing?
Entitled 'Booming China Devouring Raw Materials -- Producers and Suppliers Struggle to Feed a Voracious Appetite,' it vividly describes a scene in Australia where '34 bulk freight ships sit anchored in involuntary vigil, pounded by ceaseless wind. They are waiting their turn to proceed to the wharf and load coal for power plants in northeast Asia.'
Often they wait for two weeks. The queue can stretch to 56 ships with local people 'driving to a lookout point for amusement, counting the hulks marooned off their shores by the vagaries of global trade.'
These ships are carrying coal to run the Chinese economic machine.
Due to this China Syndrome,'as many as one-fifth of the bulk freighters in the world are effectively unavailable on any given day and the cost of moving bulk freight has more than doubled in just over a year.'
China needs raw materials to built new metropolises, new skyscrapers or new airports. Goodman writes that 'China's ravenous appetite also explains why shipyards in Japan and Korea, which make most of the world's freighters, have orders through at least 2007. China is building dozens of new shipyards, including the world's largest in Shanghai.'
Development à la Chinese is engulfing half the world's cement production, one-third of its steel, one-fifth of its aluminum and nearly one-fourth of its copper.
China: Slowing down the gravy train
Sometime ago, I pointed to the problem of the daily decreasing arable land in China and the consequent problem for its agriculture; I also mentioned the alarming shortage of water which in turn hampers the agriculture results.
These issues are well-known and I need not return to them. Also familiar is China's frantic search for oil; top Chinese leaders are cross-crossing Central Asia, South America or Russia to sign fabulous contracts to get the necessary energy to run their economic engine.
In an article on Nepal, I cited China's voracity for medicinal plants (and caterpillar fungus). I could also have spoken about the tigers which will soon be extinct on the subcontinent thanks to the Chinese propensity to use tiger products for medicines.
However, some recently released reports and surveys point at less known domains where the bulimia of the ogre is also creating havoc. It reveals the depth and gravity of the disease of hypercapitalism, not only for China, but for the world. It also demonstrates the limits of China's economic development.
One of these reports, China's Wood Market, Trade and the Environment published by the WWF, concludes: 'China's soaring demand for timber, driven by its rapid economic expansion, is a major threat to the world's forests as illegal loggers make fortunes supplying the mainland.'
After the catastrophic floods in 1998, the Chinese leadership, more particularly Premier Zhu Rongji, admitted that the uncontrolled felling of Tibet's forests during the previous two decades had been the main cause for the floods of the Yangzte, which left thousands of dead and millions marooned. Soon after, Beijing took some measures to reforest Eastern Tibet.
Dr Claude Martin, the director general of WWF International, agreed that 'China's efforts so far in forest restoration and forest sustainable management are a good start toward preserving valuable and threatened forests.'
The problem is that according to the WWF, China's forests and plantations will provide less than half of the country's expected total industrial wood demand by 2010. 'China's timber imports have increased dramatically over the past 10 years after the government banned logging leading to a significant drop in domestic wood production,' the report explains.
The ban on logging was a positive step, though too late: the forests of Tibet had already gone. The result, as for agricultural products, is that China has to resort to large scale imports. The report warns that 'logging bans in China should not lead to forest loss in other parts of the world.'
India vs China: Startling economic facts
But it is already happening: wood is illegally logged in Russia, Malaysia and Indonesia and sent to China. The wood harvested from these three countries represents more than half of China's timber import. With China soon to become the world's largest wood market, the situation can only deteriorate.
But how could it be otherwise? The ogre is hungry for each and every natural resource. Beijing (or its entrepreneurs) is quick to locate natural resources in any of the five continents.
An interesting survey commissioned in Sudan shows the direct link between market demand and elephant poaching. The implications are clear for the conservation of elephants in Africa.
The survey says: 'About three-quarters of all the ivory items are bought by Chinese nationals. Several thousand expatriate Chinese live in Sudan, working in the petroleum, construction and mining sectors. The Chinese frequently visit souvenir shops, spending their leisure time choosing souvenirs -- mainly ivory -- to buy. They particularly favour ivory figurines, jewellery, name seals, cigarette holders and chopsticks.'
Chinese power at your doorstep
In 1990 a Convention on International Trade in Endangered Species imposed a ban on international trade in ivory. Since then Western buyers reduced their purchases by over 75%. However, the Chinese who arrived in the 1990s in Sudan cannot care less for the CITES agreement; they avidly purchased ivory both for personal consumption as well as export.
The survey's conclusion is that 'the driving force behind these elephant killings, especially in the recent past, is directly linked to the activities of the Chinese. Not restricted to Chinese expatriates in Sudan, they extend to traders in China who buy these tusks and encourage the trade. China has been the largest importing nation of illegal tusks since the mid 1990s.'
Another issue relates to the fur farms in China.
A recently published report provides detailed information on the Chinese fur industry and documents husbandry and slaughter practices. Targeting a younger market, fur is today used in anything from evening wear to sports wear and haute couture to ready-to-wear affordable garments.
Worldwide fur sales totaled some $11 billion in 2001-02 with the European Union being the world's biggest consumer. China is the world's largest exporter of fur clothing and the biggest fur trade production and processing base. China is also one of the rare countries in the world without any legal provisions for animal welfare.
A large number of international fur traders and fashion designers have shifted their business to China, where cheap labour and the absence of strict regulations make life easier and profit margins heftier. The fact that 25% of the country's fur is obtained from wild animals and 75% from captive animals, accelerates the disappearance of endangered species while fur farms 'routinely subject animals to housing, husbandry, transport and slaughter practices that are unacceptable' by European norms. It is, however, very convenient for Western companies to close their eyes to their own norms.
A more comical effect of the China hypercapitalism is the surge in demand for toilet paper. The problem is compounded by the change in the habits of the people.
Wang Yueqin, of the Shanghai Paper Trade Association told the China Daily that he was 'happy to see many young people adopt paper tissues for the convenience, which is a sign that reflects our social development and has helped improve our industry,' however he admitted being seriously worried about the large wood consumption.
Shanghai, one of the wealthiest cities in China, is a particularly heavy user of toilet paper and tissues: 'The 140,000 tons of tissues and toilet paper Shanghai uses every year consumes some 80,000 tons of wood pulp, equal to about 300,000 tons of wood.'
Will toilet paper from new materials such as straw or sugarcane become popular? It is doubtful considering that it is already not 'cool' to use hankies in South China.
Does Dr Manmohan Singh really want to emulate China without thinking of the consequent collaterals? Or does he think in terms of a more sustainable development?
He owes the nation a clarification.
Next: Can the Chinese ogre be peaceful?
Photograph: Cancan Chu/Getty Images
Main Image: Dominic Xavier