'Unless the living conditions change here, no amount of testing, screening, treatment would make a difference.'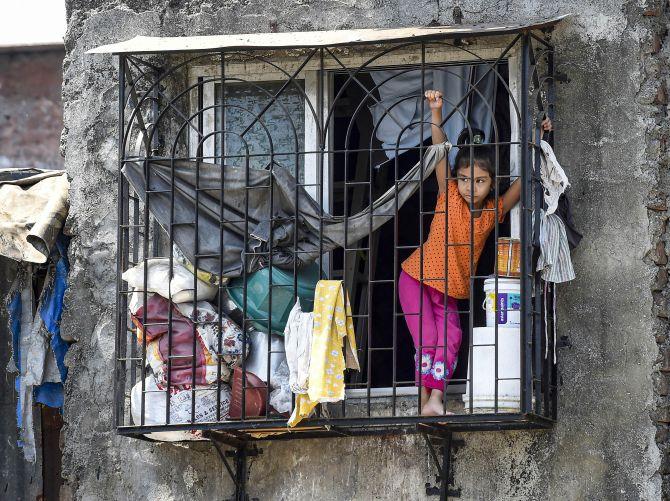 Frontline health officials, in their capacities as administrators and on-field medical staff and supporting staffers involved in containing the spread of coronavirus in Dharavi believe that the situation right now is grim. It is likely to explode going ahead, they fear. As of May 18, Dharavi has 1,327 coronavirus cases
Over the course of three days, Prasanna D Zore/Rediff.com spoke with several officials at different levels who spoke on the condition that neither their names or designations should be revealed, to find out how serious the situation is in India's largest slum cluster.
These people are so stressed containing the pandemic that they have to work every day for more than 16 hours even as the BrihanMumbai Municipal Corporation and state administration have ramped up the number of health workers manifold in Dharavi.
Doctors on contract and nurses have been appointed at the various quarantine centres and also the attendant staff to help the BMC contain the pandemic.
As a result the number of people included in this whole process have considerably increased to keep pace with the number of COVID-19 positive cases ballooning in the slum clusters that make up Dharavi.
Speak to any of these officials about the number of positive cases, the death rate or those who have been quarantined and the common refrain one will get to hear is "These numbers are very dynamic."
The table below explains the rapid pace at which the number of cases have been spiralling over the course of nine days beginning May 7 to May 16.
The table reveals not only the increase in number of positive patients found over these ten days (between May 7 and 16) but also the effort undertaken by the health officials in Dharavi in tracing high-risk contacts (HRCs), low-risk contacts (LRCs) and the corresponding number of people who were sent to hospital quarantine (HQs), institutional quarantine (IQs) followed by the number of people discharged over the same period.
Another piece of data, accessed by Rediff.com, reveals how Dharavi (G-North ward), at 93, out of the 24 wards that the city has been divided into for administrative purposes, was at the top of the list marked 'Red Pockets' that reported more than one COVID-19 positive patient or where high risk contacts traced were more than five.
Incidentally, as on May 8, the total number of 'Red Pockets' across the 24 wards stood at 937.
The granular data about these 937 'Red Pockets' in the city as on May 8, 2020, can be seen here (pdf file).
Pieced below is a story that offers a glimpse into how and why the numbers are rising in Dharavi and how the health officials are battling heavy odds to contain the spread of the novel Coronavirus inside Asia's biggest and densest slum cluster.
The reasons behind the spectacular rise
"There's not just one factor leading to the increase in COVID-19 cases in Dharavi.
The testing guidelines have been changed. Unless you have any symptoms, they don't test you now. So until and unless we have any symptoms, we don't prefer to go (for testing).
The density of the slums here and the number of people staying in a tenement is another major reason why the number of cases are rising so rapidly.
There are so many clusters here. So it becomes very difficult to contact trace (people who have come in contact with positive patients) and even if you manage to quarantine people, admit them into hospitals, the tally keeps rising at the end of every given day.
Like once the 14-days (quarantine) are completed, people again go back to the same living conditions.
Unless the living conditions change here, no amount of testing, screening, treatment would make a difference.
The living conditions includes everything: Their economic status, social status, their hygiene and sanitation could put at risk those who return to these living conditions after their quarantine period is over.
Even when they test negative, they go back to the same place where there could be asymptomatic positive patients with whom they will be sharing their toilets or living spaces. That is going to be a major risk factor for them."
Testing guidelines have changed
"To add to this complexity, the testing guidelines have been changed. Since last seven days, we have been only testing the symptomatic patients.
The major worry is that due to these changed guidelines, not enough testings are happening now.
But we cannot blame the changes in guidelines because what is happening is there is tremendous increase in (number of COVID-19) patients, a majority of them being asymptomatic patients.
So, if we try to accommodate these asymptomatic patients, we'll be lacking beds for the patients who are actually very serious.
That is the reason why the administration has taken a very harsh decision of discharging people within 10 days without any swab tests, if they are asymptomatic and without any co-morbid conditions.
The focus right now, due to shortage of manpower and inadequate health infrastructure is treatment of co-morbid patients having severe symptoms.
Like, the people who are diabetic at a very young age.
You must have read in the news how a young assistant police inspector working at Dharavi's Shahu Nagar police station having co-morbid condition died of COVID-19.
He was diabetic. He died at 33. That is what is happening and the changed guidelines will now let us all focus on people like this police officer. He died at home even as his COVID-19 tests were awaited.
All of us are still reeling under the shock of his death."
COVID-19 tests in 8 hours? Battling backlogs
It is easy to say that, but when you test in a hospital like Sion or KEM, there are hundreds and hundreds of samples being collected each hour.
You have to send the samples to labs, the labs will test them under duress because there is already so much of backlog and the manpower is missing.
Generally, even today if you test in any government periphery, it takes at least two days to get the reports (of COVID-19 tests).
Another major problem is the scale and speed at which cases are being detected.
Sometimes, that makes you feel if you have adequate infrastructure to deal with these cases.
What happens is that the people who are government servants, have no other option but to report at work and do their duty.
But the privates (private health officers who have been hired on a contract basis), why would they risk their lives? We are hiring them just for COVID-19 circumstances. Why will they risk their lives? Money is, after all, not everything. Life is beyond that.
Seriously speaking, we are lacking manpower (health workers). And there is so much of stress around with people working for almost 15 to 16 hours every day.
Even when you are at home, you are on the job, attending calls, coordinating with your other colleagues on shift for whatever reasons."
Death certificates don't reveal the whole picture
"We have already crossed 1,200 positive cases in Dharavi with 45-= to 50 deaths due to COVID-19. But this data is so dynamic, it changes every hour.
Mortalities could actually be higher than this number; whenever a patient expires, and even if the report is COVID-19 positive, there is certain cause of death.
Like, what was the ultimate cause of death? Was it because of heart failure or kidney failure or some other major ailment? So that cause is taken into consideration rather than COVID-19.
The death certificate, in such cases, reports the cause of death as heart failure or organ failure rather than COVID-19 because they cannot pinpoint the exact cause of death as COVID-19.
The fatality rate among co-morbid patients is high and because of which many times the reason of people suffering from COVID-19 are not concluded to have died because of COVID-19."
Social stigma leads to misinformation; living conditions make social distancing a distant dream
"We are focusing more on high-risk contact tracing. We do deep-dive investigations like even if the positive patient has gone to some milk centre or local doctor we try to get their contact lists; we try to contact them, we try to isolate them, we try to get them tested.
But it is also the responsibility of the citizens to reveal the actual information.
When our health workers visit the addresses in the contact list, the people are scared and more often they lie about the information we seek from them about the person who we are trying to trace and who had actually come into contact with a positive patient.
People are scared of quarantine that would follow, the social stigma associated with getting quarantined or testing positive.
When we investigate about these contacts most of the time they are not found at the addresses we get.
Also, given their living spaces being so claustrophobic, you cannot expect more than five-six people staying in one small room to remain inside their premises for days on end.
They, more often than not, venture out of their homes in search of fresh air and avoid humid conditions inside their homes.
Also, social distancing is just like a myth in Dharavi which many don't believe in.
That is true of many other slum/chawl clusters in Mumbai where COVID-19 is spreading fast.
With just one fan whirring above your head and trying to bring fresh air for ten people sitting inside a room is not an ideal condition that encourages social distancing inside their houses and narrow lanes; their densely packed houses don't help the cause of social distancing outside their homes too.
So they come out their homes, they stand, chill outside their homes given that everybody is away from work now due to the lockdown.
Everything is very normal in Dharavi. Coronavirus is just a strange-sounding word for these people.
Whichever way you look at it, the spread of COVID-19, on a scale, in such clusters is unavoidable, impossible."
The main reasons
"First is their living condition, which includes everything, like their socio-economic conditions.
Their miserable living conditions is the most important factor that is allowing the virus to grow unchecked in these slums.
Even if I were to be born in Dharavi, I would not sit in a small, suffocating room with all my family members without thinking of going out for a breath of fresh air.
Because of their economic status, hygiene factors go for a toss.
Second, there is a social stigma attached to being a COVID-19 patient. It is just like what leprosy was once upon a time.
You are looked down upon if you test positive and you are considered the cause of spreading it among others in the vicinity.
So, if you have fever, you don't reveal it; you don;t reveal the number of people staying inside a tenement or mislead the investigators.
This happens naturally because of human nature and it cuts across religious lines."
Ramping up the COVID-19 health infrastructure
"As of now there is maara-maari (fights due to shortage) to get beds for COVID-19 positive patients in hospitals which have been designated specially for treating COVID-19 patients.
So, we have now made arrangements for oxygen concentrators at the isolation centres; everything is taken care of like arrangements for pulse oximeters to check SPO2 levels or oxygen levels of a patient every now and then.
We have sphygmomanometers for monitoring blood pressure levels, we have oxygen manometer (to supply oxygen to a patient) in case oxygen levels drop below the desired levels.
We have the basic infrastructure ready to treat patients with mild symptoms and those who are asymptomatic.
We are also planning to have ventilators at these places but we haven't come across any donors but we will be introducing ventilators very soon.
We will also be installing Wi-Fi and television sets at the isolation and quarantine centres so the patients feel a little relaxed there. All of this will be in place by next week.
Some 1,500 people have been quarantined at present in Dharavi."
The death toll can explode
"As days pass by the mortality rate is bound to increase (in Dharavi).
The signs are there and we must take cognisance of these signs at the earliest or the situation (death toll) can explode pretty soon.
The most shocking thing is there are many people in Dharavi, and again this is across religious lines, feel that the coronavirus is just fear-mongering. Those who are scared are hyping it unnecessarily.
They are still not aware of the dangers; they are not yet sensitised about how fatal the virus can be at times.
Their impressions stem from them seeing patients who were asymptomatic and were cured without any serious health issues when they underwent treatment for COVID-19.
They are too optimistic that nothing will happen to them even if they get infected with the coronavirus.
In the last few days, we came across few young patients who had only mild symptoms, but they expired very soon.
One of our young community health volunteer from Navi Mumbai, who till the afternoon the other day reported to duty, evening she went home and had snacks and everything.
She slept for a while and when she got up, she felt uneasy and while she was rushed to the hospital she died within an hour.
Such news when it hits you, shatters your confidence.
The other shocking example is that of the API from Dharavi's Shahu Nagar Police Station.
Not just the old, but young ones too are falling down.
Fortunately, four doctors who tested positive, but who got cured have started working once again among COVID-19 patients.
It is the call of the duty. Our patients need us the most now.
Production: Ashish Narsale/Rediff.com