On Sunday morning Eastern US time, four astronauts will zoom into space on a SpaceX Falcon 9 rocket from the Kennedy Space Centre in Florida.
Commanding the spaceflight is Raja Chari, a United States Air Force colonel.
Vaihayasi Pande Daniel/Rediff.com presents the story of Colonel Chari's journey from Cedar Falls, Iowa, to Space.
This Rediff.com Exclusive! was first published on Rediff.com in August 2017.
Raja Jon Vurputoor Chari is a name you ought to remember.
He is going to very soon be the next Indian, correction, half Indian in space.
An Indian American, who grew up Iowan, in Cedar Falls, Black Hawk county, on the banks of the Cedar river, Raja's father Sreenivas V Chari hailed from Hyderabad. His mother Peggy, a nurse and later a teacher, is American.
Raja's imagination, right from childhood, wandered way beyond his humdrum geographical Midwest location as he dreamed of flying and voyaging into the enigmatic vastness of space.
He doesn't recall exactly when becoming an astronaut grew to be a definite ambition. Rather it was a fantasy that unconsciously crept up on him when he was a youngster. It subsequently climbed into his head and lived secretly in the back of his mind, patiently biding its time.
Flying, on the other hand, was something Raja worked towards, right out of high school, when he joined the United States Air Force Academy in Colorado Springs, Colorado.
"I got it in my head that I really wanted to fly an aircraft... Through high school my goal was essentially getting in the Air Force Academy. To accomplish that goal of flying..." he says.
His mom remembers that as a child Raja would spirit away the home's curtain clips, pretend they were airplanes and zip them through the air in play.
Says Peggy Chari: "When he was about 9 or 10 he took some drapery hooks I wasn't using and bent them into different shapes... He would take them out to sell to the kids in the neighbourhood telling them they were different types of planes. The other kids always bought them and then they'd all play together."
While studying at the Columbus High School, Waterloo (Cedar Falls' twin city), Raja's interests were divided democratically between science and music. He played the French horn for the all-state orchestra.
But the advent of the new science room in junior high -- "the idea of having a science lab in your school was really cool! Seems like a small thing. It was one of those little seeds" -- pushed him more firmly towards the magic of science and tangled him with the pull of exploring the unknown.
"We got to do stuff, experiments at the lab tables. That really fascinated me. The idea of science and engineering took hold."
It was also his parents' high valuation of education -- identical, coincidentally, though they came from different cultures but rather similar parental beliefs -- that he credits, as he struggled hard to achieve his goals.
Many children declare proudly they want to be pilots when they grow up. But in the Chari household wishes could be realised, because Raja was brought up to strive relentlessly, to goad that wispy dream into coming true, like his dad did.
Remembers Raja, who turned 40 in June, "The consistent focus between both of them was the idea of education being a number one priority. That was the way essentially my dad got to the States. That was something very important (for him)..."
"My mom had a very similar value set. She was in a seminary, to be come a nun -- she didn't become a nun, which is very good for me and my dad; I wouldn't be around! -- and she also had a very important view of where education lies. Both of them had a very strong value sets."
IMAGE: Raja's mom Peggy Chari says he made this poster for school, in fifth grade when he was about 11.
"The poster showed things we did as a family and this was labelled travel."
Photograph: Kind courtesy Peggy Chari
Did anyone dissuade him from flying? Or space?
Push him towards another career?
Would his parents have been fine with anything he chose to be, say being a park ranger?
"Honestly I think they would have been okay with that (too). Or with anything. There was never pressure..."
"My parents both (had) the same educational emphasis: If you work hard, study hard, do well, that opens up options for you. It allows you to do something you enjoy in life. It was always important to me that I (should) like to do what I would like doing. They were very encouraging. It doesn't matter what that thing was, as long as I enjoyed it and was working towards it..."
His mother Peggy, who is bursting with pride over Raja being one of the 12 chosen for the NASA 2017 astronaut class, says: "He has always worked hard and played hard."
Raja began Suzuki method violin lessons when he was 2, piano when he was 6 and the French horn when he was 11.
"The neighbours said they could tell when it was 5.30 pm because they could hear him practicing. He set his schedule and stuck to it."
"He was an excellent student all the way through school. He was well liked by his classmates. One boy told a friend, 'He's really smart, but he's still a regular guy!'"
"I'm very proud of him. I feel very blessed that I got to be his mother. He is such a blessing to me and everyone he encounters. I'm sorry his Dad is not here to share in all of his accomplishments. He would be so proud of him."
Sreenivas, whose nickname was Shari, died quite suddenly of an immune disease at the age of 67 in April 2010.
"At one point becoming a music major was a possibility," says the aspiring astronaut. "It was a pretty big part of my life. That might be the balance part my mom brought in -- developing both the left side and right side of your brain."
"Between the two of them they would have supported any path. They never pushed space or flying. They basically were: If I was interested in things, they would try to find (the information to help me)... For the (flying) academy they got completely invested in helping me in terms of academy parents' clubs in the region, talking to other parents about what it is like there, what it was like getting in, what should you know."
"Throughout my life anything I was interested in, they would encourage it and would try to help enable me in empowering that passion."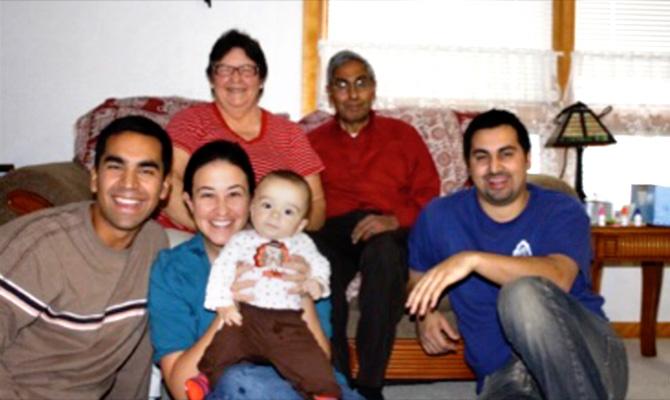 As you talk, long distance from India, to Raja at the Edwards Air Force Base, Lancaster, California, where he is in the process of winding up his household and his job with the 461st Flight Test Squadron, to move to Houston, Texas, for his two years' training at NASA, you remind yourself with a pinch that you are speaking to a part desi.
You dwell on alternate karma and wonder if Raja would have been on his way to space had his father not immigrated to Milwaukee in 1973 to do his master's in engineering.
An account of Raja's single-minded journey to success, and eventually soon into space, is incomplete without looking at his backstory and his father's even more epic passage from humble but sturdy roots in Andhra Pradesh to far away, foreign Wisconsin.
The senior Chari came from a large family in Hyderabad. His father, from Mahabubnagar, who was a mathematics professor at Osmania University, died very early in 1955 when Sreenivas was just 13. Sreenivas was brought up by his feisty mom and her sister who became the clan's matriarchs and motivated them all.
Sreenivas Chari, who had an engineering degree from Osmania, went to America with the determination to succeed. Says his son, "It was pretty brave of him to come over in the 1970s, start over in (another) country, on his own, and kind of work his way back up in a new country..."
"I didn't appreciate it as a child; I didn't understand what that would mean or what that took... Looking back, it is pretty awe inspiring to think of the sacrifices he made to come over and do that, not just for himself, but really for his whole family."
Sreenivas later helped his siblings' family come to America and find success too.
Sreenivas, while doing his master's at the University of Wisconsin, met Peggy Egbert shortly after his arrival in the US.
Remembers Peggy, "We met in Milwaukee, Wisconsin, where I was working as a nurse on a cardiac unit. He was going to the University of Wisconsin. We actually met through a computer dating service back in 1973! We dated for three years and got married on June 24, 1976."
"Raja was born on June 25, 1977. Raja was a most welcomed addition to our family! The Indian relatives were thrilled, as were the American relatives. He's always been ready to take on the world!"
The Charis eventually moved to Cedar Falls where Sreenivas got a job as an engineer with John Deere, the American corporation that manufactures agricultural machinery and other heavy equipment.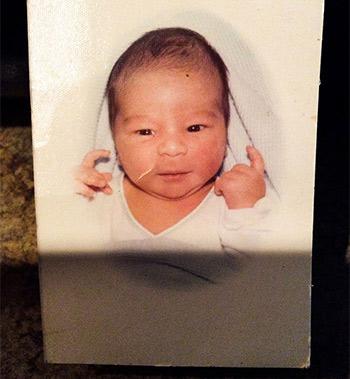 IMAGE: Raja's mom Peggy Chari sent a picture of the future astronaut as a baby."Here's a picture when he was one hour old," she wrote.
Photograph: Kind courtesy Peggy Chari
Bringing up two sons in America, the Charis were very conscious that Raja and his younger brother Krishna should benefit from their background but not have confused identities.
"It was a mix (of influences)," Raja recalls. "From a religious standpoint I was brought up Catholic. Much to my dad's credit, it didn't strike me that I was any different from anyone else. I think they did a great job of saying this is totally normal."
Raja's introduction to his Indian inheritance happened every few weeks when the family attended Cedar Falls-Waterloo's largish ("70 to 100 people") Indian gatherings.
An approaching festival was always an excuse for the Indian population to gather to hang out and have Indian food, where Raja first tasted Indian curries and such like.
It was also a chance for Sreenivas to catch up with his heritage and treat his homesickness.
"It was pretty impressive that they took the time to get everyone together and essentially have a bit of home away from home. It was a chance for him to reconnect with his friends and family. He had a pretty active -- almost like a double life -- living the American version through the day and then in the evening and weekends active with his Indian friends."
Sreenivas went on to work 32 years at John Deere before involving himself in a busy schedule of volunteer work after retirement.
As he was growing up, it took a while for Raja to realise that his father wasn't Catholic too. "He was Hindu. Never practiced it. Never baptised in church. He always went with us (to church). We always went as a family... My dad never got rid of his Hindu roots. I didn't realise, till I was older, that he wasn't Catholic and that the church we were growing up in, wasn't the church he grew up in."
Raja compliments his parents for providing the right mix of heritage to their sons while they were growing up although he wishes he knew some Hindi and doesn't think it is too late to learn.
"My parents had a view (to) blend Indian and American culture. Sometimes -- that's why it depends on who you meet -- some families when they come here really try very hard to not assimilate any American (influences) -- try to stay 100 per cent Indian. Some people try the opposite -- try to forget all their Indian roots, and say 'I am completely Americanised'. I am somewhere in between."
Says Peggy: "Being an American, I wasn't used to the Indian culture but tried to do many things to preserve the Indian side of his life. We started out by giving him an Indian and American name. We also gave him a middle name to preserve his heritage."
The Charis celebrated Diwali and Independence Day, as a family, she recalls and as more and more of the clan migrated to the US, there were (and are) big Chari gatherings.
Raja made several trips with his family to India and met the adored matriarch of the family, Ambuja Devi, his grandmother, and her sister Janaki Devi.
"The last time I was there was in 2005. We actually went when I was assigned to (Elmendorf Air Force Base, Anchorage) Alaska -- we took two F15E for the air show in Bangalore."
"While I was there I got a chance to go to Hyderabad. She (his grandmother) was the rock of the family. There was always a pilgrimage to go and see her. Any time any of the cousins was over in India the highlight of the visit was to talk with her."
"I didn't appreciate it, the way I do now, what it was like to be widowed in the 50s and the challenges she faced bringing up her children. That's why her sister came to help. Two amazingly strong women! Really the anchors of the family, who taught my dad, taught his siblings, the work ethics that they carry with them, came from two of those pretty amazing women."
Raja's Indian relatives were always very proud of Raja and his career and personal milestones and sent him cuttings from Indian newspapers about the NASA announcement.
Says his mom, "Raja's paternal grandmother did not speak much English so it was hard for them to communicate. But there was always the look of love and pride on her face. Raja would sit with her and enjoyed being with her."
"When Raja graduated from the United States Air Force Academy, his paternal grandmother was not able to make it to the ceremony. However, Auntie (his grandmother's sister) and two of Mr Chari's sisters, and a cousin of Raja's did come from India for the ceremony. So there was always great support and pride for him."
Trips back to India for Raja meant experiencing so many unique Indian phenomenon like watching a wedding or seeing a Hindi film in a theatre the size of a stadium with the whole Chari extended family.
"I was worried going to the movie that I'd have no idea what was going on. I was surprised how much I could still follow as it had the basic plot line of good guy, bad guy, falling in love, and epic chase scenes."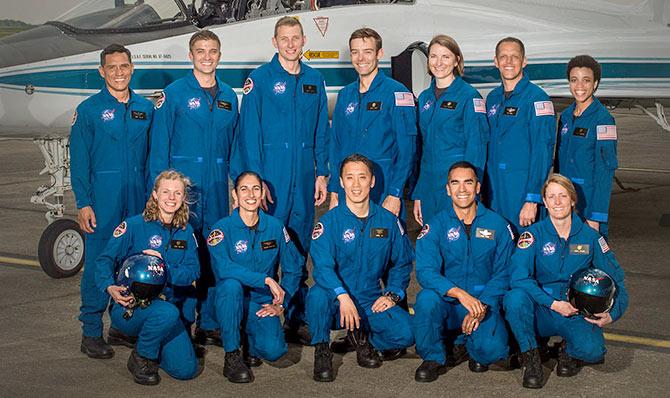 From flying (2,000 hours of flying time built up from stints in North Carolina, Alaska, RAF Lakenheath UK, Eglin AFB Florida and California), Raja gradually moved, armed with an MIT degree, towards aeronautics, a field he fell in love with at the flying academy.
He knew it was something he definitely wanted to do, but was unsure from which route he should approach it ie via engineering or flying.
"I became more educated about the idea of being a test pilot and that you can do both of those things. When I heard about that, I was sold that, that was the path for me. I loved being a test pilot. It is everything I thought it would be."
"I get to live my passions and do what I love doing. Once I became a test pilot that's the first time it struck me -- holy cow -- becoming an astronaut is in the realm of the possible!"
"It is actually not something that is just a lofty goal, but something that I can try to achieve. That's when I started to meet people associated with NASA."
It was the calibre of the people at NASA that further fueled his astronaut ambitions.
"Every interaction I have had with NASA people always just blows me away. So motivated, so bought in and so in love with their job. That's really the kind of organisation I just wanted to be a part of."
"What I loved about the test pilot community and that world, is (they are) a whole lot of people (who) want to make a difference. That love of having challenges every day."
"The NASA community is exactly that, problem solving, not letting the challenges get them down, but taking them on, full on, and figuring out how to tackle complicated problems, how to get it done...."
"For me the draw of space is the idea of the unknown and pushing the boundaries of human knowledge. That is essentially what has drawn me to the idea of space, what do we as humans not know and what can we find out and what can we challenge ourselves with..."
"Constantly learning, constantly improving. I guess that's my philosophy of life and also what drew me to NASA."
One of his interesting interactions with NASA team members was when he had an opportunity to chat with the other half-Indian astronaut Sunita Williams twice.
Raja met his wife Holly in Cedar Falls, through his church.
An attorney working with the department of veteran affairs, she helped Raja move his aspirations along, to swap castles in the sky for rockets in the sky, inspiring him, keeping the homefront running, while he was away on test missions (like to the Korean peninsula and Iraq) and being the true squadron wife, supporting other families too during various postings in Alaska and California.
"She kept our family going, kept me going and basically the whole squadron and the whole unit and then also was doing her job for the VA day in and day out. She's an amazing part of my life. Obviously the best decision I ever made and I was lucky to find her."
Holly is a part of Raja's proud Iowa roots. "The part of us that is very Iowa: We like to be very straightforward. We are very simple and humble people. The people we get on best with are down to earth."
"We are not big city people. We like nature, some of the things we taught our kids is getting outside, doing activities."
"The other big thing about Iowa was whether it was the Iowa upbringing or whether because we had the Indian community around us, everyone was very invested in your development as a whole person."
"The community took an interest in you... Your neighbours, the people at church, the people in school, They knew the families. (It is) a smaller town feeling where everyone was concerned about the people around them. You knew if someone needed help."
"Even to this day after the (NASA) announcement came out, I am hearing from high school teachers and folks. There is definitely a deep personal connection with all the folks in Iowa."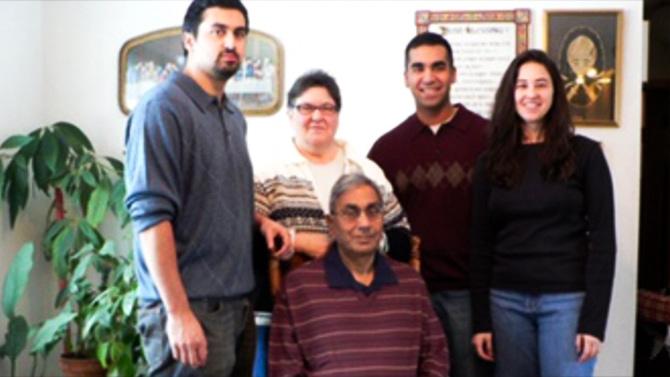 Raja and Holly's three kids -- ages 8, 5 and 2 -- are slowly absorbing that their daddy, who goes by the nickname 'Grinder' in flying circles ("Ha, long story and per traditions of call signs"), is gonna be an astronaut, helped along by a recent visit to the museum near the Johnson Space Centre, Houston.
"We were trying to explain this is the kind of stuff that Dad gets to work with people on and the people I work with do these things. They were excited by that idea."
"So the two year old, she can tell people, 'My daddy is going to be an astronaut.' She is capable of saying that. I don't think that means anything to her."
"The eight year old gets it. He doesn't necessarily understand what the job entails, but he understands why we are moving to Houston. I think he understands. He asked me the other day if I am still in the air force. I said: 'Ya I am still in the air force, but my job is now at NASA'."
"The five year old is just more concerned that he is going to be at full-time kindergarten instead of half day pre-school. They are all excited about moving to a new house, new place, getting to meet new kids."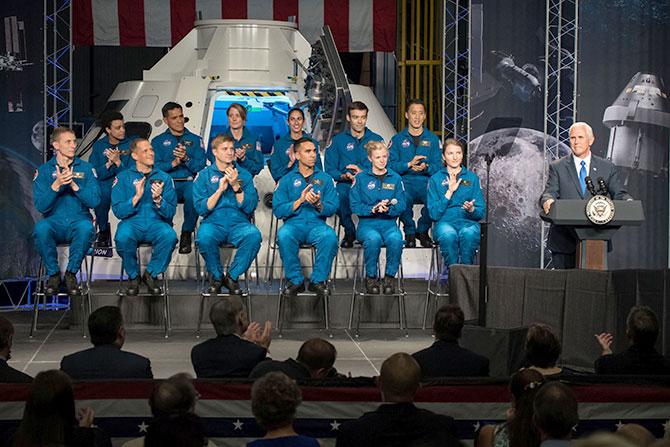 What Raja's first space assignment will be is, of course, not known at this stage. He is certainly not picky! Stepping into space to do just about anything is fine with him.
"Quite obviously it is whatever they want to use me for I would be happy doing any of these things! Whether it is the space station. Whether it is Orion. Whether it is a (CST-100) Starliner. Or the Dragon. Any of those things would be great."
"And I'd love doing them," says the space-bound pilot who feels his "level, calm" nature is as much responsible for his flying record and his successes.
What "sticks with you," he explains, "is not so much the mission as the people on a mission. That make the difference and how one prepared to make it a success."
"Even when he was flying for the US military it was the same. "Really wherever I can best work, with whoever I am teamed with, for whatever mission I wind up being (on). My focus would be being the best part of that team that I can..."
"I am excited about getting to work with some amazing quality teams and getting to do some challenging missions, whatever the mission happens to be, they all have the elements that excites me."
"Something is going to be learnt, something new is going to happen, we are going to push the bounds of something, whatever that something is, on whatever that mission is, I am not so concerned about."
"That is really what is exciting."