Could the Samajwadi Party have done better in the Uttar Pradesh assembly elections if the ring was not so crowded?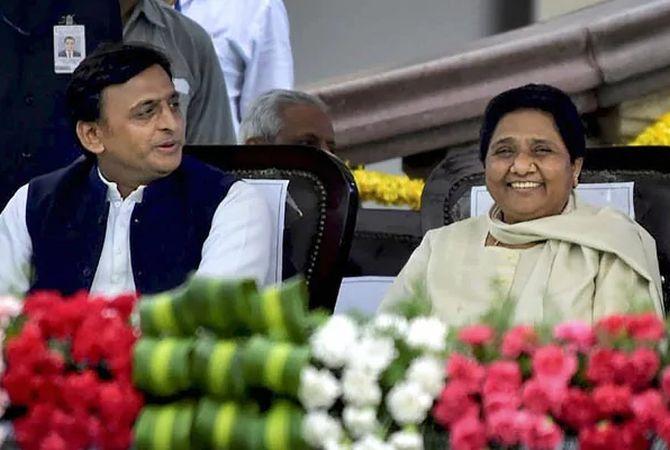 Social media has been agog with reports of how the presence of various political parties from the usual suspects like the All India Majlis e Ittehadul Muslimeen to various rebels and independent in the fray ate into Samajwadi Party votes, robbing it of victory.
For the record, the Bharatiya Janata Party won 255 seats against the SP's 111. SP allies Rashtriya Lok Dal won eight and the Suheldev Bharatiya Samaj Party won six.
So who cost the SP more seats in UP?
Hemantkumar Shivsaran/Rediff.com does a deep dive of 19 seats where the BJP's victory margin was less than 2,000 votes, to find out.
| Constituency Name | Winning Candidate | Party | Votes | Candidate - 1st Runner Up | Party | Votes | Margin | Candidate - 2nd Runner Up | Party | Votes |
| --- | --- | --- | --- | --- | --- | --- | --- | --- | --- | --- |
| Aurai | Dinanath Bhashkar | BJP | 93691 | Anjani | SP | 92044 | 1647 | Kamala Shankar | BSP | 28413 |
| Shrawasti | Ram Feran | BJP | 98640 | Mohhamad Aslam Rainee | SP | 97183 | 1457 | Neetu Mishra | BSP | 41026 |
| Bijnor | Suchi | BJP | 97165 | Neeraj Chaudhary | RLD | 95720 | 1445 | Ruchi Vira | BSP | 52035 |
| Badlapur | Ramesh Chandra Mishra | BJP | 82391 | Omprakash Baba Dubey | SP | 81065 | 1326 | Manoj | BSP | 34792 |
| Sitapur | Rakesh Rathour | BJP | 99349 | Radhey Shyam Jaiswal | SP | 98096 | 1253 | Khurshid Ansari | BSP | 16988 |
| Mariyahu | Dr R K Patel | Apna Dal (Soneylal) | 76007 | Sushma Patel | SP | 74801 | 1206 | Anand Dubey | BSP | 32783 |
| Chhibramau | Archana Pandey | BJP | 124773 | Arvind Singh Yadav | SP | 123662 | 1111 | Waheeda Bano urf Juhi Sultan | BSP | 22000 |
| Manikpur | Avinash Chandra Dwivedi | Apna Dal (Soneylal) | 73132 | Veer Singh Patel | SP | 72084 | 1048 | Balveer Pal | BSP | 45367 |
| Sultanpur | Vinod Singh | BJP | 92715 | Anoop Sanda | SP | 91706 | 1009 | Dr Devi Sahay Mishra | BSP | 22521 |
| Moradabad Nagar | Ritesh Kumar Gupta | BJP | 148384 | Mohd Yusuf Ansari | SP | 147602 | 782 | Irshad Hussian | BSP | 14013 |
| Shahganj | Ramesh | NISHAD | 87233 | Shailendra Yadav Lalai | SP | 86514 | 719 | Indar Dev | BSP | 48957 |
| Katra | Veer Vikram Singh | BJP | 77800 | Rajesh Yadav | SP | 77443 | 357 | Munna Singh | INC | 17504 |
| Baraut | Krishan Pal Malik | BJP | 90931 | Jaiveer | RLD | 90616 | 315 | Ankit Shamar | BSP | 11244 |
| Nakur | Mukesh Choudhary | BJP | 104114 | Dr Dharam Singh Saini | SP | 103799 | 315 | Sahil Khan | BSP | 55112 |
| Bilaspur | Baldev Singh Aulakh | BJP | 101998 | Amarjeet Singh | SP | 101691 | 307 | Ramautar Kashyap | BSP | 18870 |
| Nehtaur | Omkumar | BJP | 77935 | Munshiram | RLD | 77677 | 258 | Priya Singh | BSP | 38020 |
| Kursi | Sakendra Pratap | BJP | 118720 | Rakesh Kumar Verma | SP | 118503 | 217 | Kumari Meeta Gautam | BSP | 35561 |
| Dhampur | Ashok Kumar Rana | BJP | 81791 | Naim Ul Hasan | SP | 81588 | 203 | Thakur Moolchand Chauhan | BSP | 38993 |