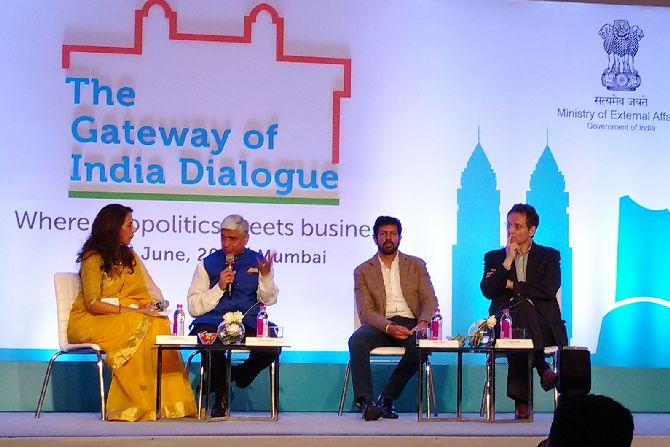 IMAGE: Novelist Shobhaa De, Vikas Swarup, novelist, diplomat and the ministry of external affairs spokesperson, director Kabir Khan and Saffron Art CEO Hugo Weihe at the event. Photograph: Vaihayasi Pande Daniel/Rediff.com
'Today if you look at the way India is growing many people are saying the sleeping elephant has finally woken up, is dancing!'
'I have travelled extensively, in about 60 countries. In all these the moment you say India, the first thing they mention is either an actor's name. Or they start humming a song.'
'I wanted to be in Bollywood. It is the most powerful medium we have in this country. That's soft power.'
Listening in on Shobhaa De, Kabir Khan, Vikas Swarup and Saffron Art CEO Hugo Weihe discuss India's Soft Power, Hard Influence.
At a high-adrenaline Mumbai conference, that focused on the Indian intersections between geopolitics and business last week, a number of masala topics came sauntering in the doors of the Taj Land's End hotel, uninvited.
In attendance were chief guests, who ranged from ministers, government officials, intellectuals, university professors, India's foreign secretary to ambassadors and global businessmen, living between multiples time zones.
These were unexpected topics, that pushily hopped onto the agenda. Like Shri 420. The beef ban. The majestic Hindu Kush mountains. Ajanta and Ellora. Syria. Cairo. Bored US immigration inspectors. Love jihadis. Pahlaj Nihlani. Head transplants. Topics that added plenty of exuberance to an otherwise prim summit.
This happened at the peppy session, titled Soft Power, Hard Influence, where moderator Shobhaa De asked a number of ticklish questions of her panel that consisted of Vikas Swarup, the ministry of external affairs spokesperson and author of Q&A (adapted into Slumdog Millionaire), Kabir Khan, filmmaker (Bajrangi Bhaijaan, Kabul Express, New York) and Hugo Weihe, CEO of the art auction house Saffron Art.
The discussion was part of the wide-ranging, impressive Gateway Dialogue, hosted, as a first, by the think tank Gateway House and the ministry of external affairs.
Rediff.com's Vaihayasi Pande Daniel listened in on the discussion between De, Swarup, Khan and Weihe, as the conversation often easily and interestingly coasted away from global power to politics, movies and drama.
The choicest slices of the dialogue: First of a three-part series.
Shobhaa De: I am sure a lot of us will agree that Indians are skillful negotiators. We negotiate crossroads particularly well. This afternoon we are going to be dealing with many such challenges...
I was reading something that (social activist and sometime politician) Jaya Jaitly said recently. She's been a great ambassador of the crafts and skills of India over the last few decades. What she said in many ways encapsulates what soft power means.
Jaitly (behind craft organisations Dastkari Haat Samiti and Dilli Haat) talked about creating craft bazaars across the world and a culture of craft bazaars to help different countries and different skill sets meet in a more meaningful way.
I thought how wonderful if we could also have a culture of ideas. And (also) bazaars where we could share our ideas on equal platforms. I think that is happening. Narendra Modi also recently talked about diplomacy and sagacity, which I thought was a fabulous combination of words -- emotive as well as profound.
The Economist has done a piece where they talked about once diffident India is beginning to join the dance. We can look at it either as being something slightly patronising which (it might be). On the other hand, maybe it is time we looked at ourselves differently and make sure the world looks at us differently as well.
I am going to start with (a question to) Vikas. It is going to be a free flowing conversation/discussion and I would request my panellists to interrupt if they need to, contribute if they want to and generally keep everybody awake on a very humid and hot afternoon in Mumbai.
So Vikas when you wrote Q & A and a movie was made of that book, there was talk of how India -- especially cinema in India -- has specialised (for a long time) in exporting poverty. The comment was, of course, made starting with Satyajit Ray and Pather Panchali. How did you feel about the varied responses to your book initially?
You launched it across the world. You had conversations about the book and the movie across the world. You have been on various red carpets. What was that whole experience like? Did you feel defensive in some way? Were we exoticising poverty?
Vikas Swarup: Since we are talking about soft power, I must say that Slumdog Millionaire has in a sense contributed to the (evolution) of India's soft power.
I will give you a small example: I was posted in South Africa at that time. I was invited to come for the Academy Awards. So I took a flight that went from Johannesburg to Atlanta, which was the hub of United Airlines. From there to Los Angeles.
I am sorry (Swarup corrects himself), this was not for the Oscars, but the USIBC (US-India Business Council). They were giving me an award for Cultural Ties That Bind. And I was going to Washington DC.
When I arrived in Atlanta, it was 5.30 in the morning. A very jaded looking immigration officer at the counter asked me: 'So what brings you to the United States, sir? (he mimics an American accent perfectly)'
I said: 'I have come to receive an award.'
'And what award would that be, sir?'
'For writing a book.'
'And what book would that be, sir?'
'Slumdog Millionaire.'
'Oh really, can I hug you?!'
That was quite incredible. When I reached Washington the next day we had a meeting with Hillary Clinton (then US secretary of state in the first Obama administration). She also had engaged with the film (made) from the book. I gave her a copy and we (talked about it).
I thought this was an amazing coincidence that a film has appealed not just to the classes, but the masses -- from an immigration clerk to a secretary of state of the United States of America. Both related to this film.
Yes, there has been a lot of controversy, because of the title I suppose. In Madras (Chennai) they filed a case against the producers saying by naming your film Slumdog Millionaire you have called all of us living in the slums as dogs. This was a case filed by the Slumdwellers Association of India and they even filed a case against me.
I had to point out: 'Excuse me, but my book was called Q & A and not Slumdog Millionaire.' Then I was sort of taken off the respondents' list.
But they did file a case. It was thrown out by the high court, of course, (because by using the title slumdog) it does not mean anyone is a dog. When they lost the case they went out and bought two dogs and they named one dog Simon (after screenplay writer Simon Beaufoy) and the other dog Danny (after director-producer Danny Boyle). This tells you that this film did impact people in multiple ways.
I always say: Why do you look only at the slumdog part? Why not at the millionaire part? What is eventually the subtext of that film. That a slumdog can become a millionaire. That somebody who has been given no chance in life can overcome the odds and (emerge) a millionaire.
I think that's the leitmotif of India. Today if you look at the way India is growing -- at what 7.9 per cent, which was our growth in the last quarter -- many people are saying the sleeping elephant has finally woken up and...
Shobhaa De: Is dancing!
Vikas Swarup: Now dancing, as per The Economist.
Shobhaa De: You are now are playing the part of spokesperson for the external affairs ministry. It must be very hard to (handle) the creative balancing act as a person who indulges in fiction and then has sometimes a difficult job juggling certain viewpoints?
Vikas Swarup: I have given up my schizophrenic existence. I am now only the official spokesperson and not the writer.
Shobhaa De: No more books? So today you are here as a writer/official spokesperson...
Vikas Swarup: No more books. I don't know. You have to ask Gateway House that in which capacity they invited me?!
(Laughter in the room.)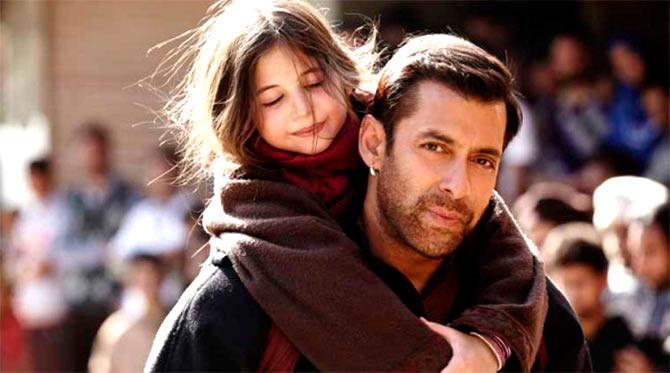 IMAGE: A scene from Kabir Khan's blockbuster Bajrangi Bhaijaan.
Shobhaa De: Kabir, I wanted to ask: You have made a stream of very, very successful films, which have bridged commerce as well as a strong message that you wanted to convey. Do you think cinema itself, movies can be agents of change? Can you actually export a cultural thought?
Kabir Khan: I personally believe that Bollywood definitely is one of the strongest elements that India has in a soft power. In all my travels as a film maker... I have travelled extensively, with journalist Saeed Naqvi, (focussing on) about 60 countries. In all these countries the moment you say India, the first thing they mention is either an actor's name. Or they start humming a song.
I would like to relate a little story about how India's soft power, specifically a Bollywood actor specifically saved my life. That's the day I realised how powerful Bollywood really is.
This was 2001, the Americans had started bombing the Taliban regime and I was going into Afghanistan to make a documentary. We were Indian passport holders so we could not go through the usual Peshawar route, that most of the other journalists were taking (into Afghanistan). So we had to fly over Pakistan to Uzbekistan and drive to Tajikistan and from Dushanbe (capital and largest city of Tajikistan) we were trying to enter Afghanistan.
Everything we tried wouldn't work. We tried to drive from Dushanbe over the mountains. There were landslides and avalanches and we had to go back. The rivers were in spate so we couldn't take a boat across the river (Panj that runs along the border of Tajikistan and Afghanistan). There was a chopper we were supposed to hire. That crashed the day before we were to take it.
It was a dead end. We were there (in Dushanbe) for 14 days and just not able to enter Afghanistan. While we were there Naqvi came and I said: Welcome to the dead end. He spoke to the (Indian) ambassador there. He tried to get to them (Afghani authorities) through the MEA. Nothing was working. Finally on the 14th day -- when we had more or less given up and I had said: 'Come, let's go back to Delhi, because there is no way we are going to Afghanistan' -- I made one last attempt.
Me and my friend Atul Kapoor went to the (Dushanbe) airbase and saw this Russian military copter (parked being loaded) with medicines for Kabul. We decided since nothing else is working, let's do it the Indian way...
We took the Russian helicopter pilot aside and offered him some money... We gave him $2,000. He hid us in the cargo of medical supplies and the chopper took off. It was just 40 minutes, through the Hindu Kush mountains. When we were somewhere outside Kabul, this big Russian chopper comes down somewhere surrounded by mountains. (The pilot) said: 'Now jump! Jump.'
'What do you mean jump? We gave you $2,000. The least you can do is put us down.'
He said: 'No, no, there is some technical jargon about it. If the chopper goes down, it needs some minimum amount of time to start again.'
He said (again): 'Jump! So we jumped, from 30 feet up in the air and the chopper takes off and me and Atul are left in the middle of nowhere. All you could see was snow-clad mountains. We don't know where Kabul was.
Then we see this lone figure marching towards us. As he came closer we realise he is six feet four inches and maybe four feet wide. He looked angry. He just saw this chopper come down and two guys jump off and it takes off (again). He was shouting something very angrily. And you know he was waving this Kalashnikov in his hand.
I really thought this was it. This is where my story is going to end. I was getting all kinds of morbid thoughts about what happens to a body if you die in the mountains near Kabul. How will people know! All this was happening (in my head).
As he came closer, saying something in Dari (a variety of the Persian spoken in Afghanistan), all we kept saying was: 'Hindustan. Hindustan!'
Suddenly this man stops. Gives a smile. And starts singing: Mere sapno ki rani kab aayegi tu. That's when I realised: I want to be in Bollywood! It is the most powerful medium we have in this country. That's the soft power of Bollywood.
Shobhaa De: It's a fantastic story. What was your experience with Bajrangi Bhaijaan? That did run into some controversy. And right now we are dealing with a controversy of a different sort (Udta Punjab). But it is about the same issues of censorship and freedom of expression and how far can you go.
What was the controversy that you actually faced? What was the reaction from Pakistan with that movie? It is a very emotional movie about a little girl for those of you who haven't seen it.
Kabir Khan: The controversy unfortunately about Bajrangi Bhaijaan was all overblown. Nothing really happened across the border.
To give you the backdrop, before this I had already come on this famous/infamous list of love jihadis, because I am married to (television host, actress) Mini Mathur, who is a Hindu. I had been put on this very illustrious list with (actors) Shah Rukh Khan and Aamir Khan -- Muslims who had married Hindus...
When I announced Bajrangi Bhaijaan somehow people thought it was a story of a Muslim and a Pandit girl. I started getting hate mail. Why am I making a film on love jihad? Am I being funded by the Arabs -- wish I had, never got a penny from them. Lots of cases had been filed by the Vishwa Hindu Parishad. My mother was accosted outside my house... you know: Drama.
We finally released the trailer of Bajrangi Bhaijaan. For those of you who have seen the film, it is obviously not about love jihad. It's about this devout Hanuman devotee. When they saw the trailer they (must have said to themselves) said: 'No, no this can't be about love jihad. This guy is a Bajrangi. So now what do we focus on?'
Then I get a PIL (public interest litigation) launched in the Allahabad high court by the VHP saying that Bajrangi Bhaijaan is blasphemous. You can't put Bajrangi and bhaijaan together. Then that tamasha started.
What was strange, which actually reflects in a way what happened with Udta Punjab... (While) I can understand the VHP getting perturbed. I can understand them getting upset about Bajrangi Bhaijaan from their point of view. They think it is blasphemous. I think it is the greatness of India that allows us to put these two things together.
So the censor board actually started getting affected by this. When I went to (the censor) who actually thought this was a very contentious film and we should just not see it... We ostriches should dig a hole and put our head in it and (pretend a controversial film) is just not there... They pushed my censor screening to a week before its release, which is really the eleventh hour because we need to get our prints out.
They said that we feel that Bajrangi Bhaijaan is not appropriate and can create a problem in this country. They thought they were being very magnanimous and they said: 'Sir you can take your pick. Take either Bajrangi or bhaijaan.'
So I said: 'I don't think I am going to take my pick. I am going to take both together.'
Fortunately I think they realised it is not a battle worth fighting and we got away with it. We didn't have to go to the high court.