'If they think they can silence us by suspending us, then they don't know what BJP MLAs are made of.'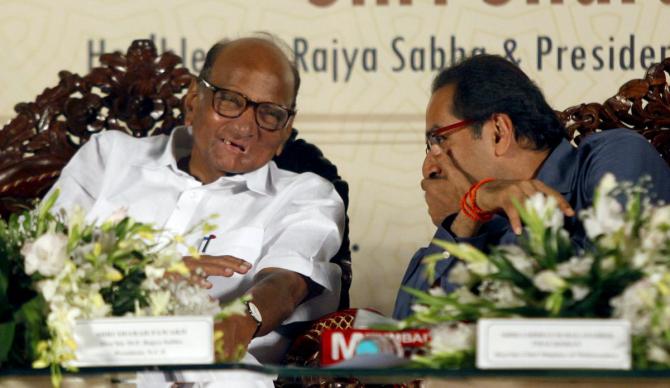 The first day of the two-day monsoon session of the Maharashtra assembly ended amid several adjournments and a loud bang when 12 MLAs belonging to the Bharatiya Janata Party were suspended by voice vote for 'abusing and manhandling' Presiding Officer Bhaskar Jadhav.
Allegations ran thick and fast with constituents of the Maha Vikas Aghadi -- the Shiv Sena and Nationalist Congress Party -- accusing BJP MLAs of using foul language against Jadhav, the NCP MLA from Guhagar, and the Opposition bench, in turn, accused Jadhav and a couple of Shiv Sena MLAs of using uncharitable remarks against them.
The day ended with both sides firing political salvos at each other and seeking public release of CCTV footage that could establish the MLAs at fault.
"I have described the entire chronology of events in great details. They cannot escape the fact that they used abusive and foul language against me," Jadhav tells Prasanna D Zore/Rediff.com. He refused to respond to if he will produce the CCTV footage that could establish the exact chronology of events that took place inside the Speaker's chamber.
"This is nothing but vindictive politics of the Maha Vikas Aghadi government," says Atul Bhatkhalkar, the BJP MLA from Kandivali East, north west Mumbai. Bhatkalkar is one of the 12 MLAs who have been suspended for a year and won't be allowed to enter the assembly in either Mumbai or Nagpur.
Sanjay Kute, Ashish Shelar, Abhimanyu Pawar, Girish Mahajan, Parag Alavani, Harish Pimpale, Yogesh Sagar, Jay Kumar Rawat, Narayan Kuche, Ram Satpute and Bunty Bhangdia are the other 11 BJP MLAs.
"You cannot suspend people's representatives for what happened outside the House (the ruckus took place inside the Speaker's chamber). If a fight takes place between two MLAs out in the street they should take action. This is blatant misuse and murder of democracy," Bhatkhalkar says.
According to Bhatkhalkar it was a Shiv Sena MLA who abused another BJP MLA that led to the melee inside the Speaker's cabin. "I demand that Bhaskar Jadhav should undergo a narco test," thunders Bhatkhalkar, a first-time MLA.
"Devendra Fadnavisji was trying to expose gaps in Chhagan Bhujbal's proposal for OBC reservations, but he was not allowed to speak," says Yogesh Sagar, the suspended BJP MLA from Charkop in suburban Kandivali.
"When we stood up against this wrong, the MVA government misused its position to suspend us," he adds.
"They unleash the police and other agencies against us when we speak against them in public and now they are using their legislative might to silence us inside the House. That's how scared the MVA government is about its survival," he says.
Taking advantage of its legislative strength on the floor of the House, the MVA government suspended the 12 BJP MLAs via voice vote on a motion tabled by Maharashtra Parliamentary Affairs Minister and Shiv Sena leader Anil Parab.
The furore in the House began when Jadhav, the presiding officer, put to vote a resolution asking the Union government to furnish 2011 census data for preparing empirical data of the other backward classes (OBC) population in the state based on which electoral representation of OBCs could be decided for the forthcoming local body elections.
The BrihanMumbai Municipal Corporation, India's richest local body over which the Shiv Sena has been holding its iron grip since 1985, ironically, in alliance with friend-turned-political foe BJP now, will be up for grabs in 2022, the outcome of which could perhaps decide the fate of the MVA government and the Shiv Sena's hold over Mumbai.
"The 12 MLAs have been suspended from entering the House but there is no ban on exposing MVA government lies before the public. This government is making all efforts to stop implementing reservations for the OBCs before the 2022 BMC elections and we will take the matter before the public," says Sagar.
"This government wants to stymie creation of empirical data (about OBC reservations) and every time blames the Union government for doing so," adds Sagar.
Interestingly, while both camps are publicly posturing for seeking CCTV footage to find out who the real culprit is in this drama, none believe that it will happen.
"Let them release that CCTV footage. We have no issue. They will not release it. If they do it, they will be in the dock," states Bhatkhalkar.
"Bhaskar Jadhav clearly saw which party's MLAs used abusive language inside his cabin; they have been known to him for quite long now, but I don't know why he is so helpless to reveal the names of those MLAs," adds the BJP's Sagar.
When asked to reveal the names of the Shiv Sena MLAs who abused BJP MLAs and why he is as helpless as Jadhav in revealing those names, Sagar's defence is: "Bhaskar Jadhav is the one who has alleged that foul language was used against him. It is his duty to produce proof of who these MLAS are."
"If Bhaskar Jadhav is alleging that BJP MLAs abused him, then he should produce the CCTV footage before group leaders of all the parties. I think we should take Bhaskar Jadhav's statement as a fact, but not before seeing the CCTV footage. If they don't produce this footage, then people would know how hollow and incorrect Jadhav's claims are," says Sagar.
When asked if he will demand release of CCTV footage, Sagar says, "That right belongs to the Speaker of the assembly."
Bhatkhalkar and Sagar maintain that their suspension was harsh and unjust as similar incidents in the past were discussed among group leaders and sorted out amicably.
"Whatever happened on the floor of the House is in the public domain. Only three-four MLAs went up to the Speaker's dais. That is normal in our assembly. Whenever there is a ruckus in the House, they adjourn the House. All group leaders come to the chairman's cabin to discuss and sort out the issue," says Sagar.
"According to him (Jadhav) we were suspended because we climbed the dais in front of the in-chair Speaker. If that was the reason then I was also the presiding Speaker on number of occasions between 2014 and 2019 (when the BJP and Shiv Sena alliance was in power). In those days Jayant Patil (then in the Opposition) would often climb the dais, but we did not suspend him for doing so," says Sagar.
"It happens that some MLAs, when they don't get a chance to express their views, do climb the dais out of frustration. But such issues are sorted out amicably by discussions among party leaders," says Sagar explaining what prompted some BJP MLAs to climb to the Speaker's dais.
"Legally, we cannot challenge the Speaker's decision because the legislature is supreme. We will continue our fight in the people's court against the atrocities of this government. They took advantage of the ruckus," says Bhatkhalkar.
Ask him why he thinks the MVA government is being vindictive and he says, "I think, in their perception, they are trying to do tit-for-tat. Their thinking must be like if they are harassing us (using central law enforcement agencies like the CBI and ED), we will harass them in equal measure by suspending their 12 MLAs.:
"All 12 of us have been quite vocal against the policies of this government and exposing their wrongdoings. If they think they can silence us by suspending us, then they don't know what BJP MLAs are made of."