At a time when the BJP is facing a perception battle, is Sambit Patra, its national spokesperson, helping the party's image? Shivam Saini reports.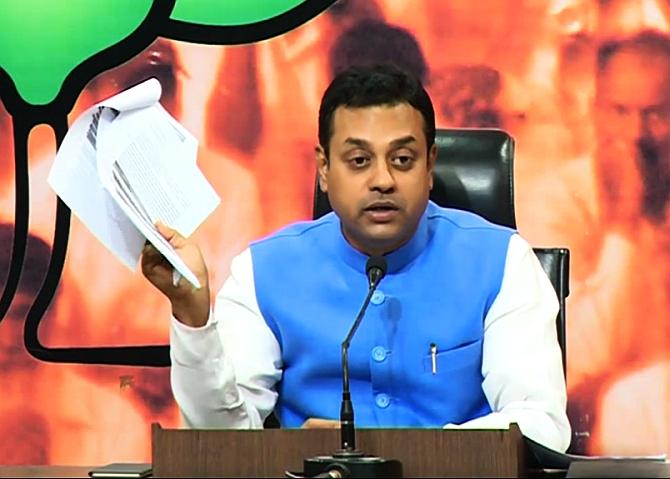 A few minutes before 9 o'clock on a December evening, Sambit Patra quickly runs his finger through green- and pink-highlighted text on a sheet of paper and silently moves his lips -- no less nervous than a student cramming before a test.
Seated at his desk in the study-cum-office of his one-bedroom, third-floor apartment on New Delhi's Rafi Marg, the national spokesperson of the Bharatiya Janata Party then pops mulethi, a herbal medicine used by singers to clear their vocal cords, into his mouth.
The clock strikes nine.
Patra sits ramrod straight in his black chair.
Wearing his trademark deadpan expression, the 41-year-old is ready to occupy one of the six frames on the prime-time news debate, The Newshour -- in live verbal combat against Times Now Editor-in-Chief Arnab Goswami and fellow panelists.
This is the day's last appearance for Patra on a live debate and his sixth since he began countering one opponent after another five hours ago, when I wangled my way into a cramped corner of his office.
Since last August, when he was appointed as one of BJP's 10 spokespersons, Patra has become a visible presence on news channels, both Hindi and English.
His aggressive style and the ability to churn out one-liners are, however, often dismissed by his critics as being a shield for his lack of experience in politics.
Twitter is abuzz with talk of how he defends the untenable with unabashed confidence.
"I think he is the most in demand today," says Rajdeep Sardesai, consulting editor at India Today and former editor-in-chief of CNN-IBN.
Sardesai recalls how Patra insisted that he be seated in the corner among the panelists at the studio during a debate.
"In an hour, he had four different 15-minute slots with four different channels."
Comparing the present-day television debates to a "gladiatorial theatre where spokespersons come in like boxers, trying to land as many punches in the shortest possible time," Sardesai believes Patra is only a "product of modern-day television".
Image consultant Dilip Cherian, who also advises political parties, singles out the "ability to dominate the discussion with verbiage rather than the context" as a crucial trait that parties look for while choosing their spokespersons. "Anyone who's either measured or seasoned won't do," he says.
"Patra is a generational shift, all black hair, bonhomie and bravado," says Cherian, adding, "He is good at promoting the indefensible."
BJP has been known for its impressive array of spokespersons in the past, a prime example of which is Finance Minister Arun Jaitley.
Others like Nirmala Sitharaman and much before her Sushma Swaraj were also more about substance and less about noise.
However, given the ever-increasing number of news channels that are hungry for quick reactions, the spokesperson of today has become a cog in the wheel of 24x7 news.
Once a party is in power, most senior politicians get busy running their ministries.
It is only natural for many aspiring politicians, then, to be tempted by the low-hanging fruit that is the spokesperson's post.
Patra is only an extension of this reality, which also reflects in the declining quality of political discourse today. For the BJP, which has in the last one year faced serious questions on various issues, including "intolerance", a stronger voice would help.
As a kindergartener in a Bokaro school run by Chinmaya Mission, a Hindu organisation, Patra would often accompany its founder, Chinmayananda Saraswati, on tours hosting spiritual discourse across the city.
"The first glimpse of great oration that I caught was from a great saint. His emphasis on words and the style of speaking left a great deal of impact on me," he says.
Even when Patra was training to be a doctor at Odisha's Veer Surendra Sai Medical College, he would often emerge a winner in debate competitions organised by the All India Institute of Medical Sciences in New Delhi.
His interest in spirituality and oratory may have flourished in his growing-up years, but Patra's political aspirations found expression after he finished his surgical training and became a medical officer at Delhi's Hindu Rao Hospital in 2003.
"The puerile way of thinking was that you had to be either moneyed or muscled to get into politics," says Patra. "I was none."
So, after he finished his nine-to-four shift at the hospital, Patra and a few other doctors would tour the nearby Dalit areas to run free medical camps and dole out medicines they bought with their own money.
In 2006, he founded Swaraj, a non-profit to support the Dalit community. He felt the organisation's purpose should go beyond providing healthcare services. So, he organised religious events in which the Dalit community would perform puja. All this while, however, his eyes were set on the ultimate aim: politics.
"I would not say I was strictly doing it for sewa (social service). I wanted to get into politics. Sewa was only the means," says Patra. In an attempt to further his political ambitions, he would often invite local BJP leaders to events hosted by Swaraj.
In 2011, Patra gave up his job at the hospital and, a year later, fought -- and lost -- a municipal election as BJP's candidate from Delhi's Kashmere Gate. But he grabbed the spokesperson's job in Delhi BJP.
In the run-up to the Lok Sabha elections in 2014, he vigorously campaigned for the BJP and gained visibility on television. When the BJP rose to power, Patra was the obvious choice for the job of the national spokesperson.
He had also found a mentor in Jaitley, BJP's master orator.
"I would call him in the middle of the night to ask for pointers." Patra says Jaitley has advised him "not to be shrill and to be sober". "But," he confesses, "I am not very sober. These channels have forced me [to be the opposite]. I feel very pained that I have to shout."
The marathonic debate schedule allows only enough time for quick bathroom breaks, a tall glass of mixed-fruit juice, and a few hurried news bites to reporters.
"It is very important to look fresh in the evening," he insists. It takes a 15-km run on a treadmill in his bedroom, anulom vilom (alternate nostril breathing) and a morning walk in Delhi's Lodi Garden to "look fresh".
Patra prepares for debates an hour before the broadcasts begin around 5 in the evening.
Inside his office, a 22-inch Sony LED is muted during broadcasts.
The absolute silence in the room in the five hours during which I have parked myself here has been interrupted only when the walls thundered with Patra's voice, or by some faint noises -- the occasional shuffling of feet by the cameraperson and a man singing Hum honge kamyab in the empty corridors of the building.
Every time a debate ends, the set of notes for it is put away.
Crucial to research are his one-liners.
"I am famous for them," says Patra with a triumphant smile. "I always think of something that would stick with people for a long time, something that has a visual quality" -- and is tweet-worthy. Every few seconds on live TV, he doesn't forget to steal a downward glance at his Samsung tablet to see whether the expression has caught on Twitter.
Although Cherian feels Patra's one-liners "pack absolutely no substance," and are "in the same doghouse as [Navjyot Singh] Sidhu's jokes on Comedy Nights with Kapil", none of that bothers Patra.
He has already thought of one to use today during The Newshour, in which the panelists would debate the lawmakers' lacklustre response to the Juvenile Justice Bill (now passed in the Rajya Sabha), even as the youngest convict in the December 16, 2012, rape-and-murder case in Delhi has been released from the reform home where he spent three years and there is talk that the Aam Aadmi Party-run Delhi government will help him land a tailoring job.
"They [AAP] want to make him the Delhi government's sponsored tailor, we want to tailor a path of imprisonment for him," he reveals his slogan of the day, emphasising "tailor".
"Sounds right?" he asks me.
Even before I can finish making sense of the expression -- after he has already run it by Supreme Court advocate Pinky Anand on a quick call -- the debate has started.
There is no AAP representative on the panel today to wonder at his one-liner.
It is past 10 pm and Patra's voice has been lost in the din. A two-minute break follows.
"I don't even know what points we are making," he says. "Until now I have not come to the real issues. They are not allowing us to speak. They want us to fight; that's what we are doing."
The debate ends. He sighs heavily, then breaks into a smile, before saying, "It is over." But his day isn't.
"I can't sleep right away with all that adrenaline rush. I have to see what the social media is saying," he says. For the next hour, he will scour Twitter and retweet the "endearing" comments, until dinner is served at midnight.