The costs involved in putting together a successful rally are bizarre, report A Ganesh Nadar/Rediff.com and Saisuresh Sivaswamy/Rediff.com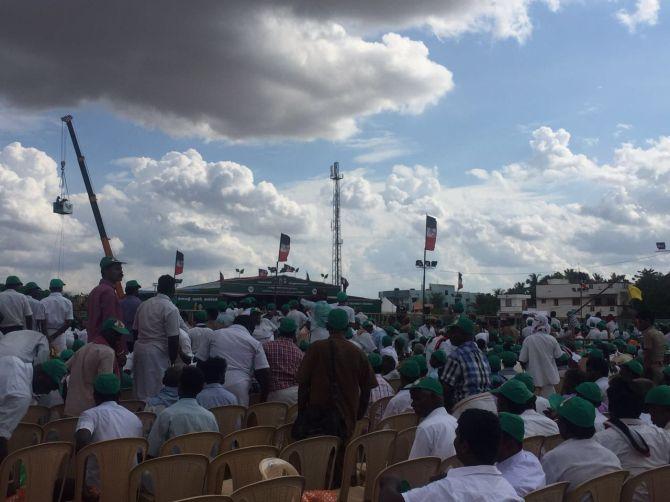 When Tamil Nadu Chief Minister J Jayalalithaa addressed a 50,000-strong election rally at the Bell ground in Tirunelveli on Thursday, May 12, it was the southern most she had ventured out in this election season.
In her style made famous this election, she flew down to Madurai from Chennai, from where she took a helicopter to Tirunelveli, the helipad a kilometre or so away from the venue.
Despite the blazing heat the venue wore a festive look, after all it was the chief minister, and that too Amma, who was coming. She was scheduled to visit Tirunelveli earlier, too, but that public meeting somehow got shelved twice
So when Thursday's rally went off as planned, with loads and loads of people sporting the party colours, waving the party flag, none could have been more relieved than the state's tourism minister, the legislator from Srivaikuntam in Thoothukudi, S P Shanmuganathan.
Not only is he the only minister from the three districts -- Kanyakumari, Tirunelveli and Thoothukudi -- whose MLA aspirants were presented to the public by Jayalalithaa, he was also by virtue of his solo minister status responsible for the rally going off well.
And what exactly does that mean?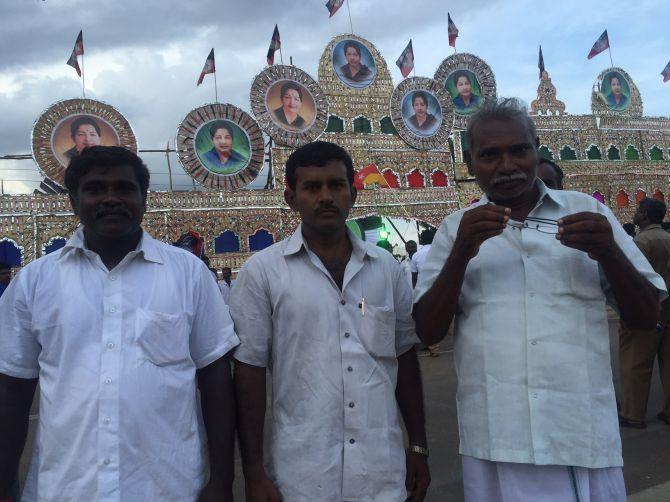 It is a numbers game, says a lower level functionary in the All India Anna Dravida Munnetra Kazhagam who is one of those responsible for the event.
Each party wants to show off the extent of its support by drumming up a crowd that will impress the undecided voter as well as send shivers of worry down the opponent's spine.
By that yardstick, Thursday's rally was a sell-out, no doubt, but does the crowd turnout mean that everyone who was there at the rally will cross off the Two Leaves on May 16?
There are two kinds of people every party has to deal with, says Solomon, an AIADMK functionary from Thoothukudi district. "There is the thondar (volunteer), who is totally devoted to the party, its programmes, and will blindly follow the leader. But the thondars alone cannot ensure the party's victory, it is up to them to convince the undecided voters and the rest about casting their vote for the party."
And the thondar's own future in the party depends on one, how many people they can rustle up for the leader's meetings, and two, how many of them he can convert into voters first, and thondars later.
And, among the attractions, money has a major role to play.
Conversations with a few political activists paint the following picture of how a rally is put together, with the Thirunelveli event as an example.
According to them, Shanmukhanathan would have relegated the responsibility to three regional secretaries, one in charge of each district.
These secretaries, in turn, would have farmed out the various tasks -- from transporting people from the region, to organising the stage, the sound system, the buntings and cut-outs, giant TV screens etc -- to the various branches in each constituency, each seat having at least 170 branches, says a person involved in the organisation.
"There is a fixed template for this, everyone knows who does what, feedback is constant, so, in reality, it is not as complex as it may seem to you. You see, this is what we do, like how you do your job," says an AIADMK thondar, adding that he brought three vans of people to the rally.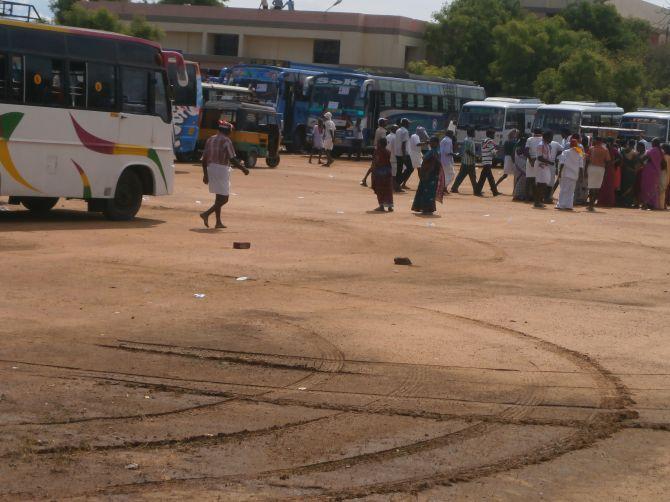 Each branch will commit to ferrying three vans of attendees to the public meeting, each van carrying 15 persons. That is, each branch ferries 510 vans, carrying 7,650 people per constituency/candidate. Thursday's AIADMK rally covered 18 constituencies, which in theory puts the number of people ferried at 137,700!
While to the untrained eye it seemed the rally had at least one lakh (100,000) people in attendance, a policeman said there were not more than 50,000 present. The number of chairs hired may seem like a good indicator, but that won't account for the standees, the stragglers on the sidelines, etc.
For the people being brought to the rally, it means a day out with no loss of income. While Solomon says each person is paid Rs 200 apart from food and drinks, another thondar says they pay Rs 300 per person.
A simple calculation shows mind-boggling costs.
Hiring a van costs Rs 2,000 each; each van carries 15 persons at Rs 300 each; the cost per van thus comes to Rs 6,500. For three vans per branch, it is Rs 19,500. Multiply that by 170, the number of branches per seat, it is Rs 3,315,000 in one constituency.
That is just the cost incurred in ferrying 510 vans of people per seat. Multiply it by 18, the number of seats covered in Thursday's rally, and you will get an estimate -- mind, this is only an estimate, the actual costs are known only to the party higher-ups -- of the sums involved in electioneering.
The flaw in the theory, however, is exposed when you use the same formula to arrive at the number of attendees. Each van with 15 people, three vans per branch, 170 branches per seat. So one seat sends only a meagre 7,650 people to the rally.
But Thursday's rally covered 18 candidates; so multiply 7,650 by 18, the total number of attendees, on paper, comes to 137,700 -- which wasn't the case. "So, even the costs are actually less, as the turnout is less," says one party worker.
"The number each branch/seat is to send is the expectation from them. Obviously, some meet the target, some don't," says Solomon.
Retribution is not far behind for laggards who don't spread the party image well enough. Their services are not utilised the next time, which is a major loss in income, apart from in prestige.
While putting bums on seats is the major head of expenditure, for a political party, there are the other costs involved. Like for hiring chairs, the sound system, cameras, sound crews, putting up hoardings, cutouts, publicity, the list is endless.
All these costs are borne by the party, with the candidates at times bearing a fraction of it to meet Election Commission scrutiny.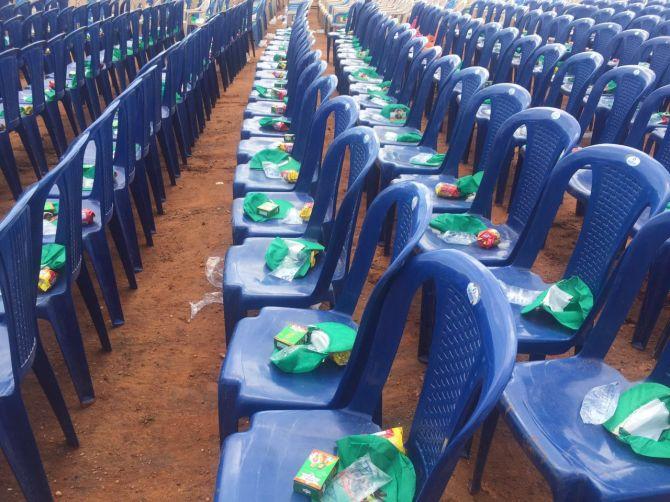 Thursday's rally by Amma had an extra feature never seen before. Each chair was given a plastic bag (50 paise) containing Glucon D packet (Rs 25), Britannia Marie (Rs 5), three water pouches (Rs 3), a rubber wrist band and cloth cap (Rs 1.50), that is, Rs 35 per bag.
For 50,000 people, this would have cost Rs 1,750,000.
Incredulous and wide-eyed at the sums conjured up, you ask innocently, "And all this cost is accounted for properly?" leading to guffaws all around.
"Karuppu panam, aiya, black money," offers one. "Don't you read the newspapers, about the crores of rupees being seized by the Election Commission in Tamil Nadu? That money is actually meant to meet such expenditure only."
Apparently, this is the standard model in place for all political parties, and the beauty of it is it can be scaled, for a parliamentary poll as well for a zilla panchayat election.