'You are a funny guy, I say...'
'The amazing thing about A P J Abdul Kalam was how he retained his composure even when some of the engineers challenged his assumptions.'
'It must have been hard for Dr Kalam to have gone from a nationally-known figure to a person in charge of just two engineers and a typist. If he was disappointed, he never showed it.'
Dr P K Menon, Chief Scientist and CEO, Optimal Synthesis Inc, USA, who worked with Dr Kalam early on in his career, recalls his association with his first boss. Ritu Jha/Rediff.com listens in.
Then President A P J Abdul Kalam speaks during the Jnanpith Award ceremony in New Delhi. Photograph: B Mathur/Reuters
After graduating from the Indian Institute of Science with a master's degree in aeronautical engineering, I joined the SLV-3 (Satellite Launch Vehicle 3) project as a mission analyst.
Dr Kalam was the project director and I was responsible for generating data on how the SLV-3 would perform, the various ways in which it could fail, and the type of actions needed to achieve mission success.
I was in Thiruvananthapuram for five years, and he was invariably the first to arrive in office and the last one to leave at the end of the day. Young guys like me tried to keep up with his schedule, but found out pretty soon that we lacked the stamina to do so.
The first launch of the SLV-3 was a failure due to one of the failure modes we predicted. Dr Kalam asked me after the launch what may have gone wrong and I was able to give him an answer right away. Although he was deeply disappointed, he never showed it. He never pointed fingers at anyone, or tried to shirk responsibility.
I heard from someone later that he requested the then chairman of the Indian Space Research Organisation, Professor (Satish) Dhawan, to blame him for the failure of the launch.
All through the launch preparations, he would frequently call meetings to review the status of every assembly procedure. The amazing thing about him was how he retained his composure, even when some of the engineers challenged his assumptions.
Many times he would ask us to run an analysis of 'What if' scenarios based on questions raised by engineers at various levels. Although he did not have to, he always tried to include everyone in the decision-making process.
Never once did I see him lose his temper. You could tell he was not happy with you by a strange expression he used to employ: 'You are a funny guy, I say.'
During the second launch, I was asked to remain in the block house (the reinforced building closest to the launch pad). Having analysed a great deal of data, as soon as the tracking radar folks announced a range of over 780 km to the vehicle, I knew we had a successful launch. I could not contain my excitement and I jumped up from my seat. I was immediately asked to sit down and shut up!
After the launch, it was clear that Dr Kalam was pleased. Although everyone was hyper-excited, his response was more measured.
He was awarded the Padma Bhushan right after this success. And one of the universities conferred an honorary doctorate on Dr Kalam.
IMAGE: Supporters mark President Kalam's election in Bhopal, July 18, 2002. Photograph: Raj Patidar/Reuters
Unfortunately, no other senior scientists at ISRO got awards or recognition. Not even a piece of paper congratulating them. The reaction from them was understandably negative. Although I am not sure of this, he had a hard time staying in his position as the project director after this. He never once showed his frustration, nor did he put on airs about his awards. He continued to work as though nothing had changed.
It was during this time that he conceived the idea of using SLV-3 stages to put together long-range missile systems. He called me to his office one day, together with Mr ASP and told me that I should swear to secrecy about a project he had in mind.
He wanted to use the first stage of the SLV-3 to conduct a re-entry experiment. I suggested we should name the project 'Rex.' Being the only analyst in team Rex, I had the responsibility to run simulations and performance analysis.
Since the project was secret, I also had to make all the drawings. I had a great time using colour markers to create posters. Apparently, he took it to New Delhi where it blossomed as the Agni missile some years later. He put complete trust in my analytical abilities. Looking back, it should have been hard for him to depend so much on a junior engineer.
When the Polar Satellite Launch Vehicle configuration design began at the Space Science and Technology Centre in Thiruvananthapuram, he was given the responsibility of running it.
Senior scientists at SSTC may have made it difficult for him to do his job because the chairman of ISRO transferred him to ISRO headquarters in Bengaluru.
He was allowed two assistants. He chose Mr ASP and me to accompany him to his new position as the director of Launch Vehicles Systems Design Division at ISRO headquarters.
It must have been hard for Dr Kalam to have gone from a nationally-known figure to a person in charge of just two engineers and a typist. If he was disappointed, he never showed it.
Fortunately, Professor Dhawan was an upbeat, 'Let's-get-to-it' type person. He would challenge us to come up with a complete initial design of the PSLV in one year. Dr Kalam and the two of us would work 10 to 12 hours a day to pull data from Thiruvananthapuram and from journals to put a design together.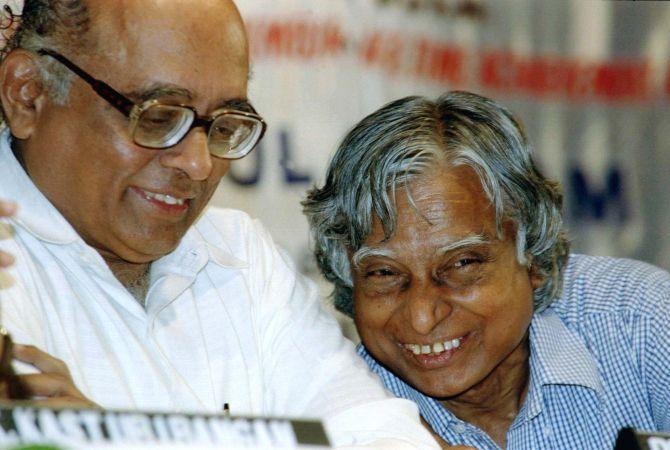 IMAGE: Indian scientists Dr R Chidambaram and Dr A P J Abdul Kalam, who masterminded the country's nuclear tests, at an event in Mumbai where they were presented Lifetime Achievement Awards by the South Indian Education Society. Photograph: Reuters

The chief controversy surrounding the design was whether the configuration should have large strap-on boosters (like the US Titian IIID) or smaller strap-on boosters like the US Delta launch vehicle.
Both Dr Kalam and Professor Dhawan were leaning towards the second option to reduce the development risk. Several senior scientists in the propulsion division in Tiruvananthapuram felt that large strap-on boosters was the way to go.
Towards the end of December 1981, the design was completed with the small strap-ons. This is the PSLV configuration today. The large strap-on idea eventually found a home in the GSLV design. I had just turned 30, and it was exhilarating to have been a part of all this. But I was getting restless.
I had turned 30 and neither had I seen much of the world nor could I pursue a doctoral degree and do some serious research. I applied to a US university during all the SLV-3 turmoil, and was accepted with an assistantship.
I decided to leave India right after the PSLV design was complete. Dr Kalam tried to dissuade me from leaving -- he said people who leave for America never come back. Nevertheless, he asked me to apply for study leave, which I did immediately.
I visited India six years later and visited him in Hyderabad, where he was the director of Defence Research & Development Laboratory. He invited me to go for a long walk and asked me about what I was doing in the US. Although he may have been upset with me for leaving ISRO, he was very kind and courteous. We walked for about an hour, and the next day, I said my goodbyes to him.
The next time I met him was in 2006, when he was the President of India. I had requested to be allowed to meet him, and officials at DRDO who knew of my association with him arranged it. I visited him with my wife and two high-ranking DRDO officials in his office at Rashtrapati Bhavan.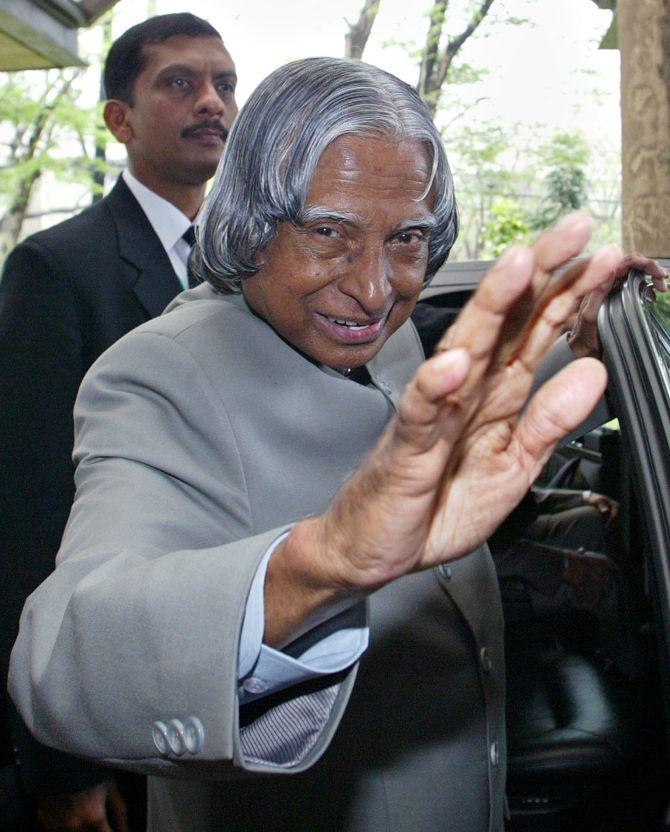 IMAGE: Then President Kalam waves to students during his visit to the state university in Quezon City, north of Manila. Photograph: Cheryl Ravelo/Reuters
Amazingly, he was the same person I worked with several years ago. He was very kind and asked me what interesting research I was doing, and then turned to Prasanna and asked how many babies she had delivered to date. He even remembered that she was an obstetrician!
My final meeting with him was when I visited DRDL in 2008 for a conference. Dr Kalam was the keynote speaker, and the sincere affection for him by the people at DRDL was apparent. Our meeting was brief and consisted of a handshake and a thank you from him for "having worked on several dreams" with him.
I consider myself fortunate to have been closely associated with Dr Kalam during the early part of my career. He has left an indelible impression on me that I will carry with me the rest of my life.
He has left a lasting legacy in Indian aerospace through the many individuals he mentored and trained. Although he did not write any key scientific papers, or invent an important device, he taught us all to cooperate and strive towards the greater good.
Through his simple life style and the way he treated people, he set an example on how to exercise great power. I am grateful to have known him.
MUST SEE!