Day Two after the banks reopened remained just as chaotic as Day One, reports Rediff.com's A Ganesh Nadar.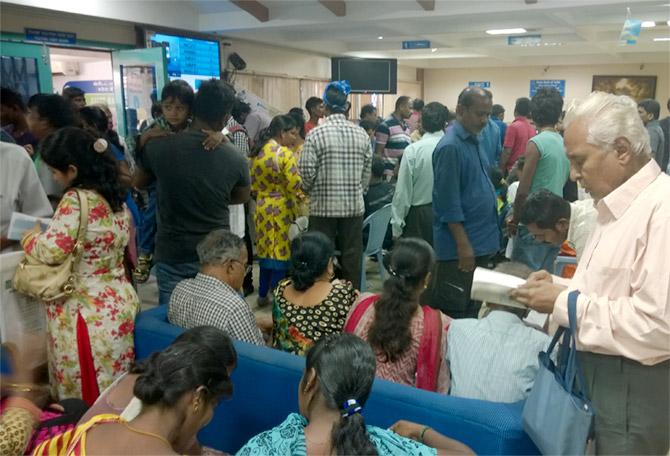 IMAGE: Anxious customers wait at the Indian Bank branch in Thiruvanmiyur. Photograph: A Ganesh Nadar/Rediff.com
If you drive down to Chennai from Pondicherry, you will first enter the suburb of Thiruvanmiyur.
During rush hour, it will take you 20 minutes to crawl past the first signal. Quite a greeting for those who have just zipped through the lovely East Coast Road that connects the two cities.
This pretty much reflects the experience customers are facing at banks since Prime Minister Narendra Modi announced his demonetisation scheme.
Like Thursday, the State Bank of India's Thiruvanmiyur branch teemed with people. Wading through the noisy, crowded, premises was difficult.
The assistant manager was answering three customers at the same time. A cashier interrupted her with four Rs 500 notes a man had come to exchange. The notes were boldly imprinted with the word 'FAKE.'
"What guts people have to bring in such notes! And the man has come with ID proof," the cashier exclaimed, turning away in disgust.
The assistant manager told Rediff.com, "Yesterday, we handled 900, 1,000 customers. We kept our cash transactions open till 6 pm, an extension of two hours."
"We then had to count all the cash that had come in. We were here till 9.30 pm."
"I don't mind the hard work, but we need more cash. It is 11 am and I have already run out of money. We are waiting for cash."
"In the meantime, we are accepting deposits."
A regular customer told a cashier he wanted to deposit a few lakh rupees. She requested him to return the next day, "Today, you will get into trouble with the other customers. We don't have time to count too much money."
Another customer complained, "They gave me two Rs 2,000 notes. Where on earth will I get change?"
The State Bank of Mysore branch, like Thursday, was not too crowded. The bank manager told Rediff.com, "Yesterday, we attended to 400 customers."
As a precautionary measure, the bank asked for ID proof even from KYC-compliant customers. "The RBI keeps coming out with new norms every day and I don't want to get the norms after the customer leaves the premises. Imagine if I had to call back 400 customers and ask them to bring their IDs?"
Considering all banks will be open on the weekend, he hopes the situation will stabilise. But the ATMs are not working yet.
At the cash counter, the cashier was being helped by an assistant manager. Most customers wanted Rs 100 notes, which were not available. The cashier advised them to try after 2 pm.
The scene at the Indian Bank branch was a photocopy of the previous day.
Lines of waiting people stretched outside the bank. There was a long queue outside the ATM as well. The ATM had no money to give; people were using it to deposit cash.
The chief manager told Rediff.com, "Yesterday, we exchanged money for 200 customers and handled 300 of our regular customers. Today, I expect the same number."
An Axis Bank ATM was dispensing 100 rupee notes and there was a long line of anxious-looking people, waiting to withdraw money.
My autorickshaw driver was despondent. "There are no customers and there is no money. The rest of my month is finished."