The auction will also feature works of M F Husain, as well as early works by masters Tyeb Mehta and Francis Newton Souza.
Ritwik Sharma reports.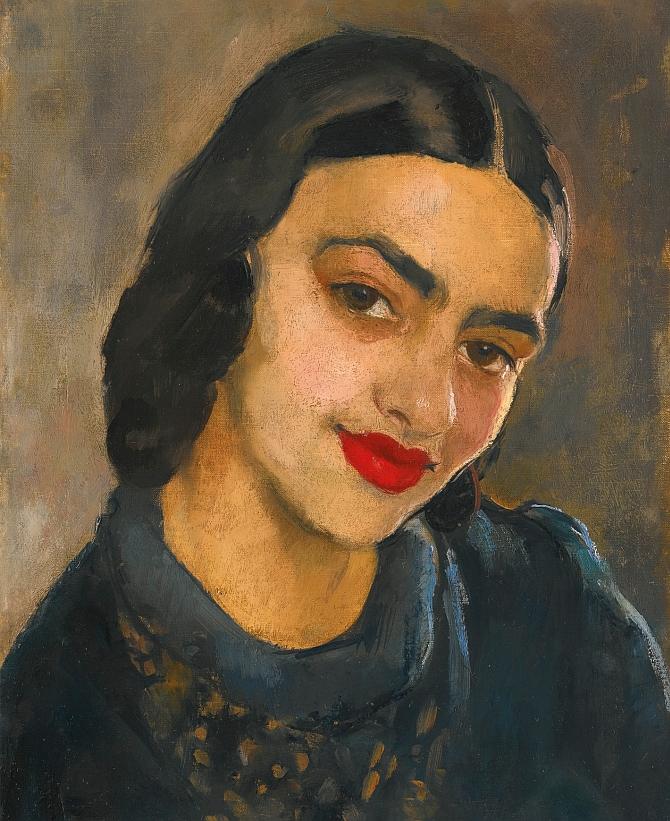 At first glance it may seem like a Modernist throwback to the Mona Lisa, but less of an enigma and far more intimate.
The artwork, a close friend's portrait by Amrita Sher-Gil, is a priceless rediscovered painting by the iconic Indian artist that will headline a Christie's auction on March 17.
The auction house has announced the most expensive top lot of the South Asian Modern + Contemporary Art auction slated to be held in New York.
Sher-Gil's portrait of Denyse Proutaux, a French art critic who was a close friend of hers and her sister Indira, has been set an auction estimate of $1.8 million to $2.8 million.
The hitherto unknown portrait -- Portrait of Denyse -- has remained in France, with the family of Proutaux earlier and more recently with a private collector.
Proutaux was already the subject of four known paintings in Sher-Gil's oeuvre.
The Sher-Gil sisters became friends with Proutaux and explored the Parisian art scene together.
They often exchanged letters, while Indira and Proutaux regularly modelled for Sher-Gil.
Christie's pieced together the history of the portrait that is up for auction through letters, which Proutaux exchanged with her partner, Philippe Dyvorne, and the sisters.
The painting has been dated to around 1932, when Sher-Gil was barely 19.
It presents Proutaux with a self-assured, arresting gaze against a floral splash and likely window in the background.
In a letter to her partner, Proutaux writes that Sher-Gil 'went crazy about my hair and absolutely wanted to do my portrait with my hair loose'.
In the portrait, her hair is neatly coiffed, although in the famous painting titled Young Girls (1932), her flowing blonde tresses draw immediate attention.
The portraits, including Young Girls that depicts Proutaux and Indira Sher-Gil, capture the painter's friendship with her subjects, says Christie's India Managing Director Sonal Singh.
Singh adds that the auction house had been aspiring to include the newly discovered portrait for a while as Sher-Gil "is right on top of our wish list".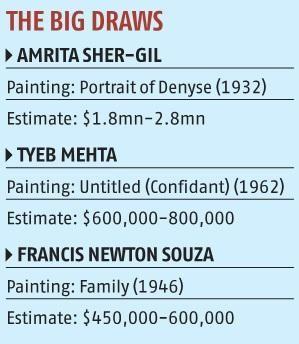 The catalogue of paintings that will go under the hammer on March 17 lists as many as 117 artworks.
"What's nice about the auction sale is that the paintings have got a lot of history, and some very critical works are part of it," says Singh.
For instance, an early work of Tyeb Mehta called Untitled (Confidant), painted in England in 1962, has come from a private collection in India after being exhibited widely.
It is estimated at $600,000-$800,000.
The auction will also have works of M F Husain, including The Hostages (1979-1980) that he painted after learning of the storming of the US embassy in Teheran by students supporting the Iranian revolution in November 1979.
It is pegged at $150,000-$250,000.
Among other rare gems by Indian masters is an early painting by Francis Newton Souza titled Family (1946), estimated at $450,000-$600,000.
A selection from Benodebihari Mukherjee's works across five decades has also been curated from the collection of the Mrinalini Mukherjee Foundation.
"It's almost like a separate part of our auction," says Singh.