Ranjita Ganesan and Nikita Puri chronicle the journey of Abhishek Poddar, one of India's leading art patrons.
Illustration: Dominic Xavier/Rediff.com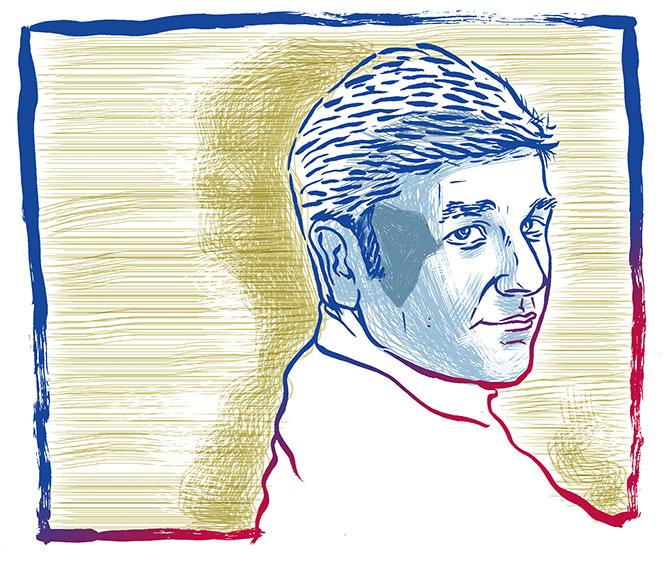 His basic black shirt and dark blue jeans were designed to escape attention. Still, in the ritzy ballroom of Taj Mahal Palace Hotel in Mumbai, many eyes followed Abhishek Poddar as he took a seat somewhere in the small crowd and routinely exited with his phone in a way that emphasised his noteworthiness.
For a while, a Frenchman was on stage, talking about watch collectors using a PowerPoint presentation, the conclusion of which was welcomed by polite claps.
During a short break, when Poddar -- the Bengaluru-based art collector -- prepared to take to the podium, several people in the audience shuffled to seats closer to the front.
The lecture had top-billing because it was the eve of the Christie's auction, in which 41 works from Poddar's own repertoire were to go under the hammer. People were curious how his collection, boasting multiple pieces by Tyeb Mehta, VS Gaitonde and Bhupen Khakhar, had come together.
Although advertised as a lecture, this was an interview where he answered pre-determined questions at an even pace.
He started by telling the hall he acquired his first painting as early as age 14.
This information is slightly less incredible because he grew up in Kolkata in a family which, while owning businesses such as tea and dynamite, counted among its friends Henri Cartier-Bresson and Martine Franck.
His father, Bimal, collected too, mainly classical stone sculptures, Raj-period landscapes, porcelains and modern Indian art.
Poddar's early interest was also informed by columns in The Illustrated Weekly of India and a visit in 1986 to Kolkata's CIMA Gallery for 'Visions', considered a seminal art show.
The unique thing about Poddar is that he sought modern and contemporary artists and struck lasting friendships with them while still very young.
It began in the 1980s when he worked on Akshat, the art magazine of DoonSchool, his alma mater. More than a love for art, the fact that he could step out to eat or watch a movie drew him to join the team.
"We could just say we were going to see the printer."
He wrote to the artists of the day, hoping they would write back. "The replies didn't come in time so we had to copy and make up stuff, which I am most embarrassed about," he admits, laughing.
Still, in the holidays that followed, Poddar visited the artists who responded to thank them for taking him seriously.
"They were surprised that someone young was taking interest, but very few older people ever visited," he says. "Artists had so much time on their hands in those days."
In the course of such interactions, he convinced his father to buy a piece of art, which Anjolie Ela Menon had written about and asked him to see in Kolkata.
Poddar's father noticed a sustained passion in this direction and gave him an annual budget that amounted to around Rs 25,000 for acquiring art. The first piece he purchased with this allowance was a Jatin Das drawing.
He has collected prolifically in the years since, learning from the guidance of artists such as Manjit Bawa and experts, including Jyotindra Jain and BN Goswamy.
When Sakshi Gallery opened in Mumbai in the early 1990s, he curated a show, "The Subjective Eye", for it, the theme of which was simply paintings by artists he had enjoyed collecting.
Later in the decade, he became bored with contemporary art that was "beginning to look played out and repetitive." Cultural historian Jain guided Poddar into the world of folk and tribal art during the early 1990s, and textile revivalist Martand Singh, or Mapu as he is called, directed him towards textiles.
He was deeply drawn to photography next, making connections with fine-art photographers Dayanita Singh and Prabuddha Dasgupta. This led him to co-found photography gallery Tasveer in Bengaluru where he relocated from Kolkata.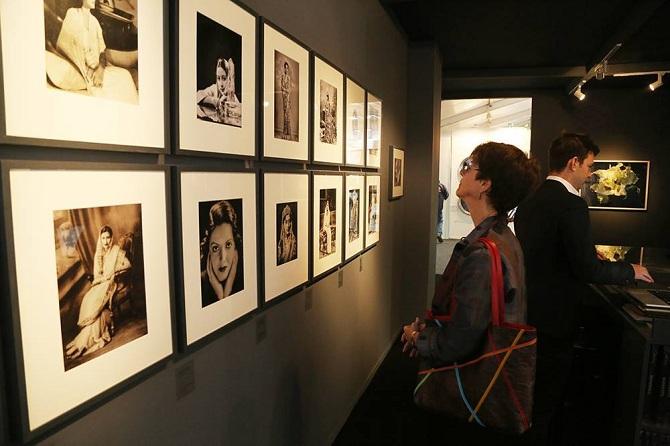 IMAGE: Inside Tasveer Art Gallery in Bengaluru. Photograph: Courtesy @TasveerArtsIndia/Facebook.
On Bengaluru's Kasturba Cross Road stands Sua House, a curious place with many worlds seamlessly tucked into it.
The Polish Honorary Consulate sits here, so does the corporate office of Sua Explosives & Accessories. It is also the main office of a tea production and trade company called Matheson Bosanquet Enterprises that has estates in Coonoor, Tamil Nadu. Sua House also houses Tasveer.
Poddar, the man who binds all of these entities together, says art may seem like an attractive financial investment these days, but for him it was never about monetary gains.
"Art was never considered a good investment way back then. It wasn't something that was on your walls because it went up in value. Even with the kind of affordable prices art was available at during those days, people used to think it was a waste of money," he says.
On the wall behind him are works by KG Subramanyan and Bawa. Art is in abundance even in the lobby: photographs by Dayanita Singh and an MF Husain painting are just some of the works here.
Some decades ago, Bawa's paintings sold for anywhere between ₹300 and ₹1,500, while a Meera Mukherjee work sold for ₹1,500 to ₹4,000.
To mix things up, Poddar had often commissioned artists to make pieces in mediums they did not normally use -- fabric, silver or textiles. He built a diverse hoarding, which includes vintage photographs, antiquities, modern masters and contemporary artists.
Going by what he told the audience in Mumbai though, he did not see himself as a collector until much later, when he ran out of space to keep things.
"In my case, it was only when others would visit saying 'there is a great work that so-and-so told me you had, can we see it?' And I would pull it out from a drawer. Or when I couldn't locate where I had put something away, that's when I became a collector."
He found ways to commission despite the space crunch -- by getting artists to work on carpets and mirrors for his house.
Poddar explains his instincts as a collector in terms of physiological symptoms.
"The eyes see (the artwork) first and send a signal to the brain, and immediately to the pocket. There's also a signal that goes to the stomach. If it grips me in the stomach, the signal to the brain is right; and the pocket allows, it's mine," he says. "I do not know what logic or formula or order it follows, but I think it's a combination of all."
Through such closeness, he became privy to the quirks of artists, even the more reticent ones such as sculptor Meera Mukherjee and painter Ganesh Pyne.
According to Poddar, Mukherjee often struggled for money to buy materials, even recasting her own sculptures when she ran low on metal. He knew of her selfless nature -- she gave away a pair of earrings she had received as a gift from him to her household help so that she could see them on her ears.
Pyne was more reclusive than the famously reserved Gaitonde, yet he would talk for as long as an hour whenever Poddar visited him alone.
But his friendship with the gregarious Bawa had the deepest impact -- he spent hours at the artist's studio at Garhi in south Delhi, and the artist often stayed in their Kolkata home.
Bawa dragged Poddar to exhibitions, played the flute when his son was born, and crafted gifts for family weddings. "Bawa would make you question the work you were seeing; he would take you into the work. And he would ask me to explain why I liked something or didn't."
Geetha Mehra, founder of Sakshi Gallery, who also had galleries in Bengaluru, says, "(Poddar) had become, in the South (of India) at least, a nodal point for art-related activities. He knew artists who were important or continue to be important."
On the collector's invitation, artists would gather at the family home in Coonoor for a week or 10 days. Three such camps were held starting in the late 1980s through the 1990s. The artists would use slides to describe their processes, take turns cooking, and indulge in alcoholic excesses.
While some did sketch, no one was expected to produce art in this time. "When artists drink, they really drink. And when they drink, some of them don't paint straight," Poddar observes.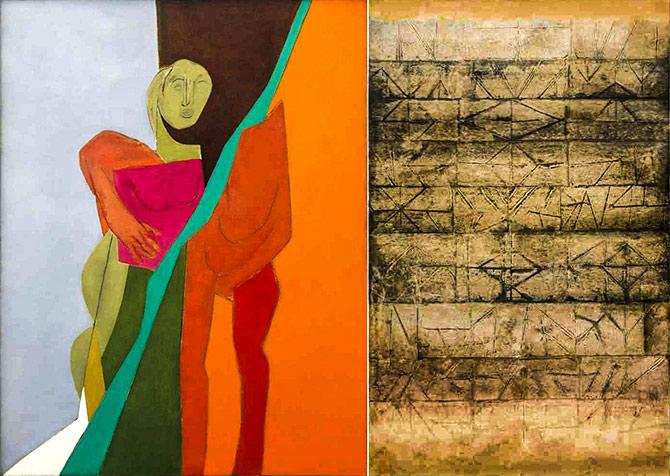 IMAGE: The Christie's auction on December 18, 2016, was partly to make room to add works to Abhishek Poddar's collection, and partly to bankroll the making of his new Museum of Art and Photography in Bengaluru. Paintings like this Gaitonde,right, and Tyeb Mehta, left,

helped him raise ₹35 crores.

Photograph: Courtesy Christie's.
Poddar's children would visit Coonoor too during the time of the camps.
His family participates in his pursuit too. His wife, Radhika, who also grew up in a home filled with artworks, runs a lifestyle store called Cinnamon out of a restored heritage building in Bengaluru. A part of the store displays photographs from Tasveer's selection.
A recent bid by the family to set up an art museum through public-private partnership, however, was stalled.
In 2015, the Karnataka Tourism Department signed deals whereby corporations and private foundations would take over and spruce up various sites. At the time, Tasveer Foundation agreed to take over the Venkatappa Art Gallery. The permanent collection of the gallery was to be retained, but Poddar planned to also include exhibitions of his private collection there.
When these plans were made public in 2016, it led to weeks of protests by some artists in the state. They feared the institution, if handed over to the Tasveer Foundation, would lose its public character and become expensive for local artists to rent.
While a few big names endorsed Poddar's move, a number of artists formed a forum to raise various concerns. The state has enough funds to care for the VenkatappaArtGallery on its own, says artist Pushpamala N, adding that it was not the Tourism Department's job to decide the gallery's fate.
"We are not opposed to having a museum with private works, but he could do it on his own land, not at the cost of a public space."
Poddar seems to have taken that direction.
The plans for his new Museum of Art and Photography are likely to be inspired by the plans once drawn up for Venkatappa by Tasveer's team. Textiles are expected to receive a significant display and exposure in the new space.
The Christie's auction on December 18 was partly to make room to add works to his collection, and partly to bankroll the making of the museum.
Buyer enthusiasm was somewhat dampened, but he raised a total of Rs 35 crores.
Among the big sellers were two works by Gaitonde: a 1974 painting, which went for Rs 15.63 crore, and another which claimed Rs 11.43 crore, both within the expected price range.
A Tyeb Mehta piece fetched Rs 10.23 crore, meeting the lower end of the estimates.
Of the works Poddar sold through Christie's, seven were classified as 'national treasures' and cannot be taken out of India.
Poddar indicates the museum will open in the city centre by 2020. "We had promised the city of Bengaluru a museum; so the idea is to do it by ourselves now."