Yes, Alauddin Khilji did launch a military encounter for a woman.
He had her captured and made her one of his queens.
But it was not Rani Padmavati.
And this adventure led indirectly to present day Mumbai.
Syed Firdaus Ashraf turns the pages of history to bring you this fascinating story.
Illustration: Dominic Xavier/Rediff.com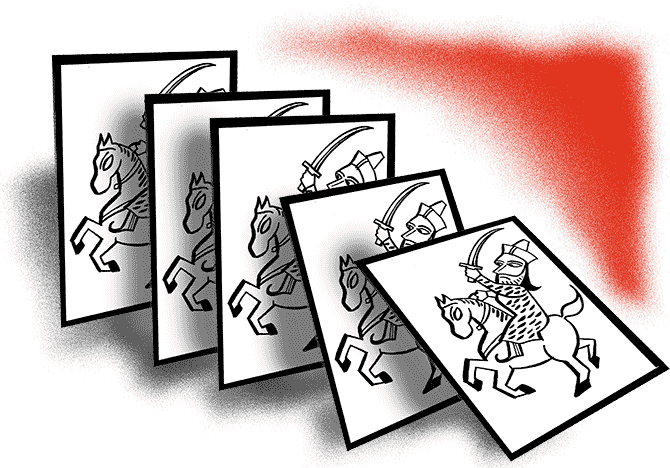 Did Rani Padmavati ever meet Alauddin Khilji?
Did Khilji actually try to abduct Padmavati?
Even as director Sanjay Leela Bhansali is all set to release his film Padmavati on December 1, we must remember that the so-called encounter between Rani Padmavati and Alauddin Khilji finds no mention in any history book nor is there any written evidence about this story.
History, however, does mention another queen who was abducted by Khilji who later married her.
Our story begins with Karan Vaghela, the king of Patan, Gujarat, who covets his prime minister Madhav's wife Roopsundari.
Gujarati novelist Nandshankar Mehta wrote a historical novel on Vaghela's life in Karan Ghelo -- Gujarat's Last Rajput King.
When Karan, who was married to Kaularani, sets his eyes on Roopsundari, he can't believe that such a beautiful lady could be married to an ugly man like Madhav, the book says.
'A swan married to that crow? Is that a fact? A woman fit to live in Indra's heaven, a woman made to be worshipped in the royal shrine, a woman who should light up the palace. Such a woman is the wife of a miserable Brahmin?' Nandshankar Mehta in his novel describes Roopsundari in Karan's words.
Vaghela sends Madhav away on work and then abducts Roopsundari.
When Madhav returns and hears what transpired in his absence, he is disgusted.
Vaghela imprisons Madhav in his home to prevent him from fomenting trouble.
But Madhav escapes to Delhi where he meets Sultan Alauddin Khilji.
Madhav alerts Alauddin about the riches in Gujarat, and tells him how his wife was abducted by Vaghela.
Alauddin decides to invade Gujarat and also free Roopsundari from Vaghela's clutches.
Aflaque Khan, Alauddin's brother, takes on Vaghela in battle, and defeats him.
Vaghela is seriously injured; many believe he is dead.
Aflaque Khan plans to take Vaghela's queen Kaularani as a gift for Alauddin, but discovers that she has escaped as have her daughters Kanak Devi and Deval Devi.
Kaularani is captured by Khan's soldiers and taken to Delhi where Alauddin marries her after she converts to Islam.
Vaghela recovers from his wounds, hears that his daughters are alive, and reunites with his children.
His elder daughter Kanak Devi dies at 13. Deval Devi continues to live with her father.
Years later, Deval Devi encounters Shankaldev and Bhimdev, the princes of Devgarh, when they come hunting.
Their father Raja Ramdev of Devgarh has made peace with Alauddin after paying hefty taxes.
Shankaldev falls in love with Deval Devi. But her father Karan Vaghela, a Rajput, turns down Shankaldev, who is a Yadav.
Meanwhile, Kaularani, now Alauddin's chief queen, discovers her daughter is alive and persuades her husband to bring Deval Devi to Delhi.
Alauddin assigns the task to his trusted lieutenant Malik Kafur.
Kafur and Alauddin's brother Aflaque Khan arrive in Nashik, present day Maharashtra, to capture Deval Devi.
In the ensuing battle, Bhimdev joins forces with Karan Vaghela, but they are no match for the sultan's army.
Bhimdev escapes with Deval Devi. On their way to Deogiri (present day Daulatabad), they are intercepted by Alauddin's soldiers.
Bhimdev is severely wounded and Deval Devi is captured.
Taken to Delhi, she marries one of Alauddin's sons.
In Devgarh, where his father Raja Ramdev once made peace with Alauddin by paying him off, Shankaldev, now the raja, refuses to yield to the sultan.
Alauddin despatches Malik Kafur to Deogarh to teach Shankaldev a lesson.
Shankaldev is killed in battle, but his brother Bhimdev escapes yet again.
Bhimdev establishes a new kingdom in Kelve-Palghar-Mahikavati on the present day Maharashtra-Gujarat border.
Later, he expands his kingdom to include present day Mumbai.
Bhimdev names one of its seven islands Mahikavati after the goddess mentioned in the Ramayana. This area is now known as Mahim, where incidentally the Rediff.com headquarters is located.
Meanwhile, what of Roopsundari, whose beauty resulted in Alauddin Khilji sending his army to Gujarat and setting off these series of events?
After Karan Vaghela is defeated in battle, she is reunited with her husband Madhav.