'He has dealt with such tremendous odds that he understands things at a level that not many people do,' Urmimala Abhilash tells Rediff.com's Archana Masih about her husband, Commander Abhilash Tomy.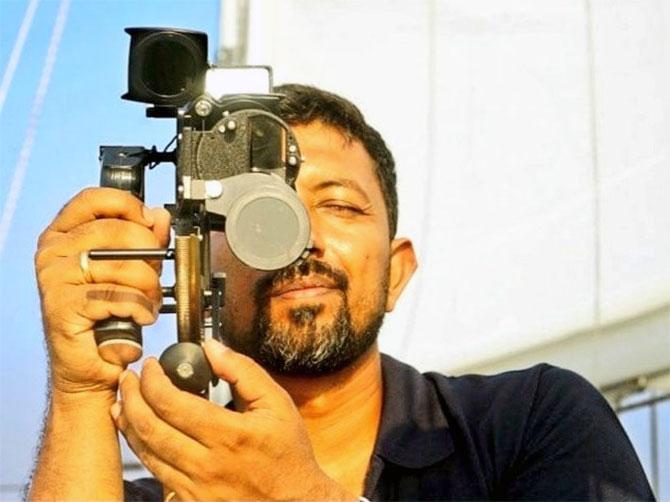 The wait was finally over. Over the weekend, Urmimala Abhilash received the good news that her husband Commander Abhilash Tomy had reached Visakhapatnam, 13 days after he was rescued from a remote part of the Indian Ocean.
The Indian Navy's frigate INS Satpura had picked up Commander Tomy from the tiny island of Little Amsterdam a few days ago and brought him home to India on Saturday, October 6.
Commander Tomy is being treated at the naval hospital INHS Kalyani. He has to have a surgery.
None more than Urmimala has suffered the vagaries of emotion since news broke of her husband lying immobile in a boat and lost at sea for three days.
"He is much better and slowly making good progress," she says over the phone from Goa a day before Commander Tomy arrived in Vishakapatnam.
At that time she was expecting him in India "in 2-3 days."
"I know that he had a muscular sprain, nothing very severe. I am hoping it is not nerve related. Until the MRI is done when he gets back, we will not know 100% what the damage is, but it certainly is not bone related," she says.
Her voice is restrained but clear, and gives way to gentle laughter when she speaks of the qualities she likes most about him.
"Whatever happens, he is cheerful. That's him," says Urmimala, an illustrator of children's books and an alumnus of the National Institute of Design, Ahmedabad.
"He has dealt with such tremendous odds that he understands things at a level that not many people do. He has crossed the barriers many of us are still holding on to -- and left that comfort zone long ago," she says.
"He's like Buddha."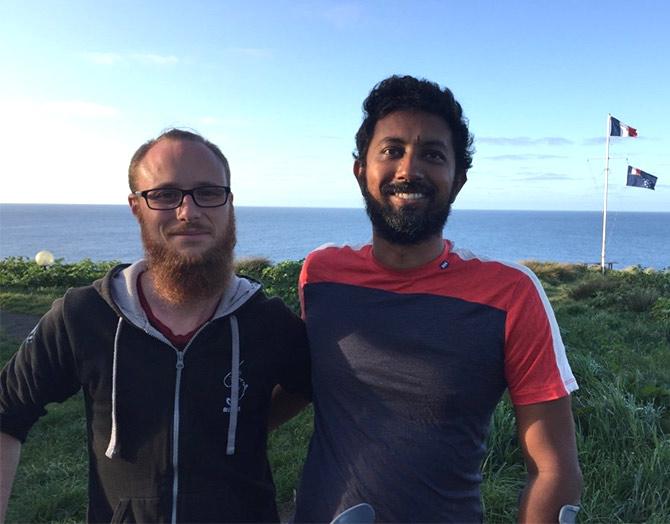 Five days after he was rescued via a multi-nation effort and taken to the French island of Little Amsterdam, it was her birthday. Commander Tomy called to wish her and has spoken to her whenever possible.
Since he was on a naval carrier that has many security restrictions, she could not call him and waited for him to contact her.
"A naval stealth carrier requires a lot of permissions from higher orders. It is not possible to converse as and when one likes," says the naval officer's wife.
Thuriya, the name of the boat Commander Tomy sailed in, was her suggestion. "It is taken from the Upanishads. Abhilash and I do talk about the Upanishads, so I can't take credit for it alone."
"It is a beautiful boat."
Commander Tomy had taken an album of photographs with him. He also pasted pictures of the family on the boat.
"More than anything else, the boat itself is an extension of him," Urmimala says with a hesitant laugh.
While on Little Amsterdam island, Commander Tomy was mostly sleeping, talking to doctors. He needed to rest and recover.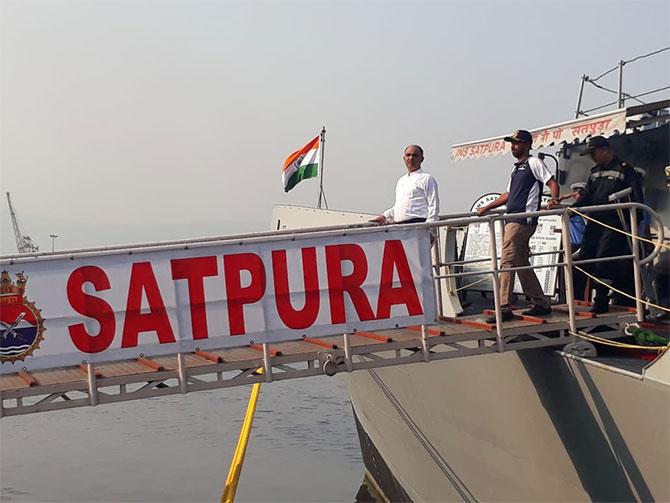 It was a difficult time for Urmimala. She was distraught. Their son, who also loves boats and the sea, was also worried.
"Having lived with someone like him, he trains you how to think in a crisis. It's the wisdom and thoughts that he left me with that sort of prepared me. I hung onto things he had told me."
"I had to think of what to do when I got the news directly. Being emotionally distraught comes in the way of thinking clearly. My son was very distraught."
A lot of support came from family and friends. They took charge of keeping their son busy and distracted.
Don McIntyre, founder and owner of the Golden Globe Race that Commander Tomy was participating in, called constantly.
"That helped me a lot. An e-mail from Robin Knox Johnston was very helpful. Robin's mail was very important, he reassured me that since he could move his toes he would be fine. 'Take from my experience', he said, 'Abhilash would be fine.' It meant a lot."
Sailing legend Robin Knox Johnston was the first man to solo circumnavigate the world in 1969. The Golden Globe Race 2018 commemorated the 50th anniversary of that journey. The race rules required that participating sailors could use 1969 vintage navigational aids.
Commander Tomy put a lot of his own money to participate in the race and was only one amongst three sailors invited by the organisers to participate.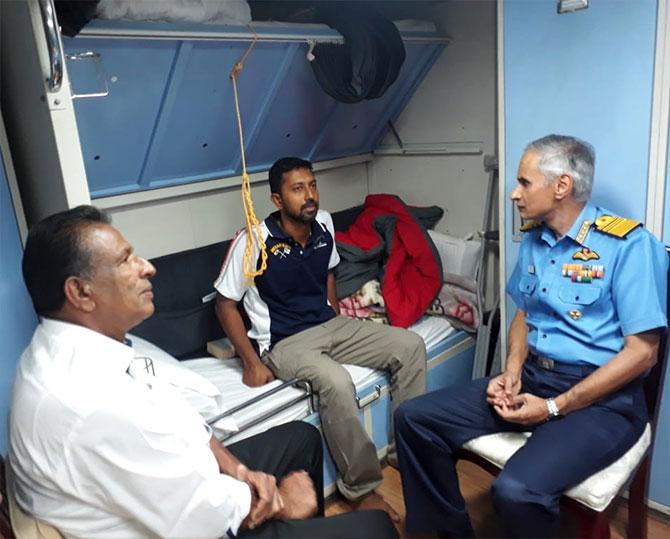 Urmimala Abhilash does not know how long it will take for her husband to come home to Goa.
In the past few days, she has spent time preparing his room with his favourite books, music and photographs. Gabriel Garcia Marquez, Pablo Neruda and Haruki Murakami are some of his favourite writers.
He plays the guitar and enjoys instrumental music.
His favourite food is dessert. "He likes his Malayali food, but is not fussy."
"I know when he comes there will be lots on his mind. He would be disappointed about the race. There will be press and guests -- I want to soften the blow."
The night before he set sail, the couple had spent a quiet evening after a dinner with friends. Now that he is back, Urmimala, Abhilash and their son will look forward to many more evenings like that.