India-Israel relations are at a crossroads. Simply chanting old hackneyed mantras on terrorism, secularism, democracy, et al, won't suffice. There is danger of stagnation setting in, says Ambassador M K Bhadrakumar.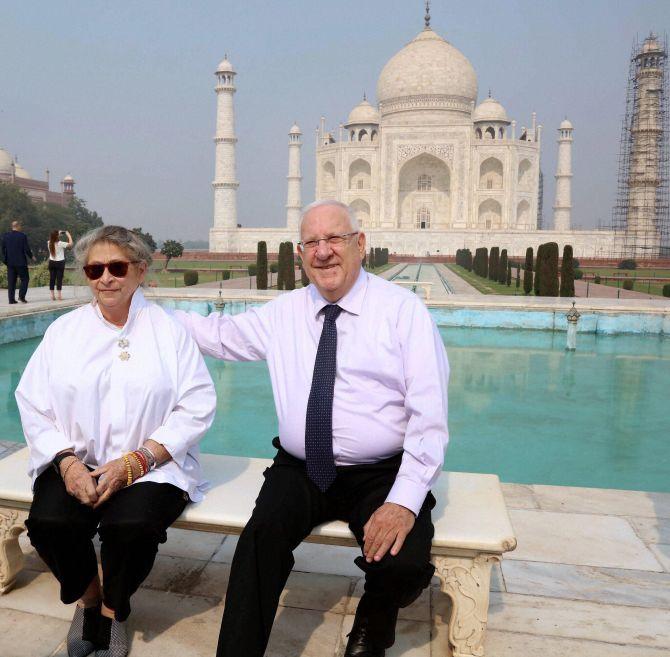 Image: Israeli President Reuven Rivlin and his wife Nechama strike a pose at the Taj Mahal in Agra on November 16, 2016. Rivlin was on an eight-visit official visit to India. Photograph: PTI Photo.
The eight-day visit by Israeli President Reuven Rivlin, which concluded on Monday, turned out to be a low-key affair. Gone are the days when high-level exchanges with Israel used to be sexy events. The novelty has worn off. There was no media hype about Rivlin's visit. And the 'demonetisation' crisis alone cannot account for it.
The point is, an air of stagnation is appearing in the India-Israel relationship. Fundamentally, India has been rapidly transforming in the recent decade and its priorities have changed. Again, the regional and international environment has changed phenomenally.
The Bharatiya Janata Party used to be regarded as excessively 'Israel-friendly'. Yet, Prime Minister Narendra Modi is still to pay a visit to Israel. Modi visited a few West Asian countries already but all of them belong to the so-called Muslim world -- Saudi Arabia, UAE, Turkey and Iran. India's priorities have been worked out.
Modi's Iran visit was an eloquent statement in itself. India is undeterred by Israel's animosities toward Iran. Curiously, while Rivlin was in India, media reports appeared that ONGC Videsh's protracted negotiations to strike a multi-billion dollar deal with Iran for the development of the Farzad-B gas field (with estimated reserves of 21.6 trillion cubic feet) have reached the home stretch.
Reuters news agency reported separately that in the month of October, Iran surpassed Saudi Arabia as the number one supplier of crude oil -- a whopping 789000 barrels per day as against Saudi Arabia's 697000 bpd. India views the Chabahar project as a major geo-strategic initiative. Suffice to say, Iran is becoming an indispensable partner and that is a geopolitical reality.
On the other hand, remittances from GCC countries to India's budget work out to a handsome figure of $25 billion or so annually. Interestingly, Saudi Arabia's Aramco recently had a rival offer to acquire Essar (which ultimately forced the Russian consortium to improve their bid and pay up $13 billion.) The Gulf region is also India's number one export market.
In short, there is such a lot going for India in the West Asian region. The point is, what is it that Israel can offer? Drip irrigation, water management, recycling, conservation and desalination, dairy farming, polyhouse techniques, bee-keeping -- these niches are surely interesting, each in its own way.
But, what India desperately needs is massive investments to develop its manufacturing industry and infrastructure, which are crucial for job creation. It needs energy security. It needs to boost export earnings. What can Israel do for India?
Ironically, Israel's focus is exclusively on securing lucrative business for its companies.
Israel's importance for India lies in defence cooperation. But here again, Israel may be incrementally losing its advantage as an interesting source of advanced military technology that was previously unavailable for India directly from the US. India is increasingly a big market for weaponry, with cut-throat competition setting in among the foreign vendors.
In political terms, too, Israel is of no relevance for India in handling the most consequential relationship in its foreign policy -- namely, relations with China. As for the US-Indian relationship, it has matured to a point that India has no more need to leverage Jewish lobbyists.
Arguably, Israel's capacity to influence US policies also should not be exaggerated. Israel pulled all stops to scuttle the P5+1 and Iran negotiations but spectacularly failed to intimidate President Barack Obama.
Israel is palpably nervous about Donald Trump's likely Middle East policies. Trump's idea of working with Russia to resolve the Syrian conflict works against Israel's regional agenda of fragmenting and weakening its neighbours. Continued Israeli support for the Al Qaeda affiliate Nusra Front in Syria will only invite Russian and Iranian retribution. Indeed, India and Israel are not on the same page in regard of the war against terrorist groups in Syria.
All in all, India-Israel relations are at a crossroads. Simply chanting old hackneyed mantras on terrorism, secularism, democracy, et al, won't suffice. There is danger of stagnation setting in.
An India-Israel reset is overdue. A relationship based on negative passions -- paranoia, fear complex, insecurities, vanities and false identity -- is inherently flawed and cannot have an enduring future in a rapidly changing regional and international environment, howsoever keen the two sides could be to remain relevant to each other.
An editorial in the Jerusalem Post on Rivlin's visit calls attention to the stark realities confronting the future of India-Israel ties. No, Sir: we in India don't have such fears over Kashmir, as you'd have over your occupied territories and illegal settlements.
True, we also have our share of 'rabbis' but Indians are not addicted to Islamophobia; nor do we associate Islam with terrorism as a matter of State policy. No, India does not fancy itself as a 'regional counterweight' to Russia or China; we simply don't suffer from such inferiority complex.
And, it is downright absurd to associate India's 'authentic national identity' with Hindu religion. Worse still, it is an act of self-serving sophistry on the Israeli side to do so.
We are an ancient civilisation and not an artificial creation by Western powers in this part of the world, and we do not need the crutch of religion to define our national identity. We'd prefer to be known by our IT industry and satellites and our eclectic culture.