Let those in power put trees on par with the sacred cow. And century-old trees certainly need to be worshipped, says Anil Singh.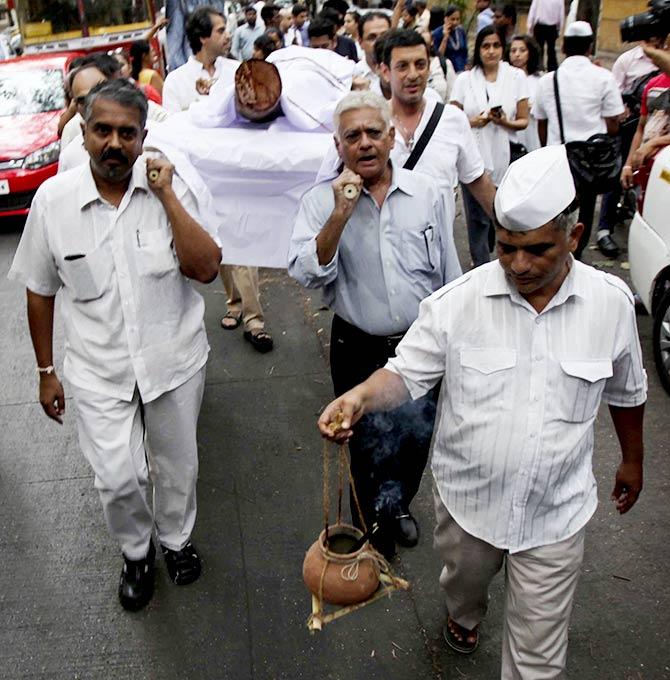 Image: How many trees will Mumbai have to sacrifice for its Metro III project? The Mumbai Metro Rail Corporation, nodal authority for the ambitious public transport scheme, pegs the number at 1074, while citizens' groups opposing the large-scale felling of trees estimates the number to be more than 5000.
Concerned citizens have been carrying out protests across the city, including taking out a funeral procession for chopped trees. But nothing seems to move the authorities who are hell-bent that the trees will have to go. Photograph: Sahil Salvi.
Have Mumbaikars subconsciously devalued trees because they see just the same kind everywhere and also because of their own disconnect with nature?
Perhaps, yes. This insensitivity shows up when they have no qualms in killing trees blocking hoardings. Trees in the compounds of residential buildings are hacked because bird droppings mess up cars parked underneath or because the tree tops become roosting sites for bats.
Look at the way landmark trees are being hacked and uprooted in a most primitive way. Faced with feeble protests, authorities made a vague promise of transplanting the trees.
In countries which value urban greenery, there are special machines to excavate a tree with its main root so that it has a better chance of survival on relocation.
Here, despite a humongous civic budget, we see neither the machines nor the experts for transplantation. It's not surprising that the survival rate of transplanted trees in Mumbai is less than five per cent. Yet, few care for it.
Trees were treated differently just a hundred years ago. Dr Ashok Kothari of the Bombay Natural History Society says that the first thing Britishers did on disembarking was to go on a tree tour of Mumbai in an open buggy.
Lanes named after native trees still exist in Mumbai but the trees themselves have vanished. For instance, there is not a single laburnum (amaltas) tree on Laburnum Road at Girgaum, famous for Mani Bhavan, Mahatma Gandhi's residence for 10 years.
Over the past four decades, the municipal corporation of Mumbai, as of other cities, has aggressively planted fast-growing exotic varieties such as copperpod with its golden yellow flowers, Rain Trees with their huge canopies and the flaming gulmohur. The result is that the city is brighter and greener than before and slogans such as `Sunder Mumbai, Harit Mumbai' work.
"Those days when cities were expanding rapidly, the idea was to provide colourful trees and shade. Today, the exotic trees outnumber the native ones and it is leading to an ecological imbalance," says Avinash Kubal, deputy director of the MaharashtraNaturePark.
The 2015 census shows that Mumbai has two million trees. According to Naresh Chaturvedi of the BNHS, the tree diversity of Mumbai is represented by 318 species; 50 per cent of which are exotic trees planted for ornamental purpose.
Unlike trees native to India which have adapted to our climatic conditions over millions of years, these exotic species being used as avenue trees are not native to India; Gulmohur (Delonix regia) is from Madagascar, copperpod (Peltophorm pterocarpum) is from Southeast Asia and the Rain Tree (Samanea saman) is from South America.
They have shallow roots and topple easily in a storm and they are also susceptible to diseases. Further, they don't produce any fruits that birds or insects can eat and their branch structure is unsuitable for nesting.
On the other hand, indigenous trees are a source of food and shelter for the birds, animals and insects that inhabit the area. Despite this, exotic trees continue to be promoted by civic bodies in Mumbai's satellite townships as well.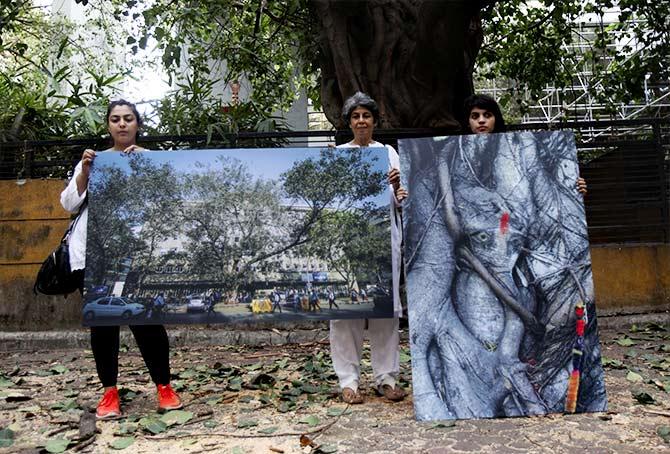 Image: Once Mumbai was green. Citizens hold portraits of the trees that have been felled to make way for the Metro III project. Photograph: Sahil Salvi.
People have even forgotten what Indian flowering trees look like. How many, for instance, can identify Pride-of-India (Lagerstroemia speciosa), palash (Butea monosperma), bakul (Mimusops elengi) and saptparni (Alstonia scholaris)?
This ignorance has slowly resulted in people thinking of trees as disposable. Even civic authorities have become so callous that last month in Navi Mumbai, a tree-lover had to get a court order to uproot paver blocks suffocating the stems of avenue trees.
Some years ago, Shiv Sena leader Uddhav Thackeray, whose party rules the Mumbai municipal corporation, proposed the hacking of several century-old trees in the zoo to create a viewing gallery-cum-cafeteria. Mercifully, the proposal was dropped.
But the award goes to a judge who in the '90s decreed that a tree in Prabhadevi could not be allowed to grow beyond six feet lest it obscure a hoarding. Wonder if his lordship had ever read Joyce Kilmer: 'I think I will never see/A poem as lovely as a tree…'
Mumbai, as do several other cities, needs to have a relook at its tree policy. Plant only native trees even if they are slow-growing, ring-fence them, number them, ensure that they are properly trimmed and washed from time to time, create mini forests, develop Smritivans or memorial forests (where trees are planted in memory of dear, departed ones), promote planting of indigenous trees by schoolchildren, encourage adoption of trees and come down heavily on those who kill them.
Surely, we don't lack resources and imagination. For instance, in Mumbai, the unlikeliest of places have been converted to lovely gardens; Bandra's Joggers' Park and the hillock behind Goregaon's InOrbit mall were garbage dumps and Bharat Van in Marol was a rocky wasteland. What is needed is awareness and political will.
Let those in power put trees on par with the sacred cow. And century-old trees certainly need to be worshipped.
As Kilmer wrote: 'Poems are written by fools like me/But only God can make a tree'.