Robbed of prey as people fled, Omar Perez came marching back and shot bullet after bullet into Prudhvi Raj Kandepi's head, thus ensuring that a man he had never met before, known nothing of, would never get up again.
P Rajendran reports on a shocking murder from New York.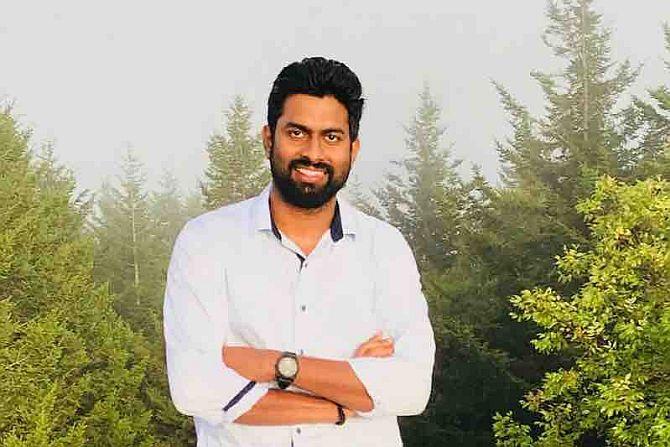 There should have been no reason for Prudhvi Raj Kandepi to ever meet Omar Enrique Santa Perez.
Kandepi was born in Tenali, Andhra Pradesh, and, as expected by his parents, swotted his way to an engineering degree at Vellore, then headed off for a second one at the University of California, Riversid.
At times, he sought to supplement his income at times by teaching people math.
He liked cricket, and traveling and hiking in remote places and meeting up with friends.
He worked as an IT consultant and programmer at the Fifth Third Bank, an employee of a company called Tech Services.
Perez was born in San Juan, Puerto Rico, about 9,000 miles from Tenali.
He lived in many areas in the eastern US before moving to his final address in North Bend, a suburb of Cincinnati, Ohio.
At West Side High School, in Anderson, South Carolina, classmates described him as quiet, shy but always quick to smile.
He was a wrestler and his name and weight earned him the nickname 'Santa'.
At least one past co-worker in Greenville, also South Carolina, described Perez to the Greenville News as being quiet and extremely hardworking.
Perez had racked up a history of minor offences in Florida, but most involved traffic violations and disorderly conduct.
According to the Cincinnati Enquirer, between 2010 and 2012, while still in Florida, things changed and his family reported that he was punching walls, talking to himself and refusing medication.
They requested a Palm Beach court to get him committed to a mental health facility.
They described Perez as ill and prone to violence. A judge in Broward County also sought that he be transferred to a mental health court. It is not clear what happened on that request.
Sometime in 2014, Perez was sacked from a job a water sports goods manufacturing firm when he began throwing things around at work.
The police had to get him to leave but he returned to passively resist arrest, earning himself a misdemeanour charge.
He smoked a cigar, lay on the ground and seemed agitated, crying when he discussed his concerns about the economy, war, and particularly about losing his job.
By 2017, Perez was filing a lawsuit against CNBC and TD Ameritrade in Cincinnati, claiming these firms were spying on his electronic devices and publishing details about him.
He sought $5 million first, then dropped the figure to $3.3 million.
When he filed another lawsuit in June, Magistrate Karen Litkovitz at the Potter Stewart courthouse recommended dismissing the case on June 25, saying his claim was 'rambling, difficult to decipher and borders on delusional.'
Balking at being called delusional, an angry Perez appealed the ruling.
Steve Conner, a neighbour in North Bend, described Perez as never responding to conversational gambits and looking truculently at everybody as he walked by.
Conner told the Dayton Daily News, 'He always looked mad. He would stand down here on the corner near the stop sign [and] he would just look at the ground.'
'I tried to say "hi" to him a couple of times when he walked by, but he wouldn't say anything.'
Another neighbour said that while Perez rarely spoke, a woman did live with him for a while but did not visit any more.
Whatever the reasons for his agitation, Perez appeared to be upset and angry.
On August 1, a day after his 29th birthday, Perez weaponised his sense of injury, legally buying a Taurus 9 mm a semi-automatic gun of the 800 series, known for its low recoil and accuracy.
The background check conducted at the time of purchase did not reveal his history of mental illness or potential for violence.
On September 5, Kandepi had just returned after the Labour Day weekend from a camping trip in the Shenandoah National Park in Virginia.
He had gone there with friends from his undergraduate days.
He swapped stories with roommates Akshay Virkud and Vinay Narayan who had gone separately, but with their own set of friends, to the Yellowstone National Park.
The trio could relate, having made other trips together.
Virkud described camping and hiking in the Zion National Park in Utah in early March and, at the Pictured Rocks National Lakshore in Michigan in late August.
He described Kandepi as being very helpful and, above all, a wonderful cook, his specialty being his mutton biryani.
Virkud searched for the right words before describing the dish simply, with conviction: "It was the best biryani
But that particular night they were too tired to cook and so repaired to the Udupi Cafe in nearby Sharonville for dinner.
They looked forward to an uneventful time at work the next day.
On September 6, Perez put on a clean white shirt and brown pants, put his gun and 250 rounds -- both hollow-pointed and metal jacketed -- into a case that could hold a laptop.
He left his apartment in 100 Miami Avenue in North Bend and drove the 23 miles to the city.
The scenic drive on Route 50 he may have taken along the Ohio river, which curves around downtown Cincinnati, apparently did nothing to calm him down.
After parking his car on Court Street, Perez may have wanted to go to the courthouse, the scene of his recent humiliation, to wreak vengeance on the people there.
It had an entrance on Walnut Street. Perhaps worried by the phalanx of guards in the place, he crossed the street instead and entered the Fifth Third Bank Centre through the loading dock area.
He began shooting people there before making his way to the lobby of the building. It was 9:06 am.
Flanked by the Servatii Cafe on the left and a Dunkin Donuts on the right, the Walnut Street entrance of the Fifth Third Bank Center is made up of a set of glass doors.
It was through them that Kandepi walked in from the sun.
Their eyes may have briefly met as Kandepi's eyes adjusted to the light.
Then Perez shot him -- right in the face.
Dr Lakshmi Sammarco, the coroner of Hamilton County, in which Cincinnati falls, has some difficulty recounting what she saw on the video footage.
For Dr Sammarco, who was also born in Tenali, knew Kandepi.
Dr Sammarco's mother Indira Kode had first pointed out Kandepi to her in January at the Hindu temple.
She had marveled at this pious young man who with his friends held on to his culture despite being so far from home.
Kode went up to Kandepi and spoke to him.
And as they chatted, she was pleasantly surprised to find out that he not only spoke Telugu but also was from her own home town.
Dr Sammarco remembered how respectful Kandepi was when speaking to her mother, an elder, and to her.
So, despite seeing death in its most sorry forms every day, Dr Sammarco found the video of Kandepi's last moments particularly disquieting.
She saw the polite young man she knew falling in the lobby, blood on his face, victim of someone he had never harmed, dazedly trying to hold himself up as Perez marched off to settle scores with the world elsewhere.
Dr Sammarco said that though she well knew what would happen on screen, she kept willing Kandepi to rise and get out of the doors to safety.
That first bullet had missed Kandepi's brain and every thing vital.
He might have still survived had the disoriented young man been able to bring himself to move.
He moved, but could not find his feet.
Then, robbed of prey as people fled and the building went into lockdown, Perez came marching back and shot bullet after bullet into Kandepi's head, thus ensuring that a man he had never met before, known nothing of, would never get up again.
Minutes later, police officers Jennifer Chilton, Antonio Etter, Eric Kaminsky and Gregory Toyeas engaged Perez, whose gun, perhaps overheated after firing 35 rounds, had jammed.
Body cams show the officers's shots going home, killing Perez almost immediately.
Besides Kandepi, Perez had managed to kill Richard Newcomer, 64, and Luis Felipe Calderon, 48, and injure two other people.
Had he been able to fix the gun, he may have able to do more damage.
Three days later, Kandepi, 25, was remembered at an event at the Ramada Plaza.
Old friends described him as mature and easy going, despite being the youngest among them, and spoke about his friendliness, his helpfulness and, yes, his amazing culinary skills.
Kandepi's roommates, Virkud and Narayan, were incapable of proper speech.
When the shooting had occurred, Narayan had still been at their Spring Park Walk residence. The police found him there and told him of what had happened.
In tears, he called Virkud, who rushed home, unmanned by the unreality of the news.
"Me and Vinay are still in shock," Virkud said before describing the good time they had spent with Kandepi.
"In that one year there were a lot of wonderful memories," he said.
Lalita Satyal, one of the attendees at the memorial, expressed her bewilderment at Perez's behaviour.
"He just shot at people at random -- people he didn't know," she said in some wonder.
Satyal was already dealing with the death of a friend when she learned of the attack.
What she found particularly disconcerting was the change in Cincinnati Mayor John Cranley and city council members who she had seen so buoyant on August 26, when the local community had celebrated India's Independence Day.
Satyal described the ebullient mood, the balloons and decorations of that day as the city officials spoke of the beauty and inclusiveness of the city.
"The same people, a few days later.... The tone was so somber and sad. For me, the contrast was so hard to take," Satyal said.
Laxmi Srivastava, the president of the Hindu Temple of Greater Cincinnati, had never met Kandepi but said the temple organised prayers after the shooting with a Shanti Path.
"We pray for his soul to rest in peace," Srivastava said and said that while the community was in shock it did not see the attack as a threat.
"People are not worried," he said.
"The way I see it, it was ...not a hate crime. Cincinnati is very peaceful. This is just bad luck."
A GoFundMe drive has collected more than $106,000 for the Kandepi family.
Another GoFundMe drive aims to collect $2 million for the victims.
Meanwhile, the Fifth Third Bank launched a Cincinnati Strong Victims Fund, putting in $1 million for the effort.
This was done in partnership with the National Compassion Fund which helps the public to give directly to victims of mass casualty crimes, including shootings and terrorist attacks.
Dr Sammarco wrote on Facebook about meeting Kandepi at the temple and added, 'How do you tell parents who live 10,000 miles away that they will never see their son again because of a senseless shooting in a foreign country?'
Kandepi's body reached Tenali on September 12, where it was received by his parents Gopinath Kandepi and Sudha Rani, and sister Manogna.
The Times of India reported that, as Indian parents are wont to, they had been trying to arrange a suitable girl for their son to marry.