Their love story began under the bright arc lights, where they performed dangerous stunts for a living. And culminated in a beautiful wedding under the Big Top. Hitesh Harisinghani/Rediff.com was there to chronicle the event.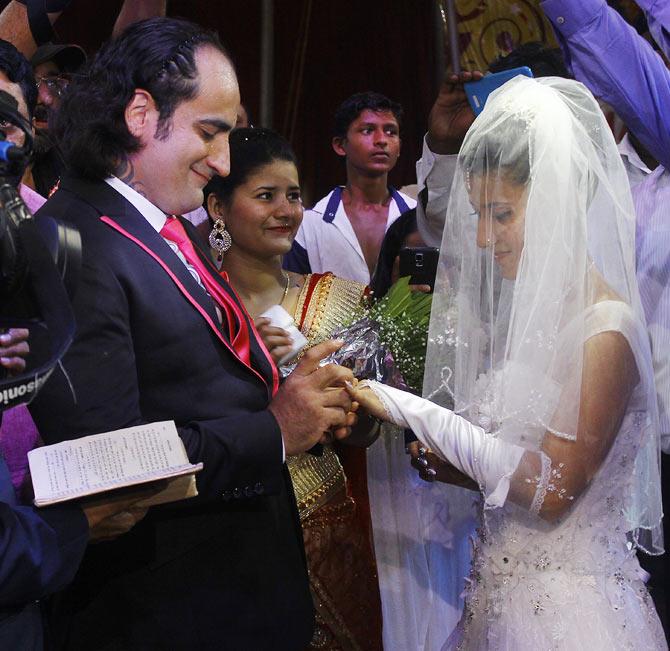 Carlos and Jenny exchange their wedding vows in the circus ring where their love story began.
Love can happen in the strangest of places.
Ask 28-year-old Jhean Carlos and 23-year-old Debaki 'Jenny' Gautam.
He's the main star in the hugely popular Wheel of Death act in Rambo Circus.
She balances her pretty feet on the equally popular tightrope act.
Before they knew it, Cupid had played his part and these two death-defying artistes were madly in love.
Carlos is from Columbia while Jenny is from Nepal, but neither the cultural difference nor the fact that they are from two different continents seems to have affected the duo.
In fact, they plan to settle down in Pune where Carlos, who earns around $400-500 (Rs 25,000-30,000 app) a month, hopes to buy a home because he "loves the warmth of Indian people".
Carlos, who speaks broken English and fluent Spanish, has been working with Rambo Circus for two-and-a-half years. The circus is in his blood -- both his grandfather and father were ringmasters in a small circus in Columbia.
Carlos came to India with the help of a friend, who helped him get in touch Rambo Circus owner Sujith Dilip.
Little did he know, then, that he would also meet the love of his life here.
The wedding -- attended by all their circus co-stars -- took place on Monday morning in the very tent where Jhean and Debaki perform their acts every day to much applause.
Carlos chose to wear a black suit with bright pink tie, while Jenny looked beautiful in a traditional white gown.
They exchanged their vows and rings in the circus ring. The heartwarming wedding was followed by a celebratory lunch.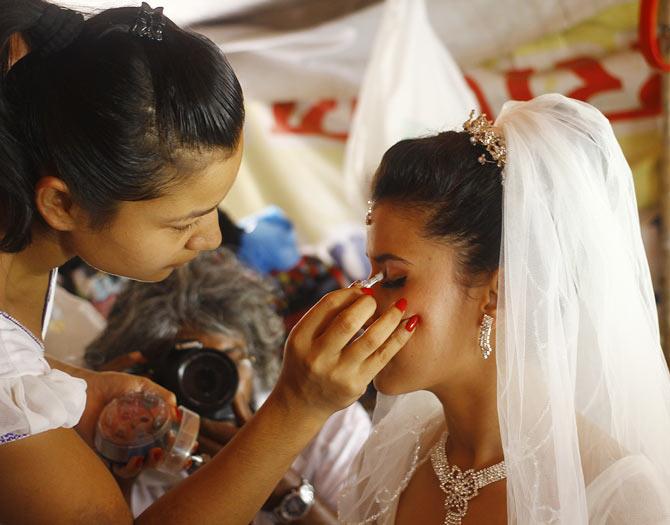 The bride gets a last minute touch-up...
Jenny can't stop smiling as she makes her way to the circus ring for a very different act.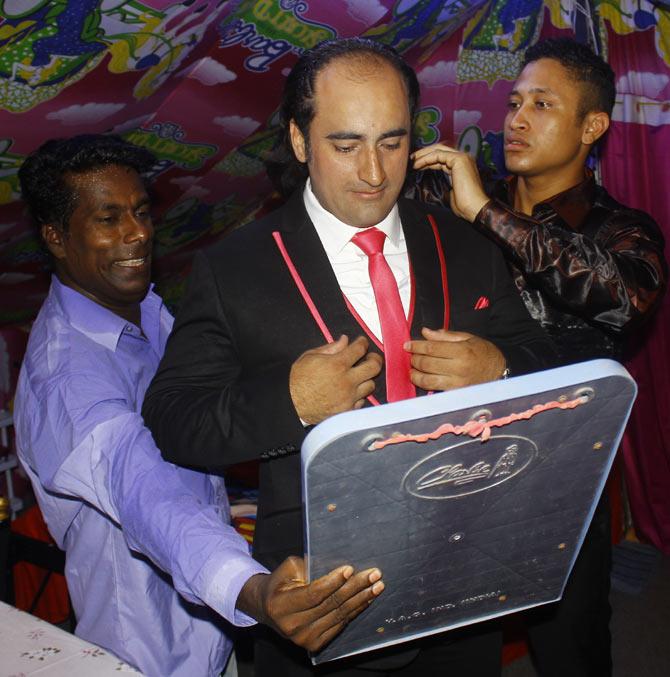 Carlos's co-performers help him look his best.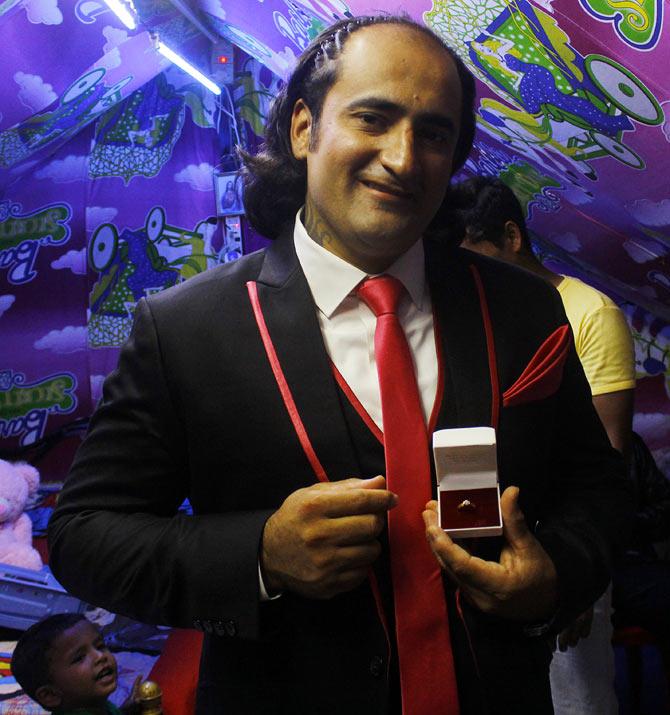 And that's the ring with which he will wed Jenny.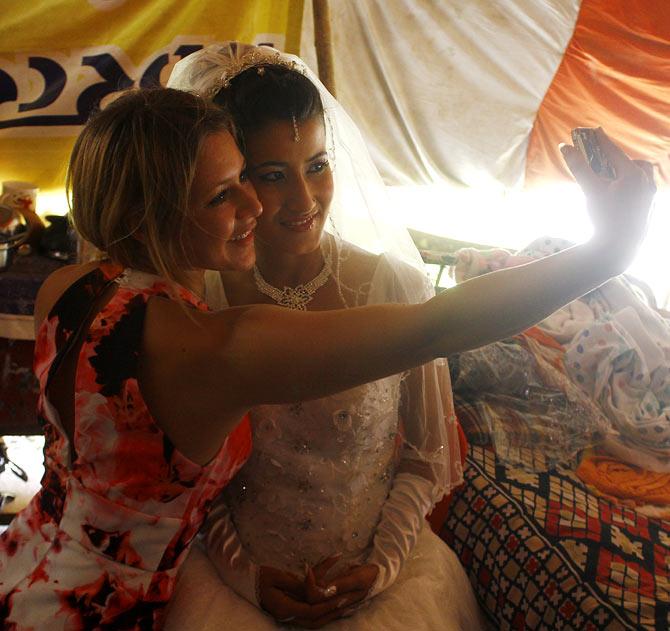 Selfie time :)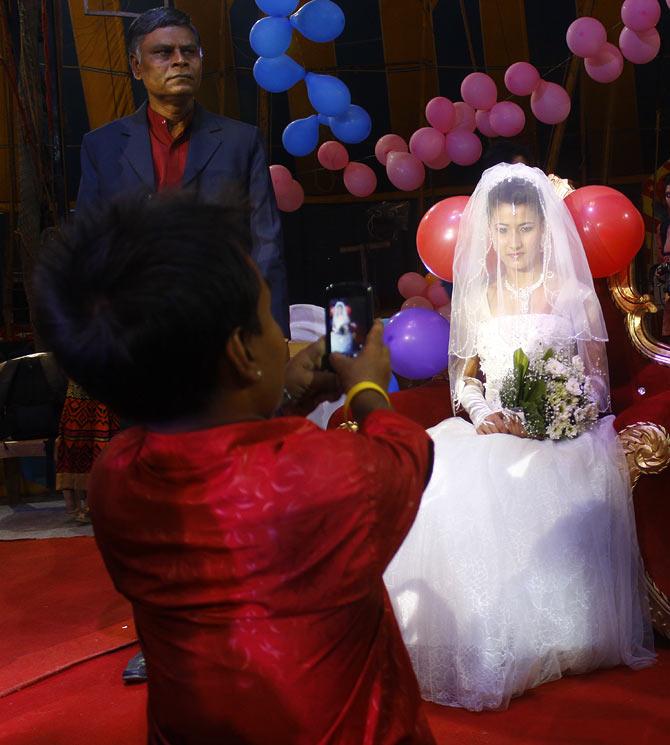 Everyone wants a picture of the pretty bride.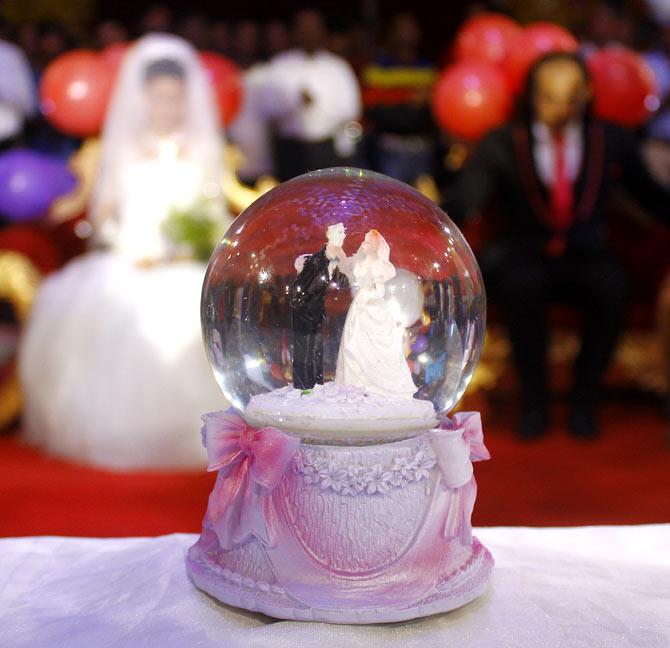 A perfect little memory...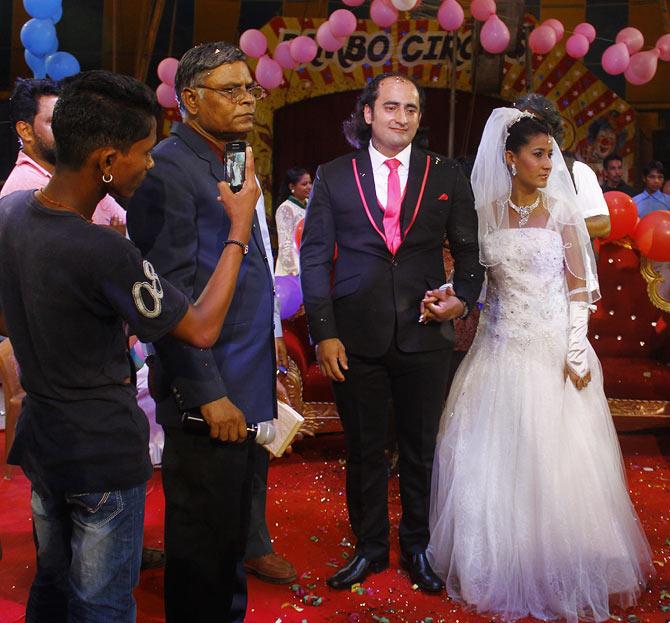 Jenny looks pensive but Carlos is all smiles.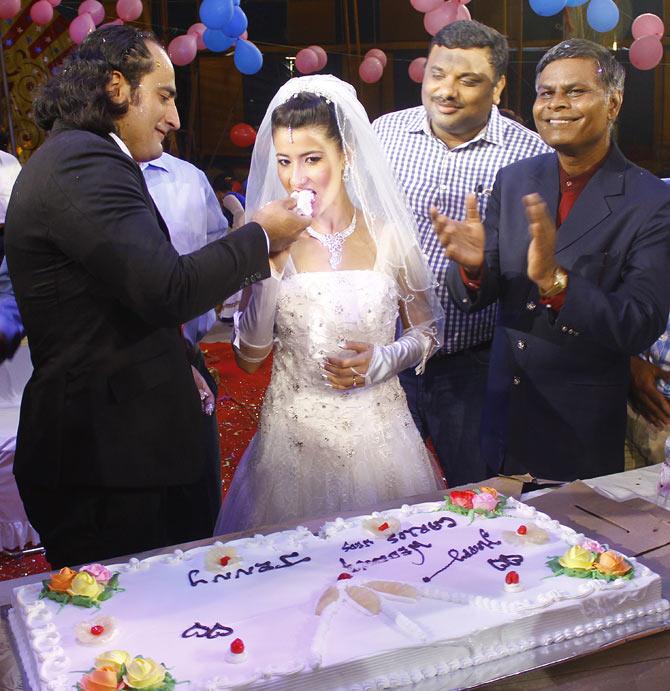 Finally, the wedding cake is cut before they move on for the celebratory lunch.
Photographs: Hitesh Harisinghani/Rediff.com