In a special series, Rediff.com looks at India through the lives of her people.
Today: Natesan Kathiresan, a village painter, who loves the colour of sandalwood, but does not want his boys to pick up the paintbrush like him. His busiest time is between Christmas and Pongal when most people give their homes a fresh coat of paint.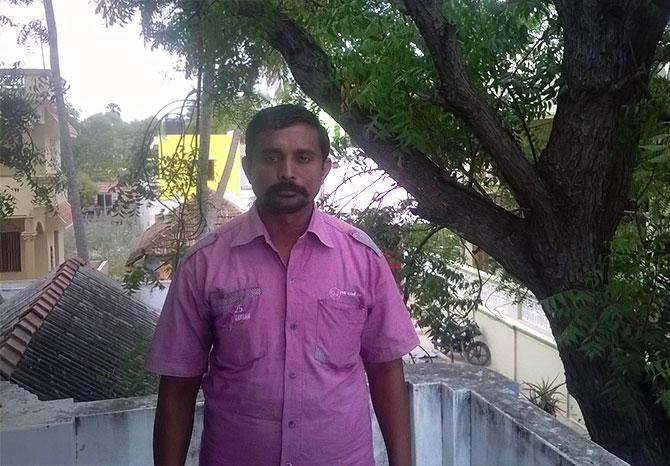 IMAGE: Natesan K worked in salt pans before taking up work as a painter. He works 20, 25 days a month and earns between Rs 600 and Rs 900 a day. Photograph: A Ganesh Nadar/Rediff.com
I like being a painter. My favourite colour is the colour of sandalwood. It has a warm glow.
Between Christmas and up to Pongal on January, 14 is the busiest time of the year for me. This is because people in the villages whitewash their homes.
When I was growing up I did not think what job I would do to earn a living. I have worked in a grocery shop. I have sold vegetables in Mumbai and then worked in a construction company.
I have been in the construction line for 12 years. Before that I was working in the salt pans of Tuticorin, Tamil Nadu, for two years.
When we are painting above a certain height, there is always danger. We wear a safety belt when working on the first floor and above. We don't use helmets.
Once I was perched on a ladder and it broke, but I managed to balance myself on the next rung and saved myself. All work has some danger. We have to always be careful.
I will not allow my son to do my work or follow my profession. He is now in Class 8. I will make him study whatever he desires.
I manage to find enough work. Work is okay. It is not too good and not too bad.
I live in a rented home. It is a small house which I painted myself.
I have painted small and big houses. I have painted old and new houses. Some take a day and others a week.
I mostly do private work, but have worked for village panchayats when the government builds houses. I have painted schools.
Construction is booming in rural areas. Government is building houses and people are building homes. That is why salaries are rising in the construction industry.
I get 4 to 5 jobs a month and work between 20 to 25 days a month.
I get between Rs 600 and 900 a day. I also take jobs on a contract and then I make more money depending on the size of the contract.
The biggest single contract I have worked on is Rs 20,000. I make a profit of Rs 5000 on a contract of this amount.
I always make sure that I complete the contract on time. This gives me a good name. It spreads by word of mouth and I get more work.
I studied only up to Class 9. I learnt painting on the job. My brother-in-law is a painter. He took me to work with him and taught me. I worked with him for six months.
I wake up every day at 6 am. By 8 I leave for work. I work till 6 in the evening. After that I come home and have a bath. Then I go out looking for new painting jobs.
On holidays I sleep for an hour longer. I wake up at 7 am.
I got married at 27. My wife looks after my home. I have three children. One daughter in Class 9, a son in Class 8 and my younger son is in Class 3.
I mostly eat vegetarian food. I eat non-vegetarian food only once a fortnight.
Life in India is good. Things are improving. Facilities are increasing like mobile phones and satellite TV.
There is only one thing I want to change in this country. There should be a total prohibition on alcohol. I think drinking is the biggest evil and the cause of most family problems.
Natesan Kathiresan, 41, dropped out of school, but wants his children to study and pursue whatever education stream they wish. He lives in Nalumavadi, Tamil Nadu and spoke to A Ganesh Nadar/Rediff.com