A Ganesh Nadar/Rediff.com recalls how Kanyakumari MP H Vasanthakumar, the first parliamentarian to die of Covid-related complications, would address his constituents by their names, making it a point to ask after their work and family.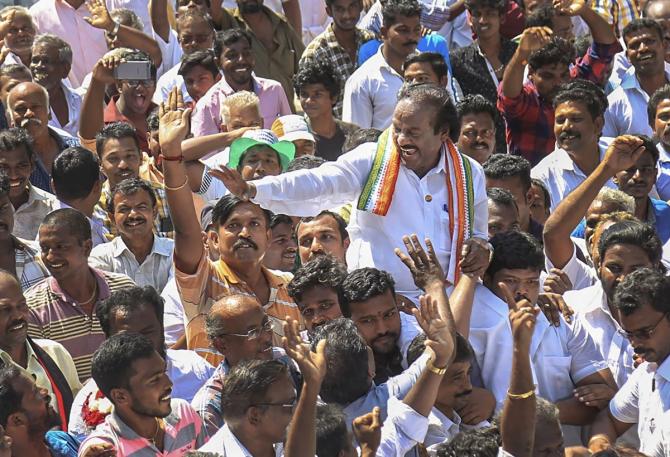 The Congress party's member of he Lok Sabha from Kanyakumari, Harikrishnan Vasanthakumar, who passed away in Chennai on August 28 from Covid-related complications, was a down to earth man who wore his millions simply.
The 70-year-old MP was the younger brother of former Tamil Nadu Congress Committee president Kumari Ananthan. His niece, Tamilisai Soundararajan, headed the Bharatiya Janata Party's Tamil Nadu unit before being sent to Telangana as governor.
Vasanthakumar was a self-made billionaire who, in a Rediff.com interview in 2017, had told me that he had started out with only Rs 22 in his pocket to set up a retail shop selling FMCG.
Today Vasanth and Co has outlets in every district of Tamil Nadu as well as in two neighbouring states.
He also owned a television channel, Vasanth TV.
During the 2016 assembly election, we were traveling across southern Tamil Nadu and stopped over to meet Vasanthakumar who was then contesting from Nanguneri in Tirunelveli district.
In that election, his second to the state assembly, he was said to be the richest candidate in the fray.
As his convoy approached, Vasanthakumar, who was standing on top of a van and waving out to the villagers, spotted us on the wayside and asked us to hop on to the van with him.
A very friendly and down to earth candidate, he had none of that exclusive air about him.
In one village he pointed to two water tanks he had built for the residents. When asked why two tanks for one village, he said, "There are two groups in this village which don't like each other. They are both my supporters, so I built two tanks so that they don't fight over water."
In another village, there was a crowd outside a temple waiting for him and he got down to mingle with the people, calling out to many by name and enquiring after their work and families.
We asked him how he knew so many people by name, he said, "I am not new to this area, I was the MLA of this constituency from 2006 to 2011 and I have been visiting here regularly."
On how he managed to run his huge business as well as keep in touch with his constituents, he put across his mantra quite simply: "Monday to Friday is for business and weekends I spend in my constituency."
Unsurprisingly, perhaps, he won that election.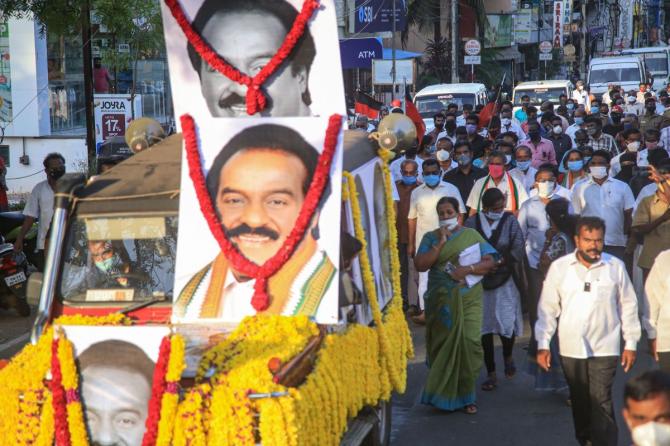 A few months later, I called him to say I wanted to meet him. He said he would be in his constituency for the weekend and I could meet him at Tuticorin airport when he flew down from Chennai.
There was a crowd waiting at the airport. When he saw me he invited me to travel with him in his car, so that we could finish the interview on the way. As usual he gave his answers in a direct, simple, way.
The next time I met him was at a marriage reception. He was sitting in the front row when I went over to greet him. He asked me to sit down with him and we chatted for a while. I stayed for only about five minutes as there were many people waiting to speak to him.
In the 2019 Lok Sabha election, he was the Congress candidate from Kanyakumari pitted against the BJP's Pon Radhakrishnan, a former Union minister.
During the election campaign I was in Nagercoil and called his mobile phone, and one of his assistants answered. He told me Vasanthakumar was busy canvassing, but he would be in Nagercoil in the evening for a public rally.
I waited at the site where the rally was supposed to be held. Soon a huge crowd gathered and the candidate arrived a little later. He got down from his car and after talking to a few party workers he approached the election van which was waiting for him. I was also waiting near that van.
He saw me, smiled, waved back as I greeted him and then climbed on to the van. He then called out to a young boy by name and asked if he was working hard for the elections. His memory for names was impressive as always.
He went on to win the election in what was a Narendra Modi wave elsewhere in the country.
Vasanthakumar asked many questions in Parliament. On March 20, he made a plea in Parliament that the coronavirus pandemic should be declared a 'national disaster', but the government did not take this demand seriously.
In a cruel twist of fate, he himself succumbed to the damned virus.