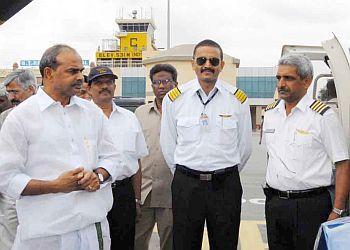 The helicopter crash, which claimed the life of Andhra Pradesh Chief Minister Y S R Reddy, was caused by pilots' error who lost the chopper's control and were engrossed for vital six minutes trying to locate a flight manual, the probe report said on Wednesday.
The report, submitted to the government by the four- member inquiry committee, said the "probable" cause of the accident was that it "occurred due to loss of control resulting in uncontrolled descent in the terrain at a very high rate of descent due to entry into severe down draught".
The crew flew the helicopter under the instrument flying condition even though their flight plan was cleared for Visual Flight Rules (VFR), it said.
The crew noticed a snag and "was engrossed for vital six minutes before the impact in searching for the relevant checklist from the Flight Manual".
"This distracted their attention from the prevailing poor visibility weather conditions thus leading into the loss of situational awareness," the report, prepared by the Committee headed by Pawan Hans Helicopters Limited chief S K Tyagi, said.
Reddy, his special secretary P Subramaniam, Chief Security Officer ASC Weseley, and the two pilots -- Grp Capt S K Bhatia and Capt M S Reddy -- were killed when the Bell 430 helicopter of the state government crashed in dense jungles of Nalamalla hills on September two last year.

The report and safety recommendations, including the functioning of Andhra Pradesh Aviation Corporation Limited (APACL) that owned the helicopter, as well as regulatory issues were being considered by the government, an official spokesperson said.
During the course of investigation, the probe team undertook technical analysis at the crash site for crucial evidence and also at the APACL hangar at Hyderabad to reconstruct the turn of events and the "tear-down analysis" of various helicopter components and systems.
The Cockpit Voice Recorder downloads, engine and electronic control unit were sent to the US for analysis and help sought from the helicopter and engine manufacturers, Bell Helicopters, Goodrich and Rolls Royce, among others. Canada's Transport Safety Board and the US National Transportation Safety Board (NTSB) also aided the probe.
The committee recorded the statements of various officials of Andhra Pradesh government and the APACL for various investigations and analysis.
The probe panel, which had officials from different wings of DGCA, also analysed technical inputs in coordination with Airports Authority of India, IAF, the Met department, National Aeronautical Laboratories of Bangalore and Defence Metallurgical Research Laboratories, Hyderabad.

While the CBI provided help for certain analysis with Central Forensic Science Laboratories, technical inputs about the electric charge scenario of the areas around the site on the day of crash were also analysed with the help of Indian and foreign organisations.