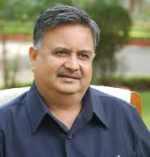 An office bearer of the Chhattisgarh Youth Congress has alleged the local police had beaten him up for asking a question to Chief Minister Raman Singh at a farmers' meeting held in Raipur on October 7.
Youth Congress general secretary for Raipur Lok Sabha constituency Anwar Hussain, 30, charged that he was bashed up by the police for putting a question to the chief minister after the farmers' meeting held, leading to a rupture in his left ear drum and he was experiencing excruciating pains in his stomach and back since the incident.
"I tried to hand over a memorandum to Union Agriculture Minister Sharad Pawar attending a programme in Raipur on October 7. Since he (Pawar) did not accept my petition, I asked the chief minister during the programme organised
by the Indira Gandhi Agricultural University about the reason behind an anomaly between production of paddy and actual area under cultivation," Hussain told PTI.
"However, the chief minister accused me of being drunk and asked the police to take me out of the meeting. The police beat me up outside the venue for two hours. I sustained injuries on my back, stomach and ear in the attack," he alleged.
According to Hussain, he was first sent to a local jail and then shifted to Bheem Rao Ambedkar Hospital and again transferred to jail before his "unconditional" release on October 9. He claimed doctors at Ambedkar Hospital told him about having a hole in his ear drum.
Raipur SSP Deepanshu Kabra rejected Hussain's allegations saying he was attacked by the mob at the meeting being addressed by the chief minister when he tried to create a nuisance.