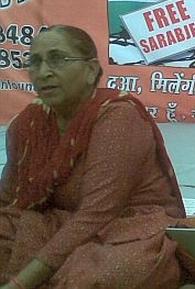 Sarabjit Singh's family on Wednesday accused the Indian government of doing little for the death row prisoner, who is battling for his life in a hospital in Lahore after a brutal assault inside the jail where he had been incarcerated.
The family crossed over to India after visiting 49-year-old Sarabjit, who is comatose in a Lahore hospital after last week's attack.
His family members said his life can be saved if the Indian government puts pressure on Pakistan to shift him to this country or abroad for better treatment.
The family said they will travel to Delhi to meet Prime Minister Manmohan Singh, United Progressive Chairperson Sonia Gandhi, External Affairs Minister Salman Khurshid and Union Home Minister Sushil Kumar Shinde and urge them to help save Sarabjit's life by taking the necessary steps.
"I want to tell the prime minister with folded hands that I have doubts about the treatment being given to Sarabjit in Pakistan," Sarabjit's sister Dalbir Kaur told reporters.
"I am disappointed with the government. The prime minister should resign as he is not able to bring back an Indian citizen. You failed to protect your citizen. They (Pakistan) got freed (Pakistani citizen Dr Khalil) Chishti and you (India) released their other prisoners," she said.
Sarabjit's wife Sukhpreet Kaur, daughters Poonam and Swapandeep Kaur and sister Dalbir crossed over into India from Lahore through the land border. The family had gone to Pakistan on a 15-day visa on Sunday, two days after Sarabjit was attacked in Lahore's Kot Lakhpat jail.
Dalbir demanded that Sarabjit be brought to India immediately and given proper treatment.
Claiming that if he receives the right treatment he will be able to give an account of what happened to him in Lahore's Kot Lakhpat Jail, she said the assertion that Sarabjit is brain dead is wrong as he can move one of his hands and his right eye.
"I want the government to immediately step in. I want to bring him back. If Malala (Yousafzai) can be treated abroad, why not my brother? I have doubts about the treatment they are giving to him, but I have full confidence in the doctors in India," Kaur said.
Kaur said the family was not given a correct update on Sarabjit's condition.
"The doctors never consulted me. Whenever I asked for Sarabjit's reports, they used to get angry. Doctors repeatedly told me not to argue," she said.
Sarabjit's wife Sukhpreet Kaur said she wants to tell the prime minister and the Congress president that the Indian government can save her husband.
"My husband is in this state as the government did not take any action. If the government does not pay attention, if they don't think the person belongs to India, then they have hurt not only us but India. They should bring back my husband," she said.
One of Sarabjit's daughters demanded that her father be brought back.
"There was no cooperation from the Pakistani side," she alleged.
Dalbir Kaur also said that she was tipped off about threats to her life in Pakistan.
"I was told by the forces there that in Pakistan I face a threat. I told them that I will leave these children (Sarabjit's children) and then come back," she said.
To another question, she said if the Indian government's intentions are honest, they can put pressure on Pakistan and bring back Sarabjit.
A team of Indian doctors accompanied by high ranking Indian officials should be sent to Pakistan, she said.
Kaur said that the attack on Sarabjit could be linked with the polls in Pakistan and the attack was carried out to benefit some political outfits.
"The accused should be handed over to India. Who were those people who handed over the articles used in the crime? Nobody has been suspended, no jail inmate has been held so far. I have learnt from sources that nobody has been arrested," she said as tears rolled down her eyes.
Kaur also said that Pakistan failed to provide security to Sarabjit inside the prison despite threats to his life.
"Our government had spent Rs 54 crore to ensure (Mumbai terror attack convict) Ajmal Kasab's security. But the way Sarabjit was attacked by six persons, though they take names of only two, shows conspiracy in the entire incident. We also want to know where have the other four attackers gone," she said.
Sarabjit's daughter Swapandeep Kaur said that it was unfortunate that they had to go and meet him in this condition.
"I have hope that papa will get better if the right treatment is given to him. But we have no faith in the treatment given by Pakistani doctors," she said.
Sarabjit sustained several injuries, including a skull fracture, when six prisoners attacked him in Kot Lakhpat Jail on Friday.
Demanding that Sarabjit be shifted to a hospital either abroad or in India, Dalbir said she has undertaken a fast from today and will not eat food until her brother is given the best treatment.
"He is still critical, but it would be wrong to say that he is brain dead. He has sensations, he had blinked his right eye when we had touched him," she said.
On investigations being carried out by the Pakistan government, Dalbir described it as a "mere eye wash" and said, "So far, the government has not suspended any of the officers accountable for the attack and neither have they arrested any of the six prisoners who attacked Sarabjit"
National Commission for Schedule Castes' Vice Chairman Raj Kumar Verka, who received the family at Attari border, said that the family would leave for Delhi in the evening by the Shatabdi Express.
Efforts will be made to fix an appointment for the family with Sonia Gandhi and the prime minister to discuss the further course of action to save Sarabjit, he said.