The year 2014 has been an eventful one for India. The country got a new government and a new state, broke new frontiers in various fields and of course its share of controversies.

Rediff.com is listing some personalities, who we think were the real newsmakers of the year.

Take a look. Don't forget to make your pick for the newsmaker of 2014 at the end of the feature.

Narendra Modi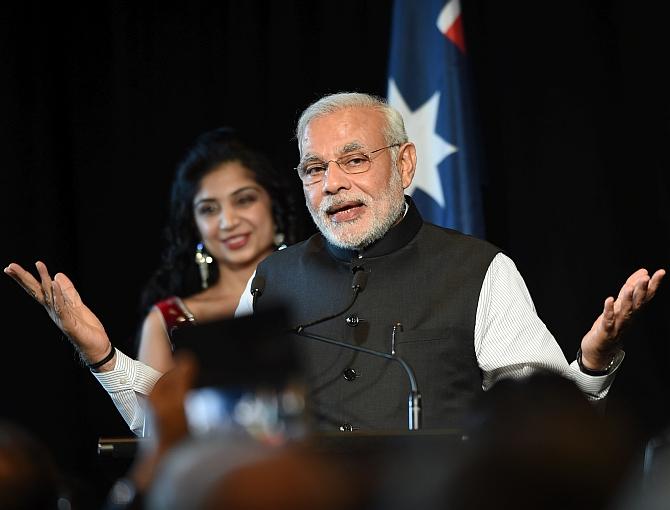 The name's Modi... Narendra Modi. If the year 2014 truly belonged to somebody, it would certainly be the Gujarat strongman.

Modi is today a household name that signifies the hopes and aspirations of a billion-odd countrymen. His poll slogan, acche din aayenge sounded the death knell for the Congress-led United Progressive Alliance government while his chai pe charchas drew the voter's attention.

The nation handed him a resounding verdict in May. The opponent was made to bite the dust. With him, rose the prospects of his party, the Bharatiya Janata Party as it went about winning one state election after another in the months to come.

The world endeared, embraced and posed for selfies with him. 'Make in India' became his mantra on the go.

As he goes about charming world leaders, industrialists and the Diaspora alike, India's new prime minister has his task cut out in the year to come.

Indian Voter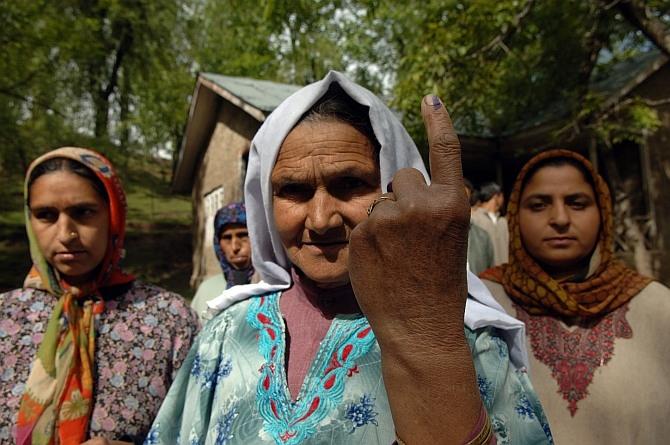 Fed up of opening the newspaper in the morning only to read about a new corruption scandal and the policy paralysis that dogged the Manmohan Singh-led United Progressive Alliance government, the common man awaited the moment to strike.

And that moment came on April 7 when the first round of polling for the 16th Lok Sabha began. Over the next few weeks, the momentum refused to relent.

Over a period of nine phases, the average election turnout was around 66.38 percent, the highest ever in the history of Indian general elections.

Some said it was a resounding vote for Narendra Modi, others termed it as a resounding vote against the Congress.

What it really was was a victory for democracy, a wake up call for the ruling class that the common man won't forgive, won't forget.

Rajdeep Sardesai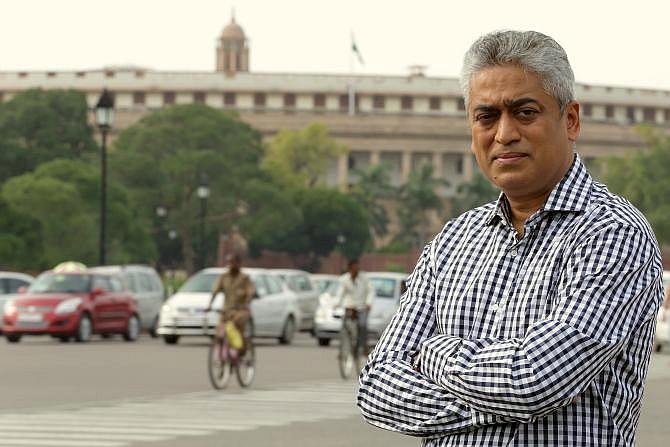 Heard of the classic trope, hunter became the hunted? Well, that's exactly how the year can be summed up for noted journalist Rajdeep Sardesai.

Newsman Sardesai first made headlines when he marched out of the CNN-IBN headquarters in New Delhi in July after Mukesh Ambani's Reliance Industries Limited acquired control in Network 18 Media & Investments Limited.

Then came the moment nobody expected.

During Prime Minister Modi's extravagant reception at the Madison Square Garden during his trip to the United States, a small group of people, some of them in saffron robes, heckled the journalist for his reporting of Modi and his administration after the 2002 Godhra riots.

He later tweeted: "Great crowd at Modison square garden! except a few idiots who still believe abuse is a way of proving their machismo!"

The only probable silver-lining in the year for Sardesai was the launch of his book, 2014: The Election that Changed India which detailed how and why the last Lok Sabha election broke every rule in the political game.

Devendra Fadnavis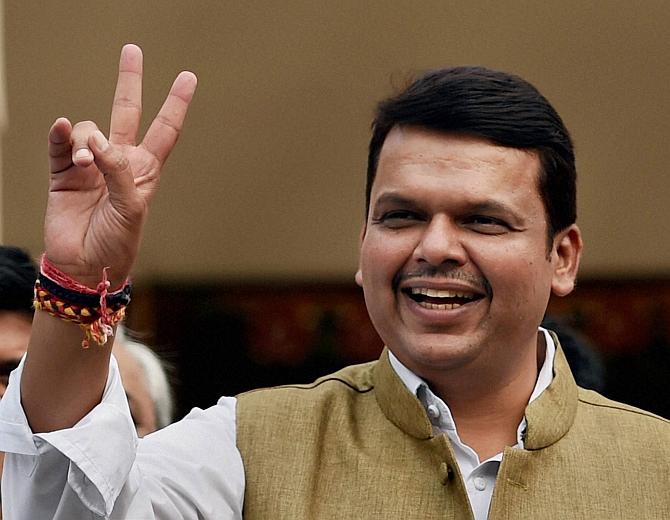 The announcement of polls in Maharashtra rocked the boat for the Shiv Sena-BJP alliance. The tussle for seats saw the allies parting ways, but one of them actually benefitted from the showdown.

Devendra Fadnavis, with his RSS roots and backing of both Prime Minister Narendra Modi and BJP chief Amit Shah, was a clear frontrunner for the coveted post after the BJP emerged as the single largest party in the state for the first time.

Fadnavis, whom Modi had described as "Nagpur's gift to the country" at an election rally, had led the BJP in the state when it posted most impressive performances in both Lok Sabha and assembly polls.

Post elections, after much politicking, Sena – the second largest party in the state -- returned to Mahayukti thereby strengthening Fadnavis' hold on the CM's chair and sidelining Sharad Pawar's Nationalist Congress Party.

In a state dominated by Maratha politics and politicians, Fadnavis is only the second Brahmin after ally Shiv Sena's Manohar Joshi to become chief minister.

Dr K Radhakrishnan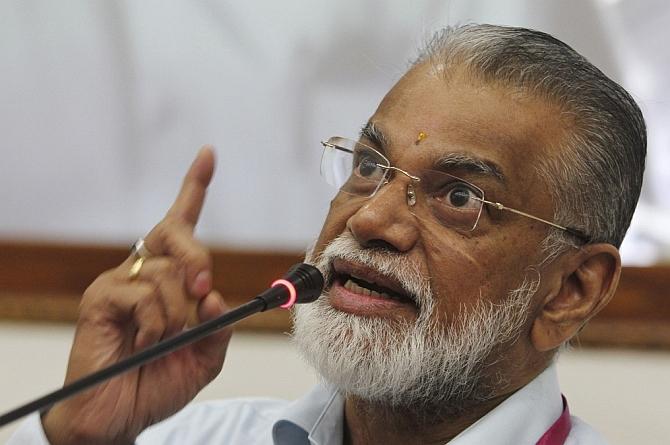 The year 2014 started on a high and is poised to end in similar fashion for Indian Space Research Organization chairman Dr Koppillil Radhakrishnan.

In January, Radhakrishnan received the nation's third highest civilian award, the Padma Bhushan, for his contribution to science and engineering, especially in the field of space science and technology.

Earlier that month, ISRO finally demonstrated that it could master cryogenic technology with the launch of the GSLV-D5.

But the proudest moment for the ISRO chief was perhaps on September 29 when India's Rs 450 crore Mars Orbitor Mission successfully entered the martian orbit, becoming the first country in the world to succeed in such an inter-planetary mission in the maiden attempt itself.

The next big challenge, according to Radhakrishnan, is the Geo-synchronous Satellite Launch Vehicle-Mark III. The scientists have left no stone unturned to ensure that the the GSLV Mark III, the agency's heaviest rocket till date which would carry active solid boosters, liquid core stage and a passive cryo-stage, is successfully launched on December 18.

After a distinguished career spanning more than 38 years, Radhakrishnan is likely to retire this yearend.

Kailash Satyarthi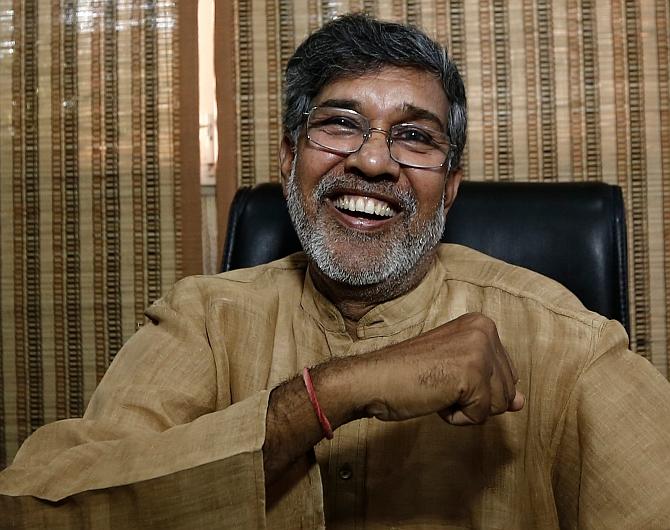 Kailash Satyarthi's journey from near oblivion to front pages across the country has been remarkable.

The electrical engineer who founded the Bachpan Bachao Andolan, a non-profit organization aiming to eliminate child trafficking and labour, in 1980 was this year's Nobel Peace Prize winner along with Pakistan's Malala Yousafzay.

Referring to the activist, the Nobel Committee said: "Showing great personal courage, Satyarthi, maintaining Gandhi's tradition, has headed various forms of protests and demonstrations, all peaceful, focusing on the grave exploitation of children for financial gain."

Satyarthi also frequently takes part in street demonstrations to raise awareness on the issue and was a leader of the 1998 Global March Against Child Labour, which crossed 103 countries.

His early attempts to raid factories employing child labourers met with hostile reaction from the factory owners and at times the police but the significance of his work was slowly recognised.

Till date, BBA team has led to the rescue and withdrawal of over 77,328 child bonded labourers and developed a successful model for their education and rehabilitation.

The accolades and the recognition have in no way altered Satyarthi's life as continues to wage his never-ending crusade against child slavery.

Jayalalithaa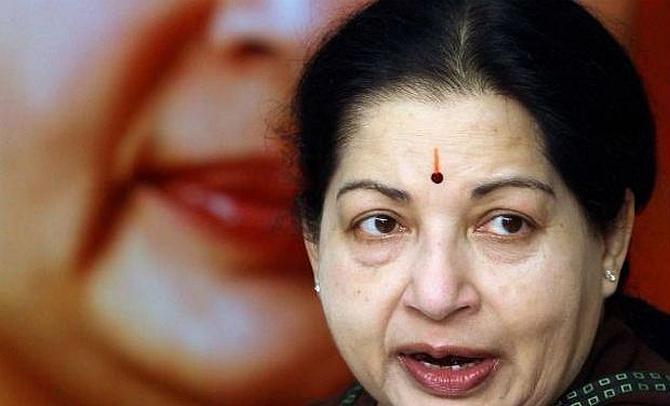 Just three years into her tenure as chief minister of Tamil Nadu, Jayalalithaa was dealt a hard blow by the law of the land when in September she was convicted and sentenced to four years jail in an 18-year-old corruption case.

The Karnataka high court judgment immediately unseated her from the CM's
post and disqualified her immediately as a legislator.
The All India Anna Dravida Munnetra Kazhagam supporters were in for another shocker when the high court refused to stay its order and denied 'Amma' bail.
Following her imprisonment, her grief-stricken supporters held protests and wept openly.
Though the Supreme Court did, in October, grant her bail Jayalalithaa is still not out of the woods.
Meanwhile, 'Amma' loyalist O Panneerselvam handles the reins of Tamil Nadu.
S
mriti Irani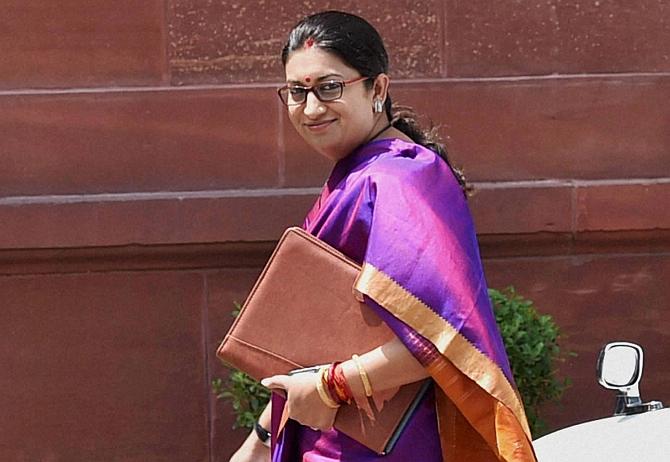 From tinsel town to Shastri Bhawan, the spotlight hasn't ceased to go off Smriti Zubin Irani.
At 38, one of the most popular faces on the small screen became the country's youngest HRD minister in the Narendra Modi ministry. And her inexperience often saw her on the wrong side of controversies.
Sample this: Rather than being upfront about her ability to hold an office of great responsibility, she once spoke of having a degree from Yale.
At a media event, she said: "In that kitty of mine where people call me
anpad
(illiterate) I do have a degree from YaleUniversity as well which I can bring out and show how Yale celebrated my leadership capacities".
She was soon forced to clarify that the degree was actually for a six-day event at Yale which honoured achievers from all fields.
She again courted trouble when her idea of modernizing education was questioned after she asked Kendriya Vidyalayas to stop teaching German and introduce Sanskrit as a compulsory third language.
Capping off a list of gaffes, in December, Irani was forced to retract a circular reportedly sent out by the government's Navodaya Vidyalaya Samiti asking the schools it runs to hold activities to observe 'good governance day' on Atal Bihari Vajpayee's birthday on December 25.
K
Chandrasekhar Rao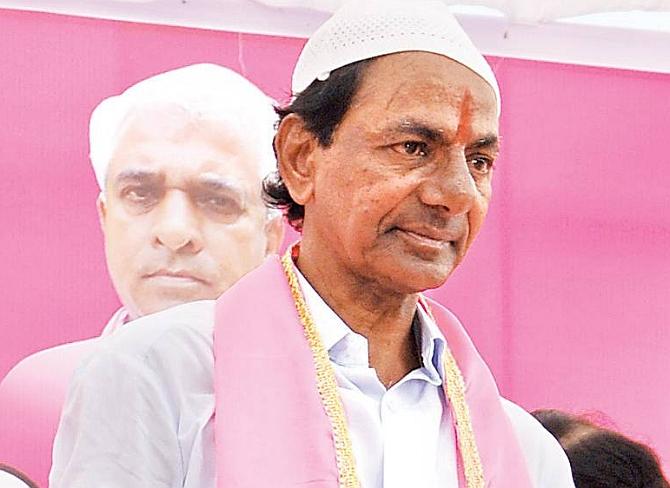 An over four decade old dream was realised on June 2.
Celebrations erupted in Hyderabad and all across Telangana as India's 29th state was born at the stroke of midnight.
The streets of Hyderabad resembled a carnival with people dancing and singing to the state song,
Jaya Jaya He Telangana
.
The celebrations went on an overdrive after Telangana Rashtra Samithi chief K Chandrashekhar Rao took oath as the chief minister. The TRS had earlier won the mandate by winning 62 of the 119 seats in the newly-formed Telangana assembly.
According to unverified reports, 700 people committed suicide for the Telangana cause.
For now, it shares its capital -- Hyderabad -- with Andhra Pradesh.
S
arita Devi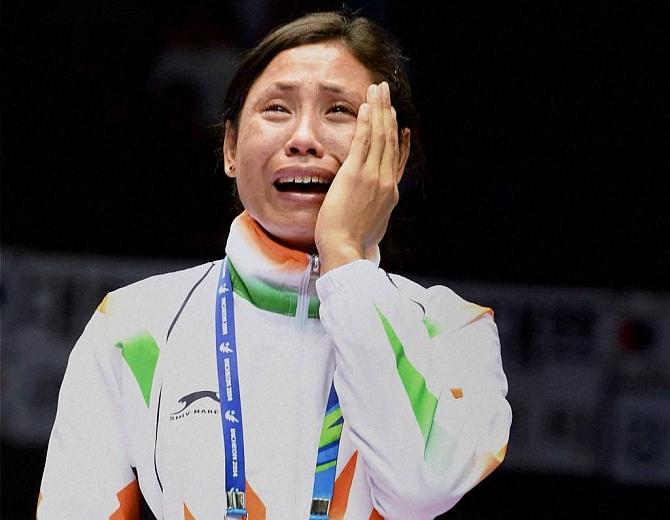 She lost her bout but won more praise than scorn.
A day after she lost the 60-kg category semi-final bout during the Incheon Asian Games in South Korea to host challenger Jina Park despite reportedly dominating the bout, an inconsolable L Sarita Devi refused to accept the bronze medal and later handed it over to Park, who left the medal on the podium before making her exit at the Seonhak Gymnasium.
While a fuming International Boxing Association almost told her to bid her career goodbye, the emotional backing she received from personalities from all walks of life and timely government intervention ensured that her punishment was restricted to a year-long ban and 1,000 Swiss francs.
We look forward to see her back in the ring soon.
V
ishal Sikka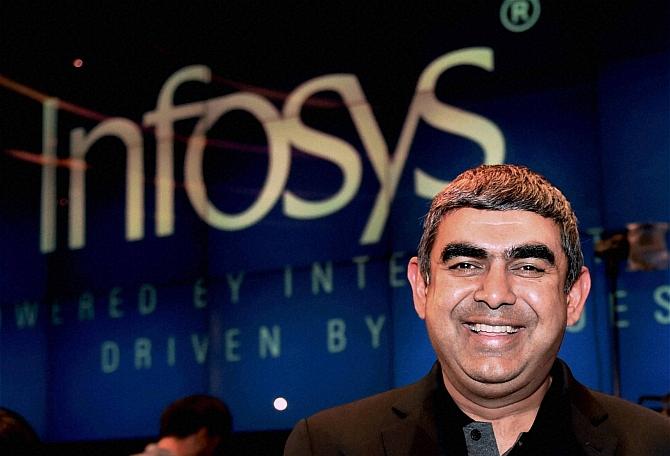 Vishal Sikka, the former chief technology officer and member of the executive board at enterprise software maker SAP, hit headlines when he was named first non-founding chief executive officer and managing director of information technology giant Infosys.
Sikka, 47, will face challenges ahead. Be it the industry laggard performance or harassment allegations by overseas employees, Infosys has a tough road ahead and investors will look at Sikka to sort out the issues and guide Infosys back to industry leading performance.
Sikka, who headed technology and innovation at German software giant SAP and created analytics product HANA, is taking charge during a challenging phase.
Sikka has already signalled towards technology-led changes at the firm, though he has said that no major transformation is imminent at the Bangalore-based company.
R
ohit Sharma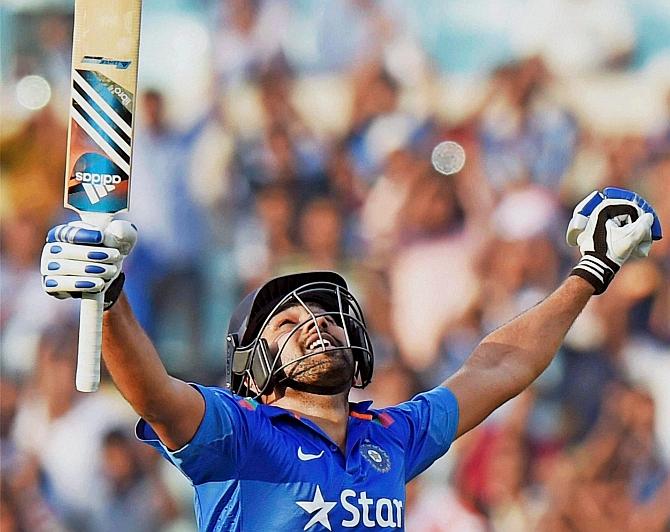 Experts always found Rohit Sharma to be a player destined for great things.
After being out of action since August following a finger injury sustained during the England series, Sharma made a mind-boggling comeback when he smashed a record 264 in the penultimate match of the series against Sri Lanka at Kolkata's Eden Gardens.
The 173-ball knock included 33 fours and 9 huge sixes.
The feat not only surpassed the previous record of 219 held by fellow Team India cricketer Virender Sehwag but also made the 27-year-old the first batsman to score two ODI double tons.
R
ajat Sharma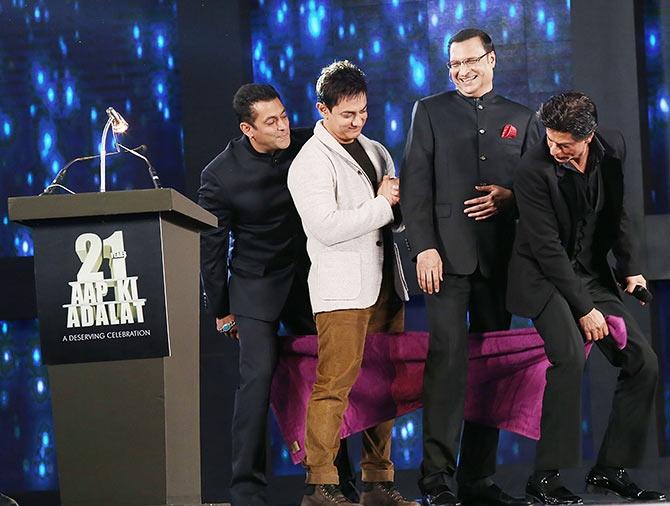 From one Sharma to another. This year, noted television personality Rajat Sharma did something nobody could have possibly done.
The occasion was celebration of 21 years of Rajat Sharma popular television show,
Aap Ki Adalat
.
Sharma, chairman and editor-in-chief of India TV, pulled off a casting coup of sorts by roping in the three Khans -- Shah Rukh, Salman and Aamir.
It was one of the biggest events on television, with the who's who of the country, including President Pranab Mukherjee and Prime Minister Narendra Modi, taking part in the celebration.
Sharma, who has spent the majority of his career grilling celebrities from across the spectrum, himself was on put in the dock by the three Khans and guests, including Hema Malini, Baba Ramdev, Amar Singh, Anil Kapoor, Arun Jaitley and even the prime minister, who bombarded him with an array of questions.
Salman had the most funny gift to present Rajat with and that was, a towel. And guess what, the Khans even managed to make Rajat dance to the iconic towel number
Jeene Ke Hain Chaar Din
from the movie
Mujhse Shaadi Karogi
.
If there was an event that was memorable this year, it had to be Rajat Sharma's.
N
Srinivasan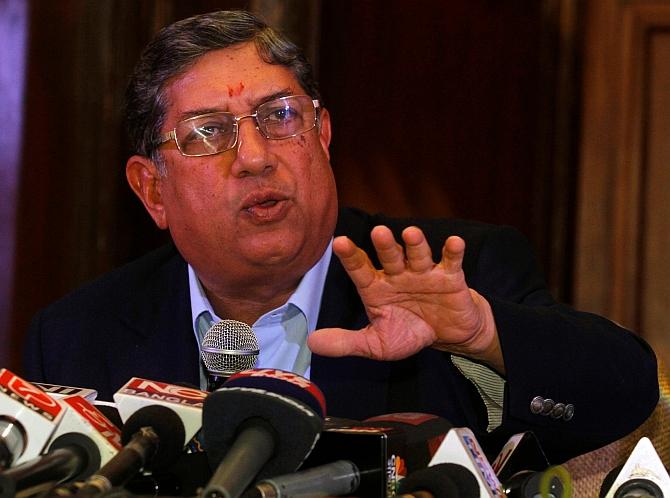 Narayanswami Srinivasan is today known as president-in-exile of the Board of Control for Cricket in India.
In March 2014, the Supreme Court ordered him to resign from the BCCI to facilitate investigations in the IPL betting scam, observing that it was "nauseating" that he was continuing in office.
Later in the year, the Apex court questioned Srinivasan's dual role as the head of the national cricketing body and IPL team owner, whose son-in-law Gurunath Meiyappan has been found prima facie guilty by the Justice Mukul Mudgal-led committee of illegal betting and passing on sensitive match-related information to bookies during IPL 2013.
Srinivasan continues to deny an apparent conflict of interest even though his own private company owns the Chennai franchise.
Even though the Apex court is yet to decide on the matter, Srinivasan remains firm and wants to assume control of the BCCI.
Now it is your turn to pick your Newsmaker of the Year. Go ahead, VOTE!