From the Syrian civil war to the Ukrainian crisis to the terror unleashed by the dreaded Islamic State, there was no lack of news in 2014. In this five-part series, rediff.com presents a selection of the year's most enduring moments year from around the world.
Check out the first set of photos below: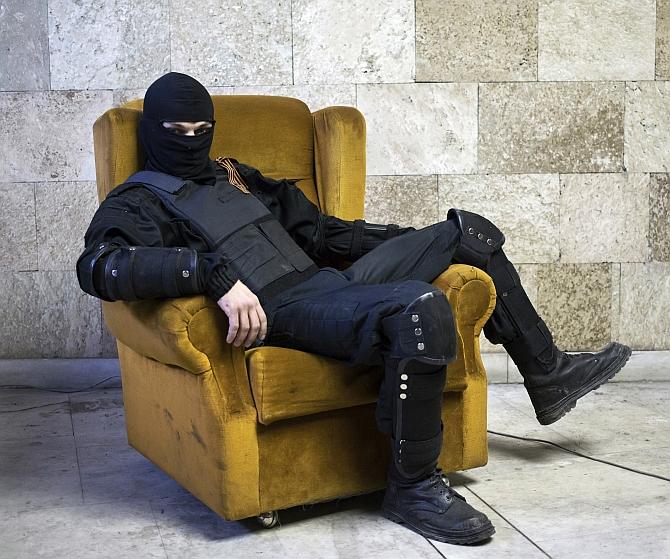 A masked pro-Russian protester sits on a chair as he poses for a picture inside a regional government building in Donetsk, eastern Ukraine. Picture taken April 25, 2014. Photograph: Marko Djurica/Reuters

---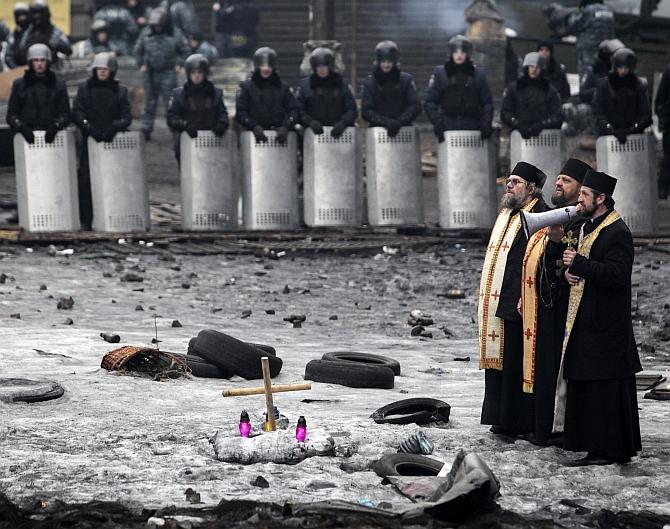 A priest speaks through a megaphone to riot police and anti-government protesters at the site of recent clashes in Kiev, Ukraine on February 12, 2014. Photograph: Konstantin Chernichkin/Reuters

---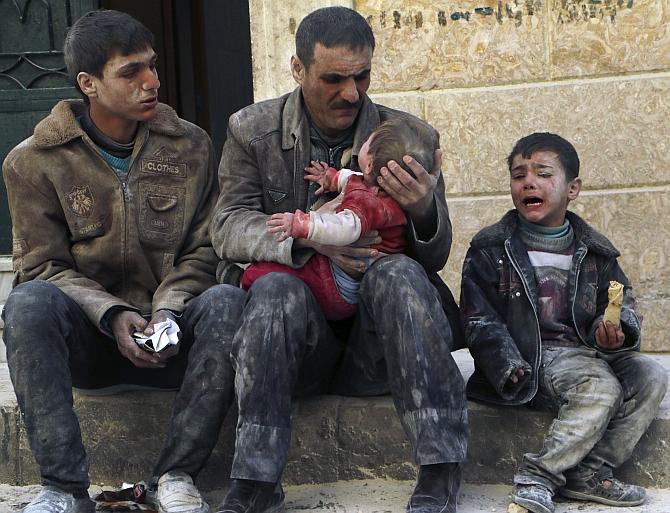 A man holds a baby saved from under rubble, who survived what activists say was an airstrike by forces loyal to Syrian President Bashar al-Assad in Masaken Hanano in Aleppo February 14, 2014. Photograph: Hosam Katan/Reuters

---
A firefighter attempts to extinguish a fire which broke out on piles of reed at a paper factory in Changde, Hunan province, China. Picture taken February 16, 2014. Photograph: Reuters

---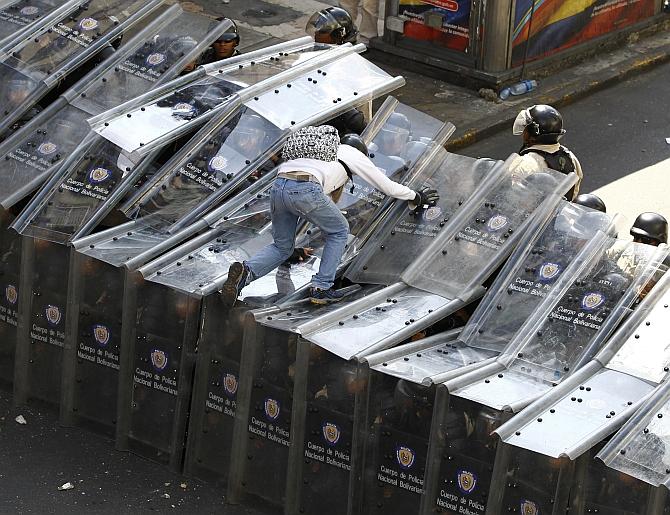 A demonstrator jumps on a shield wall formed by riot police during a protest against Venezuela's President Nicolas Maduro's government in Caracas February 12, 2014. Photograph: Carlos Garcia Rawlins/Reuters

---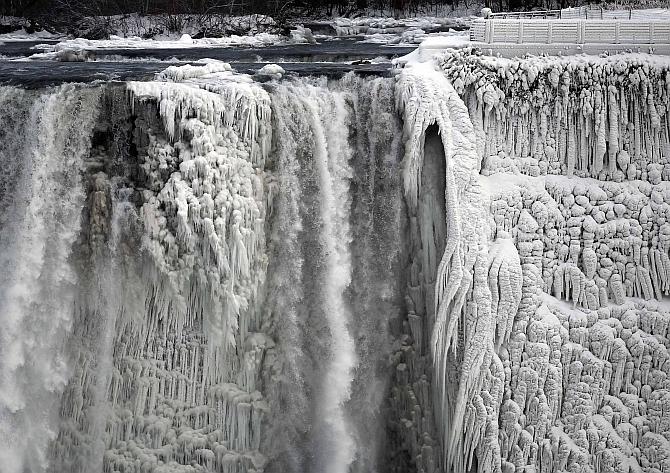 The US side of the Niagara Falls is pictured in Ontario, January 8, 2014. The frigid air and "polar vortex" affected about 240 million people in the United States and southern Canada. Photograph: Aaron Harris/Reuters

---
Britain's Prince Charles, wearing a traditional Saudi attire, attends the traditional Saudi dance, known as 'Arda', which was performed during Janadriya culture festival at Der'iya in Riyadh, February 18, 2014. Photograph: Fayez Nureldine/Reuters

---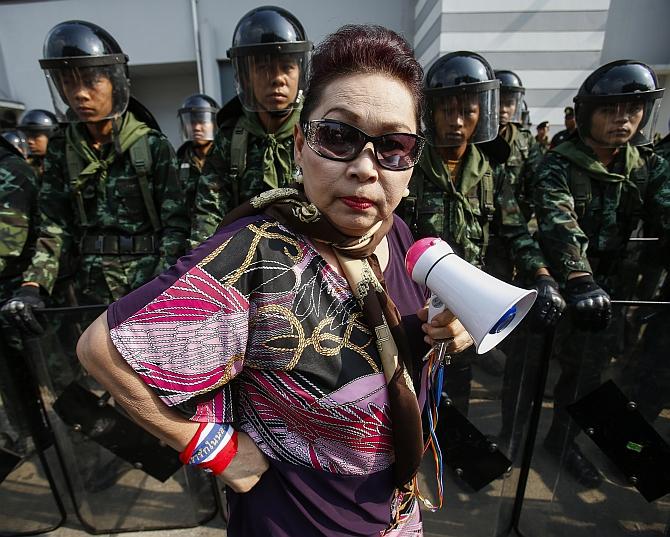 An anti-government protester stands near Thai soldiers guarding a defence ministry compound, which is serving as a temporary office for then Thai Prime Minister Yingluck Shinawatra, in north Bangkok February 19, 2014. Photograph: Athit Perawongmetha/Reuters

---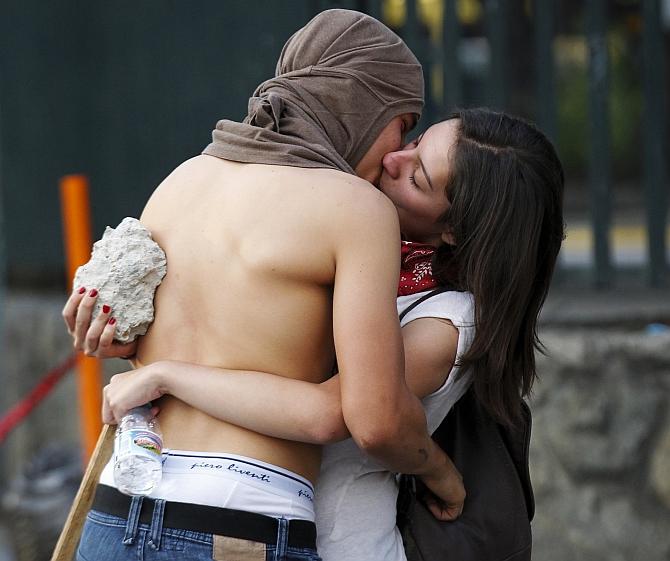 Anti-government protesters kiss during a protest against Venezuela's President Nicolas Maduro's government in Caracas March 22, 2014. Photograph: Christian Veron/Reuters

---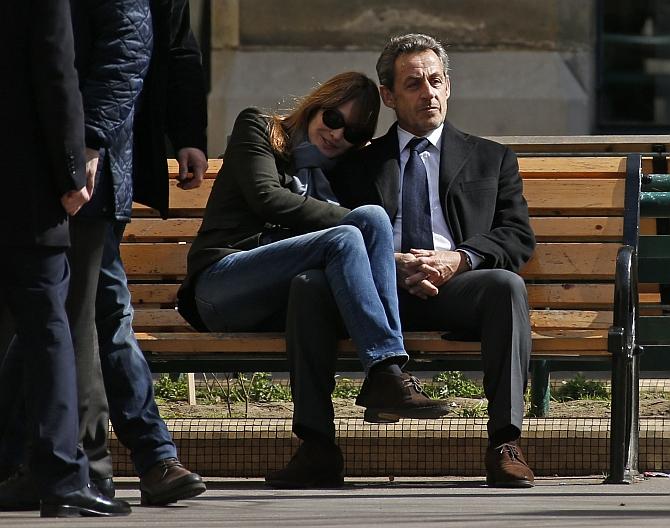 Former French President Nicolas Sarkozy sits on a bench with his wife and singer Carla Bruni-Sarkozy after voting at a polling station in the first round in the French mayoral elections in Paris, March 23, 2014. Photograph: Benoit Tessier/Reuters

---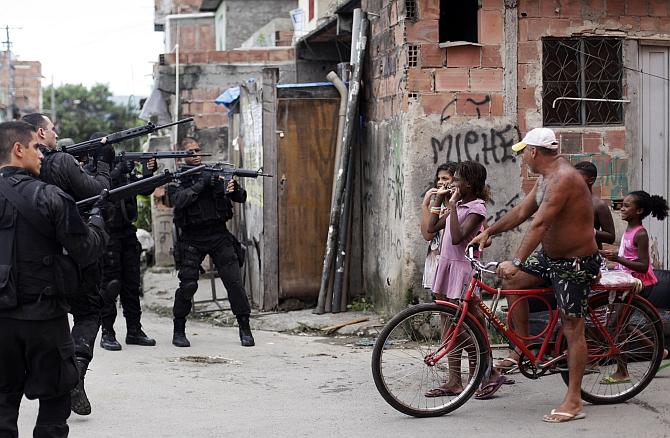 Residents react as policemen take position during an operation in the Mare slums complex in Rio de Janeiro March 26, 2014. Brazil deployed federal troops to Rio de Janeiro to help quell a surge in violent crime following attacks by drug traffickers on police posts in three slums on the north side of the city. Less than three months before Rio welcomed tens of thousands of foreign soccer fans for the World Cup, the attacks cast new doubts on government efforts to expel gangs from slums using a strong police presence. The city hosted the Olympics in 2016. Photograph: Ricardo Moraes/Reuters

---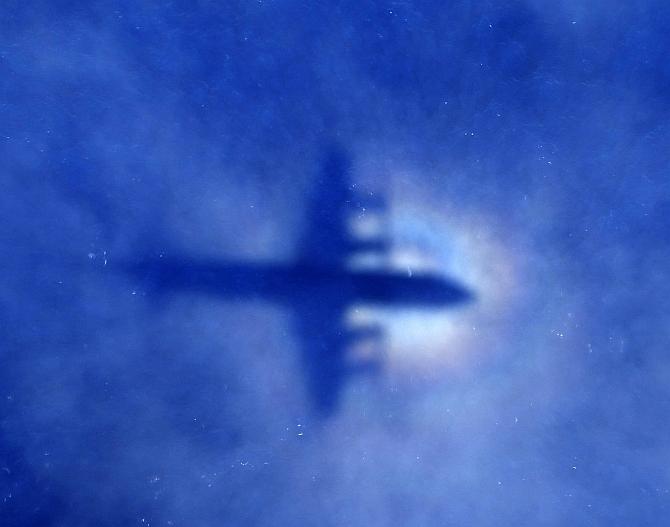 The shadow of a Royal New Zealand Air Force (RNZAF) P3 Orion maritime search aircraft can be seen on low-level clouds as it flies over the southern Indian Ocean looking for missing Malaysian Airlines flight MH370. Photograph: Rob Griffith/Reuters

---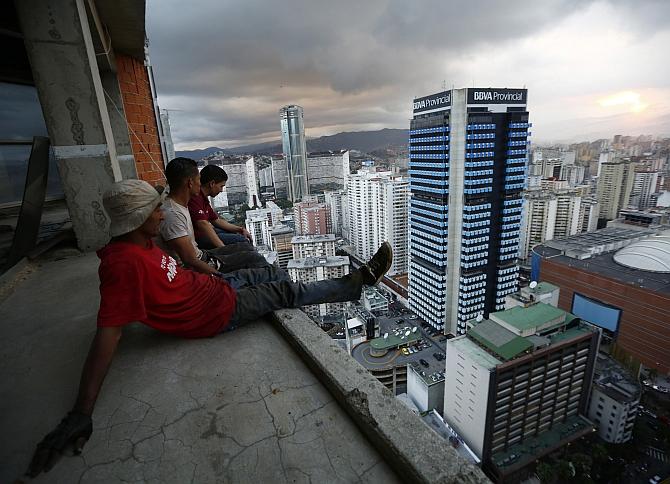 Men rest after salvaging metal on the 30th floor of the "Tower of David" skyscraper in Caracas. It boasts a helicopter landing pad, glorious views of the Avila mountain range, and large balconies for weekend barbecues. Yet a 45-storey skyscraper in the center of Venezuela's capital Caracas is no five-star hotel or swanky apartment block: it is a slum, probably the highest in the world. Dubbed the "Tower of David", the building was intended to be a shining new financial center but was abandoned around 1994 after the death of its developer -- banker and horse-breeder David Brillembourg -- and the collapse of the financial sector. Squatters invaded the huge concrete skeleton in 2007, then-president Hugo Chavez's socialist government turned a blind eye, and now about 3,000 people call the tower their home. Picture taken February 3, 2014. Photograph: Jorge Silva/Reuters

---
Britain's Prince William, his wife Catherine, Duchess of Cambridge, and their son Prince George disembark from their plane after arriving in Wellington, New Zealand on an official trip. Photograph: Phil Noble/Reuters

---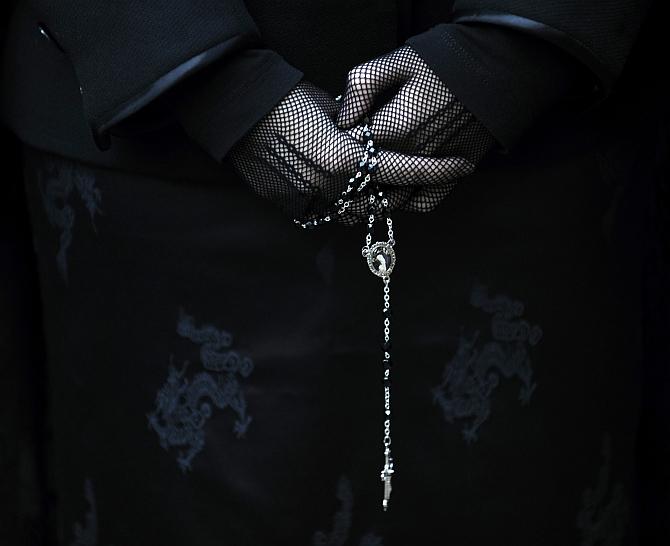 A penitent takes part in the procession of the "Silencio y la Santa Cruz" brotherhood during Holy Week in Oviedo, northern Spain April 15, 2014. Hundreds of processions take place round-the-clock during Holy Week in Spain, drawing thousands of visitors. Photograph: Eloy Alonso/Reuters

Watch this space for PART II of this series...