The suicide of an exuberant Mrs Tharoor, the death of a Union minister in a car mishap, the rape of a nursery student in her school…
The year threw up quite a few shockers, some rather rude ones. Below are Rediff.com's 12 picks that made us sit back and think, 'Did that really happen?'
The Sunanda Pushkar suicide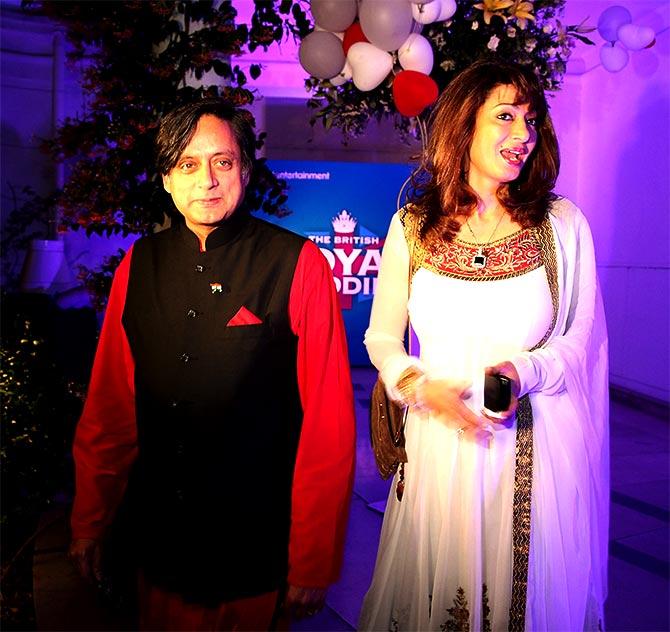 Image: Former Union Minister Shashi Tharoor and his wife Sunanda Pushkar attend a function at the High Commissioners residence on April 29, 2011 in Delhi. Photograph: Graham Crouch/Getty Images

A shy Kashmiri girl, she went on to become a vivacious entrepreneur who wined and dined with Delhi's glitterati. With her blonde highlights, her rather loud makeup and her ever louder laugh, Sunanda Pushkar always made her presence felt.
In 1980s she was an aspiring model, at the time of her death she was worth Rs 100 crore. Along the way, she faced her bit of trials and tribulations, but she was not the sort to give up.
After two failed marriages, Sunanda married then Union Minister Shashi Tharoor in August 2010. The Tharoors were once celebrated as Delhi's dream couple.
And one far from expected the fairytale to end with Sunanda being found dead in a hotel suite under highly mysterious circumstances on January 17.
A day before, she had a nasty spat with Pakistani journalist Mehr Tarar on Twitter. Her tweets hinted at a possible affair between Tharoor and Tarar.
Her autopsy report said that Sunanda died of an overdose of sleeping pills, but in October the medical team probing the case said that they were pressured into providing a 'tailor-made' report. They concluded that she died of poisoning.
It still remains unclear how Sunanda died.


---
Nido Taniam killing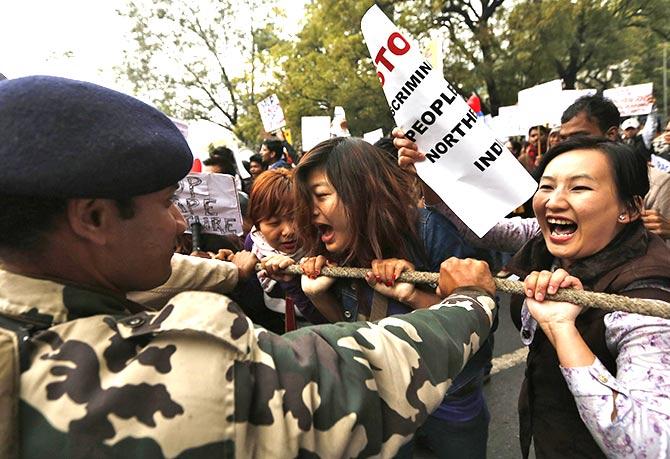 Image: Students from the northeast scuffle with security personnel during a protest in New Delhi February 14. Hundreds of students protested against the attacks on people from the northeastern states and demanding justice for Nido. Photograph: Adnan Abidi/Reuters

He was like any other 20 year old. He sported a funky hairdo and loved music.
January 29 was a regular day for Nido Taniam, son of an Arunachal legislator, but only till he entered that sweetshop in Delhi.

The shopkeeper and his friends made fun of Nido's hair and clothes; a fight broke out ending with his death.

But, this wasn't a mindless brawl between youth. It was his northeastern features because of which, he was attacked.
The resultant death shocked the country and shamed the national capital. The youth from the north-east, frustrated with day-to-day social and physical humiliation took to the streets.
Nido's death highlighted racism that continues to haunt many from India's northeast even today.


---
Parliament pepper spray attack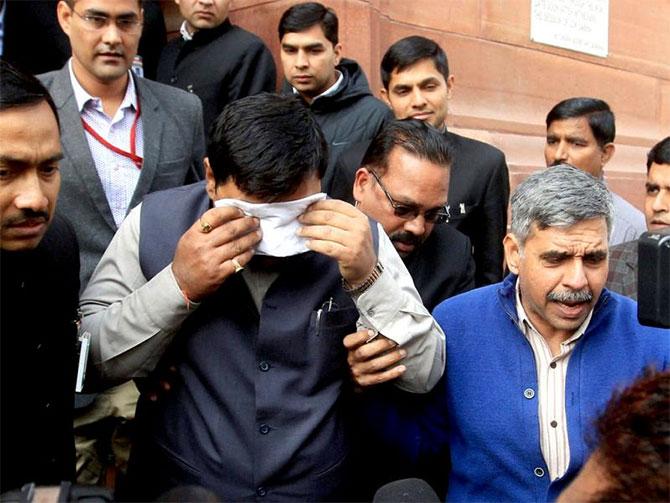 Image: An unidentified MP affected by pepper spray attack rushes out of Lok Sabha. Photograph: PTI

The Parliament hit its lowest ever point on February 13.
A knife was brandished by a Telugu Desam Party MP. An expelled Congress MP used pepper spray resulting in the hospitalisation of three of his colleagues. The ruckus was over the introduction of Telangana Bill.
Congress's Lagadapati Rajagopal smuggled in the 200ml pepper spray can and amid all the chaos over Telangana sprayed from it.
The frenzy that lasted two minutes sent three MPs to hospital; several others ran out teary-eyed and coughing. Ambulances were pressed into action. The drama ended with the suspension of 16 MPs.

"This has shamed us," said the then Speaker Meira Kumar, rightly so.


---
Arvind Kejriwal's shock resignation
Image: Arvind Kejriwal addresses his supporters after announcing his resignation from the Aam Aadmi Party headquarters in New Delhi. Photograph: Anindito Mukherjee/Reuters


He was the biggest story of 2013. A year on, he is considered India's biggest disappointment.

The bespectacled aam aadmi stormed into the national conscience and power December last after his stunning breakthrough in the Delhi state elections. He brought along with him some renewed hope; hope that truth is power.
But, politics, they say, is not for the amateur. After 49 turbulent days at the helm, Kejriwal quit as the Delhi chief minister on February 14, as the country's two main parties joined hands to thwart his efforts to bring in a new anti-corruption bill.
The shock resignation dashed all the hopes of an angry India seeking for change, leaving the aam aadmi helpless.


---
Badaun rape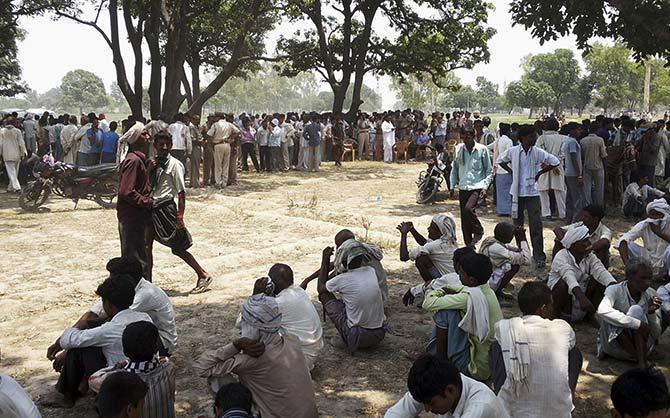 Image: Onlookers sit at the site where two girls were hanged from a tree at Badaun district. Photograph: Reuters
A nondescript village of Katra in Uttar Pradesh's Baduan district woke up on the morning of May 28 to its worst horror. Two cousins, aged 14 and 15, were hanging from a tree; they had gone missing the night before.
They were raped and died from hanging, according to the post-mortem report.
Within days, all five accused, three brothers and two police, were arrested. And the story got murkier after.
The Central Bureau of Investigation in August said they were not filing a chargesheet against the five accused because forensic tests have ruled out sexual assault. The five were granted bail, as the CBI did not oppose their plea.

In November, the investigators said that the girls took their own lives and were not raped or murdered, fuelling harsh criticism for their handling of the case, which sparked international outrage.
India remains shamed.
---
Gopinath Munde's death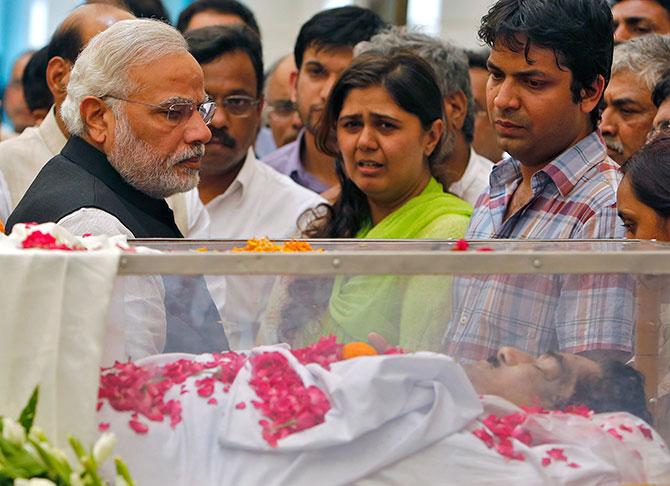 Image:Prime Minister Narendra Modi looks at the casket of Rural Development Minister Gopinath Munde, next to Munde's daughter Pankaja Munde Palve, at the BJP headquarters in New Delhi. Photograph: Anindito Mukherjee/Reuters
Gopinath Munde, the newly-appointed rural development minister in the Moi sarkar, died in a car crash in New Delhi.

Munde was on his way to the airport to take a flight to Maharashtra, his home state, when his car was hit by another vehicle. He was rushed to AIIMS hospital but it was too late.
The news of his sudden death sent shock waves through political circles.
The untimely death came as a double blow for the Munde-Mahajan family which lost Pramod Mahajan in 2006.
The two were more than colleagues. They were brothers-in-law as Munde was married to Mahajan's sister Pradnya.
Munde, a BJP leader from the OBC Vanzara community was among the party's strongest mass leaders in Maharashtra.

Munde came up the hard way. He hailed from a poor family, his father was a farmer and they were from the backward Vanjara caste. He never forgot his roots, wroteN Suresh for Rediff.com after the June 3 mishap.


---
Bangalore school shame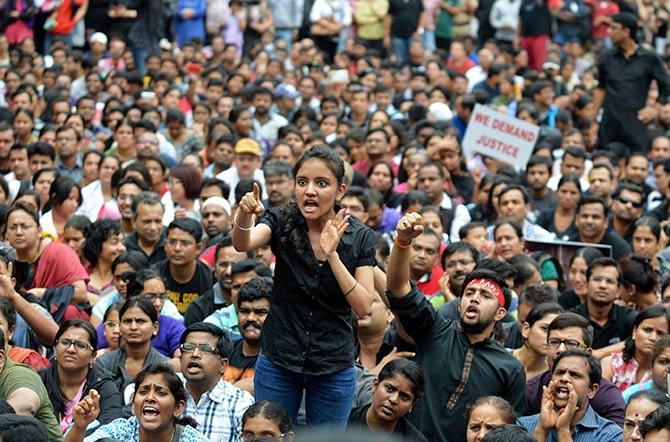 Image: A demonstrator shouts slogans during a protest in Bangalore demanding justice after a 6-year-old student was allegedly raped in a school's premises on July 2. Photograph: Stringer

2014, a year of shame and disgrace for Bangalore!
A six-year-old girl at Bangalore's Vibgyor International School was sexually assaulted on July 2, the first case that highlighted the grossly inadequate security in schools in the city.

What's worse is that two gym instructors were arrested in the case and have been charged with gang-rape and destruction of evidence.

On October 21, a similar incident repeated in another school, the fourth such case since the July horror.
A three-year-old nursery student allegedly came home and complained of pain. She was taken to a doctor, who confirmed that she had been sexually assaulted. According to the police, a teacher arrested confessed to the crime.

Parents and activists took to the streets in protest. But not much changed.

On November 26, another three-year-old returned from her school disturbed. The girl told her mother that she was lured by the attendant to an empty classroom with chocolates where he raped her. The attendant of the school was arrested.


---
INS Sindurakshak sinking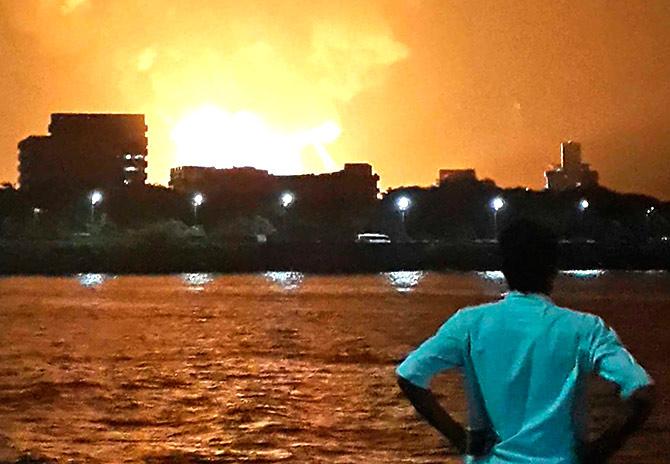 Image: A man watches Indian Navy submarine INS Sindhurakshak on fire in Mumbai. Photograph: Vikalp Shah/Reuters

A fire followed by deafening explosions rocked Indian Navy's kilo-class submarine INS Sindhurakshak a little past midnight on August 14. Disbelief gave way to shock as the news poured in.
The submarine, which had undergone a Rs 815-crore upgrade in Russia seven months ago, sank at the naval dockyard in Mumbai killing 18 of its crewmembers.

Human error led to the sinking of the INS Sindhurakshak, Indian Navy Chief Admiral R K Dhowan said earlier this month, indicating that the crew's failure to follow standard operating procedures could have caused the accident.


---
Jayalalithaa arrest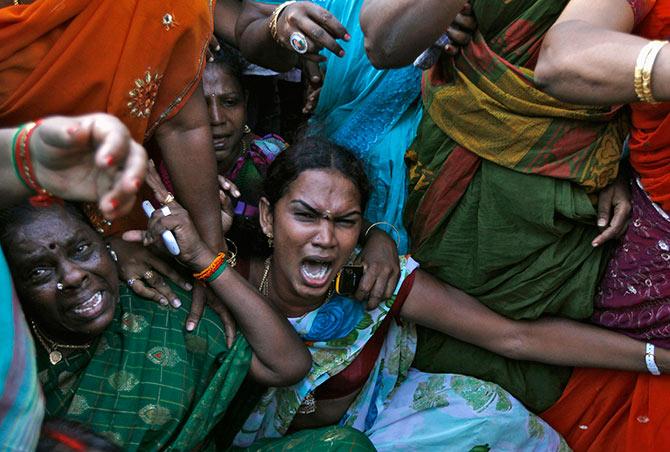 Image: Supporters of J Jayalalithaa shout slogans during a protest against the court verdict in Chennai. Photograph: Babu/Reuters

In the ever exciting Tamil Nadu politics, Jayalalithaa has been looked at as somewhat of an enigma. Her career is highlighted with a series of highs and lows.

In the run up to the 2014 general elections, the buzz in the political circles was about Jayalalithaa as a potential prime ministerial candidate. By September 2014, she was languishing in prison.
Jayalalithaa became the first chief minister to be convicted for corruption. She was sentenced to four years jail and was slapped with a fine of Rs 100 crore, highest imposed on any politician, by a special judge John Michael D'Cunha who heard the case of Rs 66.65 crore disproportionate assets acquired during her first term as chief minister between 1991 and 1996.
The verdict left Tamil Nadu in shock. Unable to bear there news of the arrest, over 150 died, claimed Jayalalithaa's All India Anna Dravida Munnetra Kazhagam.
On October 7, the Karnataka high court rejected her bail plea and Tamil Nadu continued to mourn. She moved the Supreme Court which granted her bail 10 days later.


---
Jammu and Kashmir floods
Image: Army soldiers rescue a man from his flooded house in Srinagar on September 13. Photograph: Adnan Abidi/Reuters

Unprecedented floods caused by uninterrupted torrential downpour wreaked havoc in Jammu & Kashmir this September, unleashing death and destruction of property.

More than 270 people died, lakhs were left homeless and army camps were washed away making it the deadliest flood to hit the state in 60 years.

Putting service before self, the armed forces undertook massive relief operations rescuing over 2,26,000 people, some of whom who were stranded on rooftops for days. Jammu-Srinagar national highway remained shut for a fortnight as it was blocked because of landslides and floods.

The floods left a trail of destruction and misery, badly hit tourism in the state and has caused a loss of Rs 5,700 crore.


---
Dussehra stampede in Patna
Image: A boy was injured in a stampede is carried to a hospital for treatment in Patna October 3. Photographer: Reuters

An outing on Dusshera turned into a tragedy for many families in Patna. Thirty three people, mostly women and children, were killed in a stampede at the landmark Gandhi maidan on October 3.
The rumour that an electric wire had snapped and fallen created panic.
At least 50,000 people gathered at the maidan to watch the burning of a gigantic Ravana effigy, but the security and safety measure were far from adequate. Officials failed to ensure that all the four big gates and eight small ones at the ground were wide open to allow the crowds to stream out smoothly. There were no lights near the exit and not enough policemen were deployed to manage the crowds.
An inquiry committee report blamed the local administration and the police of 'collective failure' behind the incident.


---
Uber rape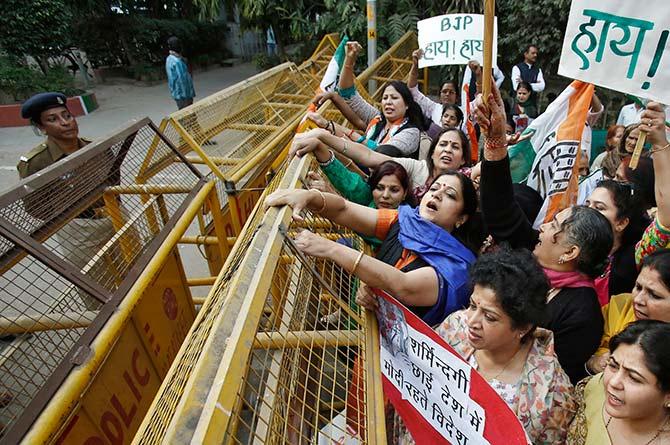 Image: Women shout slogans and carry placards next to a police barricade during a protest against the rape of a female passenger in New Delhi. Photograph: Anindito Mukherjee/Reuters

Two years ago, on December 16, 2012, a 23-year-old physiotherapy student was gang-raped and murdered by six men in a private bus in Delhi. The brutal incident left India scarred; people from across the country poured on to the streets and held protests facing tear gas, water cannons and police lathis.
Stronger laws for sex crimes were made and there was hope of a safer public space.
Two years on, the story is the same old. On December 5, a 27-year-old executive who hired an Uber cab was allegedly beaten, raped by the driver; he even threatened to kill her if she complained.
The driver has been arrested. In a knee-jerk reaction the Centre has banned web-based cab services like Uber, but it yet has to address the problem of unsafe streets, unsafe India.

The year-end specials:

Vote: India's newsmakers of 2014

What got the world talking in 2014