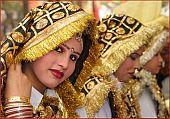 A series of rape incidents, a minister going behind bars in an air hostess suicide case and sexual abuse of women and child inmates in a shelter home brought infamy to Haryana in 2012, overshadowing the glory its sports persons achieved at the London Olympics.
Bhupinder Singh Hooda government remained busy warding off Opposition attacks on many fronts including the law and order scene following a fresh bout of labour unrest at Maruti Suzuki's plant in Manesar in which a senior company executive was killed and cancellation of mutation of a land deal involving businessman Robert Vadra's company.
The year also saw senior IAS officer Ashok Khemka taking on the Haryana government for his frequent transfers, Jats reviving their agitation for quota in government jobs, and Haryana Janhit Congress-BJP trying to consolidate their political base in the state.
In July, violence broke out at Maruti Suzuki plant following an alleged scuffle between a worker and a supervisor. A general manager (HR) was killed in the incident and 100 others were injured. The company declared a lockout at the plant which was lifted a month later. During the lockout overall production loss was pegged at around Rs 1,400 crore.
The state government had to face another embarrassment when minister and Independent MLA Gopal Kanda was embroiled in the suicide case of 23-year-old Geetika Sharma. After high drama, Kanda surrendered and is lodged in a jail in Delhi.

Geetika in her suicide note said she was ending her life due to "harassment" by Kanda and his aide.
With the Kanda issue yet to die down, a series of rape incidents took place in September-October with the victims including some Dalit girls. Amid an outrage, Congress chief Sonia Gandhi visited the family of a Dalit teenaged girl in Jind district, who had immolated herself after being gang-raped.
Facing flak from all quarters, a rattled Hooda formed a three-member committee at district levels to investigate, monitor and ensure speedy prosecution of such crimes.

However, what added to the public outcry, was suggestions by khap panchayats to do away with the marriageable age limit, claiming it will check such crimes, and also that consumption of chowmein was behind the growing incidents of rapes as it creates hormonal imbalance.
Adding to the khap sermons, another panchayat banned disc jockeys for "creating noise in marriages and other functions" in Hisar.
Earlier in May, instances of sexual abuse, bonded labour and other forms of torture of inmates of Apna Ghar in Hooda's home district -- Rohtak -- came to light after a NCPCR team carried out a surprise raid and rescued several inmates including minors and omen.  The shelter's home caretaker and her son-in-law were among those arrested and the state government handed over the investigations to CBI.

Another incident in November caught police on the wrong foot when a 20-year-old girl student was hacked to death in full public view on the campus of Guru Jambheshwar University of Science & Technology in Hisar, allegedly by a male student after the girl rejected his friendship offer.

Since mid-October, the DLF land issue grabbed headlines and the Hooda government was slammed by Opposition BJP and INLD besides activist-turned politician Arvind Kejriwal.


The issue of Haryana's first proposed nuclear power plant to be set up in southern district of Fatehabad also remained alive for major part of the year, with former army chief General V K Singh joining a group of farmers to lend support in their protest to the project. However, by October, majority of farmers accepted the compensation award for acquisition of land for the proposed nuclear power plant at Gorakhpur village.

September saw the Supreme Court directing the Haryana Assembly Speaker to decide on disqualification petitions pertaining to five Haryana Janhit Congress (HJC) MLAs who defected from their party to join Congress after the ruling party fell short of attaining simple majority on its own in the 90-member assembly following the 2009 state elections.
Jats started an agitation in February-March demanding quote in state and central government jobs but later suspended it on the assurances of the state government in October.
In August, the NIA filed its second charge sheet in the 2007 Samjhauta Express blast case before a designated court and named Kamal Chauhan and absconding Amit along with others who allegedly planted the bombs on the cross-border train.

In September, in a blow to Bollywood producer-director Subhash Ghai, the Punjab and Haryana high court quashed the sale deed of around 20 acres of land purchased by his production house Mukta Arts in Badhsa village in Jhajjar.
In June, former Haryana Deputy Chief Minister Chander Mohan, who remained in the news earlier for his brief marriage to Anuradha Bali alias Fiza Mohammed, severed his ties with the ruling outfit to join Haryana Janhit Congress (BL), party floated by his late father Bhajan Lal. In August, Fiza was found dead under mysterious circumstances at her Mohali residence.
On the economic front, the Reliance India Limited (RIL) Special Economic Zone (SEZ) in Gurgaon was shelved and Mukesh Ambani led Company was asked by the state government to return the 1,383.68 acres of land it got from the government back to the Haryana State Industrial and Infrastructure Development Corporation Ltd.
Also, Nano City -- a dream project of Hotmail founder Sabeer Bhatia, which was recommended to be scrapped by HSIIDC for failing to set up the project in Haryana, was finally scrapped.
Earlier, at the London Olympics while boxer Vijender Singh disappointed, grapplers Sushil Kumar and Yogeshwar Dutt brought laurels to the country and their state by winning a silver and a bronze respectively.
Shooter Gagan Narang and shuttler Saina Nehwal, who have their roots in Haryana, also won bronze medals at the Olympics. The four medal winning players were honoured by the state government with cash awards amounting to over Rs 6 crore, besides being showered with luxury cars and other expensive gifts.
In December, senior INLD leader Abhay Chautala took over as Indian Olympic Association (IOA) President at the culmination of a controversy marred election feud with IOA Secretary General Randhir Singh and his team.

The Census 2011 data for Haryana, whose figures were released by the state government this year, showed that about 96 per cent of households are living in good or livable houses with only 4 per cent of the households, that is 2,09,270 are living in dilapidated houses.
In April, Hooda laid the foundation stones of six major industrial units in the Industrial Model Township at Kheri Saad village in Rohtak district including those of the Maruti Suzuki India Ltd, Suzuki Motorcycle India Private Limited, Nippon Carbide, Sabarkantha Cooperative -- a unit of Amul Dairy, involving a total investment of Rs 3,411 crore.
Former Haryana DGP SPS Rathore, who was last year sentenced in teenaged girl Ruchika molestation case and after spending few months in prison was released on bail, was in the news again in June when he paid the highest amount of Rs 9,05,001 for a fancy number for the new Mercedes brought by him for his lawyer wife.
In May, Shena Aggarwal, a resident of non-descript town Yamunanagar in Haryana, topped the UPSC civil services examination.
Towards May end, the closure of Haryana's two thermal power plants generating 1,200 MW of power because of technical snag caused massive power shortage in the state, leading to unscheduled load shedding.

In May, the construction of second campus of All India Institute of Medical Sciences (AIIMS) began, with Union Health Minister Ghulam Nabi Azad and Hooda laying the foundation stone of AIIMS Outreach OPD at village Badhsa in Jhajjar.
In July, the Haryana government approved the extension of Delhi Metro from Mundka to Bahadurgarh.


In October-November period, the foundation stone of a medical college in Karnal named after late astronaut Kalpana Chawla was laid. Haryana also saw its longest-serving DGP Ranjiv Dalal retire while senior IPS officer Alok Joshi was appointed as Secretary, Research and Analysis Wing (RAW).