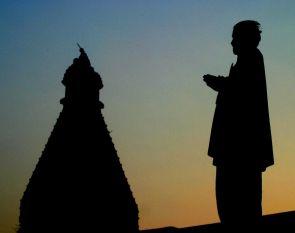 Notwithstanding the massive crackdown by UP administration, VHP leader Ashok Singhal advised the state government to review the decision to ban 84 kosi yatra saying it could not be stopped as saints from across the country would be reaching Ayodhya soon.
"The yatra cannot be stopped now... Saints from over 700 districts of the country will continue to reach Ayodhya to take part in the yatra... The state government should reconsider its decision and lift the ban", Singhal told PTI after being arrested from the airport.
There are 40 halts of the yatra that would continue till September 13 and as per the programme saints from all states of the country would continue to come, he said. "What the government can do is to arrest them. It's astonishing that over 100 saints, including Mahant Nrityagopal Das, have been arrested. It is a peaceful programme and no more that a dozen policemen are needed for it," he said.
"We had met Mulayam Singh Yadav and apprised him about the programme that everyday 100-150 saints will take part in the yatra that will be peaceful. He did not deny then... It is a simple programme, but why so much force was deployed is not known," Singhal, who is kept at a guest house in Nawabganj Bird Sanctuary said.