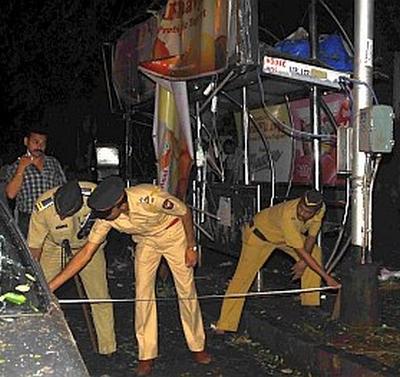 Yasin Bhatkal, one of India's most dreaded terrorists, was detained at the Indo-Nepal border on Thursday.
We republish a report about one of his most dastardly acts -- planting a bomb near a bus stop and a school at the crowded area of Dadar in Mumbai -- hours before three blasts rocked the city
An accused in the July 13 Mumbai serial blasts last year has confessed that fugitive Indian Mujahideen chief Yasin Bhatkal planted the bomb at Dadar that left one person dead and 14 others wounded.

The bomb had exploded atop a bus stop in Dadar. The main objective of Bhatkal behind hatching the conspiracy and planting the bomb was to trigger communal conflagration in Mumbai, IM member Nadeem Sheikh said in his 25-page confession.

The confession was recorded before a magistrate's court in March under section 164 of CrPC (recording of confessions and statements) and opened last week, sources said.

Twenty-seven people were killed and 127 injured when three near-simultaneous explosions ripped through Dadar, Zaveri Bazaar and Opera House on July 13 evening.

According to Sheikh, the conspiracy to trigger blasts was hatched in February 2011 after Bhatkal arrived in the city and introduced him to planters of the bombs at Opera House and Zaveri Bazar, Waqas and Tabrez respectively.

Sheikh said Bhatkal along with Naquee Ahmed, Waqas, Tabrez, and a person identified only as Munnabhai worked out the details of the plan in a secret meeting held on July 7.

It was after this meeting that Bhatkal asked Ahmed and Munnabhai to steal two-wheelers and hand them over to Waqas and Tabrez who planted the bombs, Sheikh said in his statement.

The locations were chosen after much deliberation so that the planters can not be identified.

The ATS had arrested Naquee Ahmed, Nadeem Shaikh, Kanwar Pathrija and Haroon Naik in the 13/7 case while six other IM members including Bhatkal are absconding.

The ATS had filed the first charge sheet in the case on May 25 against 10 IM members under the stringent provisions of the Maharashtra Control of Organised Crime Act, Indian Penal Code, Explosives Act, Explosives Substances Act, Prevention of Damage to Public Properties Act and Unlawful Prevention of Activities Act.

Among the wanted accused are Riyaz Bhatkal, Yasin Bhatkal -- top operatives of the home grown terror outfit -- Waqas Ibrahim Sad, Danish alias Tarbez, Dubai-based Muzaffar Kolah and Tehseen Akhtar Shaikh.

As per ATS investigations, Bhatkal, Waqas and Tarbez had rented a third floor flat in suburban Byculla's Habib building where they allegedly assembled explosives used in setting off the explosions at Dadar, Zaveri Bazaar and Opera House on July 13, 2011.

The ATS filed an additional charge sheet against Mohammed Qafeel Ansari on August 14.