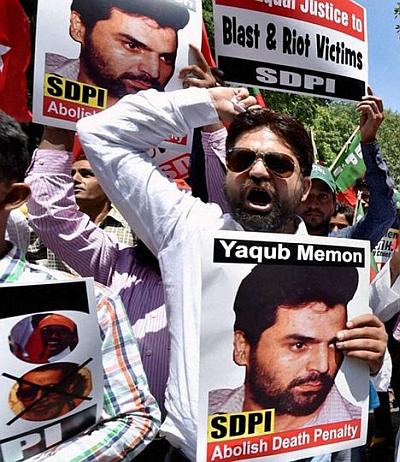 On Thursday, as Yakub Memon, the lone 1993 Mumbai serial blasts convict, was hanged at Nagpur Central prison, politicians from across the country reacted.
The reactions were diverse from some supporting the Supreme Court while some questioning the death sentence in entirety.
Take a look at some of the reactions.
"India is a democracy. We set very high standards when it comes to human rights. Why are we then not abolishing the death sentence? What benefit are we getting from it?
"The day when Yakub's death sentence was confirmed by the Supreme Court, the same day a terrorist attack took place in Gurdaspur. So, there is no terrorist who will leave violence after seeing Yakub's hanging. There is no connection between these two things. Therefore, we should not do the same evil thing that the terrorists do.
"The victims have human rights. We say that the terrorists should be caught and given punishment. But there is no justice if you hang one person and leave the other 10."
-- Mani Shankar Aiyar, Congress
***
"State-sponsored killing diminishes us all, by reducing us to murderers too. Death penalty is wrong in principle and practice. Lots of studies have been conducted which confirm that death penalty has no deterrent effect, statistics also suggest that."
-- Shashi Tharoor, Congress
***
"Yakub Memon hanged. Exemplary urgency and commitment has been shown by government and judiciary in punishing an accused of terror.
"I have my doubts the way the cases of other terror accused are being conducted. Let's see. Credibility of the government and judiciary is at stake.
"I hope similar commitment of government and judiciary would be shown in all cases of terror irrespective of their caste, creed and religion."
-- Digvijaya Singh, Congress
***
Time has come for India; we should say an emphatic no to capital punishment.
-- D Raja, Communist Party of India
***
"Law took its course. Justice was delayed but not denied."
-- Shahnawaz Hussain, Bharatiya Janata Party
***
"Pakistan-operated terrorism has been sent a good message -- that such acts of terrorism will not be tolerated."
-- Sanjay Raut, Shiv Sena
***
"I am very disappointed and unhappy. SC has made a tragic mistake."
-- Anand Grover, counsel for Yakub Memon
***
"This will send a big message that India doesn't go soft on to terrorists. Yakub's case should be not be related to religion. This is justice for the people who have lost their lives in that blast."
-- M S Bitta, All India Anti-Terrorist Front chairman
***
"It's a sad day for Indian democracy. In my view, it's a sad day for the Indian judiciary as well because though they heard the matter late at night, which is creditable, but the end result to my mind was a miscarriage to justice.
The government's insistence on hanging him right now and this whole kind of frenzy to hang him immediately has led to a situation where he has been denied of this judicial remedy of challenging the rejection of his mercy petition.
Capital punishment promotes this kind of lynch mob mentality, this blood lust and blood thirst in any society which is not good for a society."
-- Prashant Bhushan, senior advocate
***
"Those supporting Yakub Memon are wrong and want to divide society. A narrative was being built by some people to identify Yakub Memon's religion. This is unfortunate. Rule of law is supreme."
-- Azam Khan, Samajwadi Party
"Justice has prevailed for the families of those who lost their lives in the 1993 Mumbai blasts.
"I am happy that the long process has come to an end. The convict was given opportunity for 22 years. Memon's review petition and mercy petitions were dismissed. He also got the right to have second review plea heard in an open court.
"I am happy that the Supreme Court rose to the occasion. It heard the plea of a condemned prisoner like Memon who was involved in the killing of 257 persons. It is now a role model for all courts in India and a beacon for justice."
-- Mukul Rohatgi, Attorney General
***
"We must take terrorism as a challenge and should not project ourselves as divided so that we can succeed in defeating it.
I think no other system can be as transparent as ours. A person who wants justice should be given chance in all forums and Yakub got the opportunity to keep his view point on all forums.
-- Rajnath Singh, Home Minister